Tepe Sigeman & Co 2022 R5: Arjun Erigaisi misses against Jorden van Foreest
Arjun Erigaisi got a fantastic opportunity to beat Jorden van Foreest in the final moments of the endgame. The defending champion moved his knight at the wrong part of the board which allowed Arjun to bounce back but much to his chagrin, he was unable to spot it correctly. Hans Niemann continues his great form as he beat Alexei Shirov in the fifth round of 27th Tepe Sigeman & Co Chess Tournament. He is now a full point ahead of the field at 4.0/5. Sweden no.1 Nils Grandelius scored the other victory of the round against Salem Saleh who faltered in the endgame. Round 6 starts today at 3:00 p.m. CET (6:30 p.m. IST). Photo: Lars OA Hedlund/TePe Sigeman & Co Tournament 2022
Hans Niemann scores a hat-trick
Hans Niemann scored his third consecutive win and Nils Grandelius picked up his first win of the tournament. Just like the first round, fifth round also had two decisive games, both wins were with white pieces and on top two boards.
Niemann - Shirov: 1-0
Hans Niemann (USA, 2637) made a timely exchange sacrifice to prevent a loss of his pawn and his position getting disintegrated against Alexei Shirov (ESP, 2693).
White is forced to play 26.Rxf3 here else the threat of Rxh2 would be devastating. 26...gxf3 White opted the interesting 27.Qc2 instead of the obvious Qxf3. 27...exd5 was played in the game. 27...cxd5 would have prevented Bf5. The game continued 28.Bf5 Qg5+ 29.Kb1 Qh6 30.Bd2 Rxh2 Shirov decided to sacrifice his queen
While the queen sacrifice is not incorrect, it did not add anything for Black. If anything, it only made things better for White. 30...Qf6 would have been a better continuation for Black. 31.Bxh6 Rxh1+ 32.Bc1 R8h2 the attack lacks enough venom 33.Bxd7+ Kb8 34.Nd1 Rxc2 35.Kxc2. White has two minor pieces for a rook, the f3-pawn is unable to get enough support to promote or at least manage to snag one of White's minor pieces. Rest was just a matter of time and technique which Hans had no trouble to convert into a full point.
Jorden - Arjun: 0.5-0.5
Arjun Erigaisi (2675) got a great opportunity to beat the defending champion, Jorden van Foreest (NED, 2714) after the latter erred in the final moments of the endgame.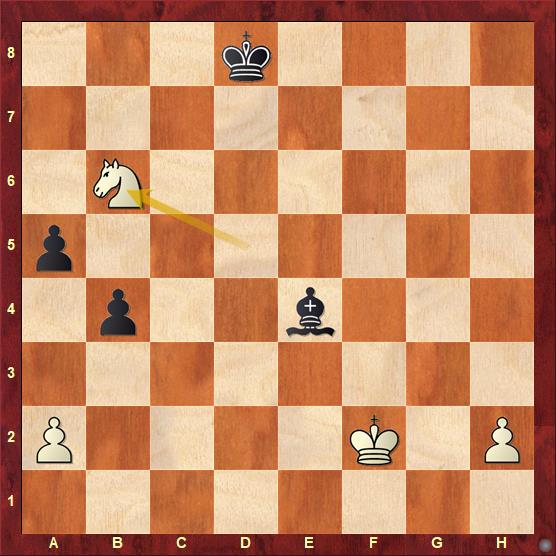 46.Nf6 and Nf4 both keeps White in the game. However, 46.Nb6 allows Black to snatch the victory. What is the key difference? When the knight is at b6, Black can move his king towards his pawns with a tempo Kc7. Something which is not possible when the knight goes to f6 or f4. Both 46...Bb1 and Kc7 are winning for Black because the move order does not make a huge difference here. 46...Bb1 47.Ke3 and now Black rushed into capturing the a2-pawn Bxa2. Black needed to activate his king 47...Kc7, the quintessential ethos of an endgame. White pounced on his opportunity to save the game 48.Kd4, thus closing the window of opportunity for Black.
Time Control
90 minutes for 40 moves and then 30 minutes for the remaining moves with 30 seconds cumulative increment for each move starting from the first move (Malmö rules-no draws before move 40).
Replay Round 5 games
Round 5 results
Bo.
No.
Rtg
Name
Result
Name
Rtg
No.
1
3
2656
GM
Niemann Hans Moke
1 - 0
GM
Shirov Alexei
2695
8
2
4
2635
GM
Grandelius Nils
1 - 0
GM
Salem A.R. Saleh
2690
2
3
5
2715
GM
Van Foreest Jorden
½ - ½
GM
Erigaisi Arjun
2675
1
4
6
2698
GM
Adams Michael
½ - ½
GM
Navara David
2682
7
Round 6 pairings
Bo.
No.
Rtg
Name
Result
Name
Rtg
No.
1
8
2695
GM
Shirov Alexei
GM
Navara David
2682
7
2
1
2675
GM
Erigaisi Arjun
GM
Adams Michael
2698
6
3
2
2690
GM
Salem A.R. Saleh
GM
Van Foreest Jorden
2715
5
4
3
2656
GM
Niemann Hans Moke
GM
Grandelius Nils
2635
4
Schedule
3rd - 8th May - 3 p.m. CET (6:30 p.m. IST), 7th May - 2 p.m. CET (5:30 p.m. IST).
9th May - 12 p.m. CET (3:30 p.m. IST)
Links
---