Tata Steel Chess: Carlsen and Giri to battle for the title
At the conclusion of the penultimate round of the Tata Steel Masters, it became clear that the race for the title will be only between Magnus Carlsen and Anish Giri. With a win over Jan-Krzysztof Duda in the twelfth round, Carlsen has taken the sole lead. Giri remained half-a-point behind the World Champion after avoiding defeat thanks to a sudden draw offer by Teimour Radjabov. Other wins of the round were scored by Vladimir Kramnik (over Vladimir Fedoseev) and Sam Shankland (over Ian Nepomniachtchi), while the game between Vishy Anand and Ding Liren ended in an exciting draw. | Photo: Alina L'ami
Carlsen leads once again
Magnus Carlsen was joined by Anish Giri in the tournament lead after the latter surprisingly won his drawn endgame against Sam Shankland in the previous round. In the penultimate round, it seemed like the World Champion would easily speed past Giri after Jan-Krzysztof Duda — Carlsen's twelfth round opponent — voluntarily weakened his king's position.
It all happened in a rare line of the Queen's Gambit Accepted. Carlsen, as White, had just recovered his sacrificed pawn, when Duda lured him into giving up a full piece.
At first, it looked like a brilliant liquidating tactic — a trade of queens was forced after 20.Kxf2 Qf6+ 21.Qxf6, and Black did not even have to lose material thanks to the intermezzo 21…Rxb2+ 22.Kg1 Nxf6.
However, in the resulting position, the longer one looks at 23.Rf1, the more one realises that Black is hardly out of the woods. The rook-lift Rf3-g3 threatens to win a piece, and there seems to be no defence. Duda did the best he could, giving up two minor pieces for a rook with 23…Kg7 24.Rf3 Rg8 25.Rhf4 Bc6 [25…Kh8 26.Rxf6 Rgxg2+ 27.Kf1 Rxh2 28.Ke1 is also interesting, but White remains better] 26.Rxf6 Bxf3 27.Rxf3.
White is indeed better here, but this was Black's best practical chance. And for Carlsen, the win did not come easily. At one point, the computers even declared the position to be equal.
"I think I played a bit inaccurately earlier on, but then I sort of got back on track. I think, practically, he had very decent drawing chances", Carlsen said after winning the battle that lasted over six hours.
Meanwhile, the other tournament co-leader, GM Anish Giri, found himself in a pickle early in the game after making some adventurous pawn grabs.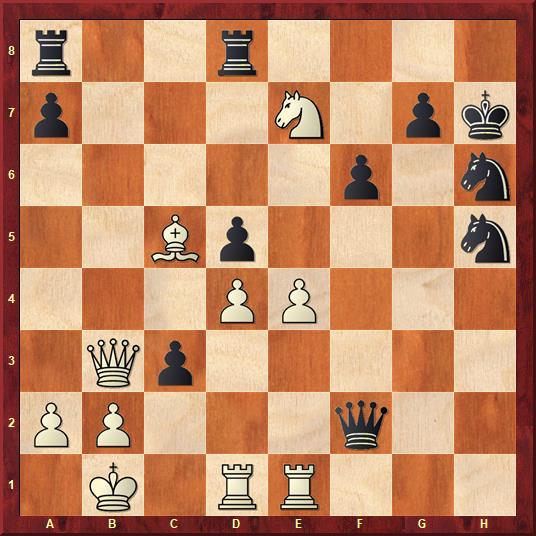 If one knight on the rim is dim, how about two? White was clearly better in the endgame that arose after 28…Qxb2 29.Qxb2 cxb2 30.exd5 Rd7 31.d6. But after 31...Ng3, Radjabov, quite astonishingly offered a draw...which was accepted immediately.
"I think the funny thing is that despite getting an extra half point every day, I am probably not going to be in the lead going into the last round", Giri said in his usual jestful way.
For Sam Shankland, it was comeback time after his previous round mishap. This was the second time in the tournament that Ian Nepomniachtchi tried the Pirc Defence with Black. But unlike his first round game against Giri, this one went horribly wrong.
Shankland said after the game that he felt Nepomniachtchi played this game "well below his normal level". The game soon veered into a French-Defence-like structure, in which Shankland got a dominating position early on. The U.S. Champion finished the game off in style.
White found the crushing 32.Bg6! here. White hopes to take on e6 after the bishop is captured and then plant the knight on f6, finishing off his opponent. Nepomniachtchi tried 32…Kd8 but the game did not last long after 33.Bxf7 Kc6 and 34.Qxe6.
Talking of comebacks, after having a disappointing run in the first ten rounds, GM Vladimir Kramnik won his second straight game in round twelve. As Black, Kramnik essayed the Berlin Defence and kept up with his spirit of playing to the very end to eke out a win in a slightly better endgame.
GM Viswanathan Anand was caught in some impressive opening prep of Ding Liren and had to expend an unusually high amount of time in the opening. Ding, on the other hand, was simply blitzing out moves. The Italian Opening that was discussed in the game turned very sharp, very fast.
Anand had just brought his queen over to f6 when Ding uncorked 16.Nxe5 Nxe5 17.Nh5. Anand returned the piece immediately with 17…Qf7 but more surprises awaited him as the game continued 18.Rxe5 Nxc3 19.Rxe6 Nxd1 20.Re7!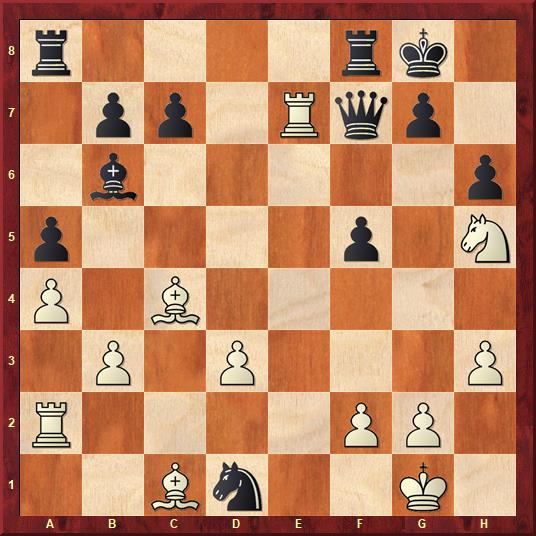 Despite being a queen for a minor piece down, Ding was in no hurry to recapture material. He first hacked off some queenside pawns and then went on to offer another bishop sacrifice!
White's idea is to deflect the g7-pawn and make the f6-square available for his knight. Anand continued with 27…gxh6 28.Bxd5 and now 28…Rxd5 would lose material after 29.Nf6+...but Anand had prepared 28…Rd6! to fully equalise the position.
White took the rook and Black regained material after 29.Rxd6 Re1+ 30.Kh2 Bc7, pinning and winning the rook. A draw was agreed ten moves later.
Anand told ChessBase: "I assume both of us were just using our preparation; I just forgot some part of mine. I am guessing that I should be lost, though I decided, at some point, to stop looking where. And then, I think 28…Rd6 is probably a comfortable draw for Black, so he had to try a rook retreat. Whether he was winning or not, I have no idea."
All games
Standings
| | | | | | | | | | | | | | | | | | | | |
| --- | --- | --- | --- | --- | --- | --- | --- | --- | --- | --- | --- | --- | --- | --- | --- | --- | --- | --- | --- |
| | | Score | Rating | TPR | SB | 1 | 2 | 3 | 4 | 5 | 6 | 7 | 8 | 9 | 10 | 11 | 12 | 13 | 14 |
| 1 | Carlsen, Magnus | 8.5 / 12 | 2835 | 2902 | 47 | | | ½ | ½ | 1 | ½ | ½ | ½ | 1 | 1 | ½ | 1 | 1 | ½ |
| 2 | Giri, Anish | 8.0 / 12 | 2783 | 2869 | 42.75 | | | 0 | ½ | ½ | ½ | ½ | 1 | 1 | 1 | 1 | ½ | ½ | 1 |
| 3 | Nepomniachtchi, Ian | 7.0 / 12 | 2763 | 2809 | 42.25 | ½ | 1 | | ½ | ½ | 1 | | 0 | ½ | ½ | 1 | ½ | 0 | 1 |
| 4 | Ding, Liren | 7.0 / 12 | 2813 | 2806 | 41 | ½ | ½ | ½ | | ½ | ½ | ½ | 1 | ½ | | ½ | ½ | 1 | ½ |
| 5 | Anand, Viswanathan | 7.0 / 12 | 2773 | 2813 | 37.75 | 0 | ½ | ½ | ½ | | | ½ | ½ | ½ | ½ | ½ | 1 | 1 | 1 |
| 6 | Vidit, Santosh Gujrathi | 6.5 / 12 | 2695 | 2785 | 35.5 | ½ | ½ | 0 | ½ | | | 0 | ½ | ½ | ½ | ½ | 1 | 1 | 1 |
| 7 | Radjabov, Teimour | 6.0 / 12 | 2757 | 2752 | 36.5 | ½ | ½ | | ½ | ½ | 1 | | ½ | ½ | ½ | 0 | ½ | ½ | ½ |
| 8 | Shankland, Samuel | 5.5 / 12 | 2725 | 2724 | 33 | ½ | 0 | 1 | 0 | ½ | ½ | ½ | | ½ | ½ | 0 | ½ | 1 | |
| 9 | Rapport, Richard | 5.5 / 12 | 2731 | 2738 | 31.25 | 0 | 0 | ½ | ½ | ½ | ½ | ½ | ½ | | 1 | ½ | ½ | | ½ |
| 10 | Duda, Jan-Krzysztof | 5.0 / 12 | 2738 | 2692 | 27.25 | 0 | 0 | ½ | | ½ | ½ | ½ | ½ | 0 | | 1 | ½ | 0 | 1 |
| 11 | Fedoseev, Vladimir | 4.5 / 12 | 2724 | 2663 | 28.75 | ½ | 0 | 0 | ½ | ½ | ½ | 1 | 1 | ½ | 0 | | | 0 | 0 |
| 12 | Mamedyarov, Shakhriyar | 4.5 / 12 | 2817 | 2663 | 26.5 | 0 | ½ | ½ | ½ | 0 | 0 | ½ | ½ | ½ | ½ | | | ½ | ½ |
| 13 | Van Foreest, Jorden | 4.5 / 12 | 2612 | 2680 | 25.75 | 0 | ½ | 1 | 0 | 0 | 0 | ½ | 0 | | 1 | 1 | ½ | | 0 |
| 14 | Kramnik, Vladimir | 4.5 / 12 | 2777 | 2666 | 24.75 | ½ | 0 | 0 | ½ | 0 | 0 | ½ | | ½ | 0 | 1 | ½ | 1 | |
---