Subhayan Kundu dominates Madaripur Festival Deputy Commissioner Rapid and Blitz Rating Open 2023
Subhayan Kundu scored an unbeaten 8.5/9 and 6.5/7 to win Madaripur Festival Deputy Commissioner Rapid and Blitz Rating Open 2023. He finished a full point ahead of the field in both events. CM Manon Reja Neer scored 7.5/9 and 5.5/7 to secure second and third place in Rapid and Blitz events respectively. Samrat Ghorai edged past three other players 7/9 to finish third in Rapid. FM Subrota Biswas was adjudged second in the Blitz scoring 5.5/7. The total prize fund of the Rapid event was Tk 60000 (₹45776 approx). The top three prizes were Tk 10000, 7000 and 5500 each respectively. The first prize in the Blitz event was Tk 1600.
Samrat Ghorai third in Rapid, Manon Reja claims podium in both
The reigning West Bengal State champion, Subhayan Kundu is in great form since October 2022. These two were the first tournament he started in 2023 and he won them both convincingly. Before this event, he won two Classical Rating tournaments and finished as the runner-up in the Tata Steel Chess Festival 2022 Rapid Rating event. He also scored his second IM-norm at MPL 59th National Senior Championship 2022.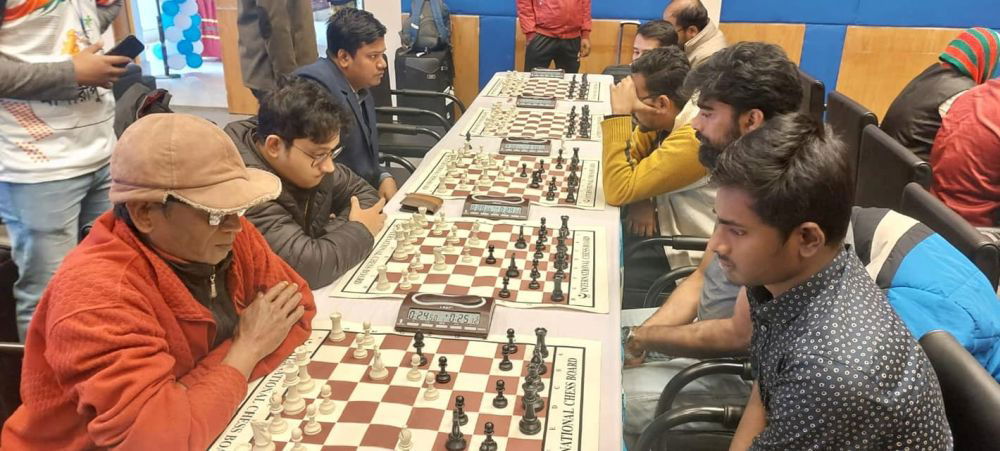 A total of 87 players in the Rapid and 45 in the Blitz took part from various parts of Bangladesh and three from India in each event. The nine-round Swiss league Rapid Rating tournament took place on 20th and 21st January, the seven-round Blitz Rating tournament was held on 21st January 2023. Both events were organized by Deputy Commissioner, Madaripur at Integrated Government Office Building, Madaripur, Bangladesh. The time control for the Rapid Rating tournament was 25 minutes + 10 seconds increment and for Blitz 3 minutes + 2 seconds increment.
Final standings in Rapid
| | | | | | | | | | | | | | | | | | | | |
| --- | --- | --- | --- | --- | --- | --- | --- | --- | --- | --- | --- | --- | --- | --- | --- | --- | --- | --- | --- |
| Rk. | SNo | | | Name | FED | Rtg | Club/City | Pts. | TB1 | TB2 | TB3 | TB4 | TB5 | n | w | we | w-we | K | rtg+/- |
| 1 | 2 | | | Subhayan, Kundu | IND | 2205 | | 8,5 | 0 | 51,5 | 56,5 | 53,50 | 8 | 9 | 8,5 | 6,92 | 1,58 | 20 | 31,6 |
| 2 | 10 | | CM | Manon, Reja Neer | BAN | 2059 | | 7,5 | 0 | 52 | 55,5 | 44,00 | 7 | 9 | 7,5 | 5,51 | 1,99 | 40 | 79,6 |
| 3 | 17 | | | Samrat, Ghorai | IND | 1972 | | 7 | 0 | 47 | 50 | 35,00 | 6 | 8 | 6 | 4,36 | 1,64 | 20 | 32,8 |
| 4 | 15 | | | Md. Masum, Hossain | BAN | 1987 | | 7 | 0 | 46,5 | 50,5 | 34,50 | 7 | 9 | 7 | 6,57 | 0,43 | 20 | 8,6 |
| 5 | 9 | | CM | Nayem, Haque | BAN | 2060 | | 7 | 0 | 44,5 | 48 | 34,00 | 6 | 9 | 7 | 5,28 | 1,72 | 20 | 34,4 |
| 6 | 24 | | | Md. Aminul, Islam | BAN | 1913 | | 7 | 0 | 41 | 42,5 | 32,50 | 7 | 7 | 5 | 4,74 | 0,26 | 20 | 5,2 |
| 7 | 13 | | | Ahmed, Shafiq | BAN | 2000 | | 6,5 | 0 | 50,5 | 55,5 | 36,75 | 6 | 9 | 6,5 | 4,91 | 1,59 | 20 | 31,8 |
| 8 | 8 | | CM | Chowdhury, Sohel | BAN | 2069 | | 6,5 | 0 | 50 | 54 | 37,75 | 6 | 9 | 6,5 | 5,51 | 0,99 | 20 | 19,8 |
| 9 | 5 | | | Md.Abu, Hanif | BAN | 2093 | | 6,5 | 0 | 49,5 | 53,5 | 36,00 | 5 | 8 | 5,5 | 5,41 | 0,09 | 20 | 1,8 |
| 10 | 1 | | FM | Subrota, Biswas | BAN | 2233 | | 6,5 | 0 | 47 | 50,5 | 34,25 | 6 | 9 | 6,5 | 7,55 | -1,05 | 20 | -21 |
Final standings in Blitz
| | | | | | | | | | | | | | |
| --- | --- | --- | --- | --- | --- | --- | --- | --- | --- | --- | --- | --- | --- |
| Rk. | SNo | | | Name | FED | RtgI | Pts. | TB1 | TB2 | TB3 | TB4 | TB5 | Rp |
| 1 | 1 | | | Subhayan, Kundu | IND | 2207 | 6,5 | 0 | 29,5 | 27,5 | 27,25 | 6 | 2397 |
| 2 | 2 | | FM | Subrota, Biswas | BAN | 2191 | 5,5 | 0 | 32,5 | 29 | 24,25 | 5 | 2234 |
| 3 | 13 | | CM | Manon, Reja Neer | BAN | 1942 | 5,5 | 0 | 30,5 | 28,5 | 22,25 | 5 | 2123 |
| 4 | 3 | | | Md.Abu, Hanif | BAN | 2170 | 5,5 | 0 | 27,5 | 25,5 | 20,25 | 5 | 2007 |
| 5 | 4 | | FM | Rahman, Syed Mahfuzur | BAN | 2122 | 5,5 | 0 | 27,5 | 25,5 | 20,00 | 5 | 2107 |
| 6 | 9 | | | Islam, Sheik Md. Khairul | BAN | 1983 | 5 | 0 | 32,5 | 29,5 | 18,00 | 4 | 2105 |
| 7 | 27 | | | Mrittika, Mallick | IND | 1748 | 5 | 0 | 31,5 | 28 | 22,00 | 4 | 2159 |
| 8 | 7 | | CM | Chowdhury, Sohel | BAN | 2017 | 5 | 0 | 30 | 27,5 | 18,00 | 5 | 2084 |
| 9 | 21 | | | Khan, Md. Monir Hossain | BAN | 1881 | 5 | 0 | 27 | 24 | 18,50 | 5 | 1869 |
| 10 | 49 | | | Osman, Goni | BAN | 1725 | 5 | 0 | 25,5 | 22,5 | 18,00 | 4 | 2082 |
---