High on talent, low on funds - Sreeshwan needs your support
Sreeshwan Maralakshikari, a 2462 rated boy hailing from Hyderabad, is on an all-time high. Everything about his chess is increasing: his performance as well his success rate. In January 2019, he scored his two IM norms. Recently at the Asian Youth held in Sri Lanka he won the gold in the under-14 section. For kids born in 2006, he is the second strongest in the world, only behind D. Gukesh. Sreeshwan showed the chess world that he can be a giant killer when he beat the world class GM Vassily Ivanchuk in just 26 moves at the Sunway Sitges Chess 2018. The talent is obvious, but for things to materialize in the right direction and move towards the GM title, Sreeshwan needs funds. This is a story of a boy who is high on talent, but low on funds. Sreeshwan needs your help.
On 29th of December 2016, I noticed this boy at the IIFLW tournament in Mumbai, when he won against GM Sivuk. This game was not broadcast live and hence cannot be found in any of the databases. But I vividly remember how Sreeshwan played a fantastic game, in an unknown opening, where he sacrificed his knight for three pawns. He was naturally very excited and happy about his win, as it was literally the game of the day. Many congratulated him on his feat, while many were also skeptical and dismissed it as a fluke. Who was to know? He was only 1968 then. Now, two years later, Sreeshwan Maralashikari is rocking it with a rating 2462, multiple achievements, and two IM norms in his kitty. Fluke? I think not!
His list of achievements are many, the most notable ones are mentioned below: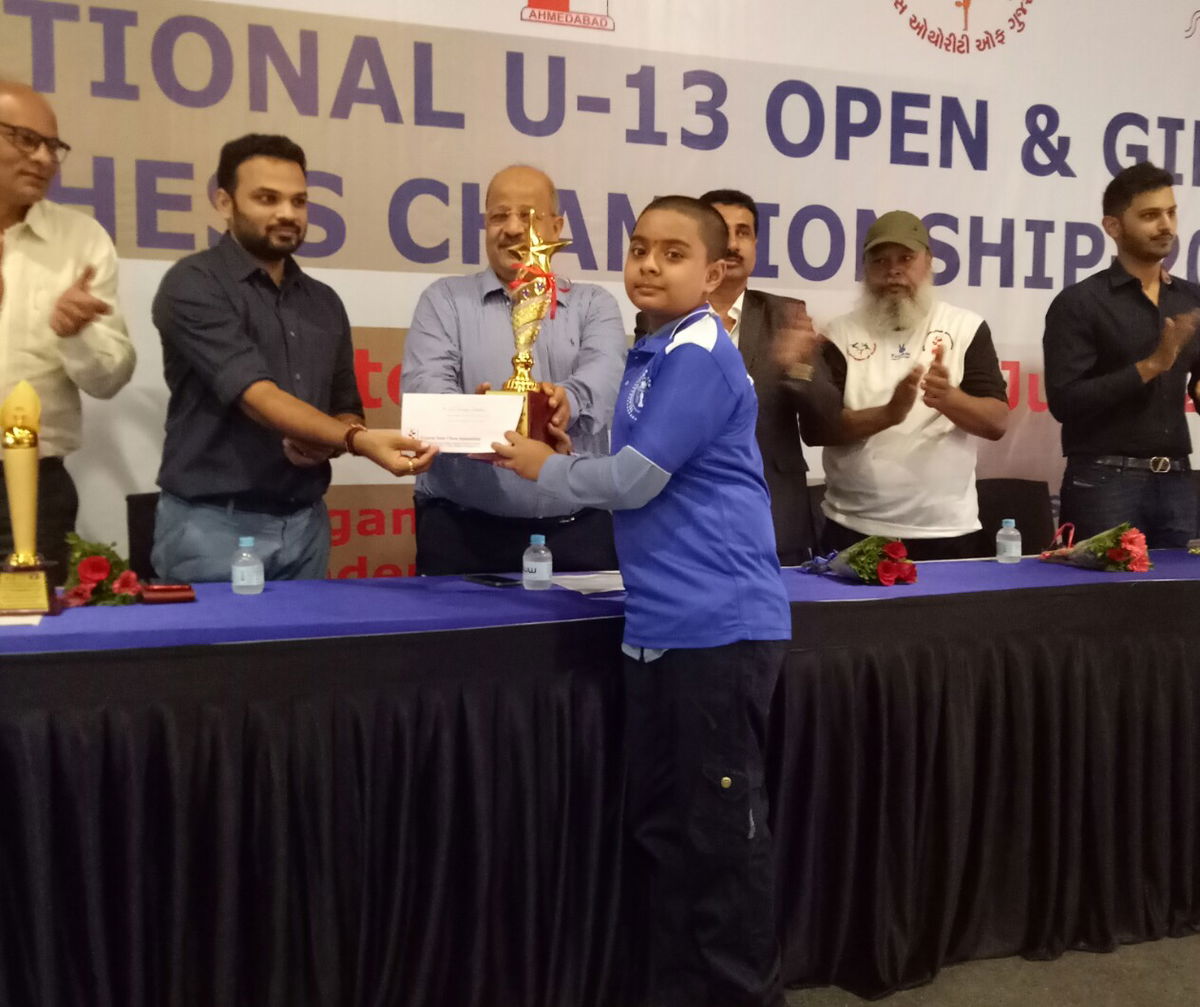 Just a week ago, Sreeshwan topped the Asian Youth 2019 with 8 points out of 9, with no losses. Granted, he was the top seed, but winning a tournament when you are the gavourite is never easy. Sreeshwan says it was indeed a tough tournament, with the biggest fights taking place mainly in the middlegame. 'My game against Nguyen Quoc Hy in the 5th round was not easy either, and the game ended in a draw,' says Sreeshwan. He mainly prepares against an opponent by getting hold of some sample games and analyzing them in depth. To this, as well as the win, he gives credit first and most to his parents, Radhika and Ashok Kumar Maralashikari, and his coach, GM Alexander Goloshchapov.
When we spoke to Sreeshwan's father Ashok, he said, "After putting lot of efforts, Sreeshwan has reached this current level. Earlier I worked in TCS until August 2017. After that I didn't have a job for around 8 months. Soon, I joined a small company in March 2018 for a package of less than Rs.6 lakhs as I was unable to find a better job. My gross salary is 50000/-. My wife takes care of Sreeshwan's chess and studies and has no real income. I thought of getting onsite projects outside India and tried a lot for the same, but didn't get any. My current job situation has made Sreeshwan's chess career very difficult. Earlier we provided him with regular coaching and played in more tournaments. But due to our financial situation, the regular coaching has stopped and Sreeshwan hasn't played in any event except the Asians after achieving his two IM norms. Currently I am not in a position to support Sreeshwan. He needs one more IM norm to become an IM and then start his journey towards the GM title. A sponsor will greatly help to support my son's chess career."
How the Spain trip in 2018-19 was made possible?
In December 2018 - January 2019 Sreeshwan played in three tournaments in Spain - the Sunway Sitges 2018, Lorca Open 2018 and Roquetas De Mar 2019. Out of these three events he scored two of his IM norms.
How did the family financially afford the trip? Says Ashok, "My childhood friend Aravind Serikar, who lives in the USA created the GofundMe link. School NRI friends came together and collected funds and supported for three tournaments that Sreeshwan played in Spain."
Sreeshwan needs your help to become a GM
"We give because someone gave to us.
We give because nobody gave to us.
We give because giving has changed us.
We give because giving could have changed us…"
Everybody has a dream, an aim or something they want to accomplish. Along with skill, hard-work and practice, many can make it to the top. Sreeshwan Maralashikari is one of the players who is doing this particular part of the spectrum very well. The real constraint for him is money; inability to finance his travels, tournaments or coaches. What really happens because of lack of funds is not that a player doesn't achieve his goal. Sooner or later everyone finds a way out of the difficulty, but in doing so, you lose time. For Sreeshwan, born in 2006, and 12 years old, time is extremely valuable right now. This is the best time when he could receive financial support. A permanent sponsor for his chess career would be the most ideal. If you are a corporate and would like your money to be used in a good cause, supporting Sreeshwan would be an excellent idea. For all of us who would like to do our bit to support this young talent, you can do so through the GoFundMe Page.
It is currently the period of Visakhi, the day where new beginnings occur. Let us open our hearts to others and provide such beginnings to them. Let us make someone happy, and someone else's life special. Joining hands, we can change another person's entire career with just a simple contribution. The amount doesn't matter, your intention does!
"…Giving is, first and every time, hand to hand,
Mine to yours, yours to mine.
You gave me blue and I gave you yellow.
Together we are simple green.
You gave me what you did not have,
and I gave you what I had to give.
Together, we made something
greater from the difference."
~Alberto Rios,
When Giving is All We Have
If you are unable to contribute on the above link you can make a direct remittance to the ChessBase India Foundation bank account. All the money collected will be sent to Sreeshwan by the end of this month.
ChessBase India Foundation
HDFC Bank
A/C No. 50200031999591
Branch Name :- GHATKOPAR EAST
IFSC CODE :- HDFC0000118
Please note: Only Indians can deposit in the above bank account. For all those who live outside India can contribute via the GoFundMe link.
More about Sreeshwan
Annotated games by Sreeshwan:
Check out this win of Sreeshwan at the recently concluded Asian Youth 2019. Give special emphasis on his annotations. Such crystal clear erudition, taking care of opponent's resources and at the same time adding his own imagination! That's talent.
Sreeshwan's game at the Lorca Open 2018 that helped him achieve his 1st IM norm:
And how can we let you go without showing his 26 move win over GM Vassily Ivanchuk. This game is annotated by IM Sagar Shah:
Contact:
Ashok Kumar Maralashikari (Sreeshwan's father):
Email ID: ashokmkr99@gmail.com
Phone: +91 99637 37695
---