Sensational Nihal clinches Silver Lake Open 2021
Nihal Sarin scored a victory in the last round to win Silver Lake Open 2021 with an unbeaten 8.0/9, a full point ahead of the competition. Nihal performed at 2807, gained 17 Elo rating points. He needed to win the last round to become a clear champion because a draw meant Raunak's result would decide his fate. Both runner-up Raunak Sadhwani and second runner-up Abhimanyu Puranik scored 7.0/9 each and they were also undefeated. They were placed second and third respectively according to their tie-breaks. IM Harshit Raja scored 6.5/9 and he secured tenth position. IM Raahil Mullick finished at 16th position with 6.0/9. Photo: Rupali Mullick
Invincible Indians claim top three places
Top three places were claimed by Indian players at Silver Lake Open 2021. Nihal Sarin, Raunak Sadhwani and Abhimanyu Puranik secured first, second and third place. Harshit Raja secured tenth place and Raahil Mullick was placed 16th.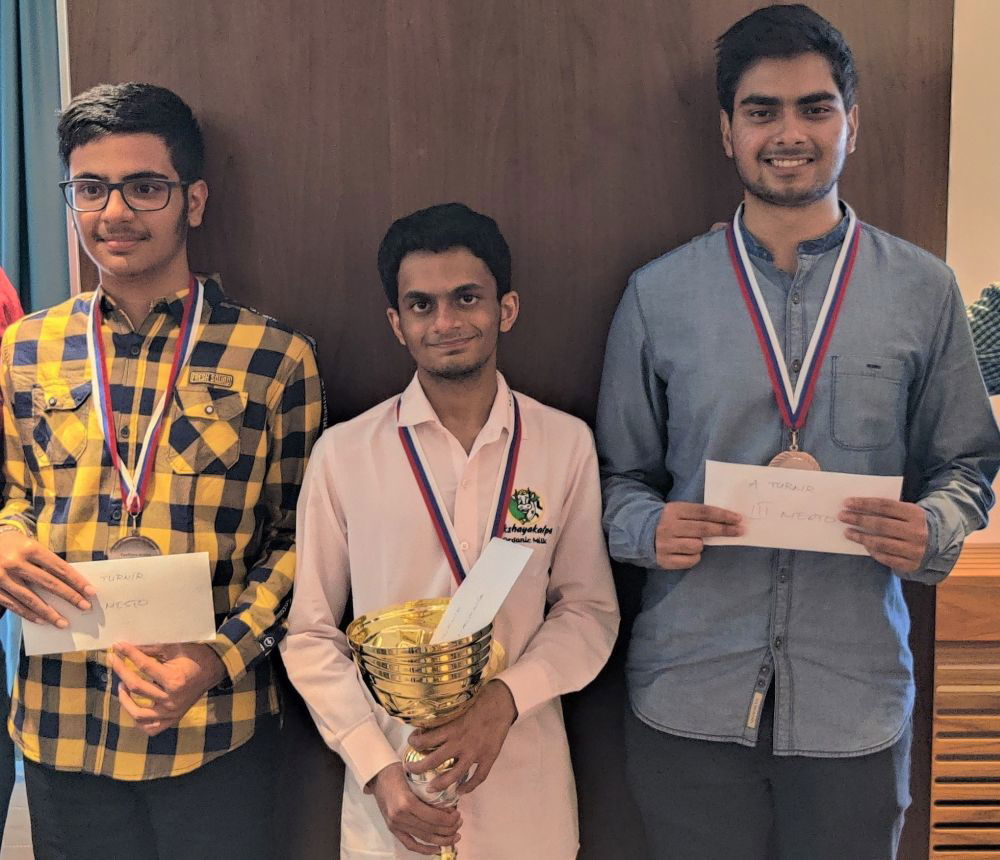 Round 8: Nihal - Puranik: 0.5-0.5
Nihal made a short 17-move draw with compatriot Abhimanyu Puranik.
Perunovic - Harshit: 0.5-0.5
IM Harshit Raja had an interesting draw with GM Milos Perunovic.
Boskovic - Raunak: 0-1
IM Drasko Boskovic's king was already dangling in danger. Then he made a tactical error which Raunak capitalized.
27.Qf3 is a big mistake, as after 27...Qc4+ White is forced to play 28.Bd3 Rxe1+ 29.Kxe1 Qxb2 and it is all over. White went 29.Kg2 fxg4 and it is all over.
Stamatis - Raahil: 1-0
IM Raahil Mullick needed to go all-in with his plan against IM Stamatis Kourkoulos-Arditis.
Instead of the text 28...Rh4, find out where Black should have moved the rook to maintain threats on White king?
For more photos, click here.
Round 9: Damljanovic - Nihal: 0-1
Nihal got a good position out of the opening against GM Branko Damljanovic. He had to go for a win because a draw meant if Raunak wins then he may become champion because of better tie-breaks.
It is evident from 13...h5 that Nihal is ready to maximize the opportunity that was presented.
Now that all ideas on the kingside is exhausted, Black shifts his focus to the queenside. White's response of 28.a4 bxc4 29.Nxc4 Bxc4 30.bxc4 Rxb1 31.Rxb1 Nb4 gave Black the complete control. Soon Nihal gained a couple of pawns and rest was just a matter of technique.
Raunak - Stamatis: 0.5-0.5
Raunak made a solid draw with IM Stamatis Kourkoulos-Arditis in the final round.
Puranik - Radovanovic: 1-0
GM Abhimanyu Puranik beat IM Nikola Radovanovic convincingly in the final round to secure third place.
24...Qb8 is a mistake. Can you find out why?
Harshit - Sadikhov: 0.5-0.5
IM Harshit Raja had a relatively quiet draw with GM Ulvi Sadikhov.
Prize distribution ceremony
For more photos, click here.
Replay Round 8-9 games
Round 8 results
Round 9 results
Final Standings
| | | | | | | | | | | | | | | | | | | | |
| --- | --- | --- | --- | --- | --- | --- | --- | --- | --- | --- | --- | --- | --- | --- | --- | --- | --- | --- | --- |
| Rk. | SNo | | | Name | Typ | sex | Gr | FED | Rtg | TB1 | TB2 | TB3 | Rp | n | w | we | w-we | K | rtg+/- |
| 1 | 3 | | GM | Nihal Sarin | U18 | | | IND | 2620 | 8,0 | 49,5 | 0,0 | 2807 | 9 | 8 | 6,26 | 1,74 | 10 | 17,4 |
| 2 | 6 | | GM | Sadhwani Raunak | U18 | | | IND | 2555 | 7,0 | 51,0 | 0,0 | 2660 | 9 | 7 | 5,75 | 1,25 | 10 | 12,5 |
| 3 | 4 | | GM | Puranik Abhimanyu | | | | IND | 2589 | 7,0 | 48,5 | 0,0 | 2581 | 9 | 7 | 6,92 | 0,08 | 10 | 0,8 |
| 4 | 11 | | IM | Makhnev Denis | | | | KAZ | 2480 | 7,0 | 44,5 | 0,0 | 2562 | 9 | 7 | 6,02 | 0,98 | 10 | 9,8 |
| 5 | 9 | | GM | Sadikhov Ulvi | | | | AZE | 2490 | 6,5 | 47,0 | 0,0 | 2516 | 9 | 6,5 | 6,05 | 0,45 | 10 | 4,5 |
| 6 | 1 | | GM | Ter-Sahakyan Samvel | | | | ARM | 2644 | 6,5 | 46,0 | 0,0 | 2559 | 9 | 6,5 | 7,17 | -0,67 | 10 | -6,7 |
| 7 | 18 | | IM | Agmanov Zhandos | | | | KAZ | 2404 | 6,5 | 46,0 | 0,0 | 2460 | 9 | 6,5 | 5,73 | 0,77 | 10 | 7,7 |
| 8 | 10 | | IM | Kourkoulos-Arditis Stamatis | | | | GRE | 2485 | 6,5 | 45,5 | 0,0 | 2508 | 9 | 6,5 | 6,13 | 0,37 | 10 | 3,7 |
| 9 | 14 | | IM | Boskovic Drasko | | | | SRB | 2451 | 6,5 | 45,5 | 0,0 | 2514 | 9 | 6,5 | 5,60 | 0,90 | 10 | 9,0 |
| 10 | 13 | | IM | Raja Harshit | | | | IND | 2459 | 6,5 | 44,5 | 0,0 | 2508 | 9 | 6,5 | 5,78 | 0,72 | 10 | 7,2 |
| 11 | 7 | | GM | Sedlak Nikola | | | | SRB | 2519 | 6,5 | 44,0 | 0,0 | 2516 | 9 | 6,5 | 6,37 | 0,13 | 10 | 1,3 |
| 12 | 31 | | FM | Vetokhin Savva | U18 | | | RUS | 2324 | 6,5 | 41,5 | 0,0 | 2470 | 9 | 6,5 | 4,71 | 1,79 | 20 | 35,8 |
| 13 | 8 | | GM | Damljanovic Branko | S60 | | | SRB | 2501 | 6,5 | 39,0 | 0,0 | 2467 | 9 | 6,5 | 6,48 | 0,02 | 10 | 0,2 |
| 14 | 19 | | IM | Radovanovic Nikola | | | | SRB | 2395 | 6,0 | 48,0 | 0,0 | 2557 | 9 | 6 | 4,02 | 1,98 | 10 | 19,8 |
| 15 | 5 | | GM | Perunovic Milos | | | | SRB | 2567 | 6,0 | 45,0 | 0,0 | 2469 | 8 | 5,5 | 6,25 | -0,75 | 10 | -7,5 |
| 16 | 22 | | IM | Mullick Raahil | U18 | | | IND | 2386 | 6,0 | 44,0 | 0,0 | 2445 | 9 | 6 | 5,21 | 0,79 | 20 | 15,8 |
| 17 | 34 | | FM | Pasti Aron | U18 | | | HUN | 2318 | 6,0 | 39,5 | 1,0 | 2260 | 9 | 6 | 6,50 | -0,50 | 20 | -10,0 |
| 18 | 76 | | WFM | Balabayeva Xeniya | U18 | w | | KAZ | 2116 | 6,0 | 39,5 | 0,0 | 2390 | 9 | 6 | 2,82 | 3,18 | 40 | 127,2 |
| 19 | 102 | | | Erdogmus Yagiz Kaan | U18 | | | TUR | 1955 | 6,0 | 39,0 | 0,0 | 2303 | 8 | 5 | 1,53 | 3,47 | 40 | 138,8 |
| 20 | 20 | | IM | Megalios Konstantinos | | | | GRE | 2390 | 5,5 | 46,0 | 0,0 | 2416 | 9 | 5,5 | 5,06 | 0,44 | 10 | 4,4 |
Links
---