Reykjavik Open 06: Adhiban joins the leaders; Nihal holds Kamsky
At the conclusion of the sixth round, as many as six players are leading the Reykjavik Open 2018 as all three leaders ended up splitting points. On the top board, Mustafa Yilmaz and Alexander Lenderman had a 67-move marathon. But at the end of it, only two kings remained and peace was signed. The third co-leader, Nihal Sarin tried to push for a win but his opponent sealed off all routes of entry. Not a single pawn was traded in this entire game and there seemed no way of making progress when players agreed to a draw on move 30. As the leaders drew, Adhiban Baskaran, Richard Rapport and Maxime Lagarde pulled out victories to jump up to the top spot. Round 6 report.
Round 6: Seven leaders emerge!
Tournament leaders doubled from three to six after the sixth round of the Reykjavik Open. Co-leaders, Mustafa Yilmaz and Alexander Lendermann, who were facing each other in round six, fought it out for 67 moves but had to remain content with splitting the point after only kings remained on the board.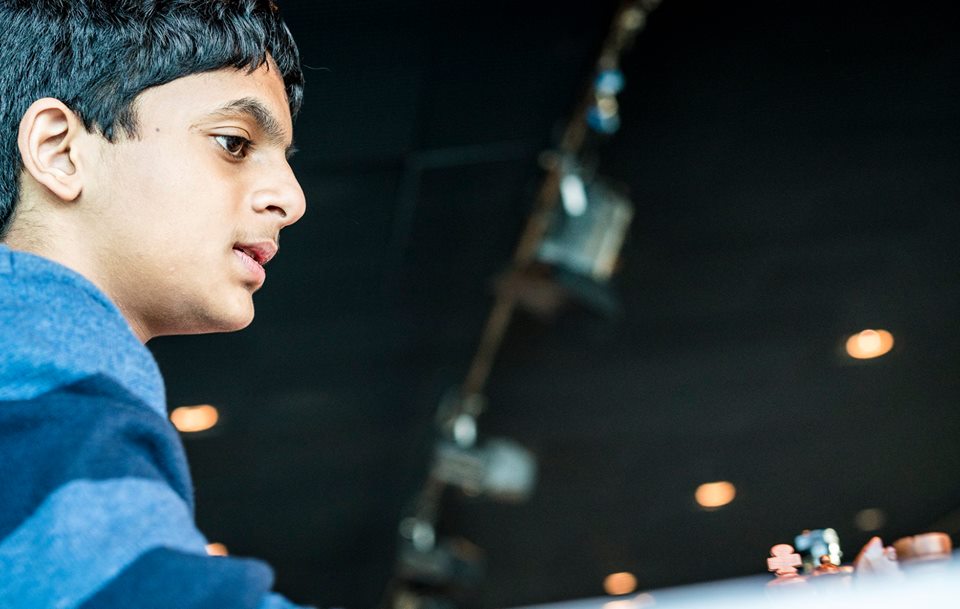 The third co-leader, Nihal Sarin also could not do better than scoring a draw in this round against former five-time US Champion, Gata Kamsky. Kamsky, with the black pieces, essayed the King's Indian Defence to counter Sarin's 1.d4. Sarin responded with the four pawns attack and got a broad central pawn formation. As a result of his opening choice, Sarin did get a nice space advantage. However, Kamsky, it seemed, was in absolutely no mood to exchange any pawns; minor pieces, however, were exchanged. Right after the opening, Kamsky closed the position on all sides of the board and neither side had any chance of penetrating into the enemy camp as a result. After shuffling pieces back and forth for a few moves, the players agreed to sign peace on move 30.
There was a twelve player field hot on the heels of the leaders sharing second place with only a half point difference in score. It was but natural then that three more players – Adhiban Baskaran, Richard Rapport and Maxim Lagarde – joined the leaders after Sarin, Yilmaz and Lendermann drew their games.
Adhiban, who had started slow with two draws in his first three games, won his third game in a row in round 6. Playing with the white pieces against American GM Alejandro Ramirez, Adhiban scored a nice quick win in just 27 moves. Ramirez played the opening quite ambitiously, deploying the Benko Gambit and pushed hard to gain the initiative. This, however, backfired as Ramirez had ignored his development as well ask king safety in doing this.
Adhiban reacted in a masterly fashion to refute this overambitious play of his opponent. Having developed all of his pieces, Adhiban caught the black king in the centre and launched a monstrous attack. By the 27th move, Ramirez was about to suffer a ruinous loss of material and decided to throw in the towel.
Praggnanandhaa's comeback!
Another player inching towards the top spots is IM R Praggnanandhaa. After his loss to GM Alexander Lenderman in round 4, the 12-year-old from Chennai has come back strongly scoring two straight wins in his next couple of games. In round 7, he was pitted against Icelandic FM Vignir Vatnar Stefansson. With the black pieces, Pragganandhaa went for the reversed Sicilian setup against his opponent's English Opening. Out of the opening, Praggna gained space in the centre with his pawns and, as play progressed, was able to plant a bishop deep into his opponent's position.
A queen trade by Stefansson on the 22nd turn gave Praggnanandhaa a strong passed pawn in the centre. Not to mention, the latter's rook activity was also posed some difficult questions to his opponent. Stefansson tried bailing out by liquidating into an endgame but he lost two pawns in the process. The rest of the game was a cakewalk for Praggnanandhaa. By the 57th move, he had won a full piece and forced his opponent to resign.
In the next round, Praggnanandhaa will be playing the 2613-rated Russian GM Konstantin Landa. A good result in this game will not only help his tournament standing but will also play a big role in pushing him closer to one of those two grandmaster norms he has been chasing since the last two years. As of now, with this sixth round win, Praggnanandhaa has moved up to the joint second spot on the leaderboard and is only half a point behind the tournament leaders.
With just three rounds to go, the tournament is still wide open. Not only are there six players tied for the first place, there are also another 16 players just half-a-point behind on 4.5/6. Furthermore, one cannot discount the 27 players sharing third place with a score of 4.0/6. They might be a full point behind the leaders but with three more rounds to go, there have much more than a mathematical chance of catching up and contending for the top prize.
Standings
About the Author
Aditya Pai is an ardent chess fan, avid reader, and a film lover. He holds a Master's in English Literature and used to work as an advertising copywriter before joining the ChessBase India team.
Previous reports on the Reykjavik Open
Reykjavik Open Rd 1: Adhiban suffers an early upset
Reykjavik Open 02:Top seeds have a tough time
Reykjavik Open 04: Nihal Sarin beats Ahmed Adly; Yilmaz takes sole lead
Reykjavik Open 05: Nihal joins Yilmaz in the lead
Coverage on Firstpost
Reykjavik Open Chess: India's Adhiban Baskaran held to draw by compatriot Soham Das in Round 1
Reykjavik Open Chess: Vaibhav Suri takes joint lead; Nihal Sarin, R Praggnanandhaa share 2nd spot with 20 others
Reykjavik Open 2018: Nihal Sarin shocks Ahmed Adly, R Praggnanandhaa suffers bitter defeat in Round 4
Reykjavik Open 2018: 13-year-old Nihal Sarin continues purple patch in Round 5, B Adhiban also makes good progress

---