Reykjavik Open 04: Nihal Sarin beats Ahmed Adly; Yilmaz takes sole lead
The fourth round of the Reykjavik Open saw a sole leader emerge. While Richard Rapport drew Elshan Moradiabadi, Turkish GM Mustafa Yilmaz seized the opportunity to take sole lead by beating GM Vaibhav Suri on board 1. In another exciting matchup, veteran GM Johann Hjartarson stunned the second seed of the tournament, GM Pavel Eljanov from the black side of a King's Indian on board 3. One more big upset was seen on board five where Nihal Sarin defeated GM Ahmed Adly from an equal looking position in the QGD. With this win, Nihal is in shared second place having won three and drawn one of his first four games. An illustrated report.
Round 4: Mustafa Yilmaz takes sole lead
At the conclusion of the fourth round of the Reykjavik Open 2018, the tournament finally saw its first sole leader. Going into round four, three players – Vaibhav Suri, Mustafa Yilmaz and Elshan Moradiabadi – were leading the tournament. In round four, Moradiabadi drew against Richard Rapport on board two while Yilmaz defeated Suri on the top board to take sole lead.
Yilmaz, who had the black pieces, went for the Najdorf variation of the Sicilian and was able to equalize comfortably out of the opening. Suri tried to keep some initiative by a pawn expansion on the queenside. However, he soon faltered and lost a pawn. In the next few moves, Suri lost more material and tried resorting to tactical complications to save the game. But Yilmaz had an overwhelming position at this point and it was hard to believe Suri might really be able to turn the tables. On his 39th move, Suri blundered and lost a knight which led to immediate resignation.
The big upset
Here, the second seed of the tournament, GM Pavel Eljanov was pitted against veteran Icelandic GM Johann Hjartarson. Hjartarson was rated 200 points below Eljanov but had dominated his opponent from the Black side of a King's Indian Defence after Eljanov had fallen into his opening prep. In the final position, Hjartarson was two pawns ahead and was about to win another exchange. Eljanov resigned after black's 36th move.
Prag falters, Nihal prevails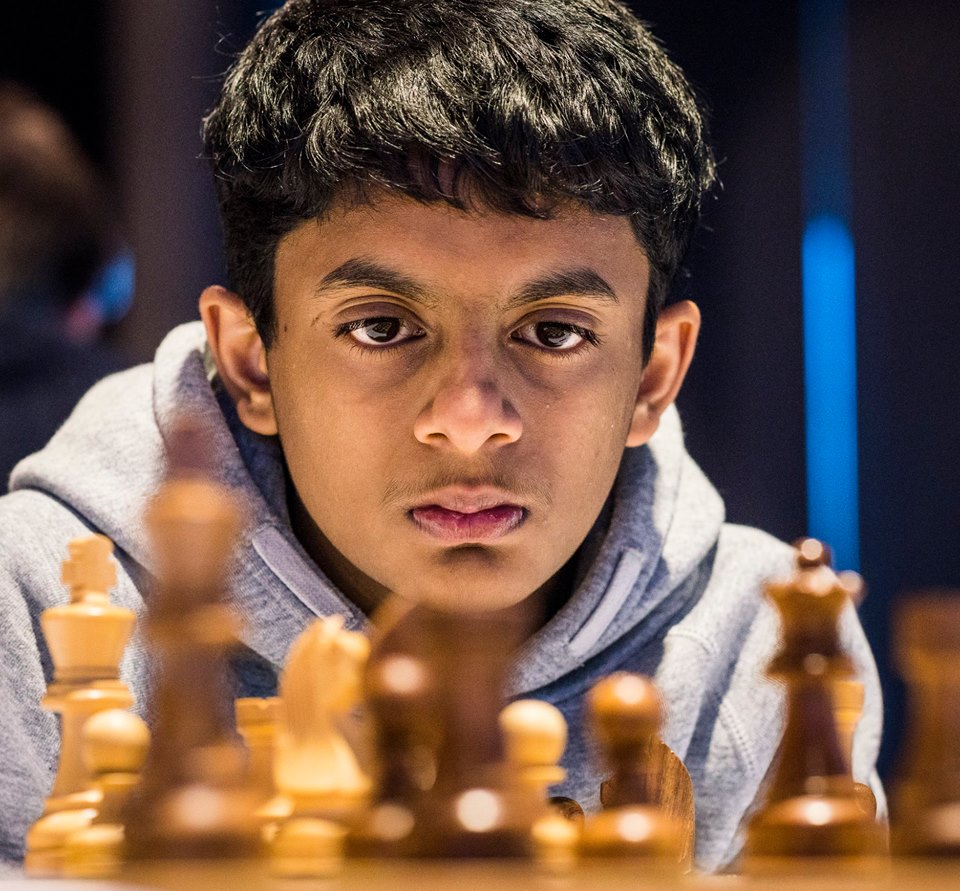 Another huge upset was seen on board five where 13-year-old Nihal Sarin defeated Egyptian GM Ahmed Adly from the white side of a Queen's Gambit Declined. The Indian prodigy has been in his element throughout the event and round four was no exception. Nihal was able get the initiative right out of the opening. In the position, the pawn structure looked almost symmetrical and the material count was also equal but Nihal's superior piece activity soon netted him a pawn. Reaching the first time control, the players had entered an endgame where both sides had a knight and a rook. The difference was in the pawn count: Sarin had four against Adly's three. But since all pawns were on the same side of the board, finding a path to victory was not an easy task.
In the next few moves, Nihal managed to swap rooks. On his 52nd turn, Adly erred again and allowed his opponent to win another pawn. After this, it was merely a technical task for Nihal to finish off, which he did successfully.
With the black pieces, Praggnanandhaa essayed the Open Catalan against American GM Alexander Lendermann. Praggna was able to equalize out of the opening fairly easily and had even maintained this equilibrium well into the endgame. But on his 50th move, he slipped and allowed his opponent a strong initiative and eventually lost him a pawn. Praggna fought valiantly in order to hold on to a draw after this but the position was a difficult one to defend. On his 75th turn, he erred again and lost another pawn. With two extra pawns, it didn't take much of an effort for Lendermann to finish off the game. By the 89th move, Praggnanandhaa's king was trapped in a corner while white's pawns advanced freely towards the queening squares. He decided to throw in the towel at this point.
Adhiban scores his second win
After two draws in his first three rounds, Adhiban Baskaran scored his second win of the tournament in round 4. Playing against Norwegian FM Eiving Olav Risting, Adhiban did not have much difficulty bringing home the full point. Play began with a Queen's Gambit Declined. With the black pieces, Risting blundered on his 19th turn and allowed his opponent a deadly tactic that lost him a pawn and the exchange. The game didn't last long after this. Risting resigned on move 27.
After four rounds, Turkish GM Mustafa Yilmaz is the only player to have maintained a perfect score of 4.0/4. With this, he has taken the sole lead and his half a point ahead of his nearest rival. There is a seven-way tie for the second spot wherein all players are tied at 3.5/9. IM Nihal Sarin is the only Indian in this tie. However, Adhiban Baskaran, Vaibhav Suri and FM Fenil Shah are not too far behind. They, along with twenty-three other players are tied for the third place with a score of 3.0/4. Friday, March 9, 2018, is a rest day in Reykjavik. Play will resume on March 10 at 1 PM local time (6:30 PM IST).
Standings
About the Author
Aditya Pai is an ardent chess fan, avid reader, and a film lover. He holds a Master's in English Literature and used to work as an advertising copywriter before joining the ChessBase India team.
Previous reports on the Reykjavik Open
Reykjavik Open Rd 1: Adhiban suffers an early upset
Reykjavik Open 02:Top seeds have a tough time
Coverage on Firstpost
Reykjavik Open Chess: India's Adhiban Baskaran held to draw by compatriot Soham Das in Round 1
Reykjavik Open Chess: Vaibhav Suri takes joint lead; Nihal Sarin, R Praggnanandhaa share 2nd spot with 20 others

---