Prithu Gupta - the boy who tops in class and scores GM norms with ease!
Academics or chess is a question that grapples every talented youngster and his parents. The common answer has been to give education a backseat and focus on chess at least until you reach 10th grade. But here is a boy who is managing both. Well, managing would not be the right word - excelling at both! Meet Prithu Gupta, who has a Live Elo rating of 2460 and two GM norms and in his school almost always scores a CGPA of 10.0/10. How does the boy do it? How did he make his two GM norms by playing just four tournaments in 2018? How has the boy never lost to a 2600 opponent in his chess career till date? We answer all of these questions in this article and much more. Prithu sends us three annotated games as well that gives you a good insight about what's going on in his mind while he gives one fine performance after another.
The 14-year-old who has never lost to a 2600+ opponent!
Balancing chess and education is always difficult for talented youngsters. On one hand is the conventional path of excelling at academics, which gives them and their family mental peace that they are doing something that is well established and has a secure future. On the other hand, their love for the game of chess and their talent doesn't let them rest easy without practicing to perfect their favourite sport. The situation is pretty complex and there is no right answer whether one should pursue an academic career or one in chess! It is completely a personal choice. The recent trend in Indian chess, however, has moved towards talented youngsters putting their education on the backburner and trying to play as much chess as they can. Perhaps this is the only way you can become a grandmaster has been their thought process. But there is one boy who aims to change the trend. Prithu Gupta excels both in school and in chess at a very high level. Prithu studies in the ninth grade at Modern School, Vasant Vihar, Delhi. He has managed to maintain a CGPA of 10 in academics and at the same time he has a live rating of 2460 and two GM norms! Wow! How is that even possible?
The general thinking is that once you are an IM, you need to play a lot of tournaments in order to achieve your GM title. Well, Prithu has played only four tournaments in 2018 - the Gibraltar Masters, Llucmajor Open, Portugese League and the Biel Masters and scored two GM norms from them! The first one came at the Gibraltar Masters where Prithu completed all his formalities of becoming an IM and also scored a GM norm. And the second one was at the Biel Masters where he beat his first opponent above 2600 Elo - GM Evgeny Romanov. In an interview with ChessBase India after scoring his second GM norm, Prithu was asked as to how does he manage his education and chess. He said, "I wouldn't say I am very passionate about studies, but I like certain subjects like Spanish, because I think they are useful in day to day life. For example when I travel for chess tournaments to Western Europe, I do not think many people are fluent in English, but almost everyone knows a bit of Spanish. So that comes in handy." When asked what's next on his agenda, Prithu replied, "Back to my study desk now!" It is simply amazing how the boy is able to switch between reading his textbooks and solving tough chess problems on the board with the highest amount of concentration. At the age of 14 years, this shows extremely high level of maturity. Prithu will next be in action at the Isle of Man Masters 2018 in October. It will be interesting to see if he can achieve his final GM norm there.
Prithu's GM norm at the Biel Masters 2018
Prithu showed a great start at the Biel Masters by beating GM Evgeny Romanov (2636) in the second round. He followed it up with a solid draw against the eventual champion Vaibhav Suri (2556) and then a draw against GM Alexander Kovchan (2572) and Jules Moussard (2559). In a drawn endgame against Aravindh Chithambaram he collapsed and lost. This came as quite a shock to the 14-year-old for whom the tournament until that point was progressing like a dream. Your true spirit is seen when the chips are down and Prithu showed what a fighter he is in the next three rounds. The boy needed 2.5 points in the last three rounds. Not at all easy. He achieved that by beating Vantika Agrawal (2295), GM Dan Zoler (2528) and a draw with Eduardo Iturrizaga (2652).
Writing to ChessBase India, Prithu said, "Playing the "Biel Masters tournament has been an absolutely amazing experience for me. To be able to play in the same room as Magnus Carlsen, Shakhriyar Mamedyarov, Peter Svidler, Maxime Vachier-lagrave, David Navara and others is any chess player's dream. To start with, it was a last minute decision taken by my coaches and my mother that I have to play the 'Biel Masters' tournament. I was happy playing any tournament as long as I got to play."
"I was invited to play in the "Dias Ferreira" team of the Portuguese League (it was a strong tournament with 15 grandmasters and 18 International masters) and the only tournament which was looking good after the league was the Biel one. The irony was that I expected to play better in the league than Biel but the opposite happened. I managed to score some crucial points for the team and was elated to see my team become champions in the strong Portugese league but the quality of my games was not good. I thought of those 6 rounds as a warm up session since I was playing after 2 months and was looking forward to accomplish what I had come to Europe for in Biel itself. It was certainly easier said than done."
Anyone would have shunned the idea of me making my second GM norm in my third tournament this year but my teachers had a lot of faith in my ability. Two tired individuals (I and my mother) arrived in Biel a day before the tournament started. Now 5 days into the tournament, I had everything going my way. I scored wins against a lower rated and a 2600+GM and made 3 draws against 2550+GMs. But then I lost a dead equal endgame in the 6th round against Aravindh Chidambram when I played terribly in time pressure. Like any other kid with high hopes, I was miserable after losing. For the first time in the tournament, I checked my scorecard. I was relieved to find out that I still had a 2557 performance. But that also meant that I had to score at least 2.5 in the last 3 games. Somehow I managed to pull myself together and play my best chess in the last 3 games."
"I owe my success to all my wonderful teachers (Indian and International ones) who have so trained me with dedication and supported me during the tournaments. I have been extremely lucky in getting the right teachers at the right time. The camps which I have with my coaches (online and in- person) are the best times and will always go down the memory lane for me. I go for regular camps with IM Roktim Bandyopadhyay to Kolkata and also play sometimes with IM Somak Palit there. GM Saptarshi Roy Choudhary gives us overall guidance by guiding us about the best tournaments (as he has played a lot abroad). He also helps me in other minor aspects now. I'm really tempted to reveal the names of my foreign coaches ( they deserve the maximum credit for my success) but I can't right now. They also understand that I've no sponsors and they are also fine with remaining anonymous till I get good sponsors. All I can say is that they have been lenient with us in every way possible and have treated me like their own. So I can never be more thankful to them. I hope to make all my teachers prouder some day."
Prithu vs Evgeny Romanov:
Jules Moussard vs Prithu Gupta
Prithu Gupta vs Dan Zoler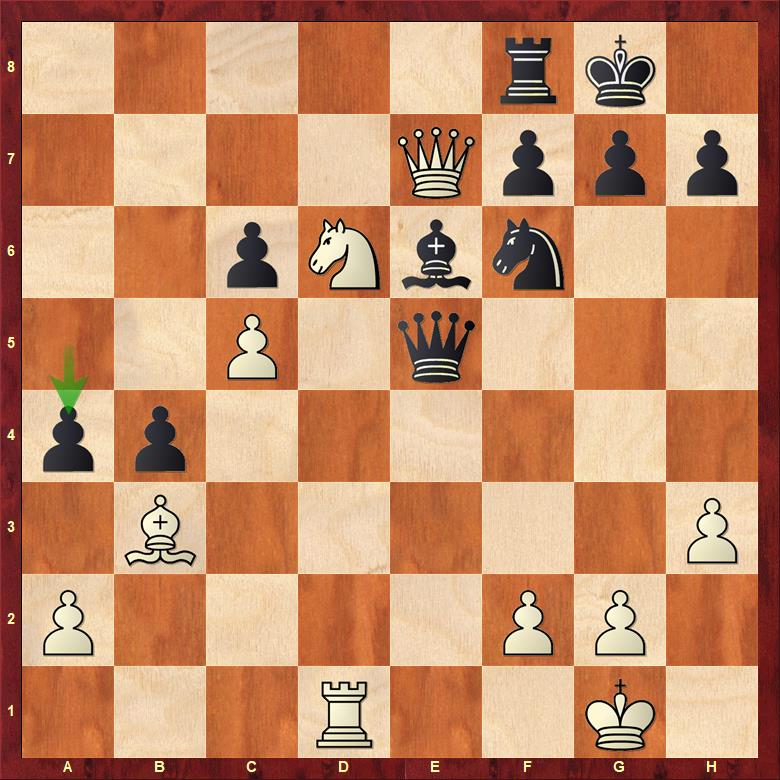 So what was Prithu's motivation during this spirited performance at the Biel Masters 2018? "I forgot to mention one very important source of inspiration for me during all my tournaments. I'm a big fan of Tom Cruise's mission Impossible series . Seeing a veteran actor like Cruise doing all his stunts himself at the age of 56 can certainly inspire 14 year olds like me. It might sound silly but it's the truth!"
Prithu came back home and immediately went to see Mission Impossible Fallout and he simply "LOVED IT!"
Previous articles on Prithu on ChessBase India:
From 1187 to 2219 in just three years
Prithu Gupta makes his maiden IM norm
Prithu Gupta- IM title and one GM Norm at the age of 13!
Gibraltar 2018: Prithu Gupta becomes an IM and scores his maiden GM norm
Swayams Mishra and Prithu Gupta shine at the Llucmajor Open 2018 in Mallorca
---