Gibraltar 2018: Prithu Gupta becomes an IM and scores his maiden GM norm
It was a dream come true for the 13-year-old Delhi youngster Prithu Gupta as he not only scored his maiden GM norm at the Gibraltar Masters 2018, but also completed his IM title! The other good news for the day was Raunak Sadhwani making his 2nd IM norm. Debashis Das is showing some super-solid chess with a 2700+ performance, Abhijeet Gupta beat Vassily Ivanchuk with a scintillating game of chess. And last but not the least, Nihal Sarin played an amazing positional game to outwit experienced GM Kiril Georgiev. This report is filled with great insights, analysis, photos and much more!
Sadhwani scores IM norm, Debashis' 2700+ performance, Abhijeet beats Ivanchuk!
Let's first begin with one of the biggest news of the day. After the seventh round Prithu Gupta was sitting pretty with two wins and five draws and a rating performance of 2639. He needed just 1.0/2 and that would have got him his maiden GM norm. But good things don't come so easy! Prithu lost his eighth round and was now in a must-win scenario in the ninth round. He was up against the strong Norwegian IM Johan-Sebastien Christiansen with the black pieces. "I never imagined that I would win the game with black," said Prithu. But he did! And with it, he not only made his maiden GM norm, but also completed his IM title.
ChessBase India was the first one to discover Prithu's talent when our author Jitendra Choudhary wrote an article: From 1187 to 2219 in just three years. 13-year-old Prithu is currently ranked number three in India in the under-14 section behind Nihal Sarin and R. Praggnanandhaa. It will be interesting to follow Gupta's career, as he is ideally placed with an IM title and one GM norm. Being coached by able trainers like IM Roktim Bandhopadhyay, IM Somak Palit and GM Saptarshi Roy Chowdhury we can expect much more from this Delhi youngster.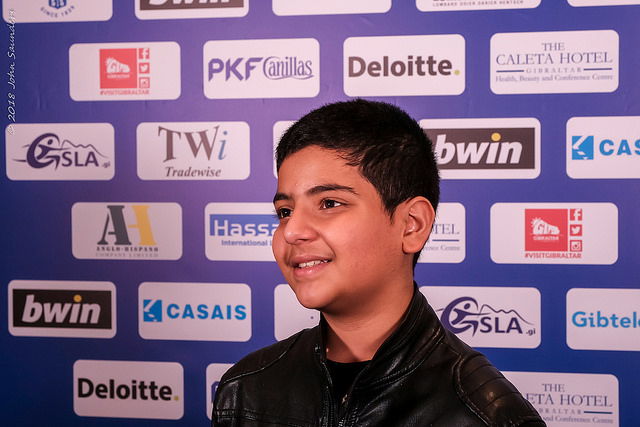 One of the other reasons why I was fascinated with this opening is because I had seen it in Daniel King's Power play two. The DVD is entitled "Attacking the king". And this entire idea of exchanging the light squared bishops with Ba6 by Black and then White playing his rook to d1 so that he can recapure with Rxd3 lifting his rook to the third rank was all so fascinating that I couldn't help but fall in love with this opening. Now that I am older (less hair) and more experienced, I know that it wasn't just the opening, but the way Daniel King explained these concepts that made me love this line so much! If you want to learn the art of building up an attack I recommend Power Play 2 to you. Your money won't be wasted!
Coming back to Abhijeet vs Ivanchuk, Gupta played a very beautiful combination: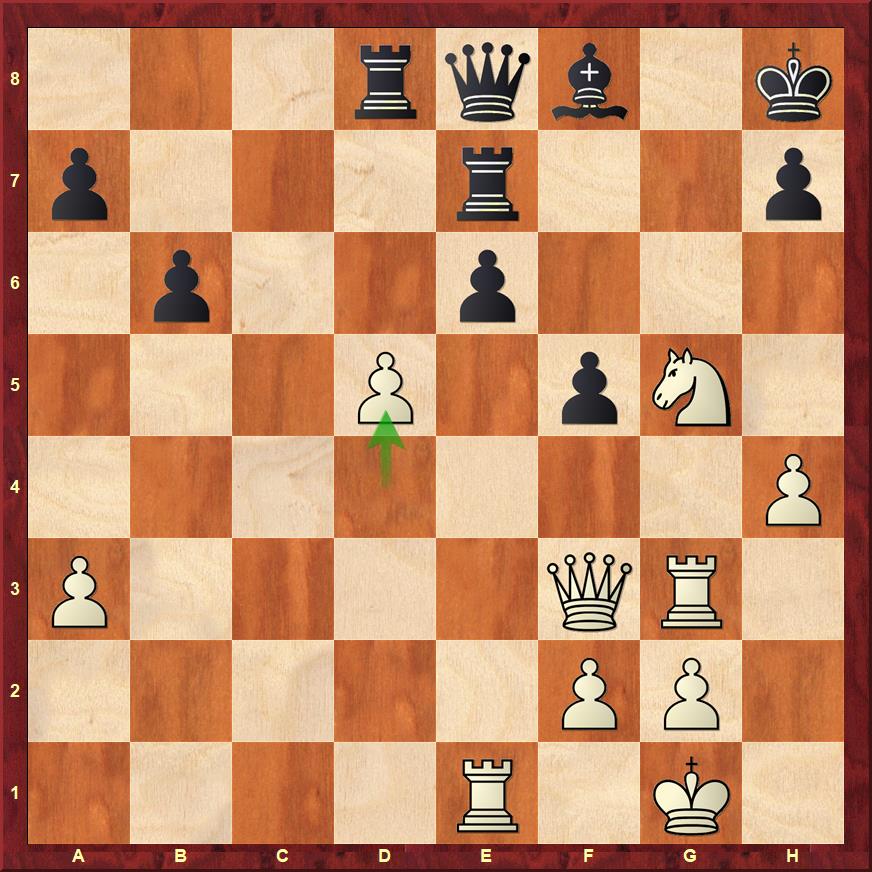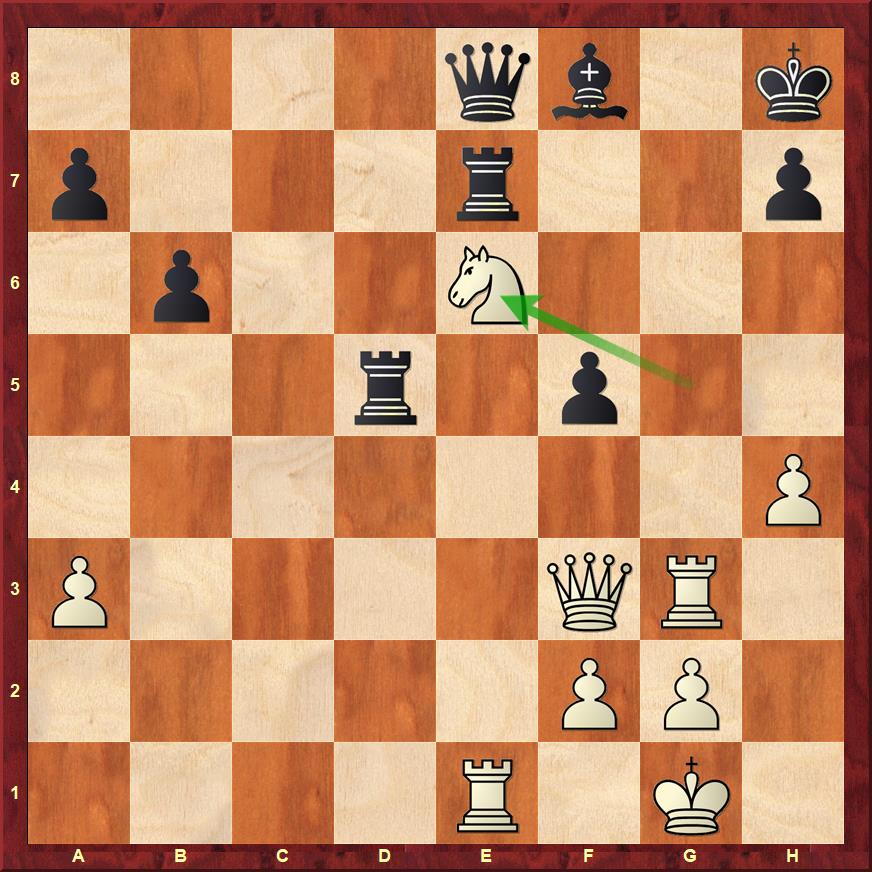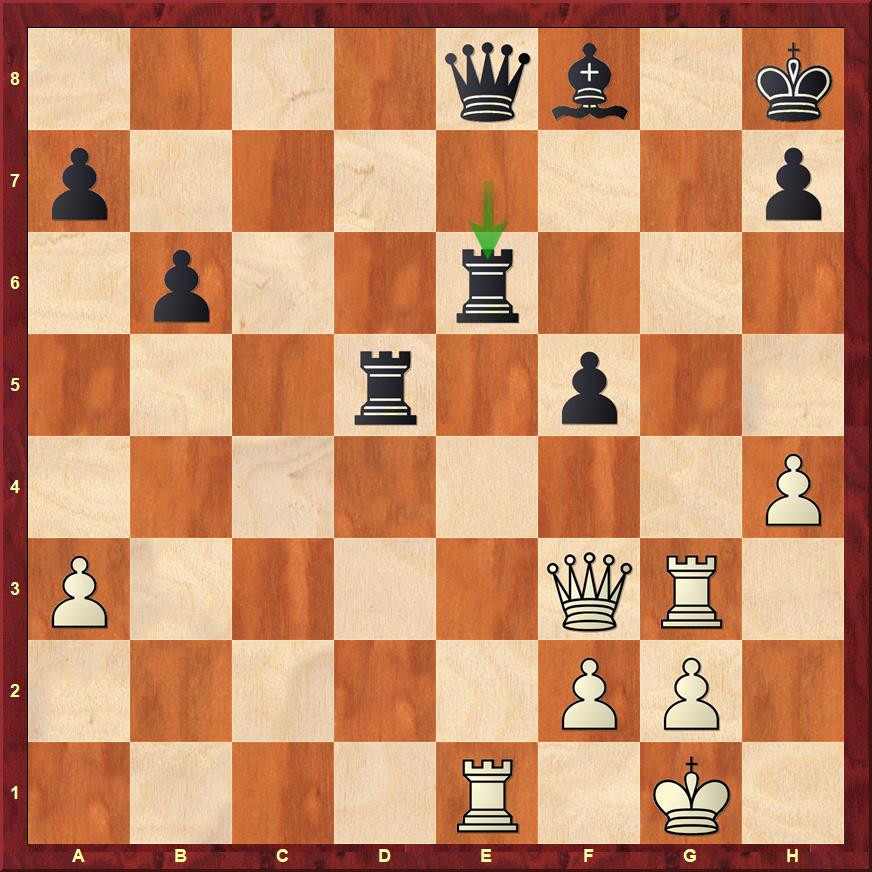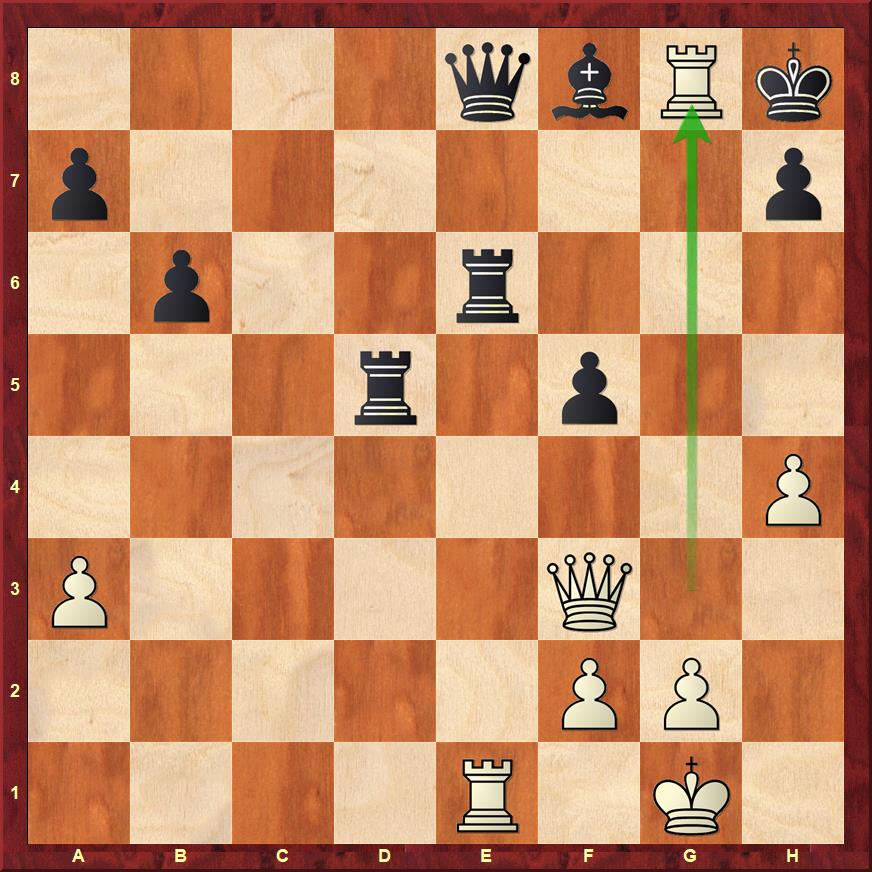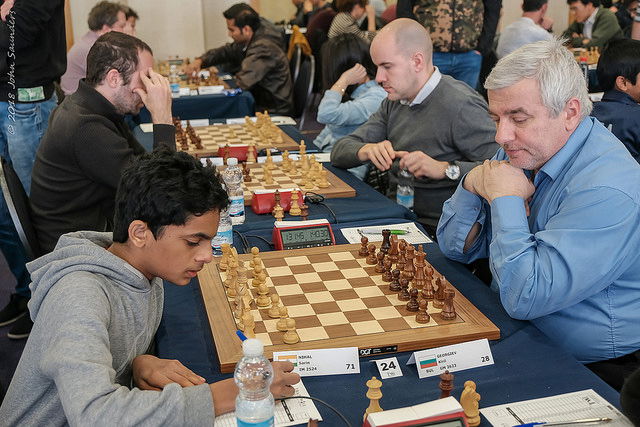 Tania Sachdev interviews Harikrishna:
Overview of Indian performances
| | | | | | | | | | | | | | | | | |
| --- | --- | --- | --- | --- | --- | --- | --- | --- | --- | --- | --- | --- | --- | --- | --- | --- |
| SNo | | Name | Rtg | FED | 1 | 2 | 3 | 4 | 5 | 6 | 7 | 8 | 9 | Pts. | Rk. | Group |
| 5 | GM | Harikrishna P. | 2745 | IND | ½ | ½ | 1 | 1 | 1 | ½ | 0 | 0 | 1 | 5,5 | 59 | Masters |
| 25 | GM | Sethuraman S.P. | 2646 | IND | 1 | 1 | ½ | ½ | 0 | 1 | 1 | 1 | 0 | 6,0 | 24 | Masters |
| 31 | GM | Gupta Abhijeet | 2610 | IND | 1 | ½ | ½ | 1 | 1 | ½ | ½ | 1 | ½ | 6,5 | 8 | Masters |
| 37 | GM | Gopal G.N. | 2593 | IND | ½ | 1 | ½ | 1 | ½ | ½ | 0 | 1 | ½ | 5,5 | 67 | Masters |
| 42 | GM | Sandipan Chanda | 2579 | IND | ½ | ½ | 1 | 1 | 1 | 1 | 0 | ½ | ½ | 6,0 | 29 | Masters |
| 45 | GM | Narayanan S. L. | 2573 | IND | 1 | 1 | ½ | ½ | 1 | 0 | 1 | ½ | ½ | 6,0 | 33 | Masters |
| 63 | GM | Lalith Babu M R | 2542 | IND | 1 | 1 | ½ | ½ | 0 | ½ | 1 | 0 | 1 | 5,5 | 54 | Masters |
| 68 | GM | Swapnil S. Dhopade | 2533 | IND | 1 | 1 | ½ | 0 | ½ | 1 | ½ | ½ | 1 | 6,0 | 39 | Masters |
| 71 | IM | Nihal Sarin | 2524 | IND | 1 | ½ | ½ | 0 | ½ | 1 | 1 | 1 | ½ | 6,0 | 45 | Masters |
| 74 | IM | Praggnanandhaa R | 2515 | IND | 1 | ½ | ½ | ½ | ½ | 1 | 1 | 0 | ½ | 5,5 | 63 | Masters |
| 81 | GM | Debashis Das | 2501 | IND | 1 | 1 | ½ | ½ | ½ | ½ | ½ | ½ | 1 | 6,0 | 20 | Masters |
| 82 | GM | Gagare Shardul | 2494 | IND | 1 | 1 | ½ | ½ | 1 | 0 | 0 | 1 | ½ | 5,5 | 48 | Masters |
| 102 | IM | Prasanna Raghuram Rao | 2458 | IND | 1 | 0 | 1 | 1 | 0 | ½ | ½ | 1 | ½ | 5,5 | 65 | Masters |
| 108 | GM | Venkatesh M.R. | 2445 | IND | 1 | 1 | ½ | ½ | ½ | 0 | 1 | ½ | ½ | 5,5 | 53 | Masters |
| 114 | IM | Swayams Mishra | 2432 | IND | 1 | ½ | 1 | 0 | ½ | 0 | ½ | ½ | ½ | 4,5 | 130 | Masters |
| 119 | IM | Raja Harshit | 2427 | IND | ½ | 1 | ½ | 0 | ½ | 1 | 0 | 1 | ½ | 5,0 | 110 | Masters |
| 136 | IM | Mohammad Nubairshah Shaikh | 2380 | IND | 1 | ½ | ½ | ½ | 1 | 0 | ½ | ½ | 1 | 5,5 | 62 | Masters |
| 139 | FM | Prithu Gupta | 2373 | IND | ½ | ½ | 1 | 1 | ½ | ½ | ½ | 0 | 1 | 5,5 | 52 | Masters |
| 149 | IM | Hemant Sharma (Del) | 2348 | IND | ½ | 0 | 1 | 1 | ½ | ½ | ½ | ½ | ½ | 5,0 | 80 | Masters |
| 159 | IM | Padmini Rout | 2325 | IND | 0 | 1 | 0 | 1 | 1 | 0 | ½ | 1 | 0 | 4,5 | 126 | Masters |
| 162 | FM | Sadhwani Raunak | 2321 | IND | ½ | 0 | 1 | ½ | ½ | ½ | 1 | 0 | ½ | 4,5 | 125 | Masters |
| 176 | IM | Mohota Nisha | 2269 | IND | ½ | 0 | 1 | ½ | 0 | 1 | 1 | 0 | ½ | 4,5 | 133 | Masters |
| 186 | WIM | Nandhidhaa Pv | 2238 | IND | 0 | 1 | ½ | 0 | 1 | 0 | 1 | ½ | 1 | 5,0 | 118 | Masters |
| 228 | WFM | Cholleti Sahajasri | 2083 | IND | 0 | 0 | 1 | 1 | 0 | 1 | 0 | 0 | 0 | 3,0 | 224 | Masters |
| 230 | WIM | Tejaswini Sagar | 2081 | IND | ½ | ½ | ½ | 1 | 0 | 0 | ½ | 0 | 1 | 4,0 | 173 | Masters |
| 247 | WIM | Gagare Shalmali | 2001 | IND | ½ | 0 | 0 | 0 | 1 | ½ | 0 | ½ | ½ | 3,0 | 232 | Masters |
| 254 | CM | Dev Shah | 1977 | IND | ½ | 0 | 0 | 0 | 0 | 1 | 0 | 0 | 1 | 2,5 | 257 | Masters |
| 268 | | Mayank Pal | 1834 | IND | ½ | 0 | 0 | 0 | ½ | ½ | ½ | ½ | ½ | 3,0 | 246 | Masters |
Rank after Round 9
| | | | | | | | |
| --- | --- | --- | --- | --- | --- | --- | --- |
| Rk. | SNo | | Name | FED | Rtg | Pts. | TB1 |
| 1 | 3 | GM | Nakamura Hikaru | USA | 2781 | 7,0 | 2830 |
| 2 | 2 | GM | Vachier-Lagrave Maxime | FRA | 2793 | 7,0 | 2771 |
| 3 | 12 | GM | Rapport Richard | HUN | 2700 | 7,0 | 2765 |
| 4 | 1 | GM | Aronian Levon | ARM | 2797 | 7,0 | 2748 |
| 5 | 15 | GM | Dubov Daniil | RUS | 2694 | 7,0 | 2703 |
| 6 | 16 | GM | Howell David W L | ENG | 2682 | 6,5 | 2766 |
| 7 | 38 | GM | Antipov Mikhail Al. | RUS | 2588 | 6,5 | 2757 |
| 8 | 31 | GM | Gupta Abhijeet | IND | 2610 | 6,5 | 2734 |
| 9 | 24 | GM | Grandelius Nils | SWE | 2647 | 6,5 | 2727 |
| 10 | 9 | GM | Duda Jan-Krzysztof | POL | 2724 | 6,5 | 2725 |
| 11 | 10 | GM | Wang Hao | CHN | 2711 | 6,5 | 2720 |
| 12 | 33 | GM | Oparin Grigoriy | RUS | 2607 | 6,5 | 2715 |
| 13 | 7 | GM | Vitiugov Nikita | RUS | 2732 | 6,5 | 2698 |
| 14 | 11 | GM | Adams Michael | ENG | 2709 | 6,5 | 2692 |
| 15 | 14 | GM | Gelfand Boris | ISR | 2697 | 6,5 | 2680 |
| 16 | 32 | GM | Vocaturo Daniele | ITA | 2609 | 6,5 | 2677 |
| 17 | 6 | GM | Le Quang Liem | VIE | 2737 | 6,5 | 2667 |
| 18 | 13 | GM | Cheparinov Ivan | BUL | 2699 | 6,5 | 2637 |
| 19 | 93 | GM | Kobo Ori | ISR | 2477 | 6,5 | 2629 |
| 20 | 81 | GM | Debashis Das | IND | 2501 | 6,0 | 2704 |
---