No Arjuna award for chess players since 7 years - when will the drought end?
The Arjuna Award is a recognition for outstanding achievement by sports players. In Indian chess 17 players have received the Arjuna Award starting from 1961. The last one was in 2013 and it has been seven years since then. So many achievements have been made, so many world class players created, so many laurels won for the country, yet the Government doesn't recognize the contribution of these players. In this article we tell you why chess is being ignored for important awards like the Arjuna and Dronacharya and at the same time we ask you to sign the petition at the end of the article so that the players and coaches get the award that they truly deserve.
The winners of the Arjuna Award for the year 2020 were announced just a couple of days ago. As per the Governement form (F. No. K-15012/3/2020- SP-IV) for the Arjuna Award "Normally not more than 15 awards could be given in any calendar year." This year however, exceptions have been made and a whopping 29 players were given the Arjuna Award. This is of course great news for Indian sports. However, a close look at the list revealed that no chess players have been included.
The list of players who won the Arjuna Award in 2020
1. Atanu Das (Archery)
2. Shiva Keshavan (Luge)
3. Dutee Chand (Athletics)
4. Satwiksairaj Rankireddy (Badminton)
5. Chirag Shetty (Badminton)
6. Vishesh Bhrighuvanshi (Basketball)
7. Ishant Sharma (Cricket)
8. Deepti Sharma (Cricket)
9. Lovlina Borgohain (Boxing)
10. Manish Kaushik (Boxing)
11. Sawant Ajay Anant (Equestrian)
12. Sandhesh Jhingan (Football)
13. Aditi Ashok (Golf)
14. Akashdeep Singh (Hockey)
15. Deepika Thakur (Hockey)
16. Deepak Niwas Hooda (Kabaddi)
17. Sarika Kale (Kho-kho)
18. Suyash Jadhav (Para-Swimming)
19. Manish narwal (Para-Shooting)
20. Sandeep Chaudhary (Para-Athletics)
21. Saurabh Chaudhary (Shooting)
22. Manu Bhaker (Shooting)
23. Sanil Shetty (Table-Tennis)
24. Divij Sharan (Tennis)
25. Divya Kakran (Wrestling)
26. Rahul Aware (Wrestling)
27. Sakshi Malik (Wrestling)
28. Mirabai Chanu (Weightlifting)
29. Dattu Bhokanal (Rowing)
The Arjuna Award is given by the Ministry of Youth Affairs and Sports (MYAS), Government of India for outstanding achievement by sports players. Started in 1961, the award carries a cash prize of ₹5,00,000, a bronze statuette, a certificate and ceremonial dress.
How does the MYAS determine who are the sports players eligible for the award. The general procedure is every National Sports Federation nominates the names of three players whom they deem fit for the Arjuna Award. They then appoint panel who looks through all the nominations and the awardee is selected.
It has been clearly mentioned in the form (F. No. K-15012/3/2020- SP-IV ) that - The Government will only consider conferring Arjuna Award in the disciplines falling under following categories:-
1. Olympic Games/Asian Games/Commonwealth Games/World Cup/World Championship disciplines and cricket or any equivalent recognized international Tournament.
2. Indigenous Games.
3. Sports for physically challenged.
If you look at the above clause carefully, you will see that cricket which is not included in any of the Olympic, Commonwealth or Asian Games has received a separate category of its own. What about chess? How is chess considered? Is it recognized under "any equivalent recognized International Tournament" or under "Indigenous Games"? Which are the sports included under "Indigenous Games" is unclear. Another clause in the same form mentions: "For cricket and indigenous games, not included in Olympic / Asian Games / Commonwealth Games disciplines, the Selection Committee will recommend the number of awards, (not exceeding two), to be given for Cricket/Indigenous Games and recommend the sportspersons taking into consideration their individuals performances and qualities of sportsman spirit, leadership, sense of discipline etc." Two awards already went to cricketers this year and every year cricketers are being considered for Arjuna Award.
It is also mentioned - "80 % weightage will be given for the medals won in various International championships and sports events of the disciplines covered in Olympic Games (Summer, Winter and Paralympics), Asian Games and Commonwealth Games. Points for winning medals will be given to each eligible sportsperson for his/her performance during the last 4 years and upto conclusion of Olympic Games, Commonwealth and Asian Games during those years when these Games are held as per marks given in the table below:
Chess is unfortunately not a part of the Olympic games, Asian Games and Commonwealth Games. It has its own Olympiad, its own Asian and Commonwealth games. Also the World Cup and World Championship cycle is much different from other sports. The FIDE Elo rating which is an integral part of the sport is not considered.
If you thought that each of the 29 players who won the Arjuna Award this year are top players in the world in their respective sport, then think again. Atanu Das's world ranking in Archery is 22, Dutee Chand's highest ever overall ranking in athletics is 366, Sanil Shetty is ranked no. 247 in the world in Table Tennis, Divij Sharan's current doubles ranking in Tennis is 56.
If you look at the entire drafting of the rules, regulations and criteria for the Arjuna Award, you will realize chess has been neglected. The existing criteria doesn't fit into how the sport functions and no exceptions have been explicitly mentioned for the same. Some of our most talented players in the sport and biggest achievers have been applying for the Arjuna Award for years now without success.
Speaking to ChessBase India, Vidit said, "Last year and the year before I felt bad at not winning the Arjuna Award because I have been world's top 30 for quite some time now, and have been performing consistently. I felt that I have the qualification required to win the Arjuna Award. This is the consecutive third year when I am applying for the award. Nowadays I don't think about the award too much." What does he consider the reason for him not receiving the award? "Whatever I say would be an assumption, because the panel is the one who knows the best as to why Arjuna Award has not been given to chess players since last seven years. I believe that marks are given for your participation in the Olympic Games, Commonwealth Games, and Asian Games. Chess doesn't feature in any of them. I don't know how the marks were given in the previous years to the ones who received Arjuna Award in chess."
Is Adhiban upset at not having won the Arjuna Award? Adhiban spoke in his usual upbeat tone, "No...Because I know that one day I am going to get it! In fact it motivates me to win more events and medals!" Adhiban has applied a total of four times for this award already. Why isn't he being considered for the Arjuna Award? "To be honest it is mystery, because I have won both Asian games and Olympic medals. For some reason it wasn't considered."
"The Arjuna Award - It always stays in the back of the mind as despite being Asian champion, bronze medalist two times, National champion, Asian Teams and Olympiad medalist, they have not recognized my achievements. Sethuraman just like Adhiban is applying for the fourth time this year for the award. "I honestly don't know where is the lapse as until 2013 chess players were honoured for their achievements. Its a mystery to me as to why since the last seven years no chess player has received the Arjuna Award."
Speaking to ChessBase India, Padmini said, "Well, it's not a happy thing not to receive the Arjuna Award but it's not something in my control so I don't think that much about it. I am sure I will get it someday. I have applied for it once and I don't know why I did not get it. I don't like the idea of players applying themselves. It should be given to those deserving rather than on basis of applications. Because when you don't get after you have applied with the achievements , it's a mystery why you didn't get." Padmini further added, "Perhaps the Federation should do it for the deserving players. I feel National Federation should highlight the achievements of it's players than players doing all these things individually."
Dronacharya Award for chess
Just like Arjuna Awards have been neglected for the sport, so have the Dronacharya Award. It is awarded to coaches for their outstanding performance. Indian chess has developed to the stage where we are considered to be a super power. It couldn't have happened without the consistent efforts by the trainers of the country. In spite of this only two Dronacharya awards have been given to chess players - Raghunandan Gokhale in 1986 and Ashok Koneru in 2006.
Speaking to ChessBase India Ramesh said, "Not receiving the Dronacharya award used to affect me a bit earlier but as my wife Aarthie keeps telling me, it will come only when we deserve it. Not before." Ramesh has applied twice for the award in 2015 and 2016 after India won the bronze medal at the World Chess Olympiad 2020. What is the reason for not receiving the award? "Non Olympic sports are not given preference in important awards. Rules favour Olympic sports."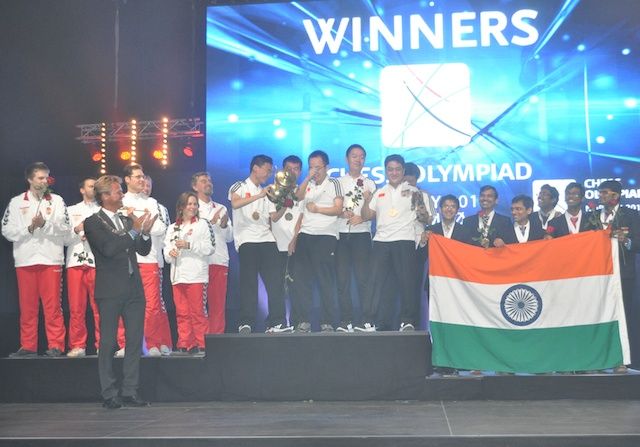 The non receipt of Arjuna Award has not affected the chess player's dedication towards the country. Apart from playing with their highest energy in every round, they have also been a part of noble initiatives that have helped the nation in times of distress.
Previous Arjuna Award winners in chess
The following chess players have won the Arjuna Award starting from the year 1961.
Some important tweets on this subject
You can spread the message on social media with the hashtag #Arjunaforchess
---