From world's second youngest GM in 2006 to world's second youngest GM in 2018
Praggnanandhaa becoming world's second youngest GM on 23rd of June 2018 at the age of 12 years, 10 months and 13 days was a fantastic achievement. But 12 years ago, in 2006 India experienced something similar. A young boy from Delhi, Parimarjan Negi achieved his GM title at the age of 13 years 4 months and 22 days becoming the second youngest GM behind Sergey Karjakin. This record stood for eleven years before Nodirbek Abdusattorov from Uzbekistan broke it in the year 2017. Today Negi, being a computer science student at Stanford, has the ability to think deeply about how becoming one of world's youngest GMs helped him in his chess career. We also ask him if he has any advice that might be of use for Praggnanandhaa.
Parimarjan Negi on Praggnanandhaa's achievement:
In 2006 the chess world witnessed the rise of one of the biggest talents that the game had ever seen - Parimarjan Negi. Pari, as he is called by his friends, became a GM at the age of 13 years and 4 months and 22 days. He not only broke Harikrishna's record of youngest Indian GM at the age of 15, but also bettered Carlsen's record by five days! Today 12 years later Negi has retired from the game of chess. He is studying Computer Science at the Stanford. Why Negi quit chess, was covered in a previous article on ChessBase India.
When Praggnanandhaa achieved his GM title at the age of 12 years 10 months and 13 days, our mind was immediately drawn towards Parimarjan's achievement. Both Pari and Pragg became the youngest GMs in India and world at that point, and second youngest in the history of the game behind Sergey Karjakin. So how exactly did this GM title change Negi's life? What did he do after becoming a GM, and what advice does he have for Pragg to ensure that he becomes one of the best players in the world? IM Sagar Shah interviews Parimarjan Negi.
Sagar Shah (SS): How was it when you became a GM at the age of 13 years 4 months and 22 days. Was it a big moment in your life and chess career?
Parimarjan Negi (PN): It felt like a big moment back then. Generally, I don't care too much when I win events, they have a sort of transience to them, but the GM title had seemed like a big, looming thing in the future for a long time, so somehow getting to it felt different. Retrospectively, of course it did not change any thing - a little less pressure, a little more money - but life went on same as before, and new targets quickly replaced the older ones.
SS: How did your chess career change after becoming world's second youngest GM at that point in 2006?
PN: I had a relatively easy time getting invitations, and sponsorships after that. But having the right resources isn't always enough - and my career stagnated beyond that point. I think it is easy to now look back and point to potential reasons, but the crux of it is that, progress beyond is hard, and sometimes it doesn't quite work out. For instance, going up every ~100 points is probably like achieving the GM title all over again.
SS: What do you think about Praggnanandhaa's game and his achievement of becoming a GM before even becoming a teenager?
PN: At a very superficial level, his style seems fairly exciting. I was more of a "consistently good, but never great'' kind of player, while Pragg, seems to show a lot more impressive results which is probably a good quality in the long run. But you can't tell too much about a player from glancing at their games - it is all about what goes inside the head that matters. One's exact age to become a GM probably doesn't matter too much - but becoming one early does give you more time to mature, as it removes the pressure for immediate targets (at least for a while).
SS: I know I am putting you in a spot here, but I also know that you are objective, so would like to know what do you think is much tougher - 13 years 4 months in 2006 or 12 years 9 months in 2018?
PN: The chess world hasn't changed dramatically in the last ~10 years or so - we still had computers, extensive connectivity etc. back then - so the GM title is around the same level of difficultly. Beyond that, I think age does not matter much at this stage. But specifically for Pragg, there was clearly a lot more pressure on him than there was ever on me. Mostly because of the ridiculous, and heavily publicized, attempt at breaking Karjakin's record - breaking the record itself was not a bad aim, but there was too much coverage / importance given to it - and I think so much spotlight isn't too good or easy to handle for kids.
SS: What would be your advice to Pragg from this point onwards in his chess career?
PN: This is a hard question - I have been given too much unwanted advice through out my younger years, and I don't particularly feel like doing the same. Most importantly, anyone who hasn't spent hours analyzing the game with Pragg / or going through the psychology of what went in his head during the game - simply can not give useful advice about chess to him. Just seeing the games is not enough. But, I will try to answer a different question - and give some more general advice - that may be useful for the many talented Indian teenagers (and parents) in chess.
Back then, I had a sense, like many others, that I must devote all my efforts to chess in order to succeed. This discouraged me from pursuing other interests. But early teens is also the perfect age to learn about new stuff - not the boring, dry, and useless stuff you learn in schools - but the actual things happening in the world - from scientific and technological revolutions, political and social movements, to literature and art. For instance, I was really into reading about Physics. Even though it absolutely captivated me like nothing else ever had - somehow I never tried to learn the actual math/science behind the layman books I read. This was a missed chance.
And it takes surprisingly little time to learn about these things. Spending 4 hours, or 6 hours, on Najdorf, won't change your chess much. But spending a couple of hours with similar intensity learning about other stuff can make you better at it dramatically fast. And crucially, it can give you hobbies and interests that could perhaps even help a chess career. The internet also makes it extremely easy to learn about these things - just go to youtube, or coursera, and start clicking away. Coincidentally, I came across this today - https://patrickcollison.com/advice - I didn't do almost anything he advices, but it is a great and relevant post.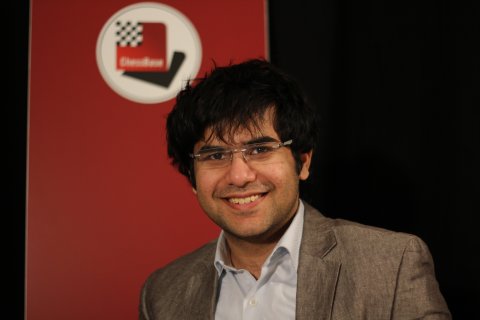 We also have Negi's books on 1.e4 for White. You get Part I of 1.e4 vs the Sicilian from here. Part II and III are out of stock, but they will be back in stock in a month from now.
Related:
Why did Parimarjan Negi quit chess?
Q&A with the class of 2018's chess grandmaster - Stanford Daily
It hasn't dawned on me yet that I am a grandmaster
---