National A 2019 for the Blind kicks off in Nagpur
The National A for Blind 2019 has begun in Nagpur from the 5th of January 2019. It is going to be an exciting event as top four players from this 14-player round robin event, qualify for the World Championship in Italy from 5th to 15th og April 2019. The favourite is definitely five-time National Champion Kishan Gangolli, but he will be receiving stiff resistance from youngsters Aryan Joshi. Marimuthu, Soundarya Pradhan and others. Regular readers of ChessBase India will remember that the 2018 edition of the National A for blind happened because of the crowdfunding done on ChessBase India. It's a pleasant feeling to see that the 2019 edition has kicked off without any issues and is being smoothly organized. Check out the round one results.
14th National "A" Chess Championship for visually challenged 2019 started on 05/01/2019 at MLA Hostel Nagpur, Maharashtra. Top fourteen qualified players from National B Chess Championship are facing each other to be selected to (Top four players) represent the country in the forthcoming World Individual Chess Championship for the Blind and Visually Impaired 2019 to be held in Cagliari, Italy from 5th to 15th April, 2019.
Sri Manoj Itkelwar Vice President, AICF inaugurated the championships in presence of Sri Anup Deshmukh, International Master, Sri Manish Thool General secretary AICFB, Sri Swapnil Shah Treasurer AICFB. Manish Thool welcomed the gathering followed by some some enchanting and motivating speeches by other dignitaries. Vote of thanks came from Mr Swapnil Shah and the first round of the tournament started at 3 pm as per schedule.
Participants of National A 2019
The upset of the day was surely Soundarya Kumar Pradhan losing to K. Marimuthu.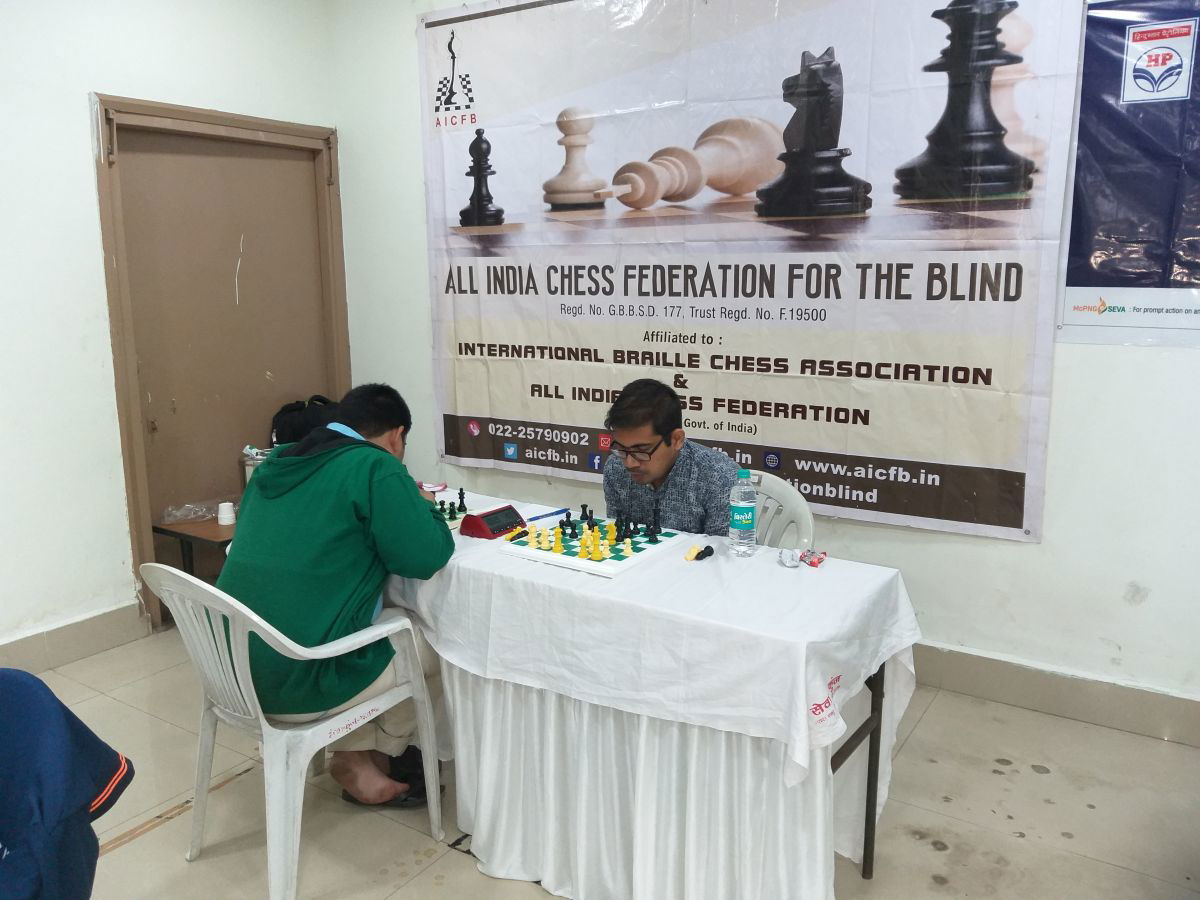 Results of round one
Round 1 on 2019/01/05 at 03.00PM
Bo.
No.
Rtg
Name
Result
Name
Rtg
No.
1
1
1686
Patra Subhendu Kumar
1 - 0
Patil Shirish
1673
14
2
2
1563
Marimuthu K
1 - 0
Soundarya Kumar Pradhan
1819
13
3
3
1747
Makwana Ashvin K
1 - 0
Waghmare Sachin Lahu
1557
12
4
4
1697
Krishna Udupa
½ - ½
Kavlekar Sanjay R.
1812
11
5
5
1863
Aryan B Joshi
1 - 0
Swapanil Shah
1634
10
6
6
1634
Prachurya Kumar Pradhan
½ - ½
Kishan Gangolli
2008
9
7
7
1448
Hariharan Gandhi
0 - 1
Shashidhar K M
1522
8
About the author
Murthy Manjunatha is the chief arbiter at the National Premier 2019. He has been an arbiter at blind tournaments since many years and conducts the proceedings with great speed and accuracy and a human touch!
---