Mr. Commonwealth beats India's triple national champion
The Commonwealth Championships taking place in Delhi from the 30th of June to 7th of July is an important event in the world chess calendar. The tournament is even more exciting because we have the four-time Commonwealth winner Abhijeet Gupta taking part. And as expected he is the sole leader of the tournament with 4.0/4. He is being closely pursued by Saravana Krishna, Debashis Das and R.R. Laxman. We also have 14 age category events taking place. The morning rounds are of the age category players, while in the evenings we have the rounds of the open section. This allows the players to play in both open and age categories, which many youngsters are taking advantage of! Who knows we might have an under-16 or an under-18 Commonwealth champion, also becoming the open champion! Report after round 4.
Abhijeet Gupta is also known as Mr. Commonwealth! Why? Because the Indian GM has won the Commonwealth title for a record four times, something which no other player in the world has been able to achieve. At the Commonwealth Championships 2019, Abhijeet is the top seed once again. But this time he faces stiff resistance from a host of other Indian GMs - S.L.Narayanan (rated 2603 and the only other 2600+ GM in the tournament), triple national champion Aravindh Chithambaram, in form Lalith Babu, Deepan Chakkravarthy, Debashis Das, Arjun Erigaisi, P. Iniyan etc. The tournament has totally 94 players from 9 different countries. Although no real strong players have participated from outside India, the fight for the top spot is going to be intense as we some of the best grandmasters of Indian chess looking to clip the gold medal.
Abhijeet is currently the sole leader of the tournament with 4.0/4. He is being closely pursued by IM Saravana Krishnan, GM Debashis Das and GM Laxman. IM Saravana Krishnan has had a great tournament until now with wins over S.L. Narayanan, P. Karthikeyan and draw against Abhijit Kunte. It will be interesting to see if he can continue with his performance.
The most exciting game of the tournament until now has been Abhijeet Gupta beating Aravindh Chithambaram. Abhijeet, Mr. Commonwealth took on the triple crown national champion of India Aravindh Chithambaram. It was a game filled with quite some interesting moments with Aravindh trying to make sure that he is not positionally outplayed. In the end it seemed as if the rook endgame would be drawn, but Abhijeet managed to convert it into a win.

I have been browsing through many games of the Commonwealth Championships. If there is one that caught my attention for its aesthetic value, then it has to be the battle between Rahul Sangma and Thejkumar.
Standings after round 4
| | | | | | | | | | |
| --- | --- | --- | --- | --- | --- | --- | --- | --- | --- |
| Rk. | SNo | | Name | FED | Rtg | Pts. | TB1 | TB2 | TB3 |
| 1 | 1 | GM | Gupta Abhijeet | IND | 2606 | 4,0 | 0,0 | 8,0 | 10,0 |
| 2 | 27 | IM | Saravana Krishnan P. | IND | 2290 | 3,5 | 0,0 | 8,5 | 9,5 |
| 3 | 6 | GM | Debashis Das | IND | 2544 | 3,5 | 0,0 | 7,5 | 9,0 |
| 4 | 15 | GM | Laxman R.R. | IND | 2437 | 3,5 | 0,0 | 7,5 | 9,0 |
| 5 | 34 | FM | Ajay Karthikeyan | IND | 2227 | 3,0 | 0,0 | 9,5 | 10,5 |
| 6 | 12 | GM | Kunte Abhijit | IND | 2478 | 3,0 | 0,0 | 9,0 | 11,5 |
| 7 | 3 | GM | Aravindh Chithambaram Vr. | IND | 2598 | 3,0 | 0,0 | 9,0 | 11,0 |
| 8 | 16 | IM | Shyaamnikhil P | IND | 2434 | 3,0 | 0,0 | 8,0 | 10,0 |
| 9 | 2 | GM | Narayanan.S.L | IND | 2603 | 3,0 | 0,0 | 8,0 | 10,0 |
| | 13 | GM | Thejkumar M. S. | IND | 2458 | 3,0 | 0,0 | 8,0 | 10,0 |
| 11 | 18 | GM | Thipsay Praveen M | IND | 2405 | 3,0 | 0,0 | 8,0 | 10,0 |
| 12 | 10 | GM | Swapnil S. Dhopade | IND | 2488 | 3,0 | 0,0 | 8,0 | 9,0 |
| 13 | 11 | IM | Krishna C R G | IND | 2481 | 3,0 | 0,0 | 7,5 | 9,5 |
| 14 | 20 | IM | Nitin S. | IND | 2398 | 3,0 | 0,0 | 7,5 | 9,5 |
| 15 | 7 | GM | Erigaisi Arjun | IND | 2526 | 3,0 | 0,0 | 7,5 | 8,5 |
| 16 | 23 | IM | Rathnakaran K. | IND | 2338 | 3,0 | 0,0 | 7,5 | 8,5 |
| 17 | 5 | GM | Deepan Chakkravarthy J. | IND | 2557 | 3,0 | 0,0 | 7,0 | 9,0 |
| 18 | 4 | GM | Lalith Babu M R | IND | 2571 | 3,0 | 0,0 | 7,0 | 8,5 |
| | 19 | IM | Tania Sachdev | IND | 2401 | 3,0 | 0,0 | 7,0 | 8,5 |
| 20 | 21 | WGM | Kulkarni Bhakti | IND | 2380 | 3,0 | 0,0 | 7,0 | 8,5 |
Age group events:
Under-8 girls
Standings after 2 rounds
| | | | | | | | | | |
| --- | --- | --- | --- | --- | --- | --- | --- | --- | --- |
| Rk. | SNo | | Name | FED | Rtg | Pts. | TB1 | TB2 | TB3 |
| 1 | 2 | | Aishani Pathak | IND | 1213 | 2,0 | 0,0 | 1,0 | 2,0 |
| | 5 | | Daksha Rudra | IND | 1123 | 2,0 | 0,0 | 1,0 | 2,0 |
| | 6 | | Aggarwal Tashna | IND | 1101 | 2,0 | 0,0 | 1,0 | 2,0 |
| | 9 | | Anaishaa Pinkesh Nahar | IND | 1057 | 2,0 | 0,0 | 1,0 | 2,0 |
| 5 | 4 | | Lakshana Subramanian | IND | 1155 | 2,0 | 0,0 | 1,0 | 1,5 |
| | 39 | | Shradha S Rai | IND | 0 | 2,0 | 0,0 | 1,0 | 1,5 |
| 7 | 3 | | Prisha Kesarwani | IND | 1203 | 2,0 | 0,0 | 1,0 | 1,0 |
| | 7 | | Kolagatla Alana Meenakshi | IND | 1094 | 2,0 | 0,0 | 1,0 | 1,0 |
| | 8 | | Yatee Kothari | IND | 1080 | 2,0 | 0,0 | 1,0 | 1,0 |
| 10 | 19 | | Diya Digamber Sawal | IND | 0 | 2,0 | 0,0 | 0,5 | 0,5 |
Under -8 Open
Standings after 2 rounds
| | | | | | | | | | |
| --- | --- | --- | --- | --- | --- | --- | --- | --- | --- |
| Rk. | SNo | | Name | FED | Rtg | Pts. | TB1 | TB2 | TB3 |
| 1 | 2 | | Vivaan Vijay Saraogi | IND | 1464 | 2,0 | 0,0 | 1,0 | 2,0 |
| | 3 | | Ethan Vaz | IND | 1441 | 2,0 | 0,0 | 1,0 | 2,0 |
| | 6 | | Amogh Bisht | IND | 1355 | 2,0 | 0,0 | 1,0 | 2,0 |
| | 10 | | Ayushman Mohanty | IND | 1248 | 2,0 | 0,0 | 1,0 | 2,0 |
| | 13 | | Aman George Thomas | IND | 1109 | 2,0 | 0,0 | 1,0 | 2,0 |
| | 19 | | Alaukik Sinha | IND | 1040 | 2,0 | 0,0 | 1,0 | 2,0 |
| | 25 | | Madhvendra Pratap Sharma | IND | 1012 | 2,0 | 0,0 | 1,0 | 2,0 |
| 8 | 5 | | Jaivardhan Raj | IND | 1384 | 2,0 | 0,0 | 1,0 | 1,0 |
| | 7 | | Jval Saurin Patel | IND | 1290 | 2,0 | 0,0 | 1,0 | 1,0 |
| | 9 | | Ishaan Singh Khanuja | IND | 1249 | 2,0 | 0,0 | 1,0 | 1,0 |
| | 14 | | Vittanala Shanmuk Saish | IND | 1102 | 2,0 | 0,0 | 1,0 | 1,0 |
| 12 | 37 | | Mahimithranarasu T I | IND | 0 | 2,0 | 0,0 | 0,5 | 0,5 |
Under-10 girls
Standings after 2 rounds
| | | | | | | | | | |
| --- | --- | --- | --- | --- | --- | --- | --- | --- | --- |
| Rk. | SNo | | Name | FED | Rtg | Pts. | TB1 | TB2 | TB3 |
| 1 | 2 | | Sanikommu Manasvi | IND | 1353 | 2,0 | 0,0 | 1,0 | 2,0 |
| | 3 | | Arshiya Das | IND | 1345 | 2,0 | 0,0 | 1,0 | 2,0 |
| | 7 | | Panchal Hiya | IND | 1295 | 2,0 | 0,0 | 1,0 | 2,0 |
| | 10 | | Arushi Srichandan | IND | 1261 | 2,0 | 0,0 | 1,0 | 2,0 |
| | 44 | | Shanjula Senthil | IND | 0 | 2,0 | 0,0 | 1,0 | 2,0 |
| 6 | 6 | | Pournami S | IND | 1314 | 2,0 | 0,0 | 1,0 | 1,5 |
| 7 | 5 | WCM | Shriyana S Mallya | IND | 1316 | 2,0 | 0,0 | 1,0 | 1,0 |
| | 13 | | Srishanthi G | IND | 1240 | 2,0 | 0,0 | 1,0 | 1,0 |
| 9 | 9 | | Sachi Jain | IND | 1271 | 2,0 | 0,0 | 0,5 | 0,5 |
| 10 | 8 | | Aadya Gupta | IND | 1282 | 1,5 | 0,0 | 1,5 | 2,5 |
Under-10 Open
Standings after round 2
| | | | | | | | | | |
| --- | --- | --- | --- | --- | --- | --- | --- | --- | --- |
| Rk. | SNo | | Name | FED | Rtg | Pts. | TB1 | TB2 | TB3 |
| 1 | 2 | | Bharadia Yash | IND | 1942 | 2,0 | 0,0 | 1,0 | 2,0 |
| | 5 | | Adireddy Arjun | IND | 1702 | 2,0 | 0,0 | 1,0 | 2,0 |
| | 8 | | Aakash G | IND | 1622 | 2,0 | 0,0 | 1,0 | 2,0 |
| | 9 | | Daaevik Wadhawan | IND | 1603 | 2,0 | 0,0 | 1,0 | 2,0 |
| | 11 | | Vaibhav Kalpaka | IND | 1575 | 2,0 | 0,0 | 1,0 | 2,0 |
| | 37 | | Rounaiv Rana | IND | 1264 | 2,0 | 0,0 | 1,0 | 2,0 |
| | 52 | | Priyanshu Das | IND | 1140 | 2,0 | 0,0 | 1,0 | 2,0 |
| 8 | 1 | | Ilamparthi A R | IND | 2036 | 2,0 | 0,0 | 1,0 | 1,0 |
| | 3 | CM | Manon Reja Neer | BAN | 1850 | 2,0 | 0,0 | 1,0 | 1,0 |
| | 17 | | Abhinav Raj | IND | 1496 | 2,0 | 0,0 | 1,0 | 1,0 |
| | 28 | | Aaryan Pandey | IND | 1360 | 2,0 | 0,0 | 1,0 | 1,0 |
| 12 | 16 | | Agarwal Mukund H | IND | 1514 | 2,0 | 0,0 | 0,5 | 1,0 |
Under-12 girls
Cera Dagaria and Riddhi Patel are the leaders with 3.0/3
| | | | | | | | | | |
| --- | --- | --- | --- | --- | --- | --- | --- | --- | --- |
| Rk. | SNo | | Name | FED | Rtg | Pts. | TB1 | TB2 | TB3 |
| 1 | 12 | | Cera Dagaria | IND | 1395 | 3,0 | 0,0 | 3,5 | 4,5 |
| 2 | 10 | WCM | Patel Riddhi R | IND | 1404 | 3,0 | 0,0 | 3,0 | 3,5 |
| 3 | 5 | | Rout Yashita | IND | 1453 | 2,5 | 0,0 | 4,5 | 6,5 |
| 4 | 8 | | Tejaswi R | IND | 1426 | 2,5 | 0,0 | 4,5 | 5,5 |
| 5 | 9 | | Mohitha V | IND | 1421 | 2,5 | 0,0 | 4,0 | 5,0 |
| 6 | 16 | | Jahnavi Sri Lalita Mareddy | IND | 1370 | 2,5 | 0,0 | 3,5 | 4,5 |
| 7 | 6 | | Rakshitha P | IND | 1451 | 2,0 | 0,0 | 5,0 | 6,0 |
| 8 | 3 | | Akshaya Rajaraman | IND | 1523 | 2,0 | 0,0 | 4,0 | 5,0 |
| 9 | 11 | | Keerthana Easwar | ENG | 1397 | 2,0 | 0,0 | 3,5 | 4,5 |
| 10 | 20 | | Tejasvee Naresh Singh | IND | 1193 | 2,0 | 0,0 | 3,5 | 4,5 |
Under-12 Open
Standings after round 3
| | | | | | | | | | |
| --- | --- | --- | --- | --- | --- | --- | --- | --- | --- |
| Rk. | SNo | | Name | FED | Rtg | Pts. | TB1 | TB2 | TB3 |
| 1 | 11 | | Shaik Sumer Arsh | IND | 1733 | 3,0 | 0,0 | 4,0 | 5,0 |
| 2 | 8 | | Garv Gaur | IND | 1797 | 3,0 | 0,0 | 4,0 | 4,5 |
| 3 | 7 | | Chilukuri Sai Varshith | IND | 1804 | 3,0 | 0,0 | 3,5 | 4,5 |
| 4 | 5 | | Mahendra Teja Mekala | IND | 1840 | 2,5 | 0,0 | 4,5 | 6,5 |
| 5 | 9 | | Sreekar J S S | IND | 1760 | 2,5 | 0,0 | 4,5 | 6,0 |
| 6 | 2 | | Harsh Suresh | IND | 1887 | 2,5 | 0,0 | 4,0 | 5,0 |
| | 10 | | Alekhya Mukhopadhyay | IND | 1750 | 2,5 | 0,0 | 4,0 | 5,0 |
| 8 | 6 | CM | Tanmay Jain | IND | 1837 | 2,5 | 0,0 | 3,5 | 4,5 |
| 9 | 3 | | Shreyash Shuvam Patnaik | IND | 1885 | 2,0 | 0,0 | 5,0 | 6,5 |
| 10 | 4 | | Bagwe Gaurang | IND | 1852 | 2,0 | 0,0 | 4,0 | 5,0 |
Under-14 girls
Standings after round 3
| | | | | | | | | | |
| --- | --- | --- | --- | --- | --- | --- | --- | --- | --- |
| Rk. | SNo | | Name | FED | Rtg | Pts. | TB1 | TB2 | TB3 |
| 1 | 1 | WIM | Divya Deshmukh | IND | 2373 | 3,0 | 0,0 | 3,5 | 4,5 |
| 2 | 7 | | Velpula Sarayu | IND | 1640 | 2,5 | 0,0 | 4,5 | 5,5 |
| 3 | 8 | | Renganayaki V | IND | 1583 | 2,5 | 0,0 | 4,0 | 5,0 |
| 4 | 3 | | Boramanikar Tanisha S | IND | 1720 | 2,5 | 0,0 | 4,0 | 4,5 |
| 5 | 4 | WCM | Chinnam Vyshnavi | IND | 1664 | 2,5 | 0,0 | 3,5 | 5,0 |
| 6 | 16 | | Hemakshi Chauhan | IND | 1375 | 2,5 | 0,0 | 3,5 | 4,5 |
| 7 | 2 | WFM | Dhyana Patel | IND | 1900 | 2,5 | 0,0 | 3,5 | 4,5 |
| 8 | 6 | | Yash Jyoti Bir | IND | 1646 | 2,0 | 0,0 | 5,0 | 6,0 |
| 9 | 5 | | Shivika Rohilla | IND | 1648 | 2,0 | 0,0 | 4,5 | 6,5 |
| 10 | 11 | | Parikh Urvi | IND | 1503 | 2,0 | 0,0 | 4,0 | 4,0 |
Under-14 Open
Standings after round 3
| | | | | | | | | | |
| --- | --- | --- | --- | --- | --- | --- | --- | --- | --- |
| Rk. | SNo | | Name | FED | Rtg | Pts. | TB1 | TB2 | TB3 |
| 1 | 1 | FM | Rohith Krishna S | IND | 2312 | 3,0 | 0,0 | 4,0 | 5,5 |
| 2 | 3 | | Manish Kumar (2006) | IND | 2055 | 3,0 | 0,0 | 4,0 | 5,0 |
| | 8 | | Adarsh Tripathi | IND | 1927 | 3,0 | 0,0 | 4,0 | 5,0 |
| | 9 | | Aditya Varun Gampa | IND | 1918 | 3,0 | 0,0 | 4,0 | 5,0 |
| 5 | 2 | FM | Srihari L R | IND | 2200 | 3,0 | 0,0 | 4,0 | 4,0 |
| 6 | 18 | | Rushyendra Chowdary Kantipudi | IND | 1607 | 2,0 | 0,0 | 5,0 | 6,5 |
| 7 | 17 | | Zala Akshar | IND | 1638 | 2,0 | 0,0 | 5,0 | 5,0 |
| | 21 | | Arnav Kushwaha | IND | 1554 | 2,0 | 0,0 | 5,0 | 5,0 |
| 9 | 24 | | Utkarsh Bhatnagar | IND | 1493 | 2,0 | 0,0 | 4,5 | 5,5 |
| 10 | 23 | | Makwana Devam | IND | 1543 | 2,0 | 0,0 | 4,5 | 4,5 |
Under-16 girls
Standings after round 3
| | | | | | | | | | | |
| --- | --- | --- | --- | --- | --- | --- | --- | --- | --- | --- |
| Rk. | SNo | | Name | FED | Rtg | Club/City | Pts. | TB1 | TB2 | TB3 |
| 1 | 1 | WFM | Jain Nityata | IND | 2135 | Madya Pradesh | 3,0 | 0,0 | 4,0 | 5,0 |
| 2 | 8 | | Rindhiya V | IND | 1573 | Tamilnadu | 2,5 | 0,0 | 4,5 | 5,5 |
| | 12 | | Shreetu Bhavikbhai Nandi | IND | 1328 | Gujrat | 2,5 | 0,0 | 4,5 | 5,5 |
| 4 | 2 | WCM | Bristy Mukherjee | IND | 1862 | West Bengal | 2,5 | 0,0 | 4,0 | 5,5 |
| 5 | 4 | WCM | Arushi Kotwal | IND | 1744 | JK | 2,5 | 0,0 | 4,0 | 5,5 |
| 6 | 6 | | Routray Priyanka | IND | 1647 | Orissa | 2,0 | 0,0 | 4,5 | 5,5 |
| 7 | 5 | | Sudipa Haldar | IND | 1678 | West Bengal | 2,0 | 0,0 | 4,0 | 5,0 |
| 8 | 7 | | Sahoo Ankita | IND | 1586 | Orissa | 2,0 | 0,0 | 4,0 | 4,0 |
| 9 | 9 | | Meenatchi Rajam V | IND | 1564 | Tamilnadu | 2,0 | 0,0 | 3,5 | 4,5 |
| 10 | 3 | | Adane Narayani | IND | 1859 | Maharastra | 2,0 | 0,0 | 3,0 | 4,0 |
Under-16 Open
Standings after round 3
| | | | | | | | | | |
| --- | --- | --- | --- | --- | --- | --- | --- | --- | --- |
| Rk. | SNo | | Name | FED | Rtg | Pts. | TB1 | TB2 | TB3 |
| 1 | 1 | GM | Erigaisi Arjun | IND | 2531 | 3,0 | 0,0 | 4,0 | 6,0 |
| 2 | 2 | FM | Ajay Karthikeyan | IND | 2216 | 2,5 | 0,0 | 4,5 | 5,5 |
| 3 | 7 | | Dhrupad Kashyap | IND | 1884 | 2,5 | 0,0 | 4,0 | 5,5 |
| 4 | 4 | | Jinan Jomon | IND | 2053 | 2,5 | 0,0 | 3,5 | 5,0 |
| 5 | 15 | | Kadam Rishi R | IND | 1718 | 2,5 | 0,0 | 3,5 | 4,5 |
| 6 | 5 | | Tanmay Chopra | IND | 2001 | 2,5 | 0,0 | 3,0 | 3,5 |
| 7 | 6 | | Aan Sikka | IND | 1899 | 2,0 | 0,0 | 4,5 | 5,5 |
| | 13 | | Raghul Saro S | IND | 1748 | 2,0 | 0,0 | 4,5 | 5,5 |
| 9 | 11 | | Uttam Prakash Sharma | IND | 1824 | 2,0 | 0,0 | 4,5 | 4,5 |
| 10 | 8 | | Esshan Wadhawan | IND | 1859 | 2,0 | 0,0 | 4,0 | 4,0 |
Under-18 girls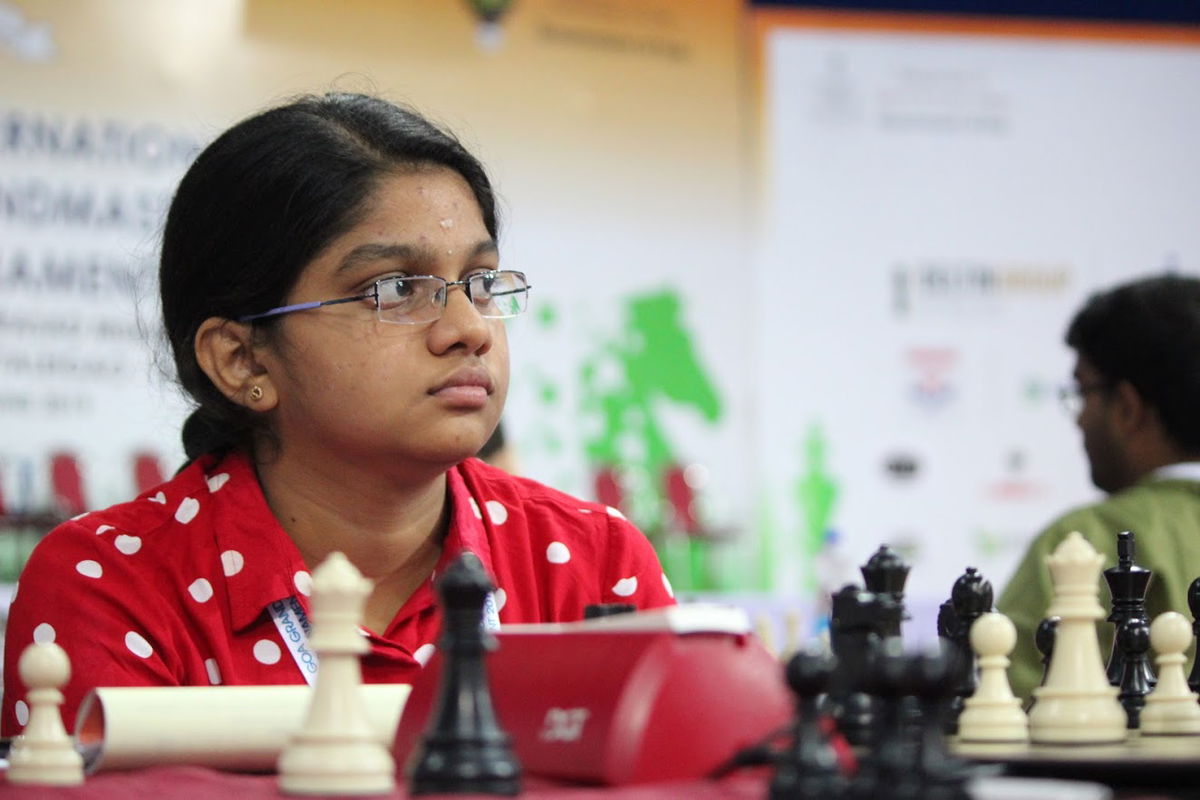 Standings after round 3
| | | | | | | | | | |
| --- | --- | --- | --- | --- | --- | --- | --- | --- | --- |
| Rk. | SNo | | Name | FED | Rtg | Pts. | TB1 | TB2 | TB3 |
| 1 | 1 | | Priyanka K | IND | 2217 | 3,0 | 0,0 | 3,5 | 4,5 |
| 2 | 2 | WFM | Sanskriti Goyal | IND | 1948 | 2,5 | 0,5 | 4,0 | 5,0 |
| 3 | 5 | | Jinal Yagnik | IND | 1202 | 2,5 | 0,5 | 3,5 | 3,5 |
| 4 | 3 | | Pandey Srishti | IND | 1882 | 2,0 | 1,0 | 5,0 | 6,0 |
| 5 | 9 | | Manya Sharma | IND | 1063 | 2,0 | 0,0 | 3,0 | 3,0 |
| 6 | 7 | | Jaiswal Kritika | IND | 1141 | 1,5 | 0,5 | 4,5 | 4,5 |
| 7 | 8 | | Mahima Jaiswal | IND | 1084 | 1,5 | 0,5 | 4,0 | 4,0 |
| 8 | 4 | | Mudaliar Nandini | IND | 1609 | 1,0 | 0,0 | 5,5 | 5,5 |
| 9 | 6 | | Villoen Sharise | RSA | 1184 | 1,0 | 0,0 | 4,5 | 5,5 |
| 10 | 12 | | Sohani Singh | IND | 0 | 1,0 | 0,0 | 3,0 | 3,0 |
| 11 | 11 | | Kashish | IND | 0 | 0,0 | 0,0 | 4,0 | 5,0 |
| 12 | 10 | | Drishti Grover | IND | 1062 | 0,0 | 0,0 | 3,5 | 4,5 |
Under-18 Open
Standings after round 3
| | | | | | | | | | | |
| --- | --- | --- | --- | --- | --- | --- | --- | --- | --- | --- |
| Rk. | SNo | | Name | FED | Rtg | Club/City | Pts. | TB1 | TB2 | TB3 |
| 1 | 1 | IM | Iniyan P | IND | 2524 | Tamilnadu | 3,0 | 0,0 | 4,0 | 6,0 |
| 2 | 4 | | Panesar Vedant | IND | 2092 | Maharastra | 2,5 | 0,0 | 4,5 | 6,5 |
| 3 | 10 | | Dubey Sanchay | IND | 1823 | Utter Pradesh | 2,5 | 0,0 | 4,0 | 5,0 |
| 4 | 2 | FM | Manu David Suthandram R | IND | 2415 | Tamilnadu | 2,5 | 0,0 | 3,5 | 4,5 |
| 5 | 7 | | Vinay Thomas Abraham | IND | 2020 | Kerala | 2,5 | 0,0 | 3,5 | 4,5 |
| 6 | 9 | | Deota Snehil S | IND | 1972 | Chattisgarh | 2,0 | 0,0 | 5,0 | 5,5 |
| 7 | 6 | | Aakash Sharadchandra Dalvi | IND | 2032 | Maharastra | 2,0 | 0,0 | 4,5 | 6,0 |
| 8 | 11 | | Harshit Arya | IND | 1818 | Haryana | 2,0 | 0,0 | 4,0 | 4,5 |
| 9 | 8 | | Gaurav Rajesh Zagade | IND | 1979 | Maharastra | 2,0 | 0,0 | 4,0 | 4,0 |
| | 15 | | Saypuri Srithan | IND | 1717 | Telangana | 2,0 | 0,0 | 4,0 | 4,0 |
Under-20 girls
Standings after round 3
| | | | | | | | | | |
| --- | --- | --- | --- | --- | --- | --- | --- | --- | --- |
| Rk. | SNo | | Name | FED | Rtg | Pts. | TB1 | TB2 | TB3 |
| 1 | 5 | WIM | Chandreyee Hajra | IND | 1868 | 3,0 | 0,0 | 4,0 | 4,0 |
| 2 | 7 | | Shah Vishwa | IND | 1734 | 2,5 | 0,5 | 4,5 | 5,0 |
| 3 | 4 | WFM | Potluri Supreetha | IND | 1873 | 2,5 | 0,5 | 4,0 | 5,0 |
| 4 | 9 | | Ishvi Aggarwal | IND | 1664 | 2,0 | 0,0 | 4,5 | 5,0 |
| 5 | 6 | | Eesha Ajay Sarda | IND | 1752 | 2,0 | 0,0 | 4,0 | 4,5 |
| 6 | 11 | | Poornima Gupta | IND | 1467 | 2,0 | 0,0 | 3,5 | 4,5 |
| 7 | 2 | WFM | Bommini Mounika Akshaya | IND | 2063 | 2,0 | 0,0 | 3,5 | 4,5 |
| 8 | 3 | | Bakshi Rutuja | IND | 1958 | 2,0 | 0,0 | 3,5 | 4,0 |
| 9 | 8 | | Rathi Dhanashree | IND | 1685 | 1,5 | 0,0 | 4,5 | 5,0 |
| 10 | 1 | WFM | Makhija Aashna | IND | 2067 | 1,5 | 0,0 | 4,0 | 5,0 |
Under-20 Open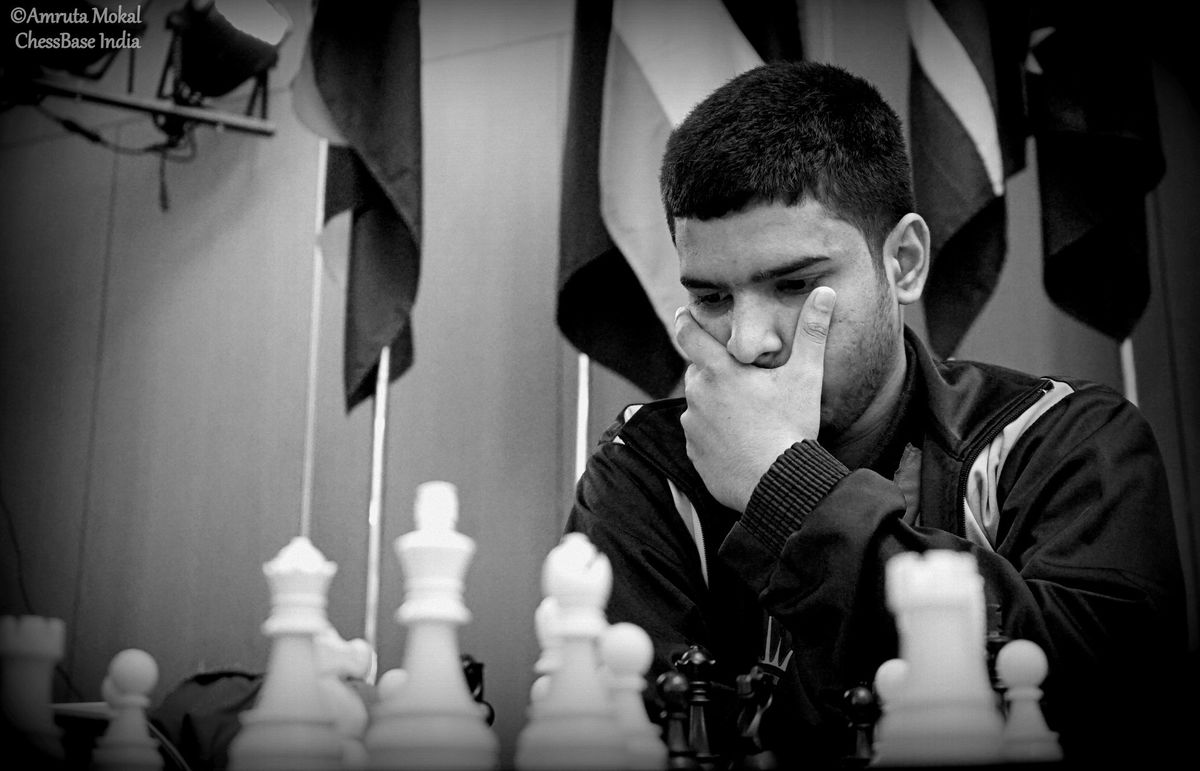 Standings after round 3
| | | | | | | | | | | |
| --- | --- | --- | --- | --- | --- | --- | --- | --- | --- | --- |
| Rk. | SNo | | Name | FED | Rtg | Club/City | Pts. | TB1 | TB2 | TB3 |
| 1 | 1 | FM | Wagh Suyog | IND | 2242 | Maharastra | 3,0 | 0,0 | 4,0 | 5,5 |
| 2 | 6 | | Mahindrakar Indrajeet | IND | 2092 | Maharastra | 2,5 | 0,0 | 4,5 | 5,5 |
| | 11 | | Karthik Sai Ch | IND | 1864 | Telangana | 2,5 | 0,0 | 4,5 | 5,5 |
| 4 | 5 | | Sarbojit Paul | IND | 2093 | West Bengal | 2,5 | 0,0 | 3,5 | 4,0 |
| 5 | 8 | | Rohit S | IND | 2001 | Tamilnadu | 2,0 | 0,0 | 5,0 | 6,0 |
| 6 | 4 | | Kumar Gaurav | IND | 2110 | Bihar | 2,0 | 0,0 | 4,0 | 5,0 |
| | 13 | | Krishnan Ritvik | IND | 1828 | Maharastra | 2,0 | 0,0 | 4,0 | 5,0 |
| 8 | 2 | FM | Harshal Shahi | IND | 2173 | Delhi | 2,0 | 0,0 | 4,0 | 5,0 |
| 9 | 12 | | Sparsh Khandelwal | IND | 1830 | Maharastra | 2,0 | 0,0 | 4,0 | 5,0 |
| 10 | 16 | | Dutta Sarthak | IND | 1702 | Utter Pradesh | 2,0 | 0,0 | 4,0 | 4,0 |
Follow the games of round 5 of open section LIVE
---