How can a 2600+ GM be unemployed when Indian chess is booming?
He is 20 years old, rated 2616, and is India no.9. He finished his graduation and is now a graduate in English Literature. S.L. Narayanan from Kerala is in quite a spot right now. He needs the financial cushion of a sports quota job so that he can follow his passion, but the oil companies tell him there is no vacancy. He is currently fighting it out at the Commonwealth Championships where he is on 5.5/7 and just beat the talented Arjun Erigaisi in round 7. Narayanan is joined by five other players on 5.5/7 who are closely pursuing the sole leader of the tournament Abhijeet Gupta, who is on 6.0/7. IM Sagar Shah is in Delhi for the last three rounds of the Commonwealth Championships 2019 and reports from the venue.
The Commonwealth Championships are currently taking place from the 30th of June to 7th of July 2019 at the Leela Convention Centre in New Delhi. After seven rounds in the open section we still have a sole leader - Mr. Commonwealth Abhijeet Gupta.
In previous Commonwealth Championships as well, Abhijeet Gupta and Lalith Babu have had the race to the finish line. Abhijeet has almost always come out on top. In the seventh round things were no different. The four-time Commonwealth champion was pushing in the game and one point we reached a critical juncture.
Abhijeet Gupta vs Lalith Babu
There is only one way for Black to save his position. And Lalith was able to find it. He played the move ...g5! The move is saves the day for Black mainly because after Qe8+ Kg7 and Bb4, the black king always has the g6 square to go to in some critical lines. Check out the analysis below to see why all other moves fail.
The game that was looked forward to with great interest was S.L. Narayanan taking on Arjun Erigaisi. Both soft spoken and well mannered GMs off the board, are monsters when it comes to opening preparation, calculation and overall play. Arjun, who was on 5.0/6 in the open section and 5.0/5 in under-16 was having a great tournament. Narayanan, on the other hand, had lost to Saravana Krishnan and drawn with Bhakti Kulkarni. To add to it, he was having quite high fever and on the previous day was seriously considering to withdraw from the tournament. At the last moment he decided that he should play the round and so he went to the board. Arjun wasn't the easiest opponent to face, but Narayanan said after the game, " I don't know why, but I play well, when my health is not the best. Perhaps, it's because I don't think too much for my moves and my intuition is good." That is exactly what helped the highest rated player from Kerala as he managed to outplay his opponent in deep middlegame position.
S.L. Narayanan vs Arjun Erigaisi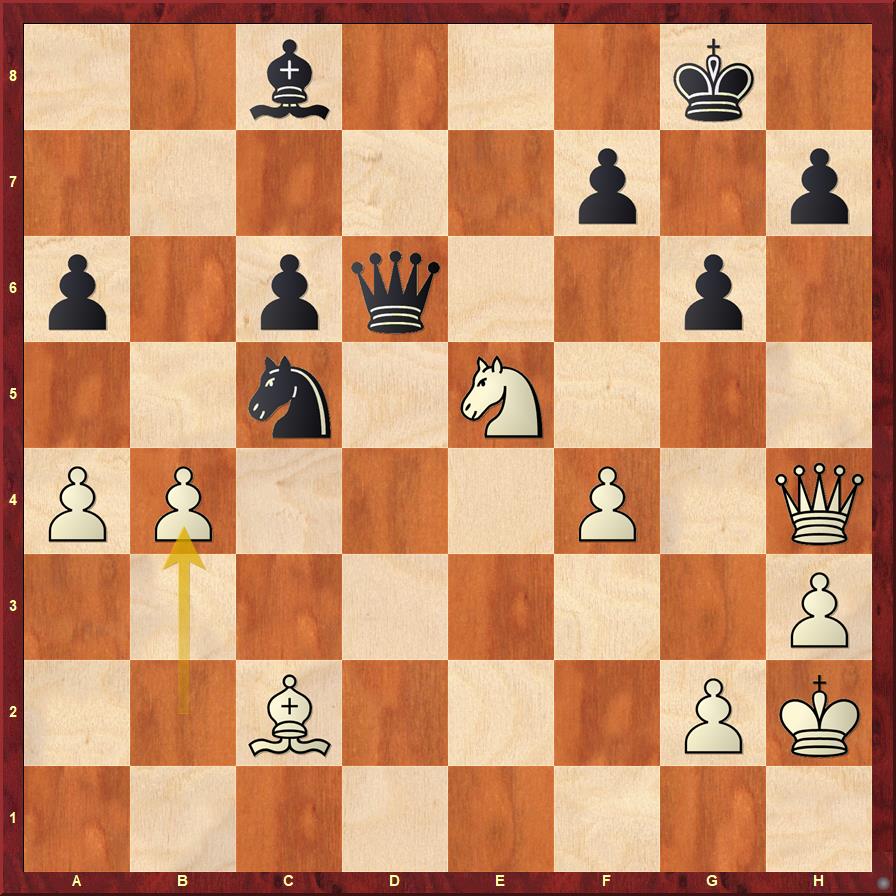 White has played the move b4 and it seems like he is dominating the position with his bishop coming to b3 and also the powerful knight on e5. However, Black has a very tenacious way to defend here. It looks ugly, but it works. Black must play Nb7 with the idea of putting the knight to d8 and then following it up with Be6 when everything is under control. Arjun wanted to do something similar, but executed it in the wrong way. He played ...Ne6, and this turned out to be a mistake as Qf6 pinned the knight and f7 came under grave pressure. At this level the smallest of errors are not left unpunished, and ...Ne6 by Arjun wasn't a small one!
This interview of S.L. Narayanan reveals a side of chess that is quite scary for the players and parents. Narayanan is 2616 rated and is number nine in the country. At the age of 20, and at such a good level, he should be able to get a job thanks to his chess. However, the oil companies which have been supporting chess in admirable fashion for years now, turned down his application as there was no vacancy. Narayanan, who just finished his graduation in English literature, is now confused whether to continue his chess journey or just try to settle down and find a job. Well, it would be a huge loss to Indian chess, if Narayanan doesn't continue his journey.
The entire game just revolves around Swapnil's much more active pieces than his opponent and the weak queenside pawns. No commentary is required for the same! Just enjoy the slow positional grind.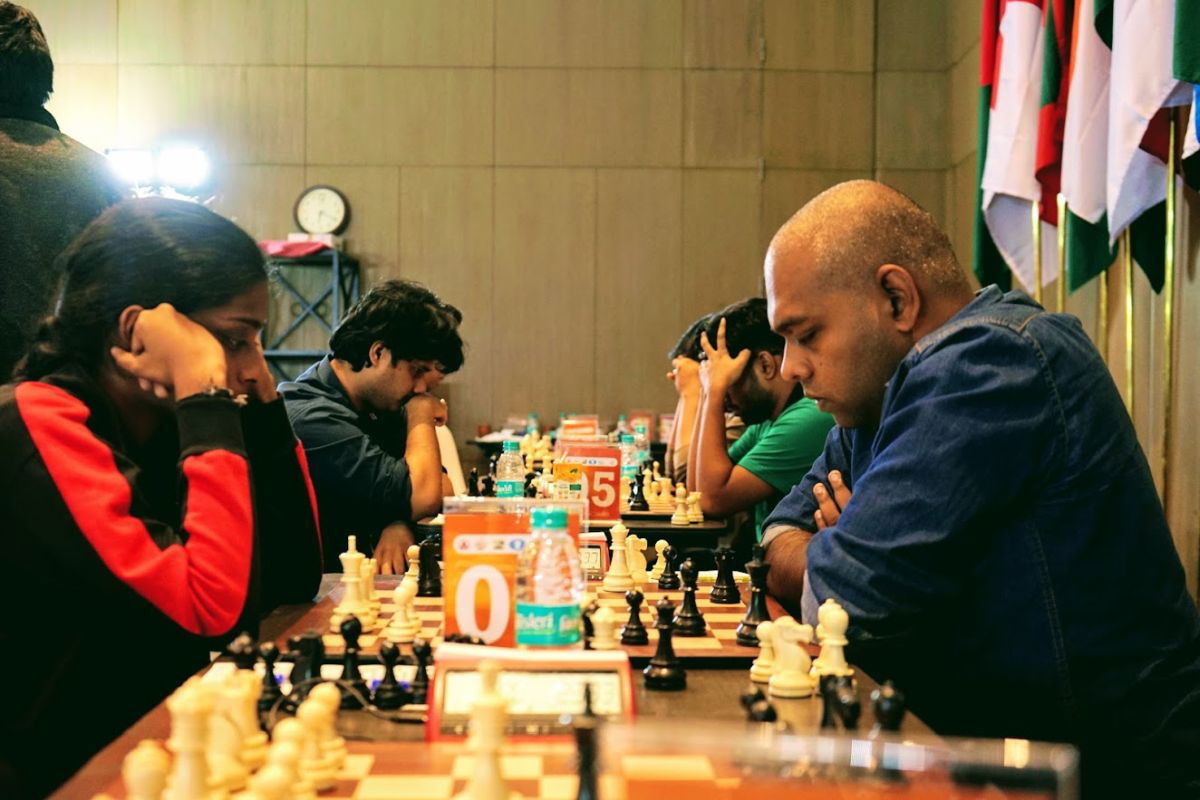 Standings after round 7
| | | | | | | | | | | |
| --- | --- | --- | --- | --- | --- | --- | --- | --- | --- | --- |
| Rk. | SNo | | Name | FED | Rtg | Club/City | Pts. | TB1 | TB2 | TB3 |
| 1 | 1 | GM | Gupta Abhijeet | IND | 2606 | Delhi | 6,0 | 0,0 | 29,0 | 32,5 |
| 2 | 3 | GM | Aravindh Chithambaram Vr. | IND | 2598 | Tamilnadu | 5,5 | 0,0 | 29,5 | 33,0 |
| 3 | 2 | GM | Narayanan.S.L | IND | 2603 | Kerala | 5,5 | 0,0 | 26,5 | 29,0 |
| 4 | 10 | GM | Swapnil S. Dhopade | IND | 2488 | Maharastra | 5,5 | 0,0 | 26,5 | 29,0 |
| 5 | 4 | GM | Lalith Babu M R | IND | 2571 | Andra Pradesh | 5,5 | 0,0 | 26,0 | 29,0 |
| 6 | 6 | GM | Debashis Das | IND | 2544 | Orissa | 5,5 | 0,0 | 26,0 | 28,5 |
| 7 | 5 | GM | Deepan Chakkravarthy J. | IND | 2557 | Tamilnadu | 5,5 | 0,0 | 25,0 | 29,0 |
| 8 | 7 | GM | Erigaisi Arjun | IND | 2526 | Telangana | 5,0 | 0,0 | 26,0 | 29,5 |
| 9 | 19 | IM | Tania Sachdev | IND | 2401 | Delhi | 5,0 | 0,0 | 26,0 | 28,5 |
| 10 | 14 | GM | Karthikeyan P. | IND | 2445 | Tamilnadu | 5,0 | 0,0 | 24,0 | 26,5 |
Pairings for round 8
---