Lalit Rohit scores a hat-trick by winning Marienbad Open 2022
GM Lalit Rohit continues his fantastic momentum in 2022. He won his second tournament of the year and third consecutive event since he won Thailand Chess Festival on 22nd December, last year. Then he won Vergani Cup 2022 on 9th January. On 22nd January, he won Marienbad Open A2 GM Round Robin scoring 6.5/9 and finished a half point ahead of the competition. He won 7000 CZK (approx ₹24069) as his first prize. Total prize fund was 20000 CZK. Lalit won all three events without losing a single game. He scored 21.0/27 in total in three tournaments. Check out his games and his thoughts on winning his third event in-a-row.
Lalit conquers three tournaments in three countries, in a month and remains unbeaten
India's 26th GM Lalit Rohit has won a plethora of tournaments all over the world. His first hat-trick of tournament wins consisted of an individual triumph and two team events - 5th Chennai GM, National Team for PSPB and All India Public Sector Team championship for Indian Oil in 2013. His second hat-trick actually completed at Vergani Cup 2022 as he won both Blitz and Classical events in Thailand Chess Festival 2021. However, if you consider Classical tournament victories only, the hat-trick completed at Marienbad Open 2022 A2 GM.
Speaking with ChessBase India, Lalit shared, "I feel motivated, and I am very happy to win the tournaments back to back." On his favorite game of the event, "I liked my third round game. I tried something new, and it turned out well for me."
Finek - Lalit, Round 3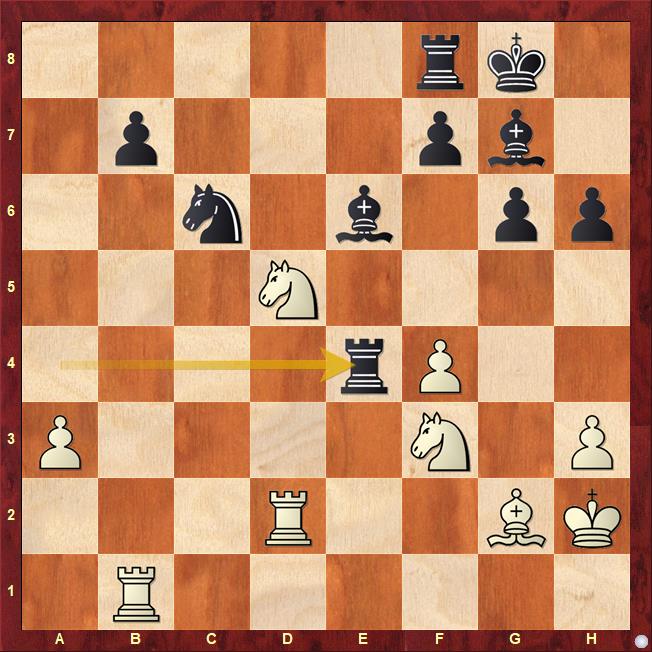 11-year-old FM Vaclav Finek (CZE) made the mistake of capturing the b7-pawn here. Find out why it is a mistake and what White should have done instead.
The tournament was organized by AVE-KONTAKT s.r.o. It took place at Hotel Continental, Marianske Lazne in Czech Republic from 15th to 22nd January 2022. Time control of the tournament was 90 mins + 30 seconds increment and 30 minutes each was added after the completion of 40th move.
Replay Lalit's games
Final Standings
| | | | | | | | | | | | | | |
| --- | --- | --- | --- | --- | --- | --- | --- | --- | --- | --- | --- | --- | --- |
| Rk. | SNo | | | Name | sex | FED | Rtg | Club/City | Pts. | TB1 | TB2 | K | rtg+/- |
| 1 | 10 | | GM | Lalith Babu M R | | IND | 2548 | | 6,5 | 26,75 | 0,0 | 10 | 3,4 |
| 2 | 5 | | GM | Stefansson Hannes | | ISL | 2518 | | 6,0 | 25,00 | 0,0 | 10 | 2,0 |
| 3 | 1 | | | Wachinger Nikolas | | GER | 2360 | SV WERDER BREMEN | 5,0 | 21,25 | 0,0 | 20 | 26,0 |
| 4 | 7 | | IM | Malinovsky Karel | | CZE | 2473 | Slavia Kromeriz | 4,5 | 20,00 | 0,0 | 10 | -7,1 |
| 5 | 3 | | FM | Ghazarian Kirk | | USA | 2379 | | 4,5 | 19,25 | 0,0 | 20 | 11,0 |
| 6 | 8 | | IM | Braeuer Franz | | GER | 2435 | ERFURTER SCHACHKLUB | 4,0 | 17,75 | 0,0 | 10 | -7,1 |
| 7 | 6 | | GM | Rasik Vitezslav | | CZE | 2424 | TJ Ostrava | 4,0 | 17,50 | 0,0 | 10 | -5,4 |
| 8 | 2 | | FM | Finek Vaclav | | CZE | 2425 | TJ Desko Liberec | 4,0 | 17,25 | 0,0 | 10 | -5,5 |
| 9 | 9 | | FM | Kusa Jakub | | CZE | 2297 | Moravska Slavia Brno | 3,5 | 15,00 | 0,0 | 20 | 12,4 |
| 10 | 4 | | FM | Sorm Daniel | | CZE | 2345 | Unichess | 3,0 | 12,25 | 0,0 | 10 | -5,0 |
Links
---