If you are above 2400 Elo, a GM norm event is waiting for you in Indonesia
If you are a 2400+ player and are looking for a GM norm tournament, you are in for some good news. The Japfa chess GM norm tournament with 12 players is taking place from 12th to 22nd of June 2019 in Indonesia. 10 players have already confirmed their participation and there is still space for two players. All your costs apart from flight ticket will be covered by the organizers. Apart from this you also have a guaranteed prize money amount that you will take home. Yes, there are only 12 days left for the tournament, but the big plus point is that Indians do not need to apply for a visa to go to Indonesia. If you are keen on taking part in this tournament, then write an email to the contacts given in the article and who knows you will be playing in the Japfa GM norm tournament 2019!
The Japfa GM and WGM chess tournaments in Indonesia are well known all across the chess world for their hospitality and perfect ambience for chess lovers. Japfa is a leading agri-food company in Asia and have been supporting chess in Indonesia since many years. The GM and WGM norm tournaments are back once again in 2019 and this time they will be held from 12th to 22nd of June 2019 in Yogyakarta city in Indonesia. The main aim of these tournaments is to give the local Indonesian players a chance to score their GM norms. All the slots in the WGM section have been filled, but in the GM section there are still two slots that are still open.
The organizers are looking for two players above the rating of 2400 Elo.
Conditions:
The player will be provided with free food, free hotel room on twin sharing basis, free registration, free pick up and free transportation from the airport. The only cost that the player would have to bear are the flight charges.
Players
1. Ivan Sokolov
2. Rustam Khusnutdinov
3. Dmitry Kokarev
4. Munkgal Gombosuren
5.
6.
7. Susanto Megaranto
8. Novendra Priasmoro
9. Yoseph Taher
10. Sean Winshand C
11. Azarya Jodi Setyaki
12. Medina Warda Aulia
Prize fund in GM section:
1st – USD 2,000;
2nd – USD 1,500;
3rd – USD 1,000;
4th – USD 750;
5th – USD 600;
6th-7th – USD 500 each;
8th-9th – USD 400 each;
10th-12th – USD 350 each
Schedule
Wednesday 12th June 2019
14:00 - Arrival
Thursday 13th June 2019
10:00 Player's Meeting & Drawing of Lots
15:00-16:00 Opening Ceremony
16:00-20:00 Round 1
Friday 14th June 2019
14:00-18:00 Round 2
Saturday 15th June 2019
09:30-13:30 Round 3
16:00-20:00 Round 4
Sunday 16th June 2019
14:00-18:00 Round 5
Monday 17th June 2019
09:30-13:30 Round 6
14:00-18:00 Round 7
Tuesday 18th June 2019
09:30-13:00 Round 8
16:00-20:00 Round 9
Wednesday 19th June 2019
Free City Tour
Thursday 20th June 2019
14:00-18:00 Round 10
Friday 21st June 2019
09:30-13:30 Round 11
16:00-17:00 Closing & Prize Giving Ceremony
Saturday 22th June 2019
- 12:00 Departure
Contact:
All those who have an Elo above 2400 and would like to fight for their GM norms, can write to k_liem@yahoo.com and endar.sakti@yahoo.com with a copy (cc) to chessbaseindia@gmail.com. The good news for Indian players is that there is no need to apply for a visa. It's visa on arrival.
Chief Organiser
Kristianus Liem
E-Mail: k_liem@yahoo.com
Mobile Phone: +62 8169 87794
Chief Arbiter
IA Endar Sakti Lubis
E-Mail: endar.sakti@yahoo.com
Mobile Phone: + 62 8571 598 1973
Chess in Indonesia
I visited Indonesia to play in the Japfa IM norm tournament in 2017 and was surprised at the chess culture in the country. All the IMs and GMs were treated like stars. Don't believe me, have a look (through the lens of Alina l'Ami):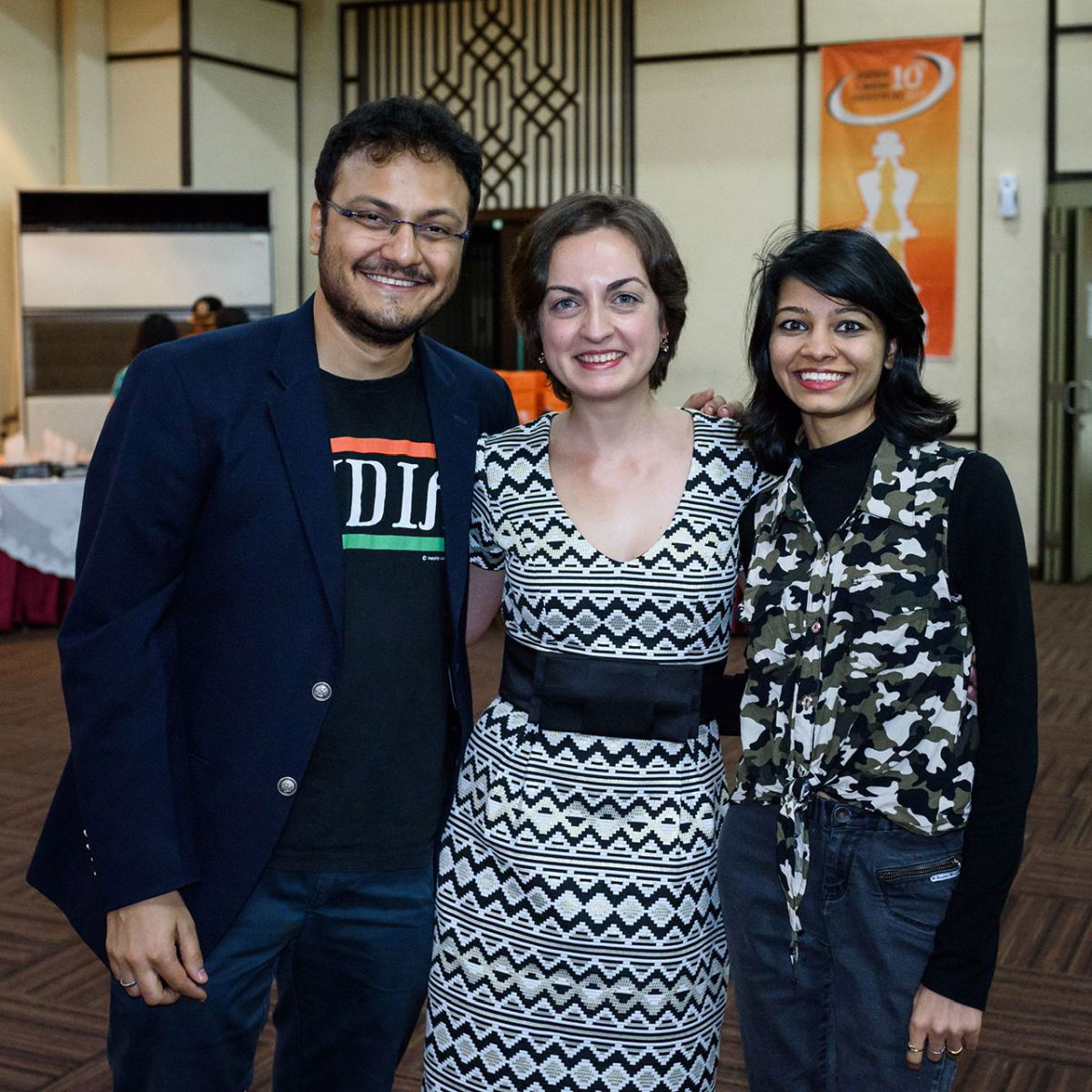 Players in the WGM norm event 2019
1. Alina L'Ami
2. Sophie Milliet
3. Rucha Pujari
4. Keti Tsatsalashvili
5. Luong Phuong Hanh
6. Gong Xianyun
7. Chelsie Monica Sihite
8. Dewi AA Citra
9. Ummi Fisabilillah
10. Monica Putri
11. Zahra Chumaira
12.
---