12-year-old Raunak Sadhwani is just 22 Elo points away from becoming an IM
Chess prodigies are sprouting from all parts of our country. We have Praggnanandhaa and Gukesh from Tamil Nadu, Nihal Sarin from Kerala, Prithu Gupta from Delhi. One more such phenomenal talent who is going to make India proud in the years to come is Raunak Sadhwani from Maharashtra. The boy hails from the fertile chess city of Maharashtra called Nagpur. Born on 22nd December 2005, Raunak is just 12 years and six months old, but he is already on the brink of becoming an IM. He has achieved all his three IM norms and achieved a rating of 2378. In this article he shares with us two of his annotated games from the Sharjah Masters 2018 where he made his final IM norm.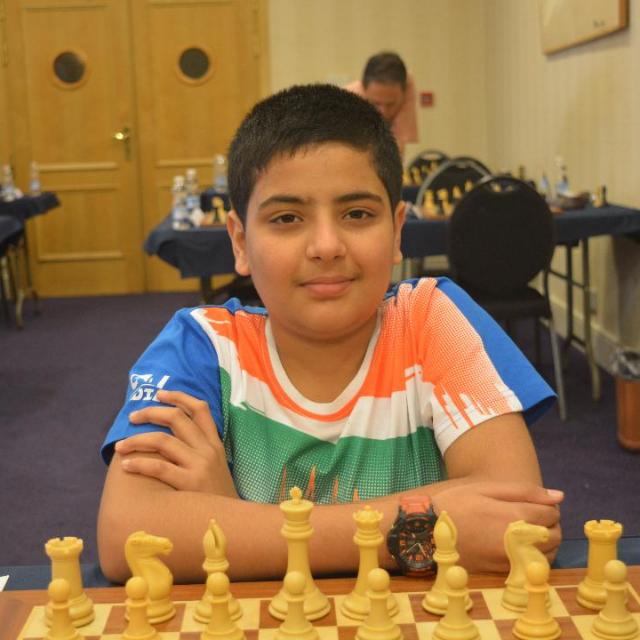 Raunak Sadhwani is just 12 years and six months old, but he already has a rating of 2378 and three IM norms in the bag. This means he needs just 22 Elo points to become India's next International Master. Hailing from the city of Nagpur in Maharashtra, Raunak and his parents have always made it a point to dream big. That's the reason why in 2016 Raunak participated in the National Juniors (under-19) at the age of just 10 years. Playing against some of the best junior players in the country, who were twice his age, Raunak performed admirably and finished third.
Raunak achieved his first IM norm at the age of 11 years and 7 months at the Pardubice Open 2017. Six months later he achieved his second IM norm at the Gibraltar Masters 2018. He achieved his final norm at the Sharjah Masters in April 2018. Within nine months Raunak completed all his IM norms. At the Sharjah Masters 2018, Sadhwani showed some solid chess and drew against two extremely strong players Alireza Firouzja (2572) and Martyn Kravtsiv (2680). Here we present both the games to you with some key positions and annotations by Raunak.
Raunak Sadhwani - Alireza Firouzja, Round 5 of Sharjah Masters 2018
Raunak played Bxg5! here. This shows a refreshing approach where the boy has an open mind towards dynamics and can understand at what point is dynamic play more important than positional play. The pawn on h4 will be weak, but the bishop on g5 and the semi-open g-file gives White very good active play.
White could surely play Bxh5, but that is not in the spirit of the position. Raunak went for Rdg1, but in his analysis he mentions the very nice variation f4! Ng3 Bf3! Nxh1 e5! with Ne4 coming up, White has a dangerous initiative (check annotations).
Martyn Kravtsiv - Raunak Sadhwani, Round 6 of Sharjah Masters 2018
...h6! was a powerful move by Raunak. It shows that he is prophylactically alert in the position and fights against the plan of Ng5. It's these little moves that makes all the difference.
Raunak's performance which earned him his final IM norm in Sharjah Masters 2018
Raunak's past achievements:
Raunak has a lot of things working in the right direction, most important of them all is his parent's support. Heena and Bharat Sadhwani are entrepreneurs and have their own chemical business. They are putting in all of their energy to ensure that their son reaches the heights in the world of chess.
ChessBase India wishes Raunak the best in his journey towards IM title, next GM title and beyond!
Read more:
Mature beyond his years - Raunak Sadhwani
---