Gukesh wins GoodEarth Online Blitz Open
GM D Gukesh scored a triple hat-trick with 9.0/9, a loss in the final round did not affect his final standings. Gukesh wins ₹12000. GM Jose Eduardo Martinez also finished with 9.0/10 at the second position. Runner-up Martinez earned ₹10000. IM Mitrabha Guha scored sole 8.5/10 to secure third position and won ₹7000. GoodEarth sponsored the entire prize fund of ₹50000. Total 231 players including 16 GMs, 22 IMs and 4 WIMs took part from India, Azerbaijan, Canada, England, Kuwait, Peru, USA and Uzbekistan in this 10-Round event. Photo: Niki Riga
Gukesh wins his second ChessBase India Online Blitz event within 2.5 months
GM D Gukesh made a fantastic start with 9.0/9, rendering the last round result irrelevant for his championship. Despite losing the last round to GM Jose Eduardo Martinez Alcantara of Peru, Gukesh won the tournament. This is his second triumph at a ChessBase India Online Blitz event within 2.5 months. Eduardo had to settle for second position. IM Mitrabha Guha scored sole 8.5/10 to secure third position. His only loss in the event was against the eventual champion Gukesh. Reigning National Junior champion Aradhya Garg was the only untitled player to finish in top 10. He scored 7.5/10 to finish at eighth position.
Total 231 players including 16 GMs, 22 IMs and 4 WIMs took part from India, Azerbaijan, Canada, England, Kuwait, Peru, USA and Uzbekistan in this 10-Round event.
A solid win against Rasulov
In the penultimate round, Gk06 (GM D Gukesh) scored a fine win over GM Vugar Rasulov of Azerbaijan.
Gk06 - Rasulov Vuga, Round 8
Due to lack of space and piece coordination, black went for a break with 30...g5 in an already difficult position. Gukesh had no trouble converting his advantage as he continued with 31.Na5 and won the game in another 19 moves.
Replay all games of D Gukesh
Eduardo's redemption
If you don't win the tournament, what's the next best thing? Scoring a victory against the eventual champion. Both Gk06 (GM D Gukesh) and Js3131 (GM Jose Eduardo Martinez) finished with 9.0/10, however Gukesh won the championship due to a better tie-breaks and Eduardo had to settle for second position.
Js3131 - Gk06, Round 10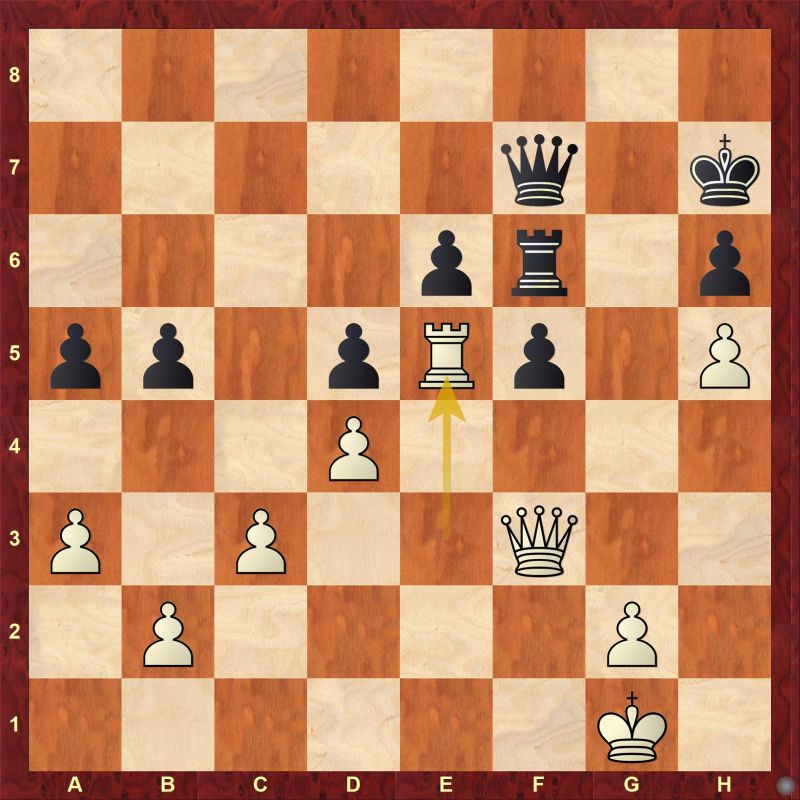 The position looks seemingly equal but black under time pressure blundered with 39...Qg7 which his opponent missed initially. Then after a couple of more moves he made an unforced error with 43...b4 and things turned into white's favor.
Replay all games of Jose Eduardo Martinez
Brilliant play by Babysnake
Babysnake (IM Mitrabha Guha) scored a fine victory in the final round against Uzbektiger95 (GM Jakhongir Vakhidov) when the latter made a tactical error, allowing his opponent to make a combination.
Uzbektiger95 - Babysnake, Round 10
Find out the winning continuation for black after 31.Ne3. Also try to find out what white should have played instead.
Replay all games of Mitrabha Guha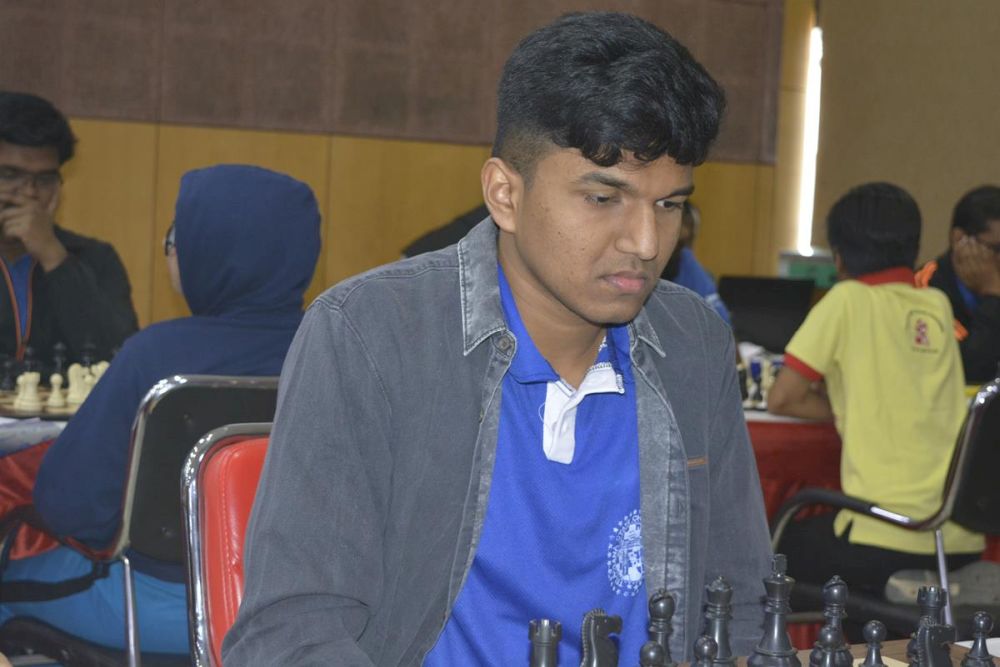 Shiv01 (WIM Mrudul Dehankar) scored a fine victory against Sivaji (GM Venkatesh M R) in Round 6.
Interesting moments
Here are some interesting moments from the tournament: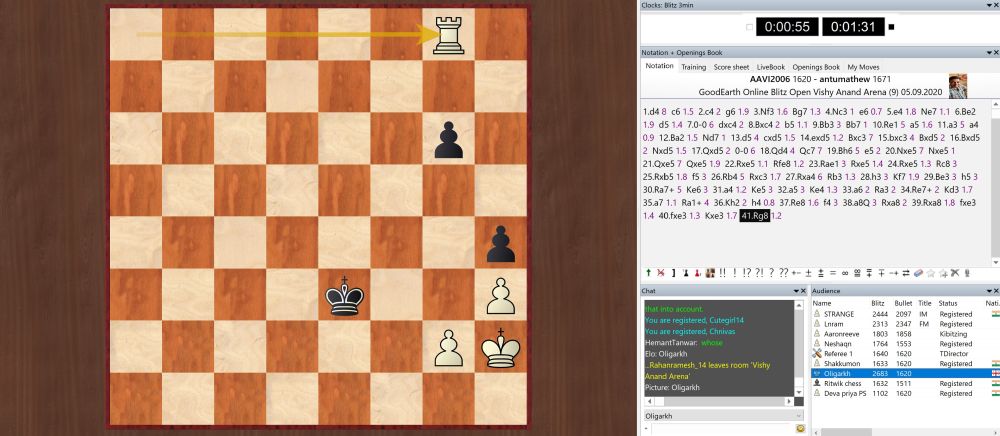 Final Standings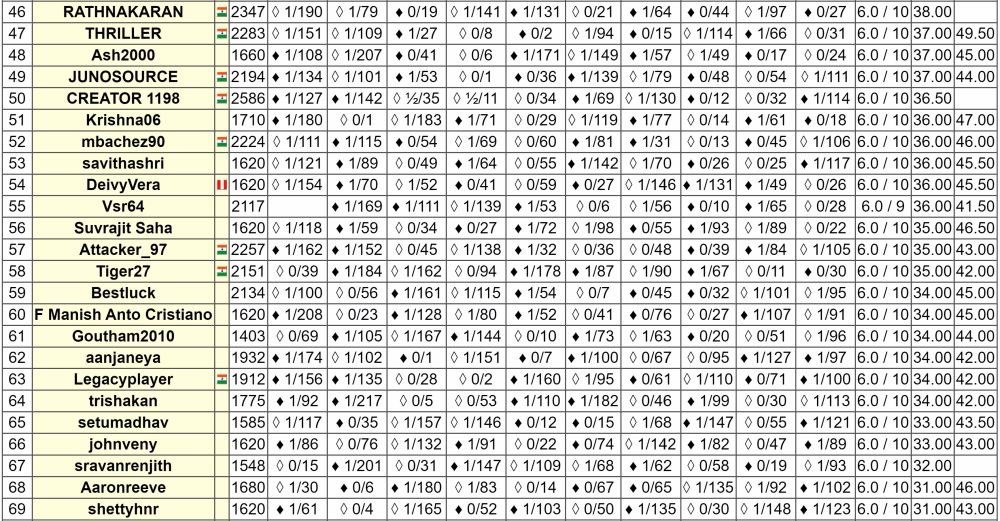 Main Prize winners (Top 20)
| | | | |
| --- | --- | --- | --- |
| Rank | Name | Score | Prize money |
| 1 | GM D Gukesh | 9 | ₹12000 |
| 2 | GM Jose Eduardo Martinez Alcantara | 9 | ₹10000 |
| 3 | IM Mitrabha Guha | 8.5 | ₹7000 |
| 4 | IM Aronyak Ghosh | 8 | ₹5000 |
| 5 | GM Harsha Bharathakoti | 8 | ₹3000 |
| 6 | GM Vugar Rasulov | 8 | ₹2000 |
| 7 | GM Abhimanyu Puranik | 8 | ₹1000 |
| 8 | Aradhya Garg | 7.5 | ₹1000 |
| 9 | GM Jakhongir Vakhidov | 7.5 | ₹1000 |
| 10 | GM Diptayan Ghosh | 7.5 | ₹1000 |
| 11 | IM Arjun Kalyan | 7.5 | ₹500 |
| 12 | IM Pranesh M | 7.5 | ₹500 |
| 13 | FM L R Srihari | 7.5 | ₹500 |
| 14 | IM Sankalp Gupta | 7.5 | ₹500 |
| 15 | IM Dhulipalla Bala Chandra Prasad | 7 | ₹500 |
| 16 | IM Anuj Shrivatri | 7 | ₹500 |
| 17 | Pranav V | 7 | ₹500 |
| 18 | GM Shardul Gagare | 7 | ₹500 |
| 19 | IM Kanan Garayev | 7 | ₹500 |
| 20 | IM Arghyadip Das | 7 | ₹500 |
Best Women
| | | | |
| --- | --- | --- | --- |
| 1 | WIM Mrudul Dehankar | 7 | ₹500 |
| 2 | Renganayaki V | 7 | ₹400 |
| 3 | WIM Aakanksha Hagawane | 6 | ₹300 |
| 4 | WFM Savitha Shri B | 6 | ₹300 |
Rating category 1201-1400
| | | | |
| --- | --- | --- | --- |
| 1 | Goutham Krishna H (1352) | 6 | ₹500 |
| 2 | Giridhar A (1347) | 5.5 | ₹400 |
| 3 | Karthik Raj (1383) | 5 | ₹300 |
| 4 | Aadithya Pradeep (1325) | 5 | ₹300 |
Rating category 1000-1200
| | | | |
| --- | --- | --- | --- |
| 1 | Suryansh Verma (1199) | 7 | ₹500 |
| 2 | Sushanth Vaman Shetty (1188) | 6 | ₹400 |
| 3 | Agnim Dutta (1135) | 6 | ₹300 |
| 4 | Sidharth Sreekumar (1194) | 5.5 | ₹300 |
Best Under-12
| | | | |
| --- | --- | --- | --- |
| 1 | Swayham P Das | 7 | ₹500 |
| 2 | Arpith S Bijoy | 6.5 | ₹400 |
| 3 | Ilamparthi A R | 6 | ₹300 |
| 4 | Arhan Chethan Anand | 6 | ₹300 |
Best Under-18
| | | | |
| --- | --- | --- | --- |
| 1 | FM L N Ram Aravind | 7 | ₹500 |
| 2 | FM Ajay Karthikeyan | 7 | ₹400 |
| 3 | FM Pranav Anand | 7 | ₹300 |
| 4 | Sankalp Kukreja | 7 | ₹300 |
Best Kerala Players
| | | | |
| --- | --- | --- | --- |
| 1 | FM Jubin Jimmy | 7 | ₹500 |
| 2 | Adarsh P B | 6.5 | ₹500 |
| 3 | Akhilan E M | 6.5 | ₹500 |
| 4 | IM Ratnakaran K | 6 | ₹300 |
| 5 | Sreejith GS | 6 | ₹300 |
| 6 | Vishnu Menon | 6 | ₹300 |
| 7 | John Veny Akkarakaran | 6 | ₹300 |
| 8 | Hari R Chandran | 5.5 | ₹300 |
| 9 | N R Anilkumar | 5.5 | ₹250 |
| 10 | Manoj MV | 5.5 | ₹250 |
Links
---