King Salman FIDE World Rapid and Blitz to be held in Saudi Arabia
On November 9th 2017, FIDE - World Chess Federation announced that under the aegis of the General Sports Authority of the Kingdom of Saudi Arabia, 2017 King Salman World Rapid and Blitz Chess Championships will be held in Riyadh, Saudi Arabia from 26th - 30th December 2017. Hikaru Nakamura expressed his thoughts about the host nation and the sanctity of chess through a tweet immediately after the official announcement. We have asked several current and former national champions of our country to share their thoughts on the decision of hosting such a major championship in a country where democracy does not exist and their voice about Nakamura's tweet on the same subject.
World Rapid and Blitz Announcement
Excerpt from the official announcement:
"FIDE is pleased to announce that, under the aegis of the General Sports Authority of the Kingdom of Saudi Arabia, the 2017 King Salman World Rapid and Blitz Chess Championships will be held in Riyadh, Saudi Arabia between the 26th and 30th December 2017. The first two Rapid Championships (Open and Women) will be on the 26th to 28th December and the Blitz Championships (Open and Women) will follow on the 29th and 30th December. The events offer a record breaking prize fund of US$2,000,000 with the Open events having individual prize funds of US$750,000 and each women event having a prize fund of US$ 250,000. 30 prizes shall be offered in each event. A payment of 20% from the above total prize fund shall be made to FIDE."
The total prize fund in Open category in the 2016 edition was US$ 400,000. It means prize fund in the open category has been increased to almost double the amount it was in 2016. In women's championships, total prize fund was US$ 80,000 which means the increase of prize fund in Women event is 625% which is a gargantuan number.
The number of players participating in the World Championships is set at a maximum number of 250 players for the Open events and 150 players for the Women events. All players rated at least 2600 for the Open and 2300 for the Women, in any of the FIDE rating lists (Standard, Blitz or Rapid) from September 2017 to October 2017 are eligible to register to play in the King Salman World Blitz & Rapid Championships 2017 and . Early registration is appreciated to facilitate confirmation of selection as well as arrangement of invitation letters for visa.
Previously the rating cutoff for Open category was 2500, however this year they increased it to 2600. In a way they are trying to encourage more players into participating by increasing the prize money but then again hosting it in a country where players do not feel safe is just an example of oxymoron.
The players on the list below will be offered free accommodation in Riyadh, as well as travel expenses, if they confirm and sign their participation by the deadline of the 25th of November 2017.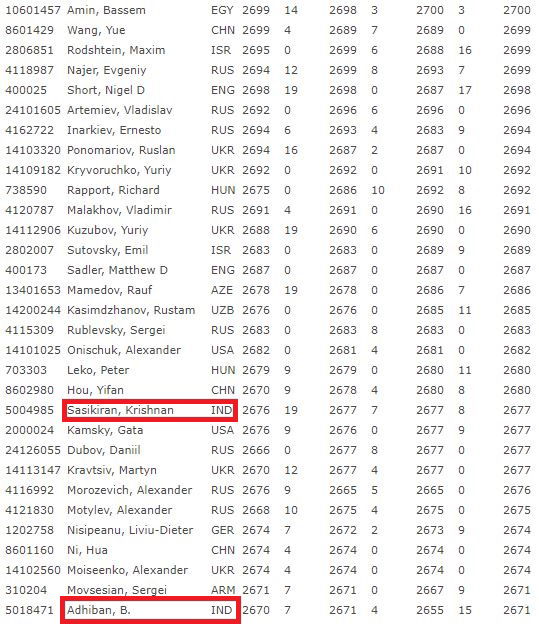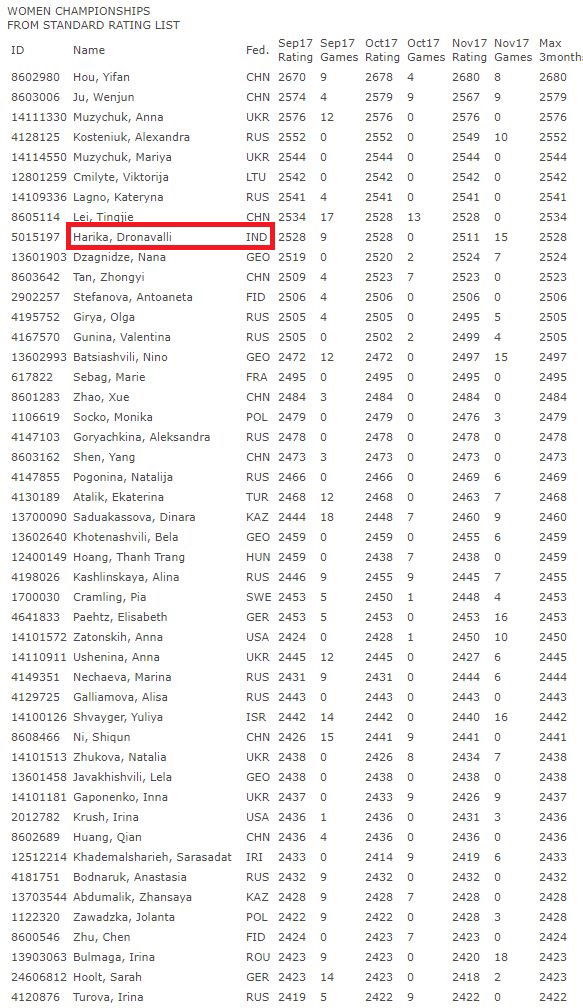 We reached out to several present and former National Champions of India to voice their opinion about Nakamura's tweet in lieu of FIDE's announcement regarding World Rapid and Blitz Championship 2017.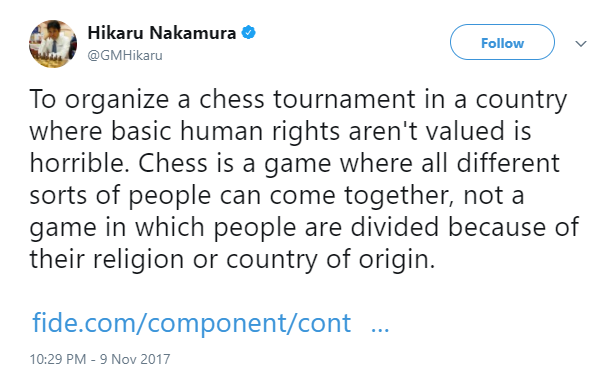 Hey, for me I don't really mind where the tournament is. I am just happy to play chess anytime and anywhere on the world!
Cannot agree less. Just that, it is a sensitive issue and after all there are pros and cons of being a non democratic country.
WGM Soumya Swaminathan, former World Junior Champion
I respect Naka's comments on the matter. If it is true that certain players will not be welcome because of their nationality/race/religion, then its truly sad that the championship is being organised in Saudi. In addition,I wonder if women players will be forced to wear a Headscarf / Burkha; in that case playing this tmt would feel like a punishment than an opportunity.
I hope everyone will be welcome for this event, and the players' basic human rights will be protected !
IM Padmini Rout, Individual Gold medal winner in Chess Olympiad
I haven't decided yet. It's tempting to play since it's free and had originally wanted to take part in it this year but I do not know what will be the rules and safety measures taken for the women participants. Hopefully the regulations will come out soon before the deadline. Although I am aware the conducting of the championship may open prospects for women into sports and in general, I still want to wait for the regulations.
We will keep adding more comments as we receive them. We would also like to hear from you, what is your opinion? Please write in the comments section below.
---