Daakshin Arun: The young Chennai lad who became the National Under-13 Champion
Daakshin Arun is a prominent young talent from Chennai, Tamil Nadu, who has performed amazingly in several big tournaments at the young age of 13. However, there was one title missing from his trophy cabinet so far - the National Championship. This time, he has got it - Daakshin won the MPL 35th National Under-13 Open Chess Championships 2022! He scored an unbeaten 10/11 to clinch the trophy. We reached out to Daakshin for a short interview after his victory. Read the article to know about his career, his favorite games from the event, future tournaments and much more! Thumbnail: Aditya Sur Roy
Daakshin finishes 2022 on a good note
In the October of 2021, we wrote a detailed article about a young 12-year-old boy who gained 415 elo points in just two months - from 1758 to 2173. That boy was none other than Daakshin Arun!
Daakshin's father, Arun, had been working as a professor in an engineering college. In 2017 he gave up his job so that he could travel with Daakshin to tournaments all across India and the world. The boy has been progressing rapidly, but this has put a lot of financial pressure on the family. Daakshin has an aim of becoming an IM very soon. In order to facilitate this dream, the ChessBase India YouTube memberships for the month of December 2021 of Rs.72,076 was given to Daakshin!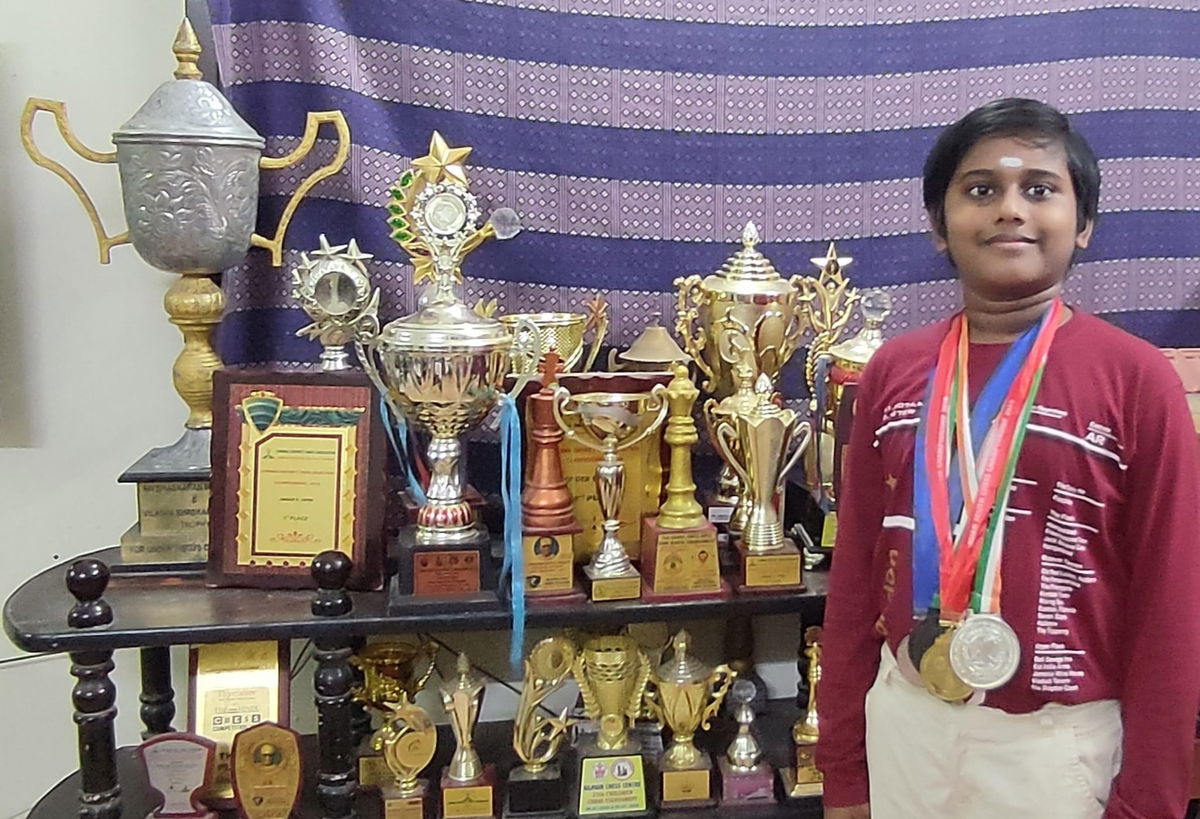 Daakshin finished 2022 on a great note - by winning the National Under-13 Championships 2022. In a very competitive field, the 13-year-old young lad played strong chess to win the event with an unbeaten 10/11.
After his victory, we reached out to Daakshin for a short interview where we asked him about his performance, coaching, future tournaments and much more! He also shares annotated PGNs of two of his most favorite games from the National Under-13 Championships 2022.
How did you start playing Chess? Who taught you the rules?
Daakshin: My father taught me chess when I was around 6 years old. For about 6 months I learnt the basics from him and played almost daily with him!
Who was your first coach?
Daakshin: My first coach was Mr. Arvind Aaron, the son of IM Manuel Aaron.
What does it mean for you to win the National U-13 Championship?
Daakshin: It means a lot to me, having missed the Under - 11 national title by a whisker in 2019. Besides, now I am qualifying for Under- 14 World Championships, Asian and West Asian Championships. This will give me a pretty good exposure and chance to win titles for India.
What were your 2 most favorite games from the event?
Daakshin: My favourite games of this tournament are the Round 8 game against Arshpreet Singh and the final round game against Adireddy Arjun.
Arshpreet Singh vs Daakshin Arun, MPL 35th National Under-13 Championships Round 8
Daakshin Arun vs Arjun Adireddy, MPL 35th National Under-13 Championships Round 11
Who are your inspirations?
Daakshin: Among the players of the past, GM Garry Kasparov and among the present players GM Viswanathan Anand are my inspirations.
Who are you currently working with? Is there some specific topic you are looking to improve right now?
Daakshin: I am currently working with GM RB Ramesh. As of now, I am looking to improve my endgame skills.
What is next for you?
Daakshin: Under - 14 World Championship, Asian and West Asian championships, Delhi GM Open and Indore GM Open are the immediate tournaments I am going to play. I am looking to become a IM soon and win the Under -14 World title next year!
Daakshin featured in ChessBase India
---