From 1758 to 2173! 11-year-old Daakshin Arun gains 415 Elo points in two months
Born in 2009, Daakshin Arun was increasing his chess strength steadily. In 2017, his father Arun left his job as a college lecturer so that he could travel with his son to different tournaments. Trained by GM R.B. Ramesh at the Chess Gurukul Academy, Daakshin had an Elo of 1758 before the Covid-19 pandemic struck. Suddenly all the plans of the family went for a toss. But Daakshin did not despair. He kept working hard for nearly a year and a half and when things opened up in the second-half of 2021, he planned a few events in Europe. And guess what? The boy passed this test with flying colours, gaining 415 Elo points and pushing his rating to 2173. Know more about this upcoming talent of Indian chess.
We all are aware of the young talents who are soon going to take the world of chess by storm - Nihal Sarin, Gukesh, Praggnanandhaa, Arjun Erigaisi, Raunak Sadhwani. But who are the next set of talents in the country? While this 2003-2006 generation kids have surely done wonders for Indian chess and will continue doing so in the years to come, it is of course important for a super power to have a continuous flow of talent. Here's presenting to you a young talent - CM Daakshin Arun, born in 2009, who is soon to make it big in the world of chess.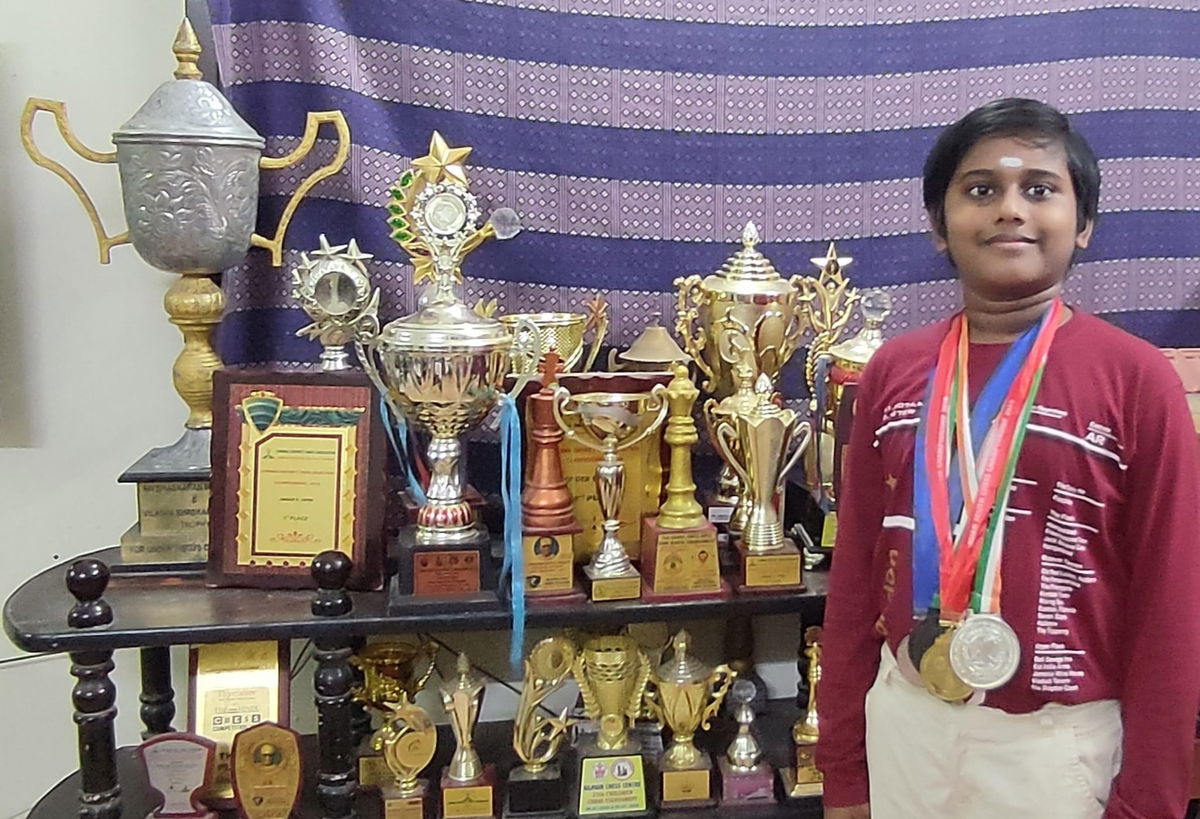 Daakshin started playing chess since the age of six years. In the last five years, these are some of his major achievements:
1. He won the silver medal in rapid format and two team Golds in the Classical and Rapid formats at the Asian youth Chess Championship in Sri Lanka in 2019 –U10 Open
2. Silver medal in Classical and Bronze medal in Rapid at the Western Asia Youth and Junior Championships 2019 in under-10
3. 5th place at the National under-11 Championships in Delhi 2019
In the pandemic Daakshin was working very hard on his chess. When he got the chance to play tournaments, he packed his bags and travelled to Europe with his father and this is what happened: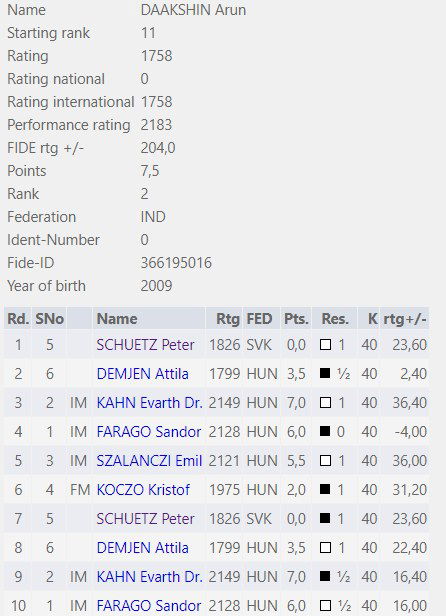 Thanks to these performances, Daakshin has now risen to the position of 2nd strongest youngster in the country born in 2009.
Some notable games of Daakshin Arun
Daakshin vs Kahn, First Saturday
With moves like ...Nh3+ in the air, it is natural that the player with the white pieces can get worried and play something passive like Ned2. However, what I liked about Daakshin is the fact that he assessed the risks in his position carefully and went for Bb4! He attacked the rook and after the rook moved back, he brought his rook from a1 to a3 and defended the f3 knight in the most efficient way possible. It's ideas like these and the ability to keep your cool in face of an onslaught that shows talent for the game. Check out how Daakshin managed to win the game in smooth style.
Daakshin vs Salanczy, First Saturday
a7!? is a very interesting idea in the Benko. Black is anyway going to take the pawn on a6. But by giving it up on a7, White lures the rook to a7 and this can be useful in some lines where the knight jumps to b5 and gains a tempo! Having the knowledge of all these little opening intricacies at such a young age is wonderful to see.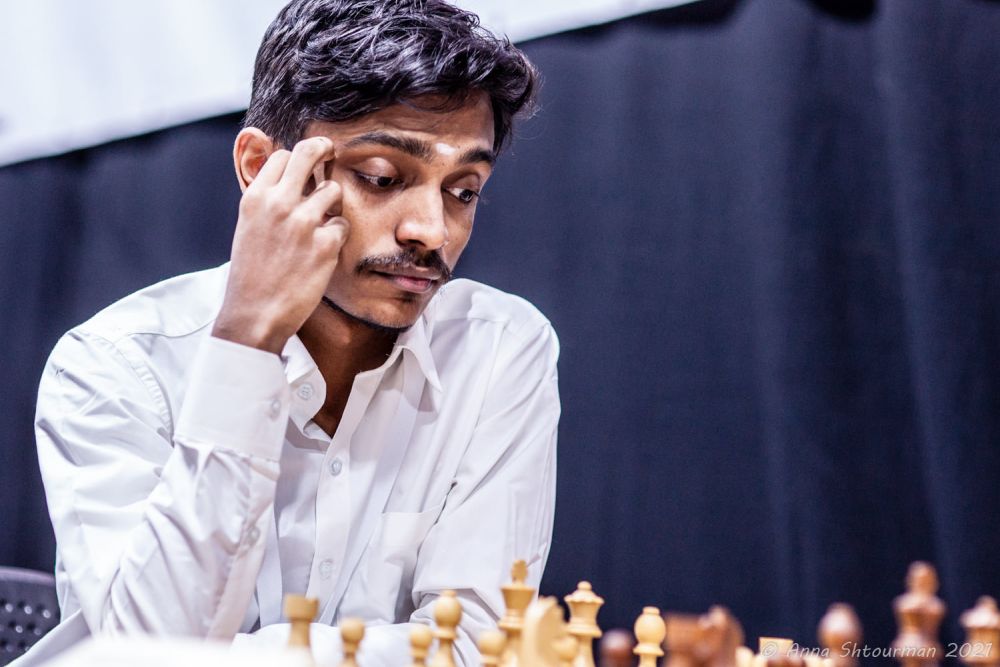 Daakshin got a chance to play against Aravindh Chithambaram at the Barcelona Open earlier this year. What was very impressive was how the youngster held his fort against the experienced campaigner and was almost going to hold the game. Check out the game below with analysis by Daakshin.
Speaking to ChessBase India, Daakshin's father Arun said, "I quit my job as Associate Professor in an Engineering College 4 years ago in order to take Daakshin regularly for tournaments in India and abroad. I have been taking him for tournament's every month from 2017 onwards. The pandemic was a difficult period for all of us. Right now my wife Kavitha provides for the family as she is working as the Assistant Professor in a Arts and Science College in Chennai. I am hoping that I will be able to soon find a sponsor for my son's chess career."
Daakshin studies at the Velammal School which supports chess in a big way. He started his professional coaching at Aaron's Academy under IM Manuel Aaron and for the past four years he is training at Chess Gurukul Academy under the able guidance of GM R B Ramesh, WGM Aarthie Ramasamy and M. Kunal. Speaking to ChessBase India, GM R.B. Ramesh mentioned, "Before the pandemic related lockdown, many promising youngsters where growing in their strength very fast but all of a sudden they could not play in tournaments and lost 2 precious years in their young career. Same with Daakshin. He has very good analytical ability and practices long hours. Very ambitious and interested to learn all aspects of the game. He has recently increased his rating a lot and is a good prospect to become one of the youngest GMs in our country."
---