Humpy strikes in the very first round of Cairns cup 2020
Two out of the five encounters yielded decisive results in the first round of Cairns Cup 2020. India's Koneru Humpy and Nana Dzagnidze of Georgia emerged as victors by defeating Yip Carissa and Valentina Gunina respectively. The remaining three encounters saw their own fiery moments but ended peacefully with the split of points. The Cairns cup is being widely reckoned as the strongest women's tournament in the history of chess and is featuring some of the best female players in the world today including the reigning World Champion Ju Wenjun and former World Champions Alexandra Kosteniuk and Mariya Muzychuk. We bring you a detailed report from the first day of this high-class event.
India's top female player Koneru Humpy, who is currently also the World Rapid Champion, got off to a dynamic start at the Cairns Cup 2020 with an emphatic victory over the talented local youngster Yip Carissa yesterday. Yip is just 16 years old and is one of the brightest up-and-coming promises of US Chess, but on Friday she failed to hold her own despite making a good start as her more experienced opponent managed to generate counterplay at the right moment and overwhelm.
Humpy had the white pieces and looked slightly wobbly in the opening as her young adversary seemed to be very well-prepared in the King's Indian but soon, as things progressed, she found her chances. The American took a dubious decision on move 19 which the Indian promptly exploited by giving up a pawn and seizing active play. (Photo: Official website)
Koneru Humpy - Yip Carissa, Round 1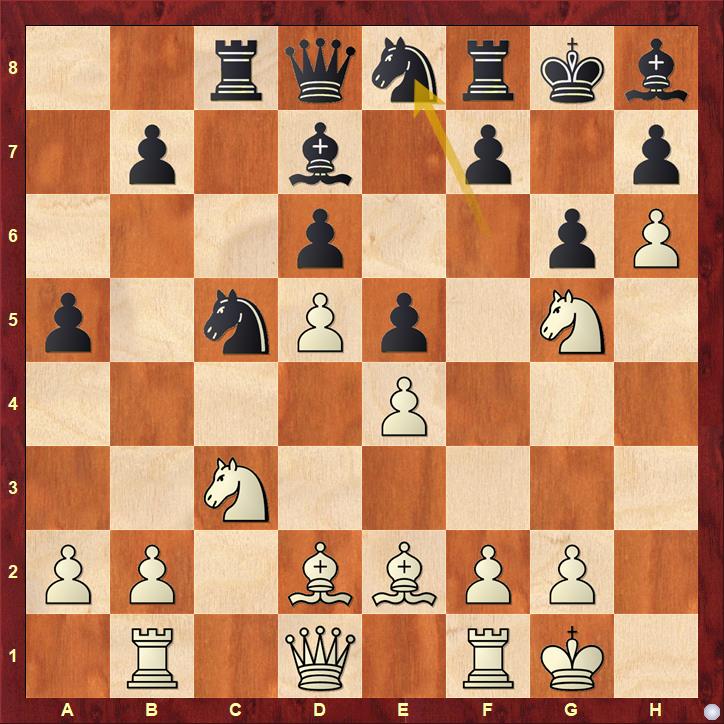 18...Ne8! intending to break open with the thematic f7-f5 was actually a good move by Yip. Had she handled the position well from here then White could have run into some serious troubles but, fortunately for Koneru, she lost the thread of her play quite quickly. The game proceeded 19.b3 f6 and allowed White to jump with 20.Ne6. Something like 19...Bf6 20.Nf3 Be7 aiming for f7-f5 instead would have been much better. But 19...f6?! really didn't meet the needs of the position.
Koneru hit 20.Ne6 immediately sacrificing a pawn and soon secured a much freer position. Black had issues with developing her dark-squared bishop and the move f7-f6 too had permanently weakened her kingside. White, on the other hand, could make easy progress on the queenside.
The queens were traded off by move 28 and the above position was reached after 29.Rfb1. Yes, Black had an extra pawn but the activity was all White's. The best course for Yip here was in returning the pawn with 29...Ra8 or 29...f5 but she insisted on defending passively and went 29...Rb8?! which quickened her doom.
Well, in the game, Koneru played 30.Bd2 and lashed out with a2-a4 next and here Black's fate was sealed. The a-pawn was suddenly a dangerous runner. Yip crumbled under pressure and subsequently made a few more errors which allowed the Indian to finish things off neatly by move 40. The full game with annotations is presented below for you to peruse.
The other victory of the day was clinched by the Georgian Grandmaster Nana Dzagnidze. She adopted an unusual line of the queen's pawn opening and successfully outwitted her Russian rival Valentina Gunina. Let us look at the key moment from this encounter. (Photo: Official website)
Nana Dzagnidze - Valentina Gunina, Round 1
Valentina played the move 12.Nd7 with the idea of pushing e6-e5 next but can't white simply grab a pawn on h7. It turns out that the immediate 12...Bxh7 is inaccurate as after 13.Bxh7 Be7 14.Bxe7 Nxe7 15.Bc2 e5 Black is really doing well. Nana assessed these intricacies well and first went 12.a4 hitting at Black's weakened queenside, thereafter only when Gunina retreated her queen to b8 did she capture on h7.
The Russian tried to be tricky yet again and after 15...Be7 16.Bxe7 Kxe7 17.Bd3 hurled out 17...g5 the threat of course was Bxf3 followed by g4. White had to take care of the h2 pawn!
Nana played the only move 18.g3! and grabbed the initiative. Note that 18.h3 is bad in view of 18...Bxh3. It was completely downhill for Black from here on. Replay the full encounter below.
Ju Wenjun, the top seed of the event, played a complicated game against Mariya Muzychuk that tested her theoretical preparation in the Petroff. Muzychuk found a small edge out of the opening but could hardly make the World Champion budge and thus the game ended in a draw after 40 moves. (Photo: Official website)
Harika Dronavalli, the only other Indian in the event, adopted the Sicilian Dragon with black pieces against her opponent Kateryna Lagno. This encounter flared up early on but petered out into a draw somewhat unceremoniously. (Photo: Lennart Ootes)
Results of round 1
| | | | | | | | | | |
| --- | --- | --- | --- | --- | --- | --- | --- | --- | --- |
| Bo. | No. | Rtg | | Name | Result | | Name | Rtg | No. |
| 1 | 1 | 2552 | GM | Muzychuk Mariya | ½ - ½ | GM | Ju Wenjun | 2583 | 10 |
| 2 | 2 | 2580 | GM | Koneru Humpy | 1 - 0 | WGM | Yip Carissa | 2412 | 9 |
| 3 | 3 | 2552 | GM | Lagno Kateryna | ½ - ½ | GM | Harika Dronavalli | 2518 | 8 |
| 4 | 4 | 2515 | GM | Dzagnidze Nana | 1 - 0 | GM | Gunina Valentina | 2461 | 7 |
| 5 | 5 | 2504 | GM | Kosteniuk Alexandra | ½ - ½ | GM | Krush Irina | 2422 | 6 |
Pairings for the second round
| | | | | | | | | | |
| --- | --- | --- | --- | --- | --- | --- | --- | --- | --- |
| Bo. | No. | Rtg | | Name | Result | | Name | Rtg | No. |
| 1 | 10 | 2583 | GM | Ju Wenjun | | GM | Krush Irina | 2422 | 6 |
| 2 | 7 | 2461 | GM | Gunina Valentina | | GM | Kosteniuk Alexandra | 2504 | 5 |
| 3 | 8 | 2518 | GM | Harika Dronavalli | | GM | Dzagnidze Nana | 2515 | 4 |
| 4 | 9 | 2412 | WGM | Yip Carissa | | GM | Lagno Kateryna | 2552 | 3 |
| 5 | 1 | 2552 | GM | Muzychuk Mariya | | GM | Koneru Humpy | 2580 | 2 |
---