Bangladesh Premier League 2022 R2: Gukesh's positional prowess
Bangladesh Police registered the biggest victory of the event so far as Janata Bank Officer Welfare Society lost to the defending champions 0.5-3.5 in Round 2 of Golden Jubilee of Independence Premier Division Chess League 2021-22. Sheikh Russel Chess Club registered the second biggest win of the round against Manha's Castle. The lone point for Manha's Castle was scored by GM Harsha Bharathakoti who defeated GM Shyam Sundar M. Bangladesh Biman, Leonine Chess Club and Rupali Bank Krira Parisad were the other victors. Bangladesh Navy had the sole draw of the round against Titas Club. Round 3 starts today at 2:30 p.m. IST. Photo: Aditya Sur Roy
Bangladesh Police registers a big win
Arguably, GM Mitrabha Guha (Bangladesh Biman) had the most exciting game of the round against GM Reefat Bin Sattar (SAIF Sporting Club). GM D Gukesh's (Bangladesh Police) queen shuffle induced a mistake by his opponent FM Harshad S (Janata Bank Officer Welfare Society).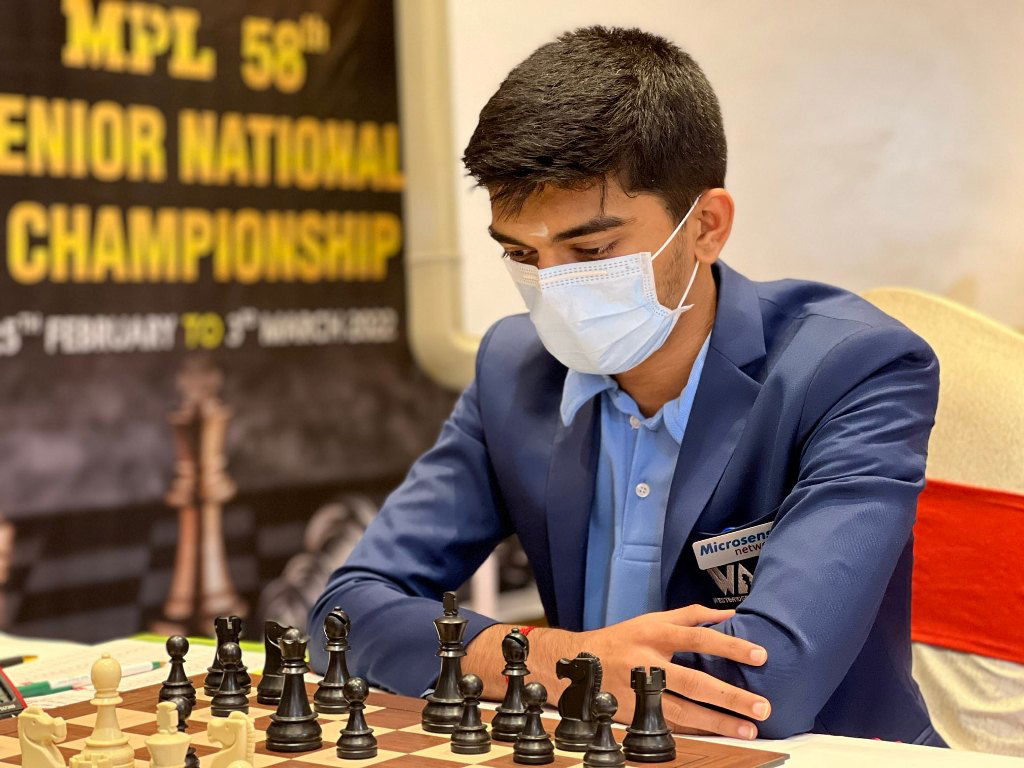 SAIF Sporting Club - Bangladesh Biman: 1.5-2.5
GM Abhimanyu Puranik and GM Mitrabha Guha scored victories for Bangladesh Biman. Bangladesh's legend GM Niaz Murshed scored the lone victory for SAIF Sporting Club. The most tumultuous game of the day was between Mitrabha and GM Reefat Bin Sattar.
Mitrabha - Reefat
The above diagram certainly gives one a clue that both players were not holding back on their punches. It was a very exciting game where both of them had their fair share of chances. Eventually, it was Reefat who made the last big mistake which cost him the game.
Janata Bank Officer Welfare Society - Bangladesh Police: 0.5-3.5
Vedant Panesar scored the sole draw for his team Janata Bank Officer Welfare Society against GM Abdullah Al Rakib of Bangladesh Police. To understand, what makes a strong player like Gukesh great at his game, you have to check out his win against FM Harshad S.
Harshad - Gukesh
20...Qb6 is a simple move, asking White to play 21.b4 Qc7 and now White needed to play 22.Nd5 to stay in the game and not drop the c2-pawn. 22.Rxd8 was played and Rxd8 23.Rd1 Rc8 cost White the pawn. He made a bigger mistake and blundered his piece 24.Nd5 Qxc2 25.Qf3 e4 26.Qh5 g6 and it's over for White.
Replay Round 2 games
There is one round every day starting at 3 p.m. BST (2:30 p.m. IST) from 10th to 20th March 2022, except the second and ninth round which starts at 4 p.m. BST (3:30 p.m. IST). The tournament is taking place at Asia Hotel & Resort, Dhaka, Bangladesh.
Round 2 results
No.
Team
Team
Res.
:
Res.
1
SAIF Sporting Club
Bangladesh Biman
1½
:
2½
2
Manha's Castle
Sheikh Russel Chess Club
3
:
1
3
Janata Bank Officer Welfare Society
Bangladesh Police
½
:
3½
4
Leonine Chess Club
Shahin Chess Club
2½
:
1½
5
Bangladesh Navy
Titas Club
2
:
2
6
Rupali Bank Krira Parisad
Uttara Central Chess Club
2½
:
1½
Round 3 pairings
No.
Team
Team
Res.
:
Res.
1
Uttara Central Chess Club
SAIF Sporting Club
:
2
Titas Club
Rupali Bank Krira Parisad
:
3
Shahin Chess Club
Bangladesh Navy
:
4
Bangladesh Police
Leonine Chess Club
:
5
Sheikh Russel Chess Club
Janata Bank Officer Welfare Society
:
6
Bangladesh Biman
Manha's Castle
:
Standings after Round 2
| | | | | | | | | | | | | | | |
| --- | --- | --- | --- | --- | --- | --- | --- | --- | --- | --- | --- | --- | --- | --- |
| Rk. | SNo | FED | | Team | Team | Group | Games | + | = | - | TB1 | TB2 | TB3 | TB4 |
| 1 | 5 | | | Bangladesh Police | Bangladesh Police | | 2 | 2 | 0 | 0 | 4 | 6,0 | 0 | 6,0 |
| 2 | 7 | | | Bangladesh Biman | Bangladesh Biman | | 2 | 2 | 0 | 0 | 4 | 5,0 | 0 | 6,5 |
| 3 | 10 | | | Leonine Chess Club | Leonine Chess Club | | 2 | 1 | 1 | 0 | 3 | 4,5 | 0 | 6,5 |
| 4 | 8 | | | Manha's Castle | Manha's Castle | | 2 | 1 | 0 | 1 | 2 | 4,5 | 0 | 2,5 |
| 5 | 4 | | | Shahin Chess Club | Shahin Chess Club | | 2 | 1 | 0 | 1 | 2 | 4,5 | 0 | 1,5 |
| 6 | 3 | | | Titas Club | Titas Club | | 2 | 0 | 2 | 0 | 2 | 4,0 | 0 | 4,3 |
| 7 | 12 | | | SAIF Sporting Club | SAIF Sporting Club | | 2 | 1 | 0 | 1 | 2 | 4,0 | 0 | 4,0 |
| 8 | 11 | | | Bangladesh Navy | Bangladesh Navy | | 2 | 0 | 2 | 0 | 2 | 4,0 | 0 | 3,8 |
| 9 | 1 | | | Rupali Bank Krira Parisad | Rupali Bank Krira Parisad | | 2 | 1 | 0 | 1 | 2 | 4,0 | 0 | 3,5 |
| 10 | 2 | | | Uttara Central Chess Club | Uttara Central Chess Club | | 2 | 0 | 1 | 1 | 1 | 3,5 | 0 | 2,0 |
| 11 | 6 | | | Sheikh Russel Chess Club | Sheikh Russel Chess Club | | 2 | 0 | 0 | 2 | 0 | 2,5 | 0 | 0,0 |
| 12 | 9 | | | Janata Bank Officer Welfare Society | Janata Bank Officer Welfa | | 2 | 0 | 0 | 2 | 0 | 1,5 | 0 | 0,0 |
Links
---