The story of how Arjun Kalyan became India's 68th GM at the age of 18 years
On 20th of April 2021, Arjun Kalyan became the 68th Grandmaster of India. He did so in Serbia by beating GM Dragan Kosic and crossing the Elo barrier of 2500. Born in 2002, Arjun is just 18 years old. Apart from becoming a GM, Arjun is also a brilliant student and scored 95% in his 12th standard exams. How has this lad managed to achieve so much in chess as well as academics? What is his story? Just 80 minutes after he became a GM, we invited Arjun to a Live interview on the ChessBase India channel. This article has the transcript of the entire interview, analysis of his victory that gave him the GM title and quotes + anecdotes from his parents and trainers.
Arjun Kalyan becomes the first GM of India of the new decade
Arjun Kalyan crossed 2500 rating barrier on Tuesday 20th April 2021 when he beat GM Dragan Kosic in the fifth round of GM Round Robin Rujna Zora-3 2021 to take his live rating to 2500.3 points. That's not all, he did not slow down one bit. Within 80 minutes he appeared for a live interview with IM Sagar Shah on ChessBase India YouTube channel and on the following day he won both his games and eventually the tournament.
Arjun Kalyan's interview on ChessBase India minutes after he became a GM:
Interview with Arjun Kalyan
Sagar Shah (SS): Congratulations for becoming India's 68th Grandmaster. How does it feel?
Arjun Kalyan (AK): Yeah it's really amazing and I am also very relieved. I am very happy.
SS: How many hours ago did you become a GM?
AK: I think it was just 1 hour and 20 minutes ago.
SS: We have GM Arjun Kalyan written in the video. Maybe it was the first time someone has addressed you as a GM?
AK: Yeah (smiles!)
SS: How did it happen? Which tournament are you playing and where is it?
AK: This is the third tournament I am playing in Serbia. It's in a place called Arandjelovac in Serbia. There are three Round-Robin tournaments. I needed 23 points before this trip to cross 2500. I was close in the previous tournament as well. I was around 2495, but I didn't manage to win that's why. Now I finally managed to cross the 2500 barrier.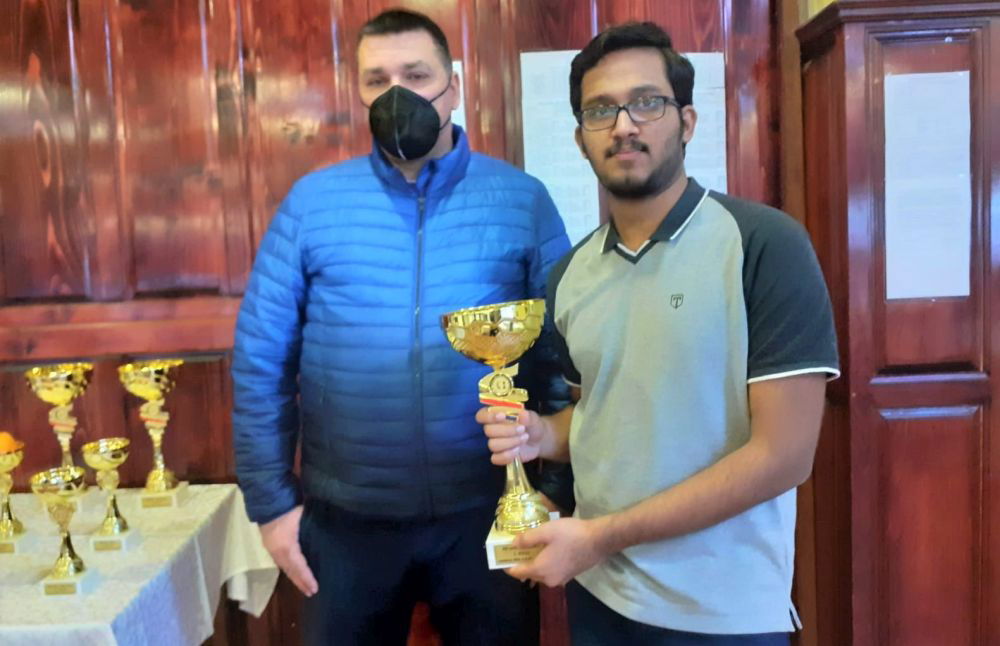 SS: What was your live rating before you beat GM Dragan Kosic? And did you know that if you win, you will become a GM?
AK: It was 2496. Yeah my rating in the last three rounds was the same. I made two draws before this. So for the last two rounds it was the same situation - I win, I become a GM.
SS: Were you stressed out today before the game?
AK: No, I was confident because I had already won against him in the first tournament in this trip with white. I was also well prepared so I felt that I can win this.
SS: Were you expecting the French Defence?
AK: Yeah, he always plays the French. He usually plays the Rubinstein so he takes on e4, either third move or after Bg5 (e4 e6 d4 d5 Nc3 dxe4 or Nc3 N6 Bg5 dxe4) but he surprised me this time.
SS: Against you this time he played 1.e4 e6 2.d4 d5 3.Nc3 Nf6 4.Bg5 4...Be7. So this was the first surprise for you?
AK: Yeah it was actually a pleasant surprise because just a few rounds back I prepared this line against another opponent with white. So I knew what to do. I had a new idea.
SS: He (GM Dragan Kosic) played 7...a6 here in this game and now you played a very weird move. I know that you play 8.Nf3 here...
AK: Yeah I played a lot of games with 8.Nf3. Even in the last tournament I played 8.Nf3. I wanted to surprise a bit early. I think even that is interesting.
SS: 8.Qg4 was played. So was this your preparation?
AK: Yeah. I wanted to first bring out the queen before going Nf3. I wanted to meet g6 with h4, try to play h5 immediately. If he goes h5 then I have Qg5. He cannot take because then I take hxg5 and g4 is coming. I think it's not so easy to equalize at least over the board. Even objectively White is okay.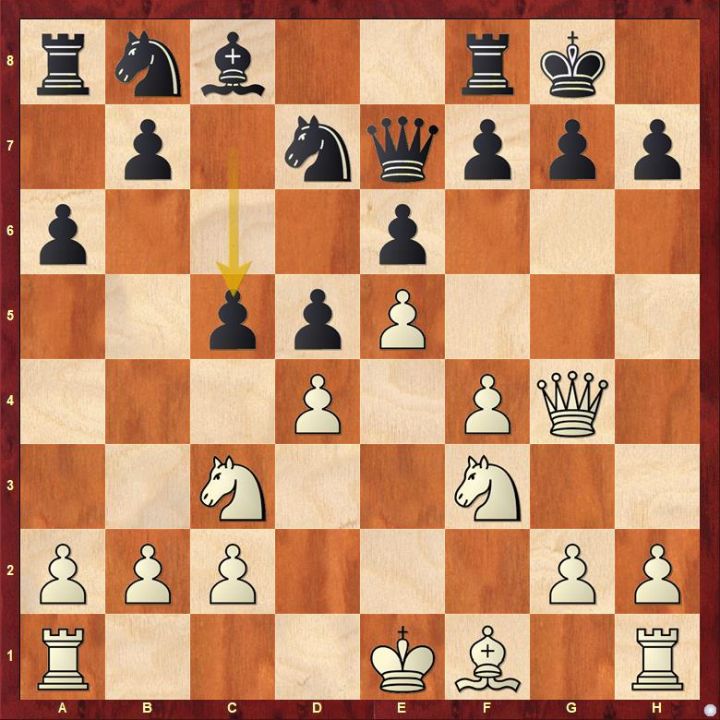 AK: Yeah the point is, now I am getting 10.Bd3 and he cannot play Nc6 because I am threatening Bxh7+. So that's why he had to play 10...f5. I moved 11.Qg5. Here he has to take on g5. White has a clear edge in the endgame. His bishop on c8 is very bad. I take Nxg5, if he takes on d4, I go Ne2 and then I take back on d4. I think this is like a typical edge for white in these positions especially because black has played f5.
SS: He went 11...Qe8. Were you surprised by this move?
AK: Yeah like I knew it was probably not so good because I didn't check this before. I think all my pieces are better developed. His pieces on the queenside are out of the game. I think it's very risky for him to keep the queens on the board.
SS: He did not take, he played c4, trying to push the bishop away from this diagonal and here you said there is no other way, I have to retreat.
AK: Yeah there is an option of 13.Bxf5 but it was like unnecessarily complicating matters. Whenever I am taking on f5, he is taking on Rxf5, so I need the bishop to go h3. Hence, Bf1.
SS: 17.0-0 was the move. Is this a good move?
AK: Yeah, I have not actually checked the game, I just finished. So I think, I am threatening Ng5 and Be6 is also hanging. I felt like even 17.Bxe6+ might be working. It's very complicated but I think this was a simple solution, bring all the pieces into the attack.
SS: 17...Nb6 was played.
AK: Here I think it was important to get the tempo first before going Ng5. I think it is better to have the knight on e2 supporting d4 to go to f4.
SS: Did you start feeling excited at this point?
AK: Yeah, I knew that I was clearly winning here because he cannot really blockade the pawn and I have Nf4 coming. I was trying not to play too quickly because my moves were very obvious but I didn't want to make any mistakes at this point.
SS: He played 22...Re7 to meet Qh3 with g6?
AK: My hand was like hovering over the move for a lot of seconds because I didn't want to make any mistakes. Finally I played the move Ng6!! and won the game. (The idea is that after hxg6 Qh4, White wins). I didn't want to check the rating before the game. I knew that most probably I would become a GM. I didn't know exactly. So I just went home, called my parents and confirmed. If you keep checking after every game then it becomes at some point like a lot of pressure.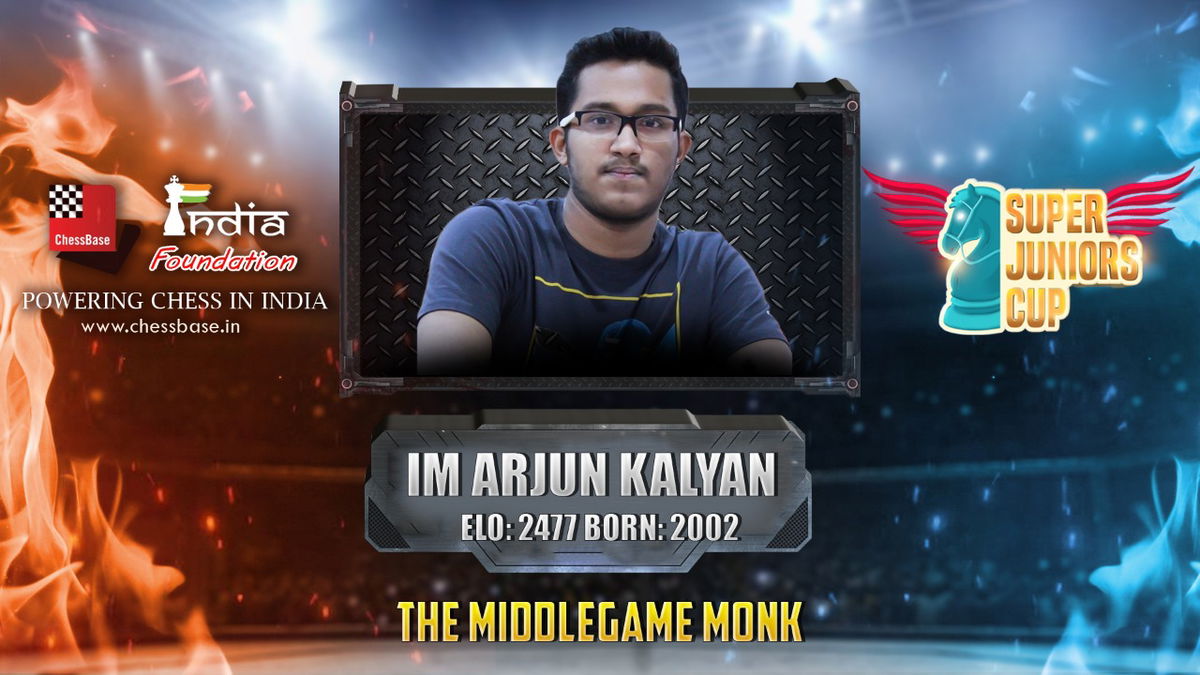 SS: How old are you?
AK: I am right now 18 years old, born in 2002.
SS: When did you start playing chess?
AK: I started at the age of eight. When I began, I was just going to the academy weekly few times. It started as a hobby.
SS: Which academy?
AK: T Nagar Chess Academy in Chennai from AL Kasi Sir.
SS: Isn't he your coach even now?
AK: Yes, he still helps me. So he has been helping me for like ten years now.
SS: So you started at the age of eight, you started in that academy and that academy helped you to become a GM? Usually people start at one academy then they have another coach and another one, it goes on but for you it was the same.
AK: Yeah because he knows me very well, he knows what I need. He introduces a lot of new coaches, he conducts a lot of camps. I think that has helped me a lot.
SS: How did it all begin for you?
AK: Actually I was into abacus at that time but I think I finished that course. So my mother was looking for some other brain activity related to mind. She heard from one of her friends about chess and hence she enrolled me in this academy. From that time I started getting interested in chess. I started getting serious later after some years.
SS: What were your initial successes as a chess player?
AK: I think first few years, I was just playing weekend tournaments once in a while and mostly focusing on my academics but then in National Schools, I came second. I was leading until the last round, so I think that was the crucial break when I realized that okay I have a future in chess also. From that time, I became more serious. I started working harder.
SS: Were you also a good student?
AK: Yes, I was always balancing chess and academics. I think till tenth grade, I was going to school regularly. Eleventh and twelfth, I focused most of my attention in chess. Academics would come at the end of the year, like last 2-3 months. My 12th grade ended recently and I scored 95%.
SS: Which was your school?
AK: I was in Velammal Vidyalaya in grade 11 and 12th and PSBB until tenth.
SS: So right now you are in Velammal?
AK: No right now, I finished schooling. I am now in SRM college where I am doing my 1st year B.Com (Bachelor of Commerce).
SS: By any chance, do you intend to become a CA?
AK: Not right now. It was my twelfth grade exam and I was close to becoming a GM. So from then I got the confidence that I could go on in chess. Currently chess is my main focus.
SS: You said that when you were close to becoming an IM or when you became an IM, that's when you got your confidence. How did you become an IM? Where did you score your IM-norms?
AK: Yeah I reached 2400 quite quickly. I scored the first IM-norm in Sant Marti, Spain in 2017.
Then in Isle of Man I scored my second IM-norm when I reached 2400.
Then I was struggling for a few tournaments to get my third IM-norm. I had my tenth exams. After it ended I went again to Spain and I got it. I also got my first GM-norm before I became an IM in Biel 2018.
SS: After scoring your first two IM-norms, it took you almost a year to get your final norm?
AK: Yes, I think around 7-8 months because I had tenth exams. So, I had to focus on it for 4-5 months.
SS: What are some of the resources that you used to become a better player?
AK: I was relying on a lot of coaches and many camps. I studied many books also, nothing very specific. I just read a lot of books. Sometimes I would not complete them, but even getting some important points from them is very useful. A bit of Aagaard's books, a bit of Dvoretsky's books.
SS: Who are the coaches who have made a big impact on you?
AK: From 2017, I have been working with Goloshchapov from Ukraine and also from around that time, I have been working with IM V. Saravanan. Last 1-1.5 years I have been working a lot more with Saravanan and also with Goloshchapov. The T Nagar Chess Academy has also invited a lot of other GMs for camps like Ubilava and Gajewski.
SS: Your brother Rohit is also a very good chess player, isn't he?
AK: Yes, he is around 2200.
SS: In order to become a GM, there has to be a good support system. Tell us a bit about your parents and their role.
AK: My parents have been very supportive. They never put any pressure on me be it chess or academics. They have given me as much freedom as I want to make decisions. They just told me that I have no pressure, so I can just go and play chess for another 2-3 years and then at any point if I don't want, I can make a decision. So there is no pressure or anything from their side and lot of support in every way possible.
SS: What is their profession?
AK: My father has a hotel. He also has some other businesses. My mother is a marathon runner and had a 200 metres state record which stood for 25 years during her school years. Currently, she is a home-maker.
SS: Are you right now alone in Serbia? Is this the first time you are travelling alone to a tournament?
AK: I have travelled alone many times. My friends Raahul VS and Ajay Karthikeyan are here with me!
SS: How is it like, it must be scary right now to be there in this Covid situation or it's all normal?
AK: I did not know until the last moment that I had to get the negative test and issues with procuring visa and everything. So till the very last moment, I was not sure if I will be able to travel. Although once I am here in Serbia, I must say that all the tournaments are conducted very well.
SS: How was the journey from IM to becoming a GM? Was it easy?
AK: It was going smoothly at first. In the beginning of 2019, I made my second GM-norm at Roquetas De Mar tournament.
Then in Budapest and Grenke I made my third and fourth GM-norms.
I finished all my norms and I reached an Elo of 2487 at that point and then I reached 2497 actually. I had three-four rounds remaining to win and become a GM but at that point I was a bit relaxed as I thought I would anyway become a GM very soon. But then I lost a bit of rating and came back to 2480s. Every time I came close to achieving the rating, I would lose in a critical round and miss the opportunity. Then I had to give my 12th exams and post that the pandemic struck.
SS: We met in January 2020 for the Kramnik-Gelfand Microsense camp. That was when you were like now I have to take twelfth exams, I can't play any tournament.
AK: Yes I had planned many tournaments immediately after the exams, but unfortunately they all had to cancelled.
SS: Everything went for a toss. Covid-19 pandemic started and you couldn't play tournaments. It must have been quite depressing?
AK: Yeah at first it was very depressing. For me at that point, I realized that okay becoming a GM was not like the end of the journey, it was just a beginning so then I could just work on my game and keep improving. It could also be taken as a blessing.
SS: If you had become a GM in 2019, you would have been say 2500 strength. The fact that you worked hard and you improved and now you have become a GM, maybe your strength is much more than 2500, maybe 2550 or close to 2600.
AK: Yeah, not achieving your aim immediately makes you work harder. When you are faced with failures and you are not doing well, it motivates you often to put in more effort and improve yourself as a player.
SS: Some people just give up, they get stressed out. That never happened to you?
AK: Yeah my parents and my coaches supported me, so it was always possible.
SS: You were around 2480 and in 2021 you decided to go Serbia because you could not wait another year to become a GM.
AK: I was planning even before but I was not sure like how the situation will be. Few other people went in February, so after that I got more confidence that okay we can play.
SS: How did the first tournament in Serbia go?
AK: That went well. I started with 3.5/4, in the middle I was struggling a bit, making a lot of draws, I never lost. I lost only one game in the second event. Otherwise I had draws and won my games. I scored 6.5/9. So I increased around 10 points. I started well in second tournament also. In the end I was actually winning one game and if I had won, I would have reached 2497 or 2498 but I ended up losing that game. That was very painful at that time because when you lose a winning game, when you are so close, it was like I missed my chance to finish it here.
SS: How many tournaments have you planned?
AK: The one that I am playing right now is my third event and it is also my final one.
SS: So when the third tournament began, what was your rating?
AK: I think I needed about 10 points, it was 2490
SS: Are you like I have achieved my GM title - the trip is successul or do you think I need to continue playing well?
AK: No I think like I have to play well, I will enjoy after I go back to India. I have to finish this tournament first.
SS: How do you celebrate tonight?
AK: Not now! Only after going back home!
SS: What's your next aim in chess?
AK: I think just keep improving and try to go as far as possible. Try to keep improving my rating.
SS: Is there someone you would like to thank apart from the ones you mentioned?
AK: Microsense helped me a lot with the Kramnik and Gelfand training camp. I thank ChessBase India and Microsense together. Of course it was a great honor to attend sessions with world class players like Kramnik and Gelfand. Also my school Velammal, they supported me very well and my college SRM, they also are supporting me, giving me full freedom to focus only on chess.
SS: Arjun, it was a pleasure speaking with you. We are very proud of your achievement. Thank you so much for taking out time and joining us here.
AK: Thank you very much.
Arjun Kalyan and his team:
We asked some of the core members of Arjun's team on what they think about the youngster and his performances. This is what they had to say:
Arjun's Mother on his journey:
We enrolled Arjun in chess because we thought it will help in developing his mental abilities. He was a good student in school and he had also completed all levels of abacus training by the age of .8 Chess was an ideal continuation after abacus and Arjun had done well in abacus too. T.Nagar chess academy and A.L Kasi sir were very supportive and their passion and commitment for coaching helped Arjun learn the game fast and deep. Initially Arjun started playing in weekend tournaments in Chennai. The good chess culture and support for chess in the city also helped Arjun maintain his interest.
He got his rating in the year 2012. As Arjun kept improving his rating, Kasi sir guided us and kept telling us that he will do well in chess. There were more than 50 students at the academy and playing and learning chess was great fun for the kids. Arjun used to spend more than 3 hours a day after school at the academy. Kasi sir also conducted special training session during holidays. He organised for interactive sessions for his students with IM and GMs like Sasikiran, M.R.Venkatesh, Sundararajan Kidambi, V.Saravanan, R.R Laxhman, Ravichandran Sidharth and many more.
Parents were encouraged to attend question answer sessions with these invited players and this gave a lot of motivation to the students. As his rating started to improve we took him to other cities and states to play in rating tournaments. Once again the team at T Nagar chess academy helped us in identifying good tournaments and also accompanied the students many times for these outstation tournaments. As Arjun's rating continued to increase we were also beginning to look at chess as a serious career option for him. We told him that he should not compromise on academics and he can decide for himself his future career options once he completed 10th standard with minimum 85 %. His school Padmaseshadri at K.K.Nagar was also very supportive and encouraged him with required attendance leniency.
Kasi sir also arranged expert and special full day week long camps for his students by inviting eminent players like Elizbar Ubilava, Vishal Sareen, Grzegorz Gajewski, Goloshchapov for training on finer aspects of the game. This gave us a lot of confidence and motivation to convince ourselves that Arjun can do well in chess. Arjun scored 93 % in 10th standard and decided to pursue chess as his professional career. He joined Velammal Vidayalaya at Mel Ayanambakkam in Chennai. The school supported him very well and even offered him special classes at his convenience before exams to cover important syllabus as he could not attend classes due to regular travel. He has now joined Bachelor of Commerce program in SRM University in 2020 and the college also has been supporting him well.
Arjun became an IM in July 2018 and has not looked back . There were minor setbacks and he was very close to becoming a GM in 2019 . Though he missed a few opportunities, all of us were very confident that it was only a matter of time before he becomes a GM. Arjun also was selected and sponsored by Microsense and ChessBase India for a 10-day long special training in Chennai by former world Champions Kramnik and Gelfand. We feel very happy and elated that he has finally achieved the Grandmaster status and wish to thank A.L.Kasi sir for creating and nurturing the passion for chess in Arjun and also in ensuring that he was given all required inputs at the right time. We wish to thank IM Saravanan, GM Goloshchapov also for training Arjun.
Arjun feels becoming a GM is only the start of his journey in chess and we wish to support him in every possible way in becoming a world chess champion in future. Chess has helped Arjun immensely in his academics also as he scored 95 % with very very minimal effort in board exams in 12th standard. Chess is a sport that teaches analytical thinking and also develops creative thinking. It brings in a disciplined and structured approach to life and also prepares the student for the ups and downs in life. As parents it was difficult initially to see Arjun sometimes lose crucial matches from winning positions but as we began accepting that these are part and parcel of any chess player's career, it got easier for us. We understood that one needs sustained and committed efforts to do well in chess. It takes years of learning and playing matches at different levels but we feel learning and playing chess also helps a student academically and also practically in life.
AL Kasi:
Arjun is a nice, sincere and obedient boy. He could have completed rating requirements in 2019 itself when he completed his 3rd norm but because he had to take 12th standard exams (where he scored well securing 94 %) he needed to take a break then COVID happened. I am very happy for him and his parents. It is a well deserved achievement and hope he achieves many more laurels. His strengths are his deep calculation and ability to work on his opening play."
Srinivasa Rangan:
Well deserved achievement for a very sincere and hardworking student. Hope he achieves many more laurels that will motivate more kids to take up chess seriously. Knowing Arjun this GM title is only a small goal.
V. Saravanan:
Arjun basically a strategic player, who pushes well. Good in calculations. Very well improved in opening preparation in the last one year. Has a fine understanding of where to put pieces. Doesn't fear anyone, plays for a win in every game. He is a very hardworking and sincere as a person and is always ready to take a risk.
Previous coverage of Arjun Kalyan
---