Arhan Anand's golden run in the Rilton Cup 2023
In the prestigious Rilton Cup 2023, a lot of Indian players took part, the top seed being GM Krishnan Sasikiran. There were many talented Indian players who performed very well, but the one player who stole the show was Arhan Chethan Anand. The 14-year-old youngster had a live rating of 2174 when the event started, and he gained a total of 111 points in a very strong field! In this article, we try to take you through Arhan's performance in the Rilton Cup 2023, with his thoughts on his performance and a deeply annotated version of his final round victory over Swedish FM Eric Thorn (2397). Thumbnail: Lars OA Hedlund.
The huge pool of talented Indian players
In big swiss events all over the world - be it in Iceland (Reykjavik Open), Norway (Fagernes Open), Spain (Sunway Sitges, Ellobregat Open, Spanish League), UAE (Abu Dhabi Masters), (the list goes on...) do you know what is the one thing in common between them all? It is the huge number of Indian players participating. Ranging from very young kids from the age of 8-9, to older players nearing 30, their rating anywhere in the range of 1400-2600. There are hardly any big open chess tournaments across the world now where you don't get to see atleast 10 Indian players!
Indians in Rilton Cup
In the Rilton Cup 2023, 29 Indian players took part among a total of 136. That's approximately 21% Indian players for you! Of course, the biggest highlight of the tournament was 16-year-old Pranesh M playing some spectacular chess to win the tournament, cross the 2500 mark and become India's 79th Grandmaster.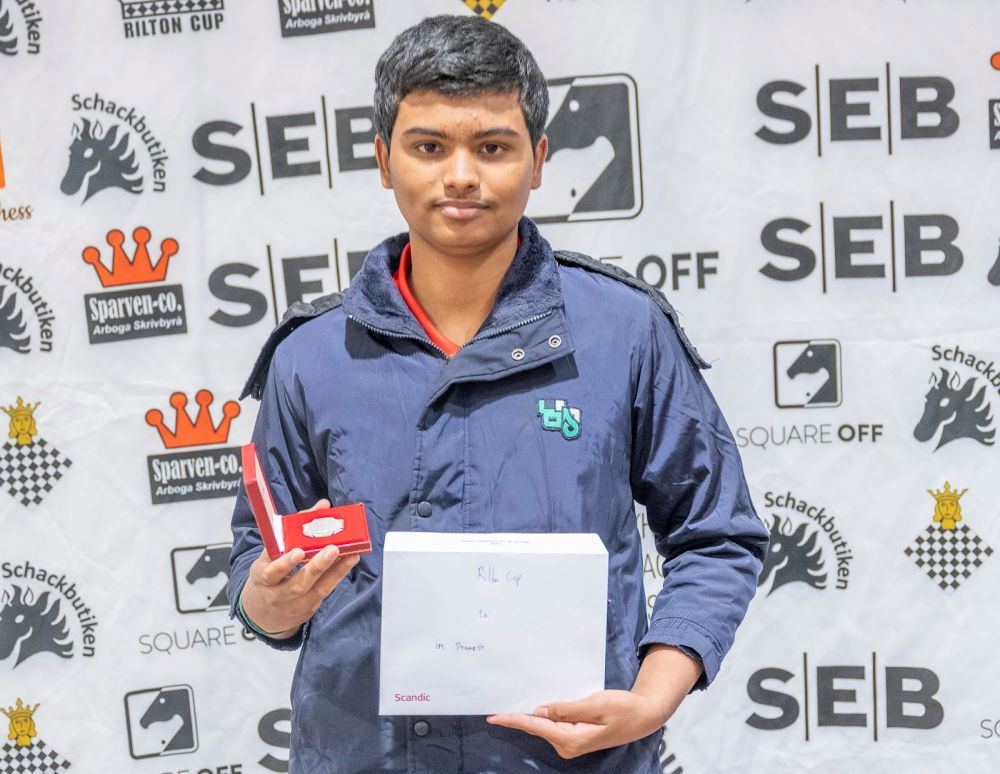 However, if you decide to look at the performance of the other Indian players, that is in no way ordinary! Some of these players who are rated from 1800-2200, have made some pretty big rating jumps. The total rating gain of all Indian players combined across 2-3 of these events might be even higher than Stockfish's rating! Today we are focusing on the performance of one such unsung 14-year-old Indian star - Arhan Chethan Anand.
Taking part in Sitges
Before playing the Rilton Cup, Arhan took part in the Super-strong Sunway Sitges Festival 2022 held at Barcelona, Spain. His live rating was 2112 at the moment. He could've participated in the Group B event as well, but he decided to play the Group A event, where the top seed was 2700+ GM Yu Yangyi! It was a risky proposition, but one which paid off. Even though he only scored 4/10, the experience gained was immeasurable!
Next up for Arhan was the prestigious Rilton Cup in Sweden. Keep in mind, the top seed of the event was none other than top Indian Grandmaster Krishnan Sasikiran (2636)!
Arhan in the Rilton Cup
The tournament didn't start off so well for Arhan, as he had two consecutive losses against IM Gungl Theo (2352) and FM Mertanen Janne (2269). But then it started slowly getting better, and by the 5th round he had managed to score 2 draws and 1 win, standing at 2/5. Now came the rest day, and the Blitz tournament he played that day was the gamechanger! In an amazing winning spree, Arhan scored 8/13, defeating Grandmaster Raja Rithvik R in the process!
He also had an encounter with Pranesh M, and he outplayed him completely. But this instilled a sense of fearlessness in Arhan, a feeling that he could play his upcoming rounds of classical chess freely! The confidence he had gained started to show, and he went on to defeat CM Shaikh Sumer Arsh (2290) in the next round. He kept the momentum going for him by holding off two stronger opponents FM Suyog Wagh (2376) and FM Lahdelma Henri (2332) to a draw in the subsequent rounds 7 and 8.
Now came the all-important final round of the tournament, and Arhan played his best game of the tournament so far - defeating Swedish FM Eric Thorn (2397). We reached out to Arhan, and he sent us this well-annotated PGN of the game, highlighting his thoughts all along the game with important variations.
Arhan Anand (2112) vs Eric Thorn (2397), Rilton Cup 2023 Round 9
With a strong finish, Arhan gained a total of 111.2 rating points in the Rilton Cup! He scored a total of 5/9 in a very strong field.
Right now, 2008-born Arhan's live rating is 2286. Naturally, the question arises: who is this young talent working with? We asked Arhan about his overall performance and his coaches, and he replied the following:
"GM Aleksander Goloshchapov has always been encouraging me, though he was not able to dedicate my time due to the current situation. My coach and mentor, Mr. Jayaram Ramanna thought that I have to play some good tournaments and better to get some GM help before the tournaments, that is when I approached GM Swayams Mishra and in spite of his busy schedule agreed for a short camp. Apart from the technical coaching, he made me believe in my potential."
"While I am happy with my performance, I know my areas of improvement, working on it. Overall, the Sunway Sitges and Rilton cup tournaments were a great opportunity for me to get back on track and I'm looking forward to continuing to build on this success in future competitions."
Even after such a performance, notice the humility in his words! With new players like these coming up with fantastic performances in every event, Indian chess is definitely moving in the right direction! We finish the article with a very nice picture which encapsulates Arhan's performance:
---