Antonio Viani dominates 2nd Kudremukh All India Rapid Rating 2019
Starting out as the top seed of the tournament and after winning double in France, Antonio Viani was absolutely in top form. He scored 9.0/9 and won the championship a full point of the competition. He received ₹30000 cash and a huge beautiful trophy for his efforts. Both Sharan Rao and Sooraj M R scored 8.0/9 each and they were placed second and third respectively. Total 330 players participated from five states across the country in this two-day rapid rating tournament. Total cash prize ₹200000 and 165 trophies were distributed among the prize winners. The tournament was organized by KIOCL Ltd. on 7th and 8th December 2019. Photo: KIOCL Ltd.
Viani becomes champion with a 100% score
Top seed of the tournament IM Viani Antonio D'cunha scored 100% by winning all his games and finishing with 9.0/9, a full point ahead of the remaining podium finishers. Both Sharan Rao and Sooraj M R scored 8.0/9, they were placed second and third according to their tie-break score.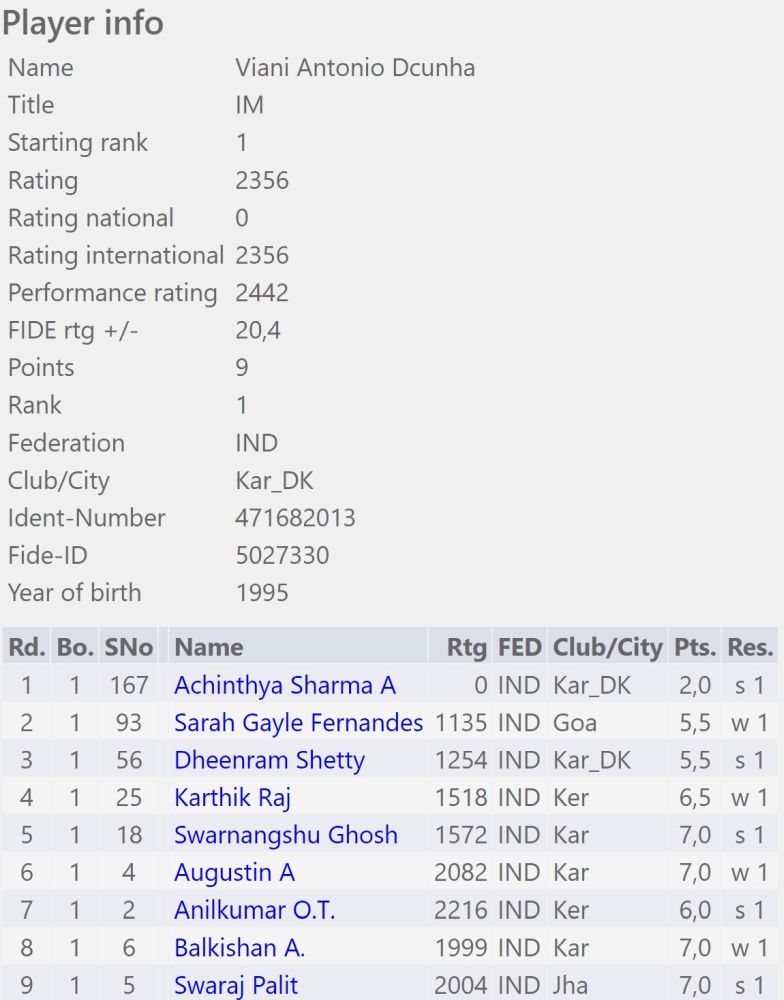 Inaugurating the function, the Chief guest, the Chairman of New Mangalore Port Trust (NMPT), Mr. Venkata Ramana Akkaraju, said that "As the physical sports gives activity for the body, chess is a sport which keeps our mind healthy and active". The event was presided by the Chairman cum Managing Director of KIOCL Mr.M V Subba Rao and the guests of honour were Director (Finance) Mr. S K Gorai, General Manager (HR) Mr. S Rajendra, General Manager (Mangalore) Mr. Roque D'souza and the International Arbiter Mr. B H Vasanth. The programme commenced by lighting the lamp and inauguration of trophies followed by the Chess game inauguration by moving the pawns on the Demo Chess Board by the NMPT Chairman and KIOCL CMD.
Total 330 players participated from five states - Goa, Jharkhand, Karnataka, Kerala and Tamil Nadu, across the country in this two-day All India Open Rapid Rating tournament organized by KIOCL Ltd. Panambur, Mangalore, Karnataka. Total cash prize 200000 and 165 trophies were distributed as part of the prizes.
Feedback of the participants
Sir you and your teams are very greatful. Every team members struggled for anything day and night to make it a grand success especially their politeness, kindness hospitality too great - food, match, stage arrangements are well constructed. One request is that from next year please make residential arrangement if possible by taking extra payment from those in need than entry fee for tournament. I hope you will do so.
- Shiva Prasad
The event was very well organized in terms of every aspect of the event like seating, food, time schedule and all the staff were polite, cooperative and supportive. I congratulate all the people who invested their valuable time and energy to make the event successful.
- Deepa Kamath
I would like to congratulate organisers, KIOCL staff for organising 2nd Kudremukh trophy chess tournament .The organising committee were very cooperative & all arrangements excellently organised. The organisers were very much concerned not only about participating chess players but also parents accompanying players. I once again congratulate your team & specially to arbiter Vasant BH for the success of tournament I wish you all the best for 3rd Kudremukh trophy.
- Atish Angle
Final Standings
| | | | | | | | | | | | | |
| --- | --- | --- | --- | --- | --- | --- | --- | --- | --- | --- | --- | --- |
| Rk. | SNo | | Name | Typ | sex | FED | Rtg | Club/City | Pts. | TB1 | TB2 | TB3 |
| 1 | 1 | IM | Viani Antonio Dcunha | | | IND | 2356 | Kar_DK | 9,0 | 0,0 | 51,5 | 53,5 |
| 2 | 8 | | Sharan Rao | | | IND | 1847 | Kar_DK | 8,0 | 0,0 | 52,5 | 57,0 |
| 3 | 9 | | Sooraj M R | | | IND | 1839 | Ker | 8,0 | 0,0 | 47,0 | 47,5 |
| 4 | 3 | | Syed Anwar Shazuli | | | IND | 2179 | ICF | 7,5 | 0,0 | 55,5 | 59,5 |
| 5 | 11 | | Praveen Kamath | | | IND | 1683 | Kar_DK | 7,5 | 0,0 | 45,5 | 47,5 |
| 6 | 18 | | Swarnangshu Ghosh | | | IND | 1572 | Kar | 7,0 | 0,0 | 52,5 | 57,5 |
| 7 | 4 | | Augustin A | | | IND | 2082 | Kar | 7,0 | 0,0 | 52,0 | 56,5 |
| 8 | 5 | | Swaraj Palit | | | IND | 2004 | Jha | 7,0 | 0,0 | 51,0 | 52,5 |
| 9 | 6 | | Balkishan A. | | | IND | 1999 | Kar | 7,0 | 0,0 | 50,5 | 53,5 |
| 10 | 23 | AIM | Pankaj Bhat | U13 | | IND | 1535 | Kar_DK | 7,0 | 0,0 | 50,0 | 55,0 |
| 11 | 20 | | Shiva Chethan Halamane | U13 | | IND | 1547 | Kar_DK | 7,0 | 0,0 | 49,5 | 54,0 |
| 12 | 22 | | Roshan Hari | U15 | | IND | 1537 | KER | 7,0 | 0,0 | 49,5 | 52,5 |
| 13 | 26 | | Nitish Bhat | | | IND | 1509 | Kar | 7,0 | 0,0 | 49,0 | 52,0 |
| 14 | 14 | AIM | Abhijit Chutia | | | IND | 1639 | Kar | 7,0 | 0,0 | 48,5 | 50,5 |
| 15 | 17 | | Prasanna Swamy | | w | IND | 1588 | Goa | 7,0 | 0,0 | 47,5 | 51,5 |
| 16 | 7 | | Ajeesh Antony | | | IND | 1854 | Ker | 7,0 | 0,0 | 47,0 | 52,0 |
| 17 | 12 | | Hermon Dain Saldanha | | | IND | 1652 | Kar_DK | 7,0 | 0,0 | 46,0 | 49,0 |
| | 19 | | Devi Das Suresh Pai | | | IND | 1562 | Kar | 7,0 | 0,0 | 46,0 | 49,0 |
| 19 | 32 | | Nitin M Pai | | | IND | 1447 | Ker | 7,0 | 0,0 | 45,5 | 50,0 |
| 20 | 95 | | Narayan Iyengar | U15 | | IND | 1125 | Kar | 7,0 | 0,0 | 44,5 | 47,0 |
| 21 | 25 | | Karthik Raj | U13 | | IND | 1518 | Ker | 6,5 | 0,0 | 50,5 | 54,0 |
| 22 | 33 | AFM | Dhanush Ram M | U13 | | IND | 1439 | Kar_DK | 6,5 | 0,0 | 49,5 | 53,5 |
| 23 | 41 | AGM | Renganayaki V | F13 | w | IND | 1353 | Kar | 6,5 | 0,0 | 49,5 | 52,5 |
| 24 | 46 | | Parab Rishikesh | U15 | | IND | 1318 | Goa | 6,5 | 0,0 | 48,0 | 51,0 |
| 25 | 149 | | Nishanth Dsouza | U13 | | IND | 1019 | Kar | 6,5 | 0,0 | 45,5 | 49,5 |
| 26 | 58 | | Ajay Krishna D | | | IND | 1235 | Kar_DK | 6,5 | 0,0 | 45,5 | 48,5 |
| 27 | 10 | | Ramachandra Bhat | S60 | | IND | 1769 | Kar | 6,5 | 0,0 | 44,5 | 49,0 |
| 28 | 29 | | Shriram | | | IND | 1472 | Kar_DK | 6,5 | 0,0 | 44,5 | 48,5 |
| 29 | 24 | | Nayaz Ahamad | | | IND | 1534 | Kar | 6,5 | 0,0 | 44,0 | 48,0 |
| 30 | 49 | | Anoop P | | | IND | 1297 | Ker | 6,5 | 0,0 | 44,0 | 48,0 |
---