Arjun Erigaisi convincingly wins 28th Abu Dhabi Masters 2022, now World no.24
Arjun Erigaisi won the must-win final round game against Spain no.4 David Anton Guijarro to clinch 28th Abu Dhabi Masters 2022. He played with the sole purpose of winning the game as he knew that a draw would not be enough to win the tournament. He kept maneuvering until his opponent broke and made a mistake. Javokhir Sindarov (UZB) and Jorden van Foreest (NED) claimed second and third place scoring 7/9 and 6.5/9 each respectively. Six out out of top ten places were claimed by Indians. The remaining five secured sixth to tenth position. They are - Nihal Sarin, Sethuraman S P, Aditya Samant, Karthikeyan Murali and Aryan Chopra. Aditya Samant is the sole IM among the top 20 finishers. He also earned his maiden GM-norm. Kushagra Mohan is the latest International Master of India. Photo: Rupali Mullick
Kushagra Mohan becomes the latest International Master
Indian players performed outstanding in the Masters section to claim six out of the top ten places. A total of five Indians scored five norms. Apart from Aditya Samant, IM P Shyam Nikhil is the only other IM to finish in top 25. Shyam scored 6/9 to finish at 21st place. He is final GM-norm away from becoming India's next Grandmaster. Open tournament report will be published separately.
Arjun Erigaisi - Anton: 1-0
GM Arjun Erigaisi (2689) opted for the exchange variation when he faced Caro-Kann Defence against Spain no.4, GM David Anton Guijarro (2668).
Arjun's knights are certainly stronger than Black's bishop pair, due to the almost grid-locked pawn structure. White slowly manuevered his king to a3 and then started rearranging his pieces to find the best squares and plan.
Black decided to give up the f5-pawn as it did not make a big difference. It was more important to control the h-file, thus 43...Qh8 preventing an immediate Rh1. The game continued 44.Nxf5+ Bxf5 45.Qxh5 Qh3 46.Qd3 Qg2 47.Re1 Qf2 48.Re3 Qg1 49.Ne1 preventing all possibilities of a queen invasion on the queenside.
Eventually Black crumbled 63...Kf8 64.c6+- Rc4 65.Qb2 Rxa4+?? 66.Rxa4 Qxa4+ 67.Qa3+ Black resigned as the resultant pawn ending is completely winning for White. Thus, Arjun Erigaisi won the game and became the champion of 28th Abu Dhabi Masters 2022.

The one who inspired the nation and beyond, Vishy Anand congratulated GM Arjun Erigaisi
Aditya Samant - Predke: 1-0
IM Aditya Samant (2430) played with the sole intention of defeating GM Alexandr Predke (2692). He made a thematic sacrifice in the Sicilian 16.Nxb5. His opponent did not respond correctly to it.
To beat a stronger player, you have to take every chance you get or you can wait for them to make a mistake. Well, the former is a definitive choice. 16.Nxb5! axb5 17.Bxb5+ Nd7 18.c4 N5f6 19.Qf2 Rb8 20.Bd4 Rxb5 21.cxb5 Be7 22.b6+- White is completely winning. 22...Qb7 23.a4 e5 24.Be3 0-0 25.a5 Nb8 26.Bc5 Na6 27.Bxe7 Qxe7 28.Qe2 Ra8 29.b4! another excellent move. Black might have two knights for White's rook, however, White's pawn mass on the queenside became the key factor to decide the game in White's favor.
Shyam - Raunak: 1-0
IM P Shyam Nikhil (2465) is a very strong player. He seized his opportunity against GM Raunak Sadhwani (2622).
Sometimes the hardest thing to do is inaction. If Black does not do not much, it is difficult for White to make a breakthrough. 40...c5 is exactly what White needed. 41.dxc5 Bxc5 42.Bc1 Qe8 43.h5 gxh5 44.Rxh5 Rg8 45.Qd3 a4 another incorrect pawn break. 46.b4 Be7 47.Nd4 Nc4 48.Nxe6! Black's position completely falls apart. White won the game in another ten moves. The second half of the tournament did not go well for Raunak as he suffered three losses in his last four games.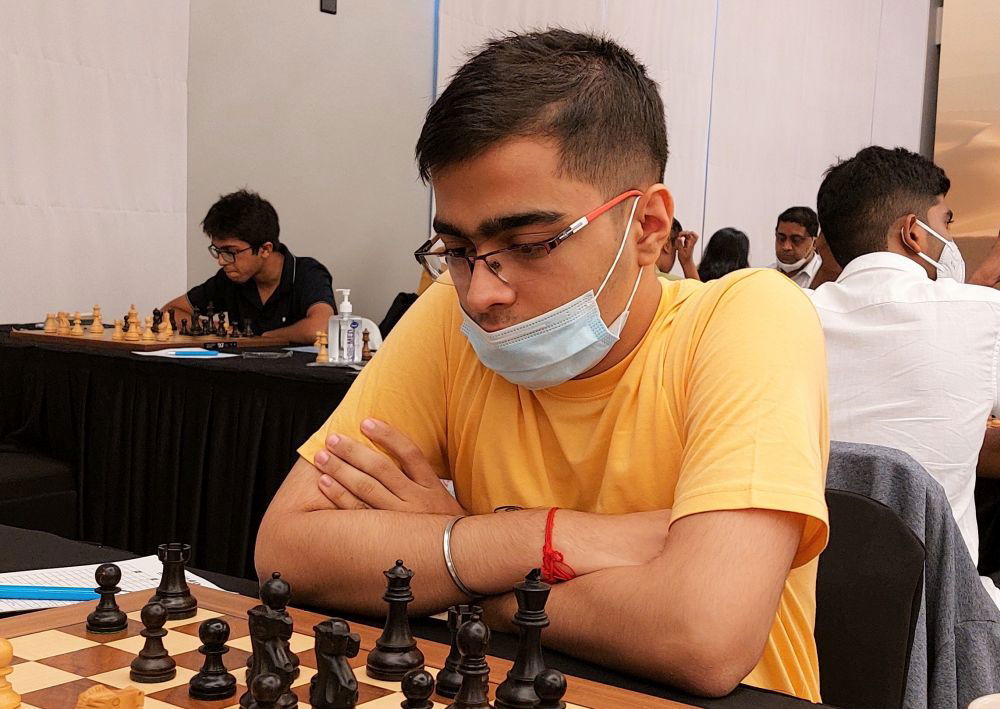 Prize distribution ceremony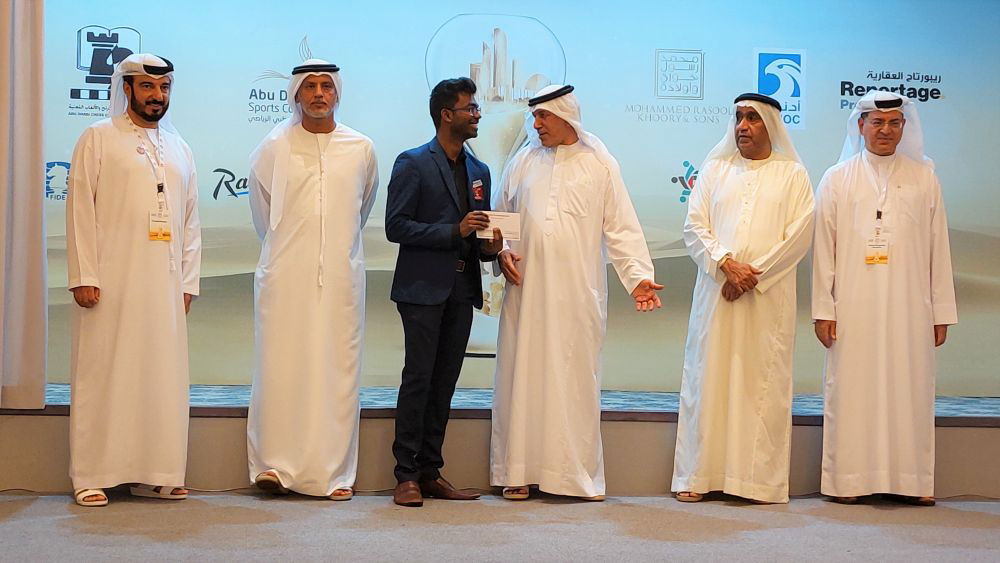 For more Round 9 and Prize distribution ceremony photos, please click at the respective links.
Norm makers list (India)
• IM Aditya S Samant - maiden GM-norm
• CM Soham Kamotra - maiden IM-norm
• FM Jubin Jimmy - maiden IM-norm
• CM Kushagra Mohan - final IM-norm to become India's latest International Master
• WIM Rucha Pujari - third WGM-norm
Replay the live stream
A total of 148 players including 43 GMs, 35 IMs, 7 WGMs and 3 WIMs took part from 31 countries across the world including India. The tournament was organized by Abu Dhabi Chess Club & Mind Games from 17th to 25th August 2022 at Abu Dhabi, UAE. The nine-round Swiss league tournament had a time control of 90 minutes + 30 seconds increment from move no.1.
Replay Round 9 games
Round 9 results
Final standings
| | | | | | | | | | | |
| --- | --- | --- | --- | --- | --- | --- | --- | --- | --- | --- |
| Rk. | SNo | | | Name | FED | Rtg | Pts. | TB1 | TB2 | TB3 |
| 1 | 4 | | GM | Erigaisi Arjun | IND | 2689 | 7,5 | 0 | 46 | 41,5 |
| 2 | 15 | | GM | Sindarov Javokhir | UZB | 2629 | 7 | 0 | 46,5 | 41 |
| 3 | 7 | | GM | Van Foreest Jorden | NED | 2680 | 6,5 | 0 | 49,5 | 44,5 |
| 4 | 6 | | GM | Robson Ray | USA | 2682 | 6,5 | 0 | 48,5 | 44 |
| 5 | 20 | | GM | Yakubboev Nodirbek | UZB | 2620 | 6,5 | 0 | 48,5 | 43,5 |
| 6 | 12 | | GM | Nihal Sarin | IND | 2651 | 6,5 | 0 | 45,5 | 41,5 |
| 7 | 17 | | GM | Sethuraman S.P. | IND | 2625 | 6,5 | 0 | 45,5 | 41 |
| 8 | 55 | | FM | Samant Aditya S | IND | 2430 | 6,5 | 0 | 44,5 | 40,5 |
| 9 | 22 | | GM | Karthikeyan Murali | IND | 2613 | 6,5 | 0 | 44,5 | 39,5 |
| 10 | 16 | | GM | Aryan Chopra | IND | 2627 | 6,5 | 0 | 42,5 | 38 |
| 11 | 18 | | GM | Ter-Sahakyan Samvel | ARM | 2625 | 6,5 | 0 | 42 | 37,5 |
| 12 | 9 | | GM | Anton Guijarro David | ESP | 2668 | 6 | 0 | 48 | 43 |
| 13 | 2 | | GM | Tomashevsky Evgeny | RUS | 2702 | 6 | 0 | 47 | 42 |
| 14 | 21 | | GM | Indjic Aleksandar | SRB | 2613 | 6 | 0 | 45,5 | 41 |
| 15 | 38 | | GM | Arjun Kalyan | IND | 2513 | 6 | 0 | 45 | 40,5 |
| 16 | 8 | | GM | Salem A.R. Saleh | UAE | 2679 | 6 | 0 | 44,5 | 40 |
| 17 | 13 | | GM | Nisipeanu Liviu-Dieter | GER | 2644 | 6 | 0 | 44,5 | 39,5 |
| 18 | 10 | | GM | Tabatabaei M. Amin | IRI | 2664 | 6 | 0 | 43,5 | 39 |
| 19 | 26 | | GM | Adhiban B. | IND | 2598 | 6 | 0 | 42 | 37,5 |
| 20 | 33 | | GM | Vokhidov Shamsiddin | UZB | 2552 | 6 | 0 | 41,5 | 38 |
Links
---