13th Chennai GM Open R4-6: Nitin emerges sole leader scoring a double hat-trick
IM Nitin S is in a fantastic form. He defeated GM Vahe Baghdasaryan (ARM) in the sixth round to become the sole leader 6/6 at 13th Chennai GM Open 2022. In the seventh round, he will face Vignesh B in an interesting battle between two in-form players. He is also having a great event 5.5/6. The 17-year-old drew with GM Alexei Fedorov, defeated GM Nguyen Van Huy (VIE), GM Laxman R R and IM Srijit Paul in consecutive games. Boris Savchenko is the only other player at 5.5/6. They are followed by eleven players at 5/6 each. FM Jubin Jimmy is the sole non IM/GM player who is at 5/6. Round 7 starts today at 10 a.m. IST. Photo: Aditya Sur Roy
Vignesh impresses
Vignesh B is playing some amazing chess in this tournament so far. He is already gaining 126 Elo rating points with a performance of 2486. If he can continue with this form for the second half of the event, he may score an IM or GM-norm. Samriddhaa Ghosh is the highest scoring female participant of the event so far 4.5/6.
Round 4: Deepan - Samriddhaa: 1-0
The former National Under-17 Girls and current All India Inter University Women champion, Samriddhaa Ghosh (1838) played a near flawless game against GM Deepan Chakkravarthy (2478). A mistake induced by time trouble in the endgame cost her the game.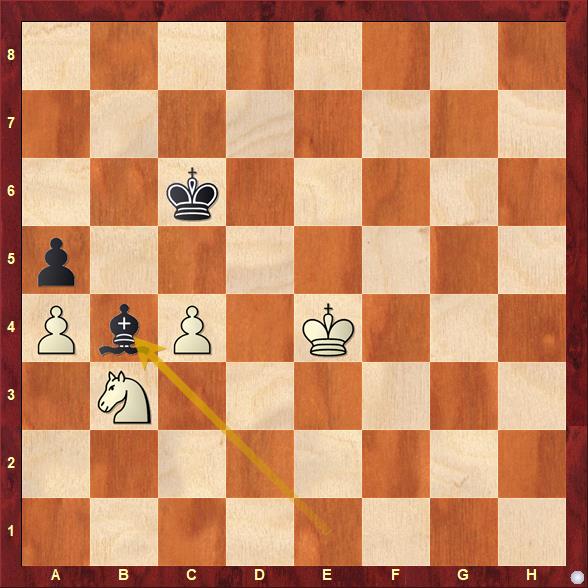 60...Bb4?? allowed the one thing which White needed to win the game - get c5 without any resistance. 61.Kd4 and now 62.c5 is unstoppable which means White is completely winning. 60...Bf2/c3/g3/h4 almost anywhere would have been enough to get a draw. Black can afford to not defend the a5-pawn because 61.Nxa5+ Kc5 62.Kd3 Kb4 and it is a draw.
Vignesh - Van Huy: 1-0
It is not every day that one get to see a Grandmaster making simple tactical error. GM Nguyen Van Huy (VIE, 2383) erred against Vignesh B (2072).
18...Nb4 invited White to fork/double attack the knight and rook 19.Bc5 Nc2 only further worsened Black's case. 20.Rc1 Qg5 21.Bxf8 Rxf8 22.Rxc2 and it's all over for Black. He won his fifth round game similarly against GM Laxman R R (2403).
Round 5: Srijit - Boris: 0.5-0.5
IM Srijit Paul (2399) had a good opportunity to upstage the recently crowned GITAM University 3rd Vizag GM Open 2022 champion, GM Boris Savchenko (2524).
White needed to take a bold approach 33.Qxf7 Bd5 34.b3 Qc6 35.c4 Be4+ 36.Kb2 and White would have been fine. Instead, White played pragmatically 33.Qd7 a4 34.Qd3 Qxd3 35.Rdxd3 and he still had advantage. However, it was not easy to convert it into a full point and the game eventually ended in a draw.
Nitin - Jubin: 1-0
IM Nitin S (2404) got a fantastic advantage out of the opening against FM Jubin Jimmy (2259). However, realizing the advantage was not easy.
Despite White having connected passed pawns on the g and h-file, Black could have saved the game here 55...Ng2+ and now no matter wherever the king moves, Black either has a perpetual check, gains the g5-pawn or the knight. White cannot save them all. 55...Rf1 was played prematurely and Black went on to lose the game.
Round 6: Vahe - Nitin: 0-1
Sometimes going for an all out attack is not a good idea. GM Vahe Baghdasaryan (ARM, 2267) decided to sacrifice a pawn to gain initiative against IM Nitin S (2404).
16.Rg1 is an over-ambitious approach to the position. A simple 16.b4 Qc7 17.fxg5 would have sufficed. Nitin grabbed the opportunity 16...gxf4 17.Rg5 e5 18.Rxd6 Be6 19.Be2 Ke7 forced White to give up the exchange 20.Rxb6 Qxb6 21.Nd5+ Bxd5 22.Qxd5 Kf8 and Black is completely winning.
Vignesh - Srijit: 1-0
Vignesh B (2072) is in a fantastic form. He outplayed IM Srijit Paul (2399).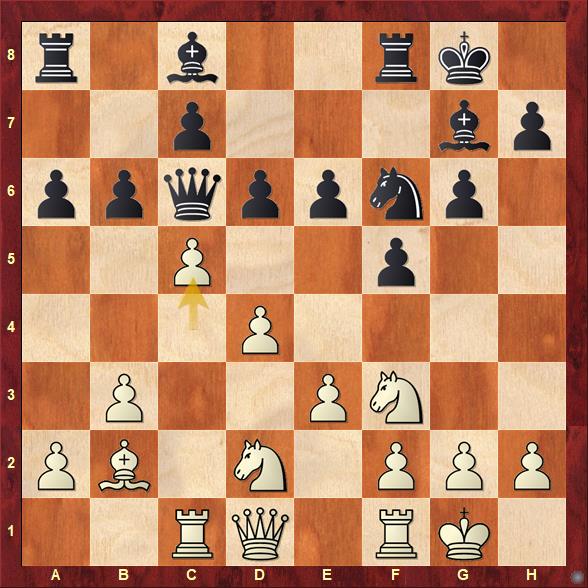 13.c5 is a thematic break in this structure. Taking the pawn destroys Black's pawn structure. 13...Bb7 14.Nc4 dxc5 15.Nce5 Qe4 16.dxc5 Rad8 17.Qe2 Ng4 18.c6 and it can be said White is completely winning here.
A total of 275 players including 11 GMs, 14 IMs and 4 WIMs are taking part from 11 countries across the world including India. The tournament is organized by Tamil Nadu State Chess Association from 19th to 26th June 2022 at Hotel Ambassador Pallava, Chennai, Tamil Nadu. The ten-round Swiss league tournament has a time control of 90 minutes + 30 seconds increment from move no.1.
Replay Round 4-6 games
Round 6 results
Round 7 pairings
---