13th Chennai GM Open R1-3: Daksh Goyal destroys Duc Hoa
13-year-old Daksh Goyal stunned GM Nguyen Duc Hoa (VIE) in the third round of 13th Chennai GM International Open 2022. The Vietnamese GM's adventurous expedition of his king turned out to be perilous. The teenager precisely punished his opponent for the incorrect displacement of his king. Local players Vignesh B and Prasannaa S held GM Alexei Fedorov and GM Deepan Chakkravarthy to a draw each respectively. A total of 275 players including 11 GMs, 14 IMs and 4 WIMs are taking part from 11 countries across the world including India. Round 4 starts today at 10 a.m. IST. Photo: Aditya Sur Roy
20 players are at 3/3
Shrayan Majumder defeated IM P D S Girinath. 12-year-old Apoorv Kamble drew with Himal Gusain. The 13th edition of the tournament has a total prize fund of is ₹15,00,000. Top three prizes are ₹300000, ₹200000 and ₹125000 respectively.
India's first International Master and Arjuna Awardee Manuel Aaron inaugurated the 13th Chennai Open International Grandmasters Chess Tournament 2022 for Sakthi Group Dr. N Mahalingam Trophy at Hotel Ambassador Pallava, Chennai on Sunday 19th June 2022. During his inaugural speech, the 86 year-old-legend spoke at length about Late Dr. N Mahalingam's philanthropy and support, nurturing the chess talents in Tamil Nadu that helped needy players flower into Grandmasters and world champions.
Mr. Aaron further added, "Dr Mahalingam honored the International Masters and Grandmasters from Tamil Nadu with cash awards and later extended the same to title holders all over India. During and after his tenure as the President of All India Chess Federation, Dr Mahalingam continued his support to keep the progress of Indian chess flowing."
Round 2: Aakash - Nitin: 0-1
The former National Under-9 and Under-11 Open champion, Aakash G (1647) had an interesting endgame against IM Nitin S (2404). The 11-year-old had a rook which was trying to prevent his strong opponent's passed b-pawn.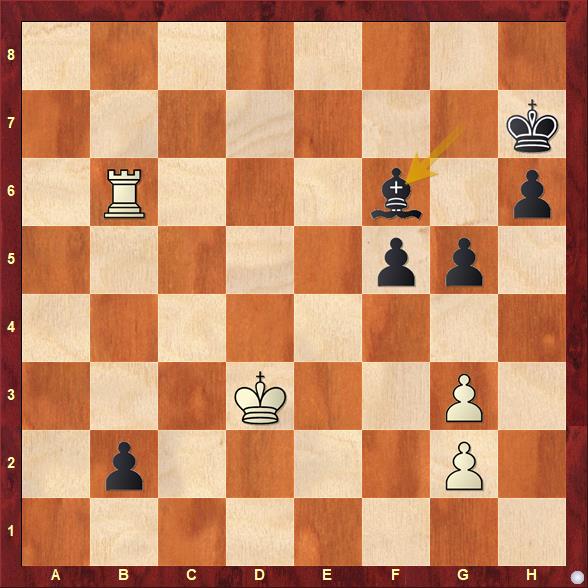 White cannot win this endgame because there is no safe way to capture the b2-pawn. The game continued 43.Kc4 Kg6 and White blundered 44.Kd5?? Kh5 45.Ke6 Bd4 since the bishop cannot be captured, black king invades on the kingside, creates another passed pawn and wins the game. Thus, White resigned.
Round 3: Duc Hoa - Daksh: 0-1
GM Nguyen Duc Hoa (VIE, 2398) went wrong when he shuffled his king incorrectly against 13-year-old Daksh Goyal (1832).
Black may not have a lot of pieces left which white was banking on. However, whatever he has left is enough to cause damage to the king 18...Nxe4+ 19.Nxe4 Bxe4 20.Rh2 Qd5+21.Bd3 Bf3 22.Qg1 e4 23.Qa7 Bd8 -+. Black's attack flows naturally. The teenager played precisely to convert his advantage into a win.
A total of 275 players including 11 GMs, 14 IMs and 4 WIMs are taking part from 11 countries across the world including India. The tournament is organized by Tamil Nadu State Chess Association from 19th to 26th June 2022 at Hotel Ambassador Pallava, Chennai, Tamil Nadu. The ten-round Swiss league tournament has a time control of 90 minutes + 30 seconds increment from move no.1.
Replay Round 1-3 games
Round 3 results
Round 4 pairings
---