12th Mumbai Mayor's Cup brings back the chess fever in the city!
Mumbai Mayor's Cup is back with its 12th edition. This year the prize fund is Rs.36 lakh and the A-group has witnessed the participation of 217 players with an average Elo of 2002. We have 26 GMs and 13 IMs and players from 21 countries. Mumbai has contributed to just one out of the 62 GMs to Indian chess. In this report we tell you why the scenario is changing and how the Mayor's Cup is playing a big role in it. Three rounds have been completed in the A section and we have 14 players on 100% score. The biggest upset of the event until now happened in the second round when top seed Eduardo Iturrizaga lost to Raahul VS. We have the game with annotations and pictures by our ace photographer Amruta Mokal.
Brimming with ideas, financial resources and talent. Mumbai is a place where chess would find an ideal abode. However, Caissa, the goddess of chess, hasn't been very kind to the city. Until now out of the 62 GMs that India has produced Mumbai has only contributed one to that list - GM Pravin Thipsay. Well, it seems that with the talent pool that is developing (Aditya Mittal, Raahil Mullick, Om Kadam, Kushager Krishnater, Vedant Panesar, Kriti Patel etc.) more players will join the list pretty soon and one of the main reasons for it would be the Mumbai Mayor's Cup. An annual event, the Mayor's Cup has been the main tournament of the city (along with IIFLW chess) since last 12 years, inviting the top players of not just the country but also the world. Into its 12th edition, the Mayor's Cup continues to be a chess tradition in the city thanks to the efforts of Mr. Ravindra Dongre and his team.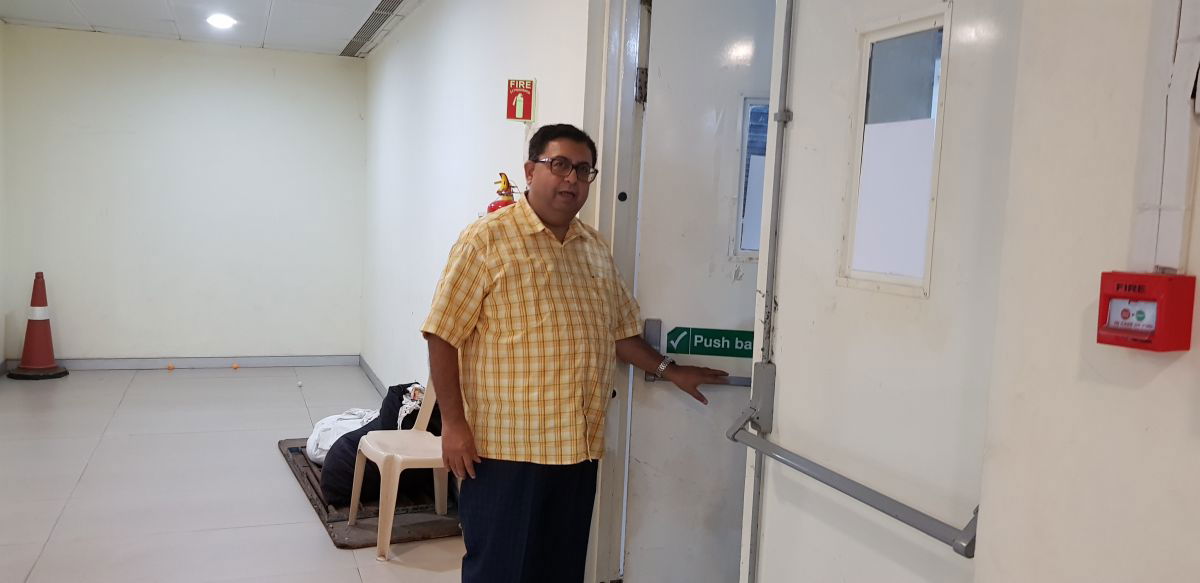 The Mumbai Mayor' Cup in 2019, like every year, is being conducted in three sections. In A group we have 217 players from 21 countries and 26 GMs. The average rating of the tournament is 2002 Elo. In the B-group (below 2000) we have 300 participants, while in the C group which will begin from the 13th of June, 311 players have already enrolled.
In round two Iturrizaga suffered a shocking defeat at the hands of Raahul VS.
Raahul vs Iturrizaga, Round 2
White simply captured the knight with his pawn. Iturrizaga felt that this was impossible because the bishop on d3 was hanging, but after Bc3!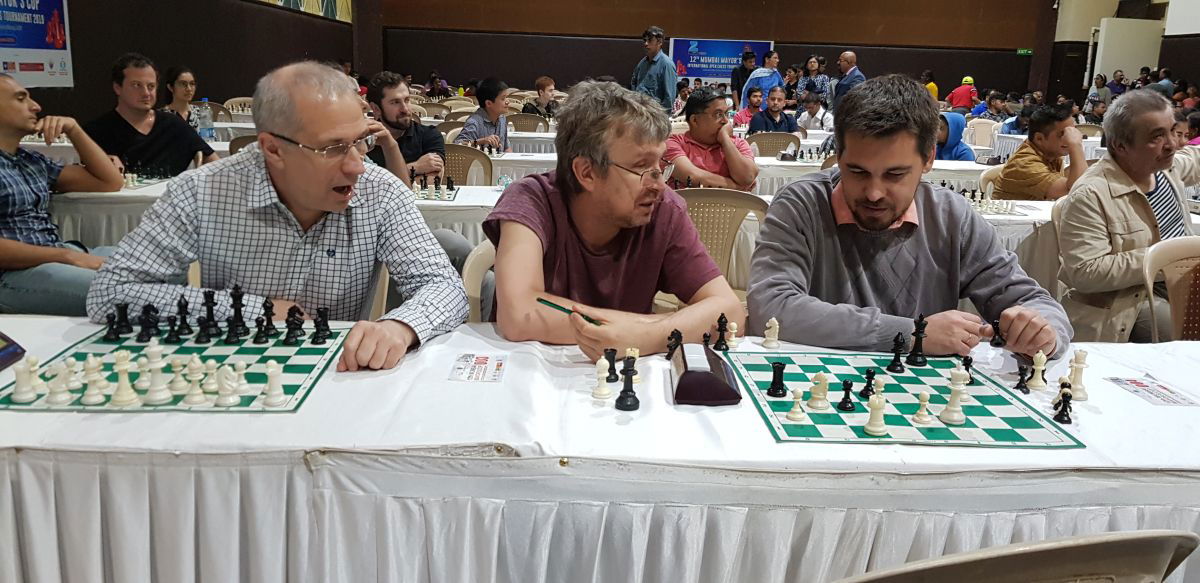 Have a look at Deepan's second round win over Michelle Catherina. Pay special attention to the king walk from e8-d8-c8 and b7.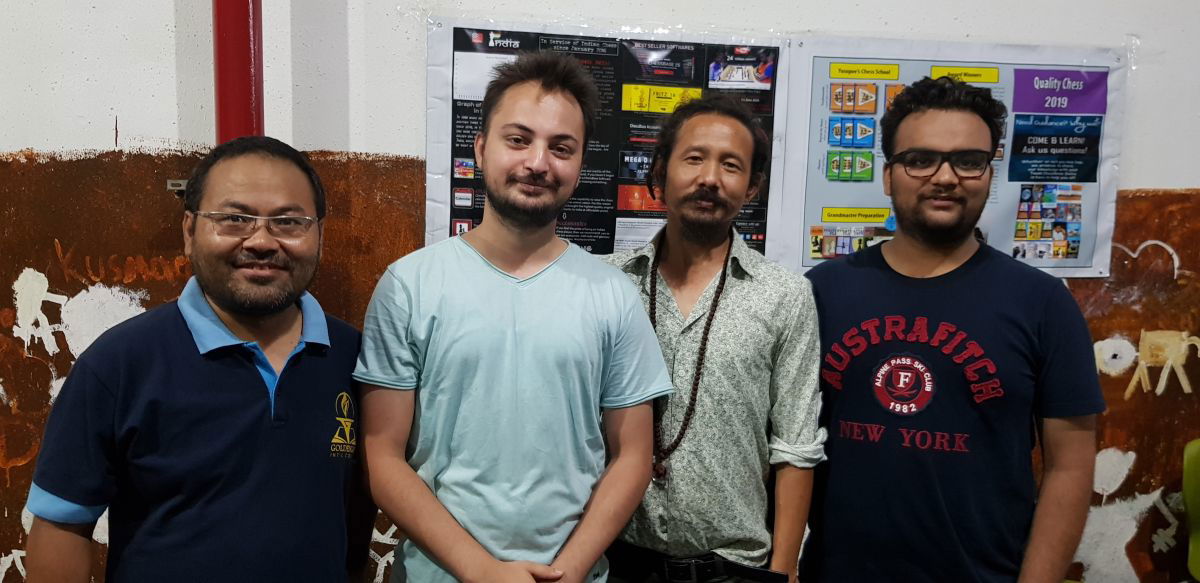 Standings after round 3:
| | | | | | | | | | | | | | | |
| --- | --- | --- | --- | --- | --- | --- | --- | --- | --- | --- | --- | --- | --- | --- |
| Rk. | SNo | | | Name | sex | FED | RtgI | Club/City | Pts. | TB1 | TB2 | TB3 | TB4 | TB5 |
| 1 | 24 | | IM | Khusenkhojaev Muhammad | | TJK | 2446 | TJK | 3,0 | 0,0 | 4,0 | 5,5 | 5,50 | 3 |
| 2 | 3 | | GM | Pantsulaia Levan | | GEO | 2614 | GEO | 3,0 | 0,0 | 4,0 | 5,0 | 5,00 | 3 |
| | 9 | | GM | Turov Maxim | | RUS | 2579 | RUS | 3,0 | 0,0 | 4,0 | 5,0 | 5,00 | 3 |
| | 11 | | GM | Deepan Chakkravarthy J. | | IND | 2557 | TN | 3,0 | 0,0 | 4,0 | 5,0 | 5,00 | 3 |
| | 26 | | IM | Mohammad Nubairshah Shaikh | | IND | 2436 | MAH | 3,0 | 0,0 | 4,0 | 5,0 | 5,00 | 3 |
| | 27 | | IM | Shyaamnikhil P | | IND | 2434 | TN | 3,0 | 0,0 | 4,0 | 5,0 | 5,00 | 3 |
| 7 | 18 | | GM | Vasquez Schroeder Rodrigo | | CHI | 2476 | CHI | 3,0 | 0,0 | 4,0 | 4,5 | 4,50 | 3 |
| 8 | 12 | | GM | Paichadze Luka | | GEO | 2557 | GEO | 3,0 | 0,0 | 4,0 | 4,0 | 4,00 | 3 |
| 9 | 6 | | GM | Aleksandrov Aleksej | | BLR | 2588 | BLR | 3,0 | 0,0 | 3,5 | 4,5 | 4,50 | 3 |
| | 7 | | GM | Stupak Kirill | | BLR | 2584 | BLR | 3,0 | 0,0 | 3,5 | 4,5 | 4,50 | 3 |
| | 19 | | GM | Kostenko Petr | | KAZ | 2473 | KAZ | 3,0 | 0,0 | 3,5 | 4,5 | 4,50 | 3 |
| | 21 | | IM | Nguyen Van Huy | | VIE | 2456 | VIE | 3,0 | 0,0 | 3,5 | 4,5 | 4,50 | 3 |
| | 28 | | IM | Sardana Rishi | | AUS | 2428 | AUS | 3,0 | 0,0 | 3,5 | 4,5 | 4,50 | 3 |
| 14 | 17 | | GM | Rahman Ziaur | | BAN | 2481 | BAN | 3,0 | 0,0 | 3,0 | 4,0 | 4,00 | 3 |
| 15 | 2 | | GM | Amonatov Farrukh | | TJK | 2624 | TJK | 2,5 | 0,0 | 4,5 | 6,5 | 5,25 | 2 |
| 16 | 10 | | GM | Petrosyan Manuel | | ARM | 2573 | ARM | 2,5 | 0,0 | 4,5 | 6,0 | 4,75 | 2 |
| | 16 | | GM | Malakhatko Vadim | | BEL | 2505 | BEL | 2,5 | 0,0 | 4,5 | 6,0 | 4,75 | 2 |
| 18 | 4 | | GM | Ter-Sahakyan Samvel | | ARM | 2611 | ARM | 2,5 | 0,0 | 4,5 | 5,5 | 4,25 | 2 |
| | 5 | | GM | Mchedlishvili Mikheil | | GEO | 2609 | GEO | 2,5 | 0,0 | 4,5 | 5,5 | 4,25 | 2 |
| | 49 | | FM | Mohammad Fahad Rahman | | BAN | 2305 | BAN | 2,5 | 0,0 | 4,5 | 5,5 | 4,25 | 2 |
Opening Ceremony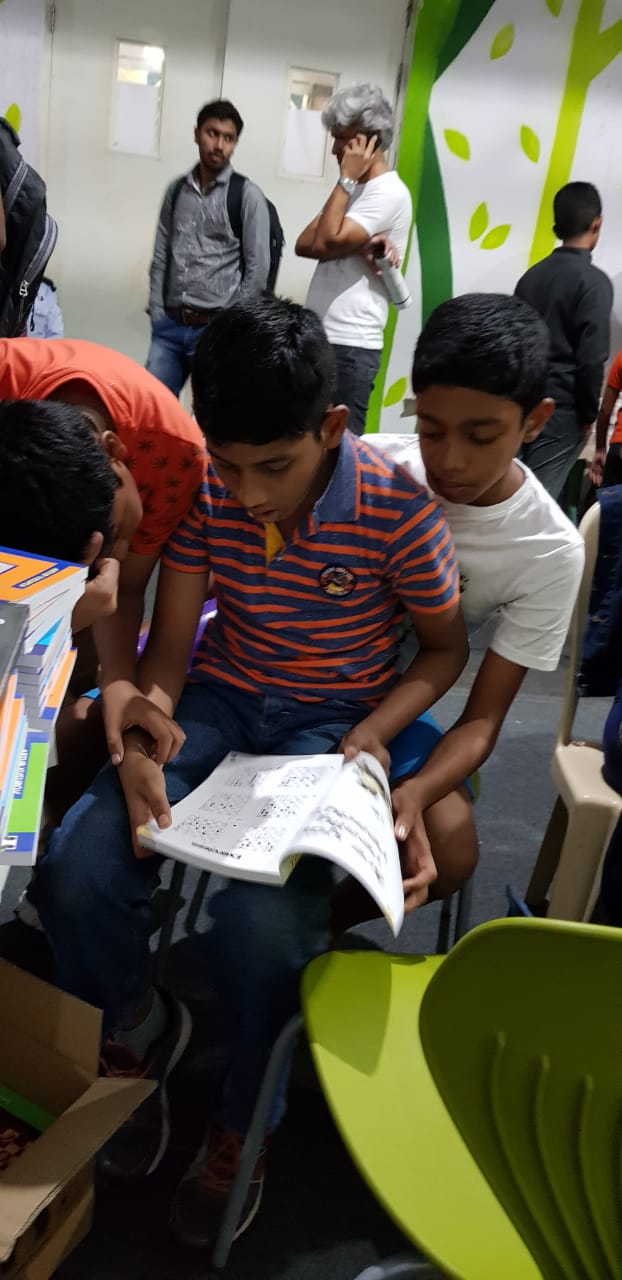 Video Gallery:
---