Hari and Adhiban at Tata Steel Masters 2017
When Adhiban won the Tata Steel Challengers in 2016, the entire country erupted with joy. Not only because he had won the strong event, but because he had qualified for the Tata Steel Masters 2017. And now the Wimbledon of chess is here! Along with Adhiban we have India number two Harikrishna as well. India and Russia are the only two countries that have more than one player at this event! This promises to be an exciting tournament as the field is well balanced with class acts like Carlsen, Karjakin, So and mavericks like Rapport and Wei Yi! A curtain raiser.
Pictures by Amruta Mokal

The Wimbledon of chess, Tata Steel Chess Masters at the Dutch town of Wijk Aan Zee will take place from the 13th to the 29th of January 2017. The thing which separates the Tata Steel Masters from other super elite tournaments is the interesting selection of players. Having 14 participants gives the organizers a chance to experiment also give opportunities to new and upcoming talents to rub shoulders with the world class players. Based on the field we have segregated the participants into three categories:
Best in the business
The best part about Tata Steel Masters is the presence of the World Champion Magnus Carlsen. The three-time World Champion is surely to favourite to win the title. He has come to Wijk Aan Zee every year from 2007, except for 2014. This will be his tenth appearance and he has won the tournament four times in all - 2010, 2013, 2015 and 2016.
But Magnus will face stiff challenge from the best performer of 2016 Wesley So. Wesley has proved that he is one of the best players in the world by winning the super tournaments at the Sinquefield Cup and the London Chess Classic. But on both the occasions, Magnus wasn't playing. He would want to win a tournament when the World Champion is also one of the competitors.
Sergey Karjakin gave Carlsen a tough fight at the World Championships 2016 and also edged him out in Doha in the World Blitz. The man is also a very big contender for the title.
The remaining two players in our "best in the business" category need no introduction. Anish Giri and Levon Aronian are veterans when it comes to playing in super tournaments. However, Anish hasn't been able to overcome his tendency to draw a lot of games and Aronian has been unable to find his golden touch recently. Both of them have a lot to prove here and perhaps we will see them performing really well at the Tata Steel Masters 2017.
Almost there!
This group consists of players who are just missing out on the "best in the business" category by a bit. One thing which is common to Andreikin, Harikrishna, Nepomniachtchi, Eljanov and Wojtaszek is that they do not have enough experience of playing in the super-elite tournament. Loek van Wely has a lot of experience and has played at the highest level for many years, but is clearly not at his best now. I have included him in this category because I didn't want to create another category for just one player.
Nepomniachtchi is one player who is in tremendous form. He has raced to the 11th spot in the world with a rating of 2767. Every player in this category has the capability of beating the top guys. For eg. Eljanov did it in World Cup 2015, Harikrishna has shown consistency at an unparalleled level, Wojtaszek beat both Carlsen and Caruana at Tata Steel 2015, Andreikin has played at the Candidates in 2014 and knows what it is like to face the best. I wouldn't put my money on one of them winning this event, but I am sure that they will not give Carlsen & Co. an easy time.
As for Loek van Wely, I expect him to play a few inspired games. He has done that in the past and has beaten all of the big names including Anand, Kramnik, Topalov, Karpov etc. However, he is now 44 years old and father to a one-year-old son. Perhaps he has prepared hard for the event, perhaps not. He will have to be careful that something like what happened to Topalov at the London Chess Classic doesn't happen to him.
Youngsters
Wei Yi, Richard Rapport and B. Adhiban are the players that add glamour to the proceedings. When Wei Yi is in great form he produces gems like he did against Bruzon Batista at the Hainan Danzhou in 2015. However, its been a while since Wei Yi has lifted his game to the next level. When he won the Wijk Aan Zee B in 2015 and played in the Masters group in 2016, everyone looked at his games in great anticipation. 11 draws, win against Navara and loss to Caruana was not what the fans had predicted. It was the Wei Yi blood bath that they wanted to see and this is perhaps what we will be treated to in 2017. Congratulations to Jeroen van Den Berg, the main organizer of the event, for persisting with this Chinese talent.
Richard Rapport is a perfect player to add to this mix. He is unpredictable, colourful and lively. He has the ability to play dubious openings and make them work at the highest level. The way he smashed Aronian in the European Club Cup recently shows what he is capable of.
The winner of the Wijk Aan Zee Challengers category in 2016 was B. Adhiban. This will be the first big outing for this 24-year-old from Chennai. 2016 wasn't the best for him. He started the year 2016 with an Elo of 2663 and ended it at 2653. Apart from the Abu Dhabi Open, he hasn't performed well at any of the events he has played, be it the World Rapid or Blitz, Millionaire Chess, Asian Continental or the Indian Championships. But the lad has fire in his belly and would definitely want to prove himself at this level. It will be interesting to see how he fares against the best.
Tata Steel Masters 2017
Player's list: 
Name
Country
Rating
Position
GM
Carlsen, Magnus
NOR
2840
1
GM
So, Wesley
USA
2808
4
GM
Karjakin, Sergey
RUS
2785
8
GM
Aronian, Levon
ARM
2780
9
GM
Giri, Anish
NED
2773
10
GM
Nepomniachtchi, Ian
RUS
2767
11
GM
Harikrishna, Pentala
IND
2766
12
GM
Eljanov, Pavel
UKR
2755
15
GM
Wojtaszek, Radoslaw
POL
2750
18
GM
Andreikin, Dmitri
RUS
2736
24
GM
Wei, Yi
CHN
2704
38
GM
Rapport, Richard
HUN
2702
40
GM
Van Wely, Loek
NED
2695
49
GM
Adhiban, Baskaran
IND
2653
102
| | |
| --- | --- |
| Average rating | : 2751 |
| Category | : 21 |
Time control
100 minutes for 40 moves, followed by 50 minutes for 20 moves. Then 15 minutes for the remaining moves with 30 seconds cumulative increment for each move starting from the first move.
Schedule
Both groups start on 14 January 2017. All rounds in Wijk aan Zee begin at 1.30 p.m. (6.00 p.m. IST), except for the last round on 29 January 2017, which begins at 12.00pm (4.30 p.m. IST). The fifth and the tenth round begins at 2 p.m. (6.30 p.m. IST).
| | |
| --- | --- |
| Date | Round |
| 14th Jan | 1st |
| 15th Jan | 2nd |
| 16th Jan | 3rd |
| 17th Jan | 4th |
| 18th Jan | Rest Day |
| 19th Jan | 5th Rotterdam |
| 20th Jan | 6th |
| 21st Jan | 7th |
| 22nd Jan | 8th |
| 23rd Jan | Rest Day |
| 24th Jan | 9th |
| 25th Jan | 10th Haarlem |
| 26th Jan | Rest Day |
| 27th Jan | 11th |
| 28th Jan | 12th |
| 29th Jan | 13th |
Participants of the B-Tournament (Challengers)
|   | Name | Country | Rating |
| --- | --- | --- | --- |
| GM | Ragger, Markus | AUT | 2697 |
| GM | Smirin, Ilia | ISR | 2667 |
| GM | Xiong, Jeffery | USA | 2667 |
| GM | Jones, Gawain | ENG | 2665 |
| GM | Grandelius, Nils | SWE | 2642 |
| GM | Lu, Shanglei | CHN | 2612 |
| GM | van Foreest, Jorden | NED | 2612 |
| GM | Bok, Benjamin | NED | 2608 |
| GM | l'Ami, Erwin | NED | 2605 |
| GM | Hansen, Eric | CAN | 2603 |
| GM | Tari, Aryan | NOR | 2584 |
| GM | Dobrov, Vladimir | RUS | 2499 |
| WGM | Tingjie, Lei | CHN | 2467 |
| IM | Guramishvili, Sopiko | GEO | 2370 |
Playchess Commentary Schedule
All the ChessBase Account premium members can enjoy World Class playchess commentary by grandmasters like Pelletier, Daniel King and Simon Williams for free.
Date
Round
Round Up (English)
Commentary
Live Commentary German
14. Jan
Round 1
21:30
Yannick Pelletier
13.30
G. Souleidis/D.Kollars
15. Jan
Round 2
21:00
Daniel King
13.30
Klaus Bischoff
16. Jan
Round 3
21:30
Yannick Pelletier
13.30
Klaus Bischoff
17. Jan
Round 4
21:00
Daniel King
13.30
Klaus Bischoff
18. Jan
Free Day
 
 
 
 
19. Jan
Round 5
21:00
Simon Williams
14:00
Klaus Bischoff
20. Jan
Round 6
21:00
Daniel King
13.30
O. Reeh/G. Souleidis
21. Jan
Round 7
21:00
Simon Williams
13.30
Klaus Bischoff
22. Jan
Round 8
21:30
Yannick Pelletier
13.30
Klaus Bischoff
23. Jan
Free Day
 
 
 
 
24. Jan
Round 9
21:30
Yannick Pelletier
13:30
Klaus Bischoff
25. Jan
Round 10
21:00
Daniel King
14:00
Klaus Bischoff
26. Jan
Free Day
 
 
 
 
27. Jan
Round 11
21:00
Daniel King
13:30
O. Reeh/K. Müller
28. Jan
Round 12
21:30
Yannick Pelletier
13:30
Klaus Bischoff
29. Jan
Round 13
21:00
Daniel King
12:00
Klaus Bischoff
How to watch the Playchess commentary live
Firstly you have to download the free native Windows software. You should go to play.chessbase.com and scroll down to the bottom of the screen. Click on the Free Download button.
After you have installed the Playchess client. You must login.
Enter your playchess username and password if you have one. (Note, the ChessBase Account credentials will work). Even if you do not have a Username or Password, you can enter as a guest but you will not be able to listen to the commentary as it is only for premium members.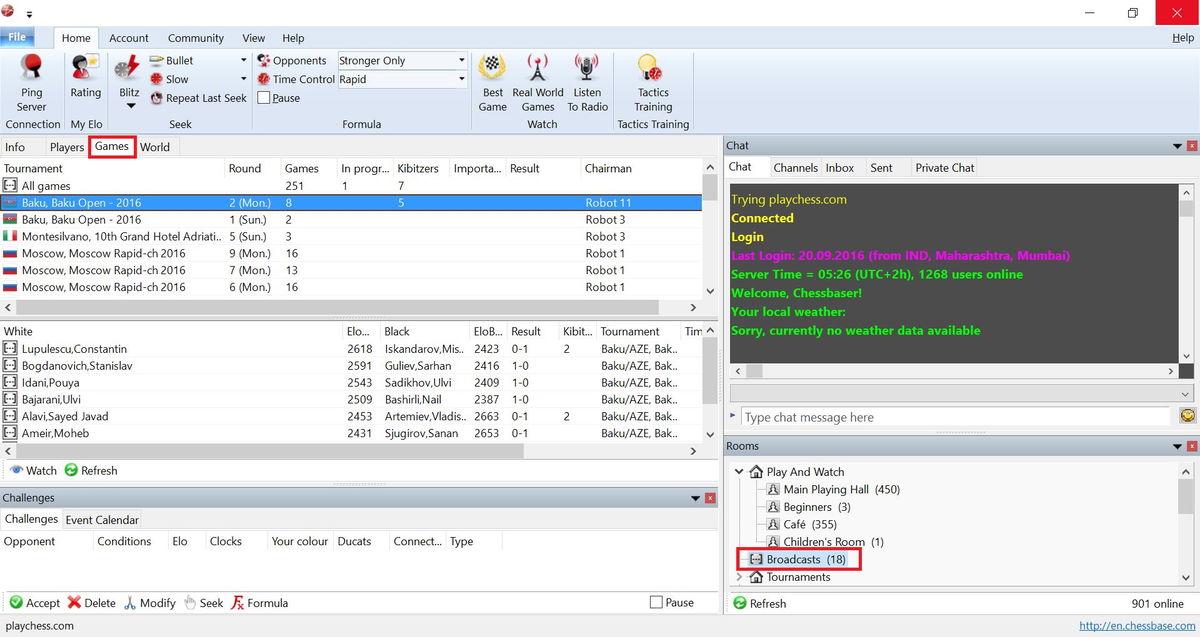 On the bottom right hand corner click on the room broadcasts and then click on the tab Games on the top. In the list you will find the Wijk Aan Zee commentary at 6 p.m. IST.
You can become a premium member for just Rs.1499/- and enjoy such world class commentary for an entire year, apart from other ChessBase features.
Tournament page Tata Steel Chess
---