Vishy Anand in Oman
With an objective to promote chess in the sultanate, and also among the expatriates, Indian icon Viswanathan Anand is in Muscat, the capital city of Oman, participating in a series of activities—simultaneous exhibitions, lectures, meetings to promote chess, etc. One of the leading news portals in Oman, the Times of Oman, has been covering this visit in great detail, and we bring you a brief overview of the happenings with an in-depth interview with Vishy himself. Vishy answered questions about a range topics like who according to him will take the world title this year, which Indian can become a world title contender next, his own future, etc.
Vishy Anand in Oman
With an objective to promote chess in the sultanate, and also among the expatriates, Indian icon Viswanathan Anand is in Muscat, the capital city of Oman, participating in a series of activities—simultaneous exhibitions, lectures, meetings to promote chess, etc. The six-day trip began on 12th May 2016 and the people of Oman gave him a warm welcome. Anand arrived on an invitation from the International Chess Academy of Oman (ICAO), under the sponsorship of Al Zawawi Group's Al Alawi Enterprises.
One of the leading news portals in Oman, the Times of Oman, has been covering this visit in great detail, and we bring you a brief overview of the happenings, and of course, the promised interview.
Chief event on agenda was a chance to match wits with the Indian legend in a simultaneous exhibition. The opponents were selected from among both the Omani and expat chess players. Local schools conducted selection trials the best from those schools qualified for the exhibition. And of course, there were Omani players and the players from the International Chess Academy of Oman.
Children flocked in huge numbers in order to win an opportunity to sit face to face with Anand, the man who practically put Asia on the chess and sports map of the world.
As expected, the exhibition finished in Anand's favour 22-0. "I should say, after the 16th and 17th moves I realised I had to really focus," the Indian maestro said. While expressing his appreciation for those who competed against him, Anand said: "Of course, there were some gaps which the players should and will learn to avoid."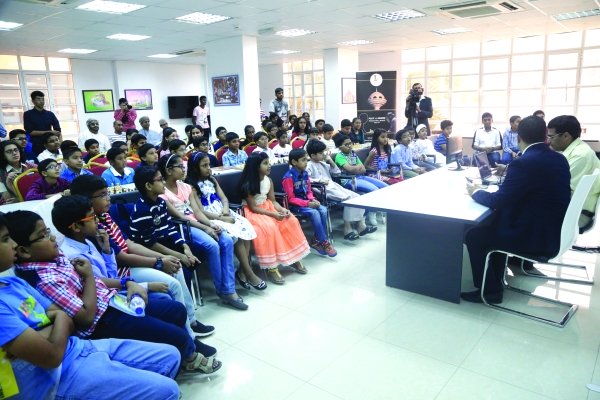 Times of Oman reports:
There were simple questions like how old were you when you played your first game and your advice to beginners, eliciting replies: six years and constant practice respectively. 

Asked to share the tips to improve concentration, he said: "It's all about interest. In studies, you concentrate more on the subjects you like. It is the same in chess. It's the interest that helps to improve your concentration."

To a question on the chess openings and whether the beginners should concentrate on just a few strategies, he said: "Experiment but don't specialise too early. As the beginners, you should experiment with openings and try to improve. You can specialise later."

The two most difficult questions came at the end.

One youngster asked what went wrong when he lost his world title to Magnus Carlsen in 2013 in Chennai.

His reply: "Sometimes everything works for you and some days it doesn't. And it was one of those days!"

Then he was asked by another kid to pick his favourite in the forthcoming World Chess Championship match between Norway's Carlsen and his Russian challenger Sergey Karjakin.

Anand without any hesitation picked the man who dethroned him back in 2013 and went on defend the title two years later.
Chess is 'right candidate' to invest in individuals and get returns: Anand
Chess is one sport that has not been accorded the attention that it deserves, more so in Gulf countries like Oman. But in recent years attempts are being made, by both the governments and the individual organisations, to bring professionalism into the setup and raise the profile of the game. A. Seshagiri Rao caught up with Indian legend Vishwanathan Anand, who is here on an invitation from International Chess Academy of Oman and Zawawi Establishment's Al Alawi Enterprises, to play a simultaneous exhibition match with 20 local talents and to promote the game, to speak about the benefits of such attempts.
The five-time world champion, known for his clear thinking and firm opinions, also spoke about the 'need to do more' to further popularise chess, on the possibility of another Indian reaching same heights as he has done. While reluctantly reacting to some of the controversies, which were certainly not of his making, he also touched upon some of the events that helped him to develop from a child prodigy to the world champion and how he intends to keep fighting to be on top for the satisfaction his fans. 
Q: From Mayiladuthurai (Anand's birthplace) to Madras (now Chennai) then via Manila (his early days as a player) to Madrid. Is there a connection, some magic with letter 'M'?

A: I haven't thought about it. But since you have mentioned it, it's worth thinking about! (smiles). But I should say the journey has been incredible. But let me also mention that I became a (India's first) Grandmaster in Coimbatore!
Q: Now you are in Muscat, another 'M'. Is this your first visit to the Sultanate?

A: (Chuckles) Yes this is my first visit and I am delighted to be here.
Q: It is here in Oman, Magnus Carlsen underwent a 'secret' training camp before the 2013 Chennai World Championship, which the Norwegian went on to win. Were you aware of this at that time?

A: No. Not really. But these practices are normal in chess. The training venues and training teams and partners, especially before important championships, remain top secrets.


Q: Your early playing days in Madras and Manila are well documented. But tell us about your association with Spanish couple Mauricio and Nieves Perea and how your stay in Spain helped you grow as a chess player?
A: (A deep pause).. to think about it now and it is very strange. I was playing in a tournament there (Linares) and Mauricio Perea was one of the officials at the event. That's how I came in touch with Mauricio, who by then was retired, and his wife Nieves, both of whom took an instant liking to me and my chess. We went on to become like one family. That's how I came to stay in Spain. My stay there really helped me to develop as a player and as a personality. To be based in Spain really helped me to train well and gave me the opportunity to take part in various tournaments.


Q: Let's talk more about 2013 World Championship. People like Garry Kasparov were very critical of you and your game, kind of playing mind games as if to favour Magnus Carlsen. In fact, Kasparov did the same before in 2012 as well. Is it always been like that... with Kasparov and others?

A: I should say: yes. But it's normal practice with some people. But I have not wasted too much time on that aspect.
Q: But on the other hand there are others, like Vladimir Kramnik who after that 2013 World Championship loss to Carlsen had advised you to keep playing, and you went on to win the Candidates tournament to win the right to challenge Carlsen in 2015.

A: It's not that I have decided not to play the tournament. Though I should say Kramnik's words came as a 'final touch' in my decision to compete in the Candidates tournament. Of course, there are some good friends and especially, off the board, I hit off well with Kramnik.


Q: Your success, starting with 1983 Asian championship to five world titles, has inspired many Indians. There are many Indian Grandmasters now. But do you see anyone with the potential to be contenders for the world championship title?
A: At this moment, I can clearly think of one name: (Pentala) Harikrishna. He is just 30, keeps learning and improving. Of course, he will have to compete against players like (Fabiano) Caruana, (Hikaru) Nakamura and Anis Giri to mention just a few names. But he will surely be a contender in the future.


Q: Can these young stars, with their knowledge acquired through modern training methods, including the use of computers, be compared with the legends of your time or past generations?

A: It's not right to compare the players of different generations. Chess is a game where one generation of players learn from their previous ones. The next generation builds on the success of the present one. But definitely, nowadays we got to see more and more, young and dynamic players.


Q: Is the chess situation good, in general, all over the world. Though the governments are doing their bit, how important it is to invest in an individual or individual sport compared with the team sports like cricket in India or football in Gulf countries like Oman?

A: Definitely governments are playing their role in the development of chess. But it's not right to talk about whether to invest in chess or in team sports be it cricket, football or any other discipline. Each sport needs support. But when you talk about investment, we should talk about returns. And I think chess is the right candidate to invest in and get the returns as well. Take the example of India, we won the bronze medal at the Olympiad (2014 in Norway) and the team championship at Asian championship (last month in Abu Dhabi).
To talk about Gulf countries, a lot of current and former players, as well as coaches, come here to work and share their knowledge. I think that is really helping chess in these countries. But there is always scope to do more.

Q: Do you think FIDE is doing enough to promote chess across the globe?
A: (Smiles) As I said we can always do more in chess. The situation is definitely better than in the past.
Q: Don't you think some revolutionary changes to the scoring system and playing format or to make the matches more 'spectator friendly' will go a long way to attract more players and attention to chess?

A: Already several experiments have taken place in chess. But what is important is the way the game is projected. Take for example football. It is successful not just because some committees decided on how to play and how to organise the matches. I think it is because of TV broadcasting. And what chess needs is not just the media coverage but good commentary. It is definitely better than say ten years ago, I should say hundred times better. But we still need proper commentary, to be able to get even people with minimum interest get involved with the game.


Q: Let's talk about a couple of controversies. What went through your mind when the Indian government raised your nationality issue (Anand spends most of his time in Spain) when Hyderabad University wanted to honour you with a doctorate?

A: Frankly I didn't feel dejected. But what made me feel strange at that time was the enquiry came from the home ministry, who has all my passport details.
[Editor's Note: Anand eventually declined the doctorate.]


Q: About the debate over Bharat Ratna (India's highest civilian award) which for the first time was awarded to a sportsperson when government bestowed the honour on cricketer Sachin Tendulkar and how legends like you too deserve the same.

A: I have never campaigned for an award. Nor I will do now. I am not even thinking about the issue.


Q: For the first time, in many years, you will not be competing for the world title. There is also talk of you 'slowing down', especially in the rapid format. But your legions of fans are sure of you once again returning to the top of the world. Are you still motivated and determined to get there?

A: The slowing down factor can be attributed partially to age. But we also have to think of the kind of competition we have today. The players are getting better by the day and so is the competition. But in eight years, I have competed in six world championships. I am really proud of that and other achievements. Of course, the fans and their support really keep me motivated. I will keep training and will keep fighting.
The Times of Oman is covering Vishy Anand's visit in great detail and we especially thank them for allowing us to bring A. Seshagiri Rao's interview of Vishy, and the pictures as well.
A. Seshagiri Rao has been working as the Deputy Sports with Times of Oman since August 2013. Between 1997 and 2013, he was in charge of the Sports Department at the Oman Daily Observer. From 1992 to 1997, he was working for Indian publications in south, including a stint as a sports journalist with the Indian Express in Coimbatore.
Links:
---