Vidit Gujrathi teaches the Caro Kann
Great news for Indian chess fans! ChessBase has released two DVDs of Vidit Gujrathi's Fashionable Caro Kann - Vol. I and II. Vidit used this opening successfully to beat players like MVL and Radjabov from the black side in the world rapid and blitz. Even the great Vishy Anand was held to a draw. ChessBase India offers you each DVD for Rs.999/- and in case you buy both Vol.1 and Vol.2 then you not only get a small discount, but also Vidit's A3 size poster delivered at your doorsteps!
At the end of 2016 India's top player GM Vidit Gujrathi (2671) was in Hamburg to record a DVD for ChessBase.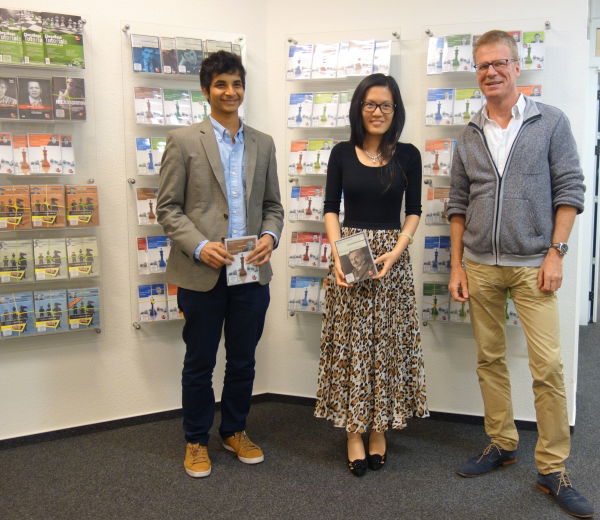 Vidit is well known as an opening expert. His opening knowledge is not only humongous, but he has also worked with Anish Giri as his second.
The topic of Vidit's DVD is the "Fashionable Caro Kann Defence". Gujrathi is quite an expert at this opening as he has employed it to beat several world class players at the World Rapid and Blitz Championships 2016 in Doha. Here's what he has to say about his DVD:
"The Caro Kann is a very tricky opening. Black's play is based on controlling and fighting for key light squares. It is a line which was very fashionable in late 90s and early 2000s due to the successes of greats like Karpov, Anand, Dreev etc. Recently due to strong engines lot of key developments have been made and some new lines have been introduced, while others have been refuted altogether. I have analyzed the new trends carefully and found some new ideas for Black. The dynamic play based on a strong strategic foundation has always fascinated me, and in these DVDs I have suggested the lines which I personally prefer and employ in practice. Recently at the World Rapid and Blitz Championships at Qatar I used many of them with great success, managing to score important wins over top GMs like Vachier Lagrave, Radjabov, Jobava and drawing against Vishy Anand. I am sure you will learn a lot about the opening and will enjoy the battle for the light squares."
Vol.1 of the Fashionable Caro Kann deals with:
Main Line 3.Nc3 dxe4 4.Nxe4 Bf5 5.Ng3 Bg6
Panov Attack 3.exd5 cxd5 4.c4 Nf6
Fantasy Variation 3.f3
King's Indian Attack 2.d3 d5 3.Nd2
Exchange Variation 3.exd5 cxd5
Two Knight's 2.Nc3 d5 3.Nf3 Nf6
Vol.2 of the fashionable Caro Kann deals with the advance variation:
Aggressive Setup with 4.Nc3 e6 5.g4
Trendy Line 4.h4
Side Lines 4.Nd2/4.Be3
Main Line 4.Nf3 e6 5.Be2 c5
If you do buy Vol.1+2 you will also get an A3 size poster of Vidit delivered to your home address in India.
---