Drive for the game: Travelling 50,000 km. for teaching chess!
India has the most number of registered chess players in the world, and a high percentage of this number is made up of rated players. Yet, in a country where chess is this popular, while the national team was setting the Olympiad on fire, most media houses just chose to ignore the historic event. Have you felt sad that your favourite game does not make it to the first page of the newspapers, or not make it to the main slots on television? Well, here is your chance to change it! Fund Yogesh Gautam's unique campaign to teach chess in every corner of this country, while he attempts to register a world record of the longest journey ever made by road in any country! His plan is simple -- the mainstream media will take notice, as it has begun already, and consequently, the Indian chess players, especially the main stars, will gain major publicity thanks to Yogesh's efforts.
Drive for the game: Travelling 50,000 km. for teaching chess!
"These days many Indian chess players are struggling in the game because of financial problems. There is almost no media coverage and sponsors to help the players," says Yogesh Gautam, a young chess player from Haryana who wants to see the game back at the pinnacle of Indian sport.
You may have heard of the old fable in which the mice plot to end the cat menace near the place they lived. The cat was eating the mice left and right, with her swift movements and silent posture. The meeting was still stuck in a stalemate when a young mouse stood up and excitedly announced that he had found the solution! And then, he triumphantly walked towards the center and said, "Why not just bell the cat?" The mice were struck by the simplicity of the solution the young mouse had proposed. And then they saw the point -- of course, just bell the cat, and when she hunts the mice, they can just be alerted by the sound of the bell and thus manage to run and escape! Instant jubilation spread across the mice as they danced in joy and sang with ecstasy.
'Just bell the cat!' was the cry that rang in the chorus. But just then, an old, wiser, mouse stood up and walked to the middle. He waited for the excitement to die down, and when there was finally a moment to speak, he calmly asked, "That is a fine plan, BUT WHO WILL BELL THE CAT?"
The wise mouse is right -- it is one thing to propose the solution, quite another to execute it, right? We all know that chess needs general media publicity. Chess players need money and good financial conditions. But who will get us the media attention and thus make the game more popular, and consequently, lucrative?
The sad part of Indian Chess industry is that players cannot easily find sponsors. Even now, despite Anand's amazing achievements and the Indian Olympiad team's stellar performance, there is hardly anything substantial in the Indian media. But what if we attract eyeballs in a way the Indian media understands? Yogesh, backed by DesiredWings.com, via a crowd funding campaign, is all set to undertake a journey across India, covering over 50,000 km and breaking the Guinness World Record for the longest journey undertaken by a car.
Yogesh says, "I think that if not chess, the media houses may be interested in the part where we create a new world record. If we manage to pair chess with that, we may get  a good boost. We have made up our minds -- whatever we do and may achieve via this campaign will be for chess. I have managed to get more than 8 media partners across the country which will publish our journey, sometimes daily, sometimes weekly, along with an accomplished PR team that will be handling all articles and news related posts. Also, before the journey starts, I am hoping for more media houses to join and support us in this journey, which will create or bring more and more sponsors to our game."
Therefore, in his journey, Yogesh is leaving no stone unturned -- Guinness book of World Records, Limca Book of World Records, Asian Book of World Records, adventure, sports, social cause and documentary, everything -- he is tapping all the media attractions to highlight the campaign and find more sponsors and media, and gain their support.
And at the same time, he will spread the message of chess far and wide. "Chess is a game of Indian origin and yet many people in remote locations don't know about its existence. So my job is to create awareness about this game so that more and more people can be a part of it," said Yogesh.
---
Chess is generally perceived to be an elitist sport. Honestly, tell me, which layman will understand the blunder L'Ami did on the 36th move near the time control or why Anish Giri frequently draws the games that he should win? Why would anybody who does not play chess give a dime? Unlike cricket or football, if you can't play chess, you can't watch chess. When I asked about this to the editor of one of the biggest newspapers in India, he succinctly explained that the general public, most of the time, just ignores the chess news altogether.
That is the sad reality. In the new world, the media provides the content that the people want to read/see. Novelty is for the bygone age. And to publish a news report for the lakh-odd chess players, most of whom don't read the papers anyway, when they are actually catering to millions of readers/viewers. They cannot be blamed -- according to basic cost-benefit-analysis, it is simply impractical for them.
---
Yogesh Gautam will himself explain to you the details:
It all started when we first time visited the northernmost point of India, i.e. Siachen base camp and Turtuk & Tyakshi village where we thought of promoting chess amongst the locals. The unexpected scale of positive response that we received there laid the seeds of 'Drive For The Game' in our minds. We could see aspirations, desires and excitement in the eyes of the local children which led us to expanding our vision -- a journey from Jammu and Kashmir to across India, in order to make it reach as many remote areas as possible.
We are leaving on 5th October for J&K and will start our journey to promote chess from Jammu border areas and Leh Ladakh. I have laid a lot of emphasis on how chess needs to make a comeback in the popular consciousness of our country and how that is also one of the goals of this journey. Other than that, I would like to shed light on the fact that it is extremely difficult to find professional training for chess. This is another issue I would like to address through this campaign.

I, along with my friend Sambhrant Lamba, accompanied by an employee from One Digital Entertainment, who will be making a documentary on this, will be a part of this trip. Other than that, professionals from all over the world will be joining us on this journey. We have managed to arrange all professional gadgets to shoot our journey from action cameras to Drone (DJI Phantom). We have an excellent team behind us. The campaign team at DesiredWings and the AICF CEO Mr Bharat Singh Chauhan, who is himself a big proponent of Chess in Schools.
Our main motto is to create awareness and to make our game more popular, for which half of the work will be done by the media. This is something unique, happening for the very first time in the world -- a journey of this scale is being undertaken to promote a game to make it popular.
Mostly we will focus on the kids in remote areas, who have no exposure to the digital world. We will reach where no association has ever reached, and do not bother to reach either. Like they say, great knowledge comes from the humblest of origins, we are going to visit pre-selected schools in India, mostly in remote villages, and will teach the basics to the kids along with motivational stories and speeches about why we have chosen to come here, who are we, why Chess and of course how to play it. We have also planned to distribute free chess sets and guide books to the children after the session.
I have invited my friends from every state to join me. And after hearing about my initiative, all of them readily agreed to help. I am sure more and more people will like to join us as this is also going to be an exciting road trip, with a noble cause. This is one of the main reasons why I decided to undertake this journey. You can also join us, wherever you are!
---
This is a journey for chess players by chess players. My motive is only as personal as my passion for Chess. The Chess industry will not only be contributing to its own popularity, it will also help overcome the problem of no sponsors in the industry. Not to mention the introduction of new talent from the areas we will touch while travelling. Everything about this journey is Chess oriented, from the distribution of free chess sets to media headlines (thank you, Mr. Bharat Singh!). I hope there will be many sponsors who will be willing to support our game after this campaign reaches the heights it deserves.
You can contribute, too!
HELP CHESS BECOME MAINSTREAM! CLICK HERE TO MAKE YOUR DONATION AND FUND THE CAMPAIGN!
---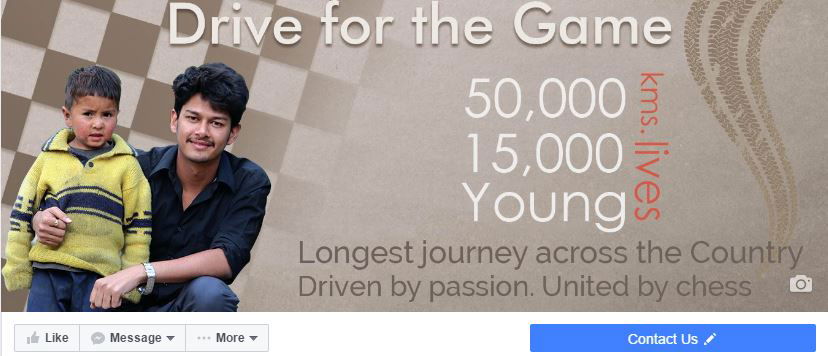 Yogesh's message to you is simple -- follow your passion. Of course, I had asked him about his personal ambitions, and he promptly, honestly, replied, "I want to teach chess all my life, to as many kids as possible. The joy you feel when they heartfully thank you is amazing." He adds, "Do not quit when you see there are hardships ahead, do not give up on your love for your sport. I am from a small city in Haryana and came across Chess when I was gifted a chess set by someone. So, then on it has always been my life's passion and I have never looked back. So, continue with what you have and do not quit, all prayers are answered sooner or later!"
---
Yogesh can be contacted at yogeshgautam31@gmail.com.
Do you want to share your views on how best to improve chess in India? Just comment below and make your opinion heard! Your opinion matters!
---