Tata Steel 04: Eljanov leads; Magnus beats Loek 6:2 in football!
Pavel Eljanov beat B. Adhiban in the fourth round of the Tata Steel Masters 2017. Before the first rest day, he leads the tournament with 3.5/4. Magnus Carlsen and Wesley So are right behind him on 3.0/4. Harikrishna drew his game against Sergey Karjakin and is on +1 after four rounds. On the rest day Loek van Wely challenged Magnus Carlsen to a football match. The World Champion's team was ruthless as they won with a score of 6:2.
Pictures by Alina L'Ami

It was an exciting round with three decisive results. Perhaps the most exciting game of the day was Magnus Carlsen taking on one of the most talented youngsters of our generation Wei Yi. But the World Champion showed his class and was able to completely outplay the Chinese in a complex queenless middlegame. Pavel Eljanov has had a terrific start to the event. He continued his form with a win over India's B.Adhiban. And Wesley So was able to dismantle the out of sorts Loek van Wely.
Masters tournament
Round 4 - Tuesday, January 17

Aronian, L.

½-½

Nepomniachtchi, I.
Carlsen, M.
Wei, Y.
Giri, A.
Andreikin, D.
Rapport, R.
Wojtaszek, R.
Van Wely, L.
So, W.
Harikrishna, P.
Karjakin, S.
Adhiban, B.
Eljanov, P.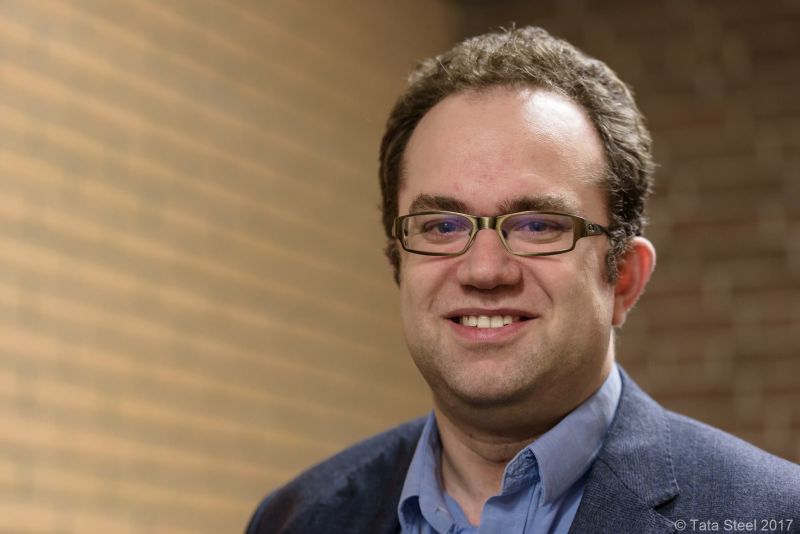 With 3.5/4, Pavel Eljanov has gained 12 Elo points and has moved to number 12 in World rankings. His excellent performance somehow reminds us of the Baku World Cup 2015. However, it must be noted that all his wins have come against tailenders - Loek van Wely, Richard Rapport and B. Adhiban. He is yet to play the super-elite opponents.
10-year-old Aditya Mittal has sent us some detailed analysis of the game between Adhiban and Eljanov:
[Event "Tata Steel Masters"]
[Site "?"]
[Date "2017.01.17"]
[Round "4"]
[White "Adhiban, B.."]
[Black "Eljanov, Pavel"]
[Result "0-1"]
[ECO "E12"]
[WhiteElo "2653"]
[BlackElo "2755"]
[Annotator "Aditya Mittal"]
[PlyCount "112"]
[SourceDate "2017.01.18"]

1. d4 Nf6 2. c4 e6 3. Nf3 b6 4. a3 Bb7 5. Nc3 d5 6. Qc2 c5 $5 {Not the most
popular move.} (6... Be7 {looks logical and natural.}) 7. cxd5 Nxd5 8. dxc5 Be7
$146 {A pawn sacrifice and a novelty! It is clear that Eljanov must have
prepared this.} (8... Bxc5 {is the main move.} 9. Bg5 f6 10. Bd2 {is the main
line with the main game Piket-Lautier}) 9. Bd2 {Not taking the pawn this time
around! Adhiban plays it safe.} (9. cxb6 {was of course the most challenging.
Thinking of this, my mind immediately sees} O-O $5 {Okay. I am not too sure
this best. But it seems fun and interesting. Eljanov might have planned this.}
(9... axb6 {is the computer's choice. But my preference is: Instead of being
one pawn down with no activity, why not devolop your pieces by being two pawns
down?})) 9... O-O $1 {The best.} (9... bxc5 {would be preffered by pawn eaters.
But probably they wouldn't just get such a position because Be7 was already a
pawn sack!}) 10. Rd1 {Adhiban is patient. He doesn't get tempted into anything,
whether good or bad. It is very hard to resist taking on b6, but he can resist
as much as he wants! A skill to applaud.} (10. e4 {was another option. After}
Nxc3 11. Bxc3 bxc5 {I can see 60 games being played. Through another order of
moves!}) 10... bxc5 {Okay, Eljanov has had enough!} (10... Nd7 {I did expect
this.}) 11. e4 Nxc3 12. Bxc3 {Dreev and Sokolov use this line very frequently,
through a different move order.} Qb6 (12... Qc7 {is more popular but there is
nothing wrong with Qb6.}) 13. Ne5 $1 {Capitalising on the c4 outpost.} (13. Nd2
{Why go back when you can go ahead to achieve the same purpose?}) 13... Rd8 14.
Rxd8+ Qxd8 {The main game in this position Riazentsev-Brkik.} (14... Bxd8 {
is an ugly move the computers suggest. Very bad.}) 15. Bb5 $1 {Adhiban has an
eye for activeness and outposts! Now his bishop will be very strong and he is
ready to castle.} (15. Be2 {is the simple move. Make no mistakes though,
Adhiban ain't simple!}) 15... a6 16. Ba4 {Now the bishop is unhindered.} Qc7
17. O-O $14 {According to me, White is better because of Black's damaged pawn
structure and the ability of White to use them to his advantage.} Nc6 18. Nxc6
$6 {A positional concession. The knight should have come back.} (18. Nc4 Nd4
19. Qd3 {Either this way or}) (18. Bxc6 Bxc6 19. Nc4 $14 {this way!}) 18...
Bxc6 19. Rd1 (19. Bxc6 Qxc6 20. Rd1 {keeps Black's structure in misery but now
Black achieves equality with} c4 $1 $11) 19... Bb5 $1 {White's advantage is
now burnt into ashes.} 20. Bb3 h5 $5 {A move only Eljanov can understand. To
me it doesn't look too good though.} (20... Rd8 {I was calculating this and
decided on this move. However White gets an edge with} 21. a4 $1 Rxd1+ 22. Qxd1
Bc6 23. Qe2 {and Black will have a hard time defending the weaknesses.}) (20...
Qc6 $1 {is the best move.}) 21. g3 Qb7 $6 (21... h4 $1 {was the fearless and
probably best move.}) 22. Ba2 $6 (22. a4 $1 {was to be preffered. Now Black
should play} c4 $1 (22... Bc6 23. f3 $16) 23. Ba2 Bc6 24. f3 Rc8 $14 {And
White has to prove his edge.}) 22... Bc6 23. Bb1 {A battery!} Qb5 24. Qd2 $5 {
What was Adhiban trying with this move? Having said that, it doesn't do
anything wrong.} (24. f3 {or}) (24. h4 $1 $14 {looks good.}) 24... Rd8 25. Qe1
$14 {It is a quiet position and as from the beginning, White is slightly
better due to Black's pawns.} h4 {Eljanov being able to win from this position
speaks volumes of his positional understanding.} 26. Rxd8+ Bxd8 27. Qd1 $6 {
Why to this square? The other one is much more active!} (27. Qd2 $1 Be7 28. Bd3
c4 29. Bf1 $14 {was a simple and safe edge for White! Adhiban would have
atleast never losen this position.}) 27... Ba5 28. Bxa5 Qxa5 29. gxh4 {White
is a pawn up, but his pawn structure is scattered.} c4 $1 $15 {Making way for
the queen to come! The computer might show 0.00, but this, according to me, is
already clear edge for Black!} (29... Qc7 {was another way to get the queen
into the game.}) 30. Qe2 $6 (30. Kg2 {is simple chess. No need to make any
decisions yet. Let's see what Black can do!}) 30... c3 $1 31. bxc3 Qxa3 {
The computers agree with me now! Adhiban fell under high pressure and lost now.
} 32. Kg2 a5 $1 {Swift pawn push.} (32... Qxc3 33. Qxa6 {is dead draw.}) 33.
Qc4 Qa4 $1 {Extremely strong understanding shown by Eljanov.} (33... Qd6 {
was the natural move but Eljanov finds more than natural!}) 34. Qxa4 {This was
the simple decision by Adhiban. On more thought, after seeing that Black is
clearly better here, he could have come up with} (34. Qd4 $1 $15) 34... Bxa4
35. Ba2 Bc2 36. Kf3 e5 $1 {Fixing the pawn structure.} 37. Ke3 a4 38. Bd5 a3
39. Ba2 Kf8 $1 $17 {Eljanov plays slowly, realising White can do nothing. I
won't say this is winning, but the pressure is now heating up on White.} (39...
Kh7 {I want the pawn! I want the pawn! Kh7 serves that purpose. But now
Black's pawn won't queen, Black's king is too far away.}) 40. f3 Ke7 41. Kd2
Ba4 42. Kc1 f5 $1 {And Black is winning out of nowhere! I am still figuring
what was Adhiban's decisive mitake.} 43. exf5 (43. Bc4 f4 $3 {is the brilliant
move. This is not a fortress. It is breakable.}) 43... Bc6 {The rest was a
matter of technique for Eljanov.} 44. Kd2 Bxf3 45. c4 Kf6 46. Ke3 Bc6 47. Bb3
Kxf5 48. h3 Ke6 49. Ba2 Kd6 50. Kd3 Kc5 51. Kc3 e4 52. Bb3 Be8 53. Bd1 e3 54.
Be2 Bf7 55. Kb3 Bxc4+ 56. Bxc4 a2 {A brilliant start for Eljanov as he is now
3.5/4 and the sole leader!} 0-1
Adhiban is currently on 1.0/4 with losses against Eljanov and Harikrishna, and draws against Loek van Wely and Aronian. In spite of not such a great start, the Chennai GM is in good spirits and wrote on Facebook:
[Event "79th Tata Steel Chess 2017-Masters"]
[Site "Wijk aan Zee"]
[Date "2017.01.17"]
[Round "4"]
[White "Harikrishna, Pentala"]
[Black "Karjakin, Sergey"]
[Result "1/2-1/2"]
[ECO "C54"]
[WhiteElo "2766"]
[BlackElo "2785"]
[Annotator "Sagar Shah"]
[PlyCount "60"]
[EventDate "2017.??.??"]
[EventType "tourn"]
[EventCountry "NED"]
[SourceTitle "playchess.com"]
[Source "ChessBase"]
[TimeControl "40/6000+30:20/3000+30:900+30"]

1. e4 {0} e5 {38} 2. Nf3 {0} Nc6 {5} 3. Bc4 {0} Bc5 {8} 4. O-O {8} Nf6 {3} 5.
d3 {10} O-O {7} 6. h3 {6} d6 {20} 7. c3 {8} a6 {9 Karjakin deviates from h6
which he had played in their previous encounter. He also places his pawn on a6
instead of a5 as he did in Baku.} ({Here's the Baku Olympiad game for you to
have a look.} 7... h6 {283} 8. Re1 {45} a5 {28 This move has hardly been
played before. Usually Black settles for a6 followed by Ba7. This seems like
some preparation for the World Championship Match!} 9. Bb3 {196} Re8 {440} 10.
Nbd2 {154} Be6 {42} 11. Ba4 {88} Ba7 {565} 12. Nf1 {434} Rb8 {16} 13. Bb5 {
235 Hari makes the perfect use of the move a5. The b5 square was weakened and
he settles his bishop on that square.} Bd7 {26} 14. Ng3 {645} Ne7 {32} 15. Bxd7
{8} Qxd7 {4} 16. d4 {44} Ng6 {278} 17. Be3 {123} exd4 {68} 18. Bxd4 {17} Bxd4 {
4} 19. cxd4 {56 White has a harmonius position and should surely stand
slightly better here.} a4 {456} 20. Rc1 {100} d5 {255} 21. e5 {258} Nh7 {2} 22.
Nh2 {279 Look at the knights on the kingside, all four identically placed.
However, the pawn on e5 gives white the space advantage and the chances for an
attack.} Ng5 {143} 23. Nh5 {443} a3 {979} 24. b4 {425} Ne6 {383} 25. Qd2 {913}
Ng5 {417} 26. Ng4 {54 Slowly but surely the pressure is creeping in.} Qf5 $2 {
31 Karjakin blunders!} 27. Nhf6+ $1 {111 The knight cannot be taken as Nxh6
wins the queen!} Kh8 {7} (27... gxf6 28. Nxh6+ $18) 28. Nxe8 {32} Rxe8 {2} 29.
Rxc7 {117 The rest as they say is matter of technique, which Harikrishna shows
in good measure!} Nf4 {54} 30. Qe3 {470} Nge6 {55} 31. Rc3 {42} Qg6 {104} 32.
Qg3 {77} Ra8 {8} 33. Kh2 {122} h5 {170} 34. Ne3 {22} Qh7 {2} 35. Rec1 {207} Qe4
{4} 36. Rc8+ {114} Rxc8 {2} 37. Rxc8+ {6} Kh7 {3} 38. Qf3 {83} Qxf3 {35} 39.
gxf3 {5} Nxd4 {5} 40. Rc7 {0} b5 {0} 41. Rxf7 {83} Nde6 {138} 42. Rd7 {57} d4 {
39} 43. Nc2 {131} d3 {5} 44. Ne1 {15 1-0 (44) Harikrishna,P (2752)-Karjakin,S
(2769) Baku 2016}) 8. Re1 {19} Ba7 {16} 9. Bb3 {7} Re8 {43} 10. Nbd2 {262} Be6
{22} 11. Nf1 {42} h6 {41} 12. Be3 {365} Bxe3 {26} 13. Nxe3 {8} Qd7 {20} 14. Nh2
{771} Bxb3 {497} 15. axb3 {168} Ne7 {235} 16. b4 {304} d5 {74} 17. Nhg4 {732}
Nxg4 {12} 18. Qxg4 {363} (18. Nxg4 Ng6 {is around equal.}) 18... Rad8 {750} 19.
exd5 {840} (19. Nf5 Nxf5 20. exf5 f6 $11) 19... Qxg4 {18} 20. hxg4 {290} Nxd5 {
14} 21. Nxd5 {109} Rxd5 {7 Black experienced absolutely no issues in
equalising the game.} 22. d4 {15} Kf8 {20} 23. dxe5 {112} Rexe5 {28} 24. Rxe5 {
45} Rxe5 {6} 25. Kf1 {59} Ke7 {11} 26. Rd1 {6} h5 {45} 27. gxh5 {8} Rxh5 {3}
28. Ke2 {9} Re5+ {6} 29. Kf1 {30} Rh5 {17} 30. Ke2 {4} Re5+ {4} 1/2-1/2


[Event "79th Tata Steel Chess 2017-Masters"]
[Site "Wijk aan Zee"]
[Date "2017.01.17"]
[Round "4"]
[White "Carlsen, Magnus"]
[Black "Wei, Yi"]
[Result "1-0"]
[ECO "C24"]
[WhiteElo "2840"]
[BlackElo "2706"]
[Annotator "ChessBase"]
[PlyCount "65"]
[EventDate "2017.??.??"]
[EventType "tourn"]
[EventCountry "NED"]
[SourceTitle "playchess.com"]
[Source "ChessBase"]
[TimeControl "40/6000+30:20/3000+30:900+30"]
1. e4 {12} e5 {15} 2. Bc4 {9} Nf6 {67} 3. d3 {6} c6 {340} 4. Nf3 {22} d6 {8} 5.
O-O {95} Be7 {7} 6. Bb3 {96} O-O {11} 7. c3 {37} Nbd7 {425} 8. Re1 {64} Nc5 {93
} 9. Bc2 {72} Bg4 {9} 10. Nbd2 {301} Ne6 {147} 11. h3 {227} Bh5 {12} 12. Nf1 {
15} Nd7 {742} 13. g4 {249} Bg6 {7} 14. Ng3 {6} Ng5 {40} 15. Bxg5 {1249} Bxg5 {6
} 16. d4 {35} Bf4 {848} 17. Ne2 {523} Qf6 {24} 18. Kg2 {128} exd4 {1188} 19.
Nfxd4 {214} Rfe8 {316} 20. Nxf4 {126} Qxf4 {6} 21. f3 {207} Nb6 {580} 22. Qc1 {
565} Qxc1 {27} 23. Raxc1 {3} d5 {884} 24. e5 {311} Nd7 {45} 25. f4 {20} Bxc2 {6
} 26. Rxc2 {7} Nc5 {5} 27. Re3 {108} Rad8 {33} 28. Kf3 {38} Ne4 {332} 29. b4 {
364} g5 {289} 30. c4 {46} c5 {104} 31. Nb5 {303} gxf4 {288} 32. Kxf4 {2} cxb4 {
21} 33. cxd5 {6} 1-0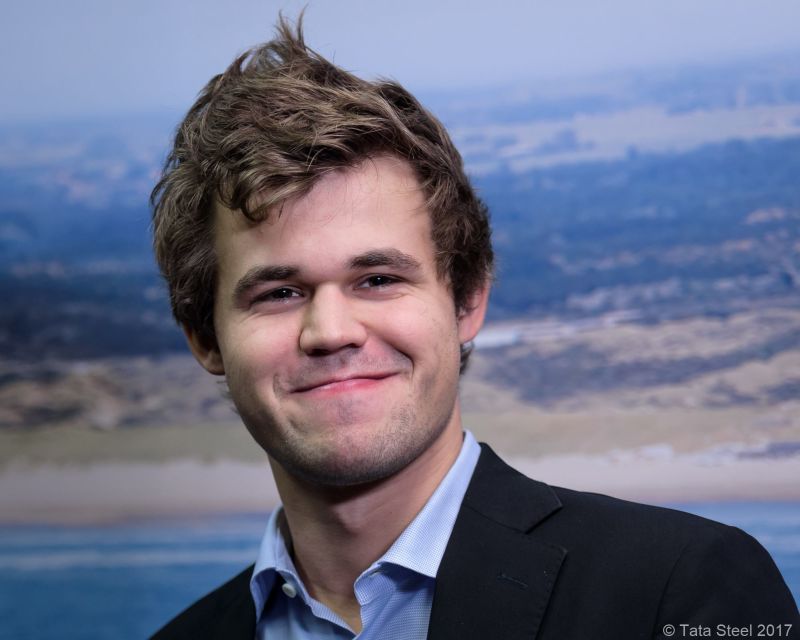 Standings after Round four
Challengers tournament
Round 4 - Tuesday, January 17

Grandelius, N.
Xiong, J.
Tingjie, L.
l'Ami, E.
Hansen, E.
van Foreest, J.
Dobrov, V.
Ragger, M.
Lu, S.
Bok, B.
Jones, G.
Tari, A.
Guramishvili, S.
Smirin, I
Standings after Round four
---