Tania at IIT-M Saarang 2016
She is bold, she is beautiful and on the chessboard, even lethal. IM Tania Sachdev was invited to the Indian Institute of Technology, Madras for their annual college festival Saarang 2016. Tania delivered a lecture and did an insightful Q&A with the students that as she confesses, she enjoyed no end. Our dear friend Nitin Pai, an IIT-M student, was amongst the audience and brings us the excerpts from the lecture and the Q/A session in his eloquent article for you to enjoy.
Tania Sachdev at IIT-M Saarang 2016 by Nitin Pai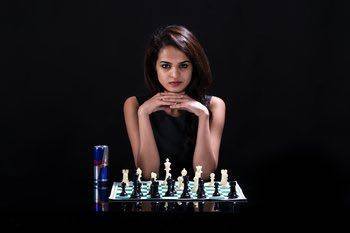 One fine day, Mr. Pammi Sachdev decided that it would be apt to teach chess to his son. However, this made his six-year-old daughter curious. The girl thought, 'I want to learn the game too, why only my brother is being taught and not me?'. The girl insisted that she be taught chess as well. Mr. Sachdev was mildly surprised at his daughter's sudden infatuation with the chequered board and chessmen. She was also introduced to the game. People say that she beat her dad in the first game itself.


That is how Tania Sachdev stepped into the world of our beautiful game. Chess was not so popular like today back in those days in Delhi. During her early career, Tania had to travel a lot to Chennai to play tournaments. Tania's mother Anju was a professional fashion designer and ran a boutique shop in Delhi. But, motivated by her daughter's love for the sport she chose on her own, she closed the business down so she could accompany her daughter to the tournaments and help her focus.
Chennai was home to the strongest chess siblings at the time: IM Vijalakshmi Subbaraman and Meenakshi Subbaraman and Banupriya. For Tania, it was a journey from looking up to the legendary sisters as her childhood idols to facing them on important occasions as bitter rivals.


Tania's first tournament at the state level was a completely different story from beating her dad in the very first game, though. The six-year-old scored 0/11 points, left at sea amongst the older competitors. Maybe this is what separates the wheat from the chaff. Unlike most children of that age, who would tend to be shattered by such a bad start, Tania was determined to do better and wondered why such a bad thing could happen to her.
Three years later, she was representing India in World Under-10 and later in World under 12 tournaments. Tania has been the National U-12 girls champion, Asian U-14 girls champion, bronze medalist at the World U-12 Girls Championship and Asian Junior U-20 champion. 
Everything comes at a price. Everything in your life. The question you have to ask yourself is, what price are you willing to pay?- Paullina Simons, The Summer Garden
Tania couldn't attend school regularly and used to only to write the exams as she trained for six hours daily which was a huge ask from a child of that age. Initially, she wasn't sure if it was worth missing school and other things of that age. Nevertheless, she was lucky to have had an opportunity to have lunch with Vishy Anand at the age of 12-13. There, someone asked Vishy what were the things that keep him going despite having achieved all that was there to achieve.
The only thing what matters is that I am doing something which I enjoyed doing and there are no other factors. - Vishy Anand
At this point, Tania realized that what she had given up for chess was worth it as she was doing what she loved.
A sportsperson goes through many a trial of turbulence in his/her career. There came a phase in her life (again) where she wasn't sure if chess was her career choice despite having played at the master level for quite some time. Tania is a person with a natural affinity to curiosity. She was considering things like fashion designing and wanted to try out new things.
The titles and the fame might be glamorous, but the actual grind might not be. Something that you enjoy thoroughly as a hobby might not be something you are obliged to do. - Vishy Anand
However, at the Asian championship at Teheran in 2007, she won the title by beating a pool of strong Chinese players and few strong Indians as well.  As is the tradition, the champion's country's national anthem was played at the closing ceremony and the entire crowd stood up to the Indian national anthem. At this proud moment, 
Tania
 decided that chess was the best career option for her.
'Hard work is the key to success' and 'there is no elevator to reach success, you have to take the stairs' are two cliches I strongly believe in. - Tania Sachdev
Tania Sachdev on her experience at Saarang, IIT Madras: It was a brilliant experience. They wanted me to come and deliver a lecture. I knew that my audience would mostly be young and smart individuals, who would start on their career paths soon. I wanted to connect and relate to them. I spoke about my journey and how I am still in the middle of it. How I started, inspirations, choices, good and tough times, unconventional paths, hard work, ups and downs and most importantly the importance of being passionate about what we do. I had an amazing audience of about 200 students and the Q&A with them was fun. Great questions, some about chess and some about life -- it felt like a conversation peppered with laughter and banter. Truly an enjoyable afternoon!
The Q/A Session
The audience was encouraged to ask Tania questions, to guide them on relevant issues.

Will you be playing in Delhi Open this year?

Tania replied in the negative and said that she would be playing a tournament in Gibraltar in which Vishy Anand would also be participating. However, she would be seeing the games of Delhi open at the venue on some days.

Why is women's chess fought separately?

This is a question that is in the minds of all those who don't follow chess closely. Tania replied that the main reason were the social factors and that chess was still a new game for women to get into. She also said that physical factors like stamina kept women from achieving high chess strengths that men tend to achieve. She finally went on to end by saying that women, being more emotional than men, tend to find it difficult to come back after a loss. In her personal case, she does not eat after a loss whereas her male friends in the field act cool and play the next round normally with a fresh mind, maybe because men have zero emotional quotient! [Men, this is her personal opinion. - Ed.]


I was shocked to see Vishy Anand at world number 8 in the current rating list and his recent form has been worrying. Do you think he will bounce back in the candidates in march?

Tania replied that Anand was forty-six and most of his competitors are aged less than thirty -- a yawning gap. Nevertheless, they all respect him. She feels that Anand is a favorite at the Candidates, as he did it last time (leaving countless chess journalists with their foot in the mouth. - Ed.). However, she feels it will not be easy for the former world champion.


Being a pretty woman, does it affect your game in any way and does it give an unfair advantage while playing with men?

Tania replied that she never spends a lot of time doing makeup before her game and the prime focus is always on the game itself. Regarding unfair advantage, while playing with men, she disagreed and said that she won her games because she was better than her opponents in those particular games and that was it.


Like other sportspersons, are chess players also superstitious?

Tania said that chess players were very superstitious, especially at younger ages. She said that in an Under-12 national championship at Ahmedabad, she wore the same dress on all the days as she kept on winning each day. Finally, she won the championship and she feels it was worth it. However, as chess players grow up, they tend to realize that they win because they played well and it was not a particular dress or a pen that made them win those games.
I have been playing chess for 3 years and would like to know if it is good to specialize in openings or focus on all areas of the game.

Tania replied that he obviously had to focus on all the three areas and only at the top level does specializing in openings help.


Is Carlsen a super being?

Tania said that Carlsen was extremely unconventional and played until the end even in very equal positions where other top players would just agree for draws. She said that Carlsen likes to play long games and grind down his opponent by creating small advantages and shuffling his pieces around.


As cricket gets a lot of media attention, do you have a grudge against cricket like some sportspersons from other sports do?

Tania said that she wasn't a big fan of cricket and watches only some World Cup matches. In fact, the only match she had seen in the stadium was a World Cup game between India and Pakistan at Mohali in which India won. However, she disagreed with the fact that other sportspersons have a grudge on cricket and went on to add that most sportspersons respect all other sportspersons and the same was the case with her.


What are your hobbies when you're not playing chess?

Tania humorously replied that it definitely wasn't watching cricket. She likes to read books and watch Bollywood movies, especially during tournaments, in between rounds. She is a huge food lover and that Delhi was a great place for food lovers with new restaurants opening frequently. These were the things she liked to do but she doesn't get as much time for it as she would like.



I have been playing since the fifth standard and was even selected to play for the Andhra team when I was in school. Later, I had to take a break from chess to prepare for the IIT-JEE and afterward it was only in 2014 that I played my first FIDE rated tournament and got a rating of 1409. Even now I can find time to play tournaments only during semester breaks. What advice would you give me?

Tania explained that he could take chess only as a hobby as he had his academics and career in front of him. However, chess would add many good values to his life and boost him as a human being. Tania recommended solving 20-30 puzzles involving combinations and also asked him to follow some standard chess books and play chess online.
Nitin Pai
Nitin Pai
is a twenty-year-old undergraduate student in Electrical Engineering at IIT-Madras. He is a passionate chessplayer with an eloquent voice and has contributed his feedback and photos for ChessBase in the past. When he is not studying or surfing the internet for crazy science stuff, or working on his projects, you may find him hunched over a chessboard, trying not to blunder. Oh, did we mention that he has a FIDE rating of 1529?
---