Anand games Live from the Tal Memorial 2016
The category 21 tournament Tal Memorial 2016 featuring ex-world champions Vladimir Kramnik, Vishy Anand and eight other top players begins from the 25th of September 2016. On this page you will be able to follow the live games of Anand from the event. While watching the games you can make use of the powerful functions like Livebook, Let's check, Engine Analysis, sharing the game and moves on a social platform and much more.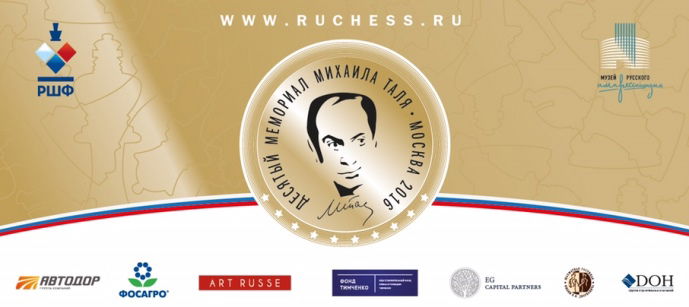 The 10th Mikhail Tal Memorial will be held from the 25th of September to 6th of October 2016. It will be played in the Museum of Russian Impressionism in Moscow. The total prize fund is 200,000 USD.
List of Participants
1. Vladimir Kramnik (Russia, 2808)
2. Levon Aronian (Armenia, 2795)
3. Vishy Anand (India, 2776)
4. Shakhriyar Mamedyarov (Azerbaijan, 2761)
5. Anish Giri (Netherlands, 2755)
6. Li Chao (China, 2746)
7. Peter Svidler (Russia, 2745)
8. Boris Gelfand (Israel, 2743)
9. Ian Nepomniachtchi (Russia, 2740)
10. Evgeny Tomashevsky (Russia, 2731)
There is an inaugural blitz tournament which will be held on 25th of September at 9.30 p.m. IST. The main tournament will begin from 26th of September and the rounds will be at 5.30 p.m. IST.
Live game of Vishy Anand 
Anand's game will be seen live once the round begins. See the other four games by clicking MORE.
ChessBase India has the Master Class on Tal available in its shop for just Rs.999/- Get to know more about the World Champion through the eyes of grandmasters like Rogozenco, Marin and Mueller.
---