Invitation to SYNA Open 2016
Central India is all set to host its biggest Open tournament when the SYNA International School hosts the SYNA Open 2016 at Katni in Madhya Pradesh. The tournament carries, for a reasonable entry fee, features that are only enviable and comparable to the best of chess tournaments in the country. Read this heartfelt invitation by the man behind the event, Niklesh Kumar Jain.
Invitation to SYNA Open 2016
A school where chess is a subject, where children have not only participated in State, National and World School Championships but also won medals at each level is bound to be a breeding ground for young and talented chessplayers. SYNA International School, which won the third best school in India award at the 2016 National School Tournament, also won the MP School Championship 2014, is ready to welcome players for SYNA OPEN 2016, where prize money is Rs. 5 Lakhs and lodging and boarding is free.
Welcome to the biggest Open in Central India, to be held from 24 April 2016 to 29 April 2016 at Katni, Madhya Pradesh!
Chess has had a lasting relationship with the SYNA International School. In 2015, the school hosted a unique event to teach chess to children in an interactive manner: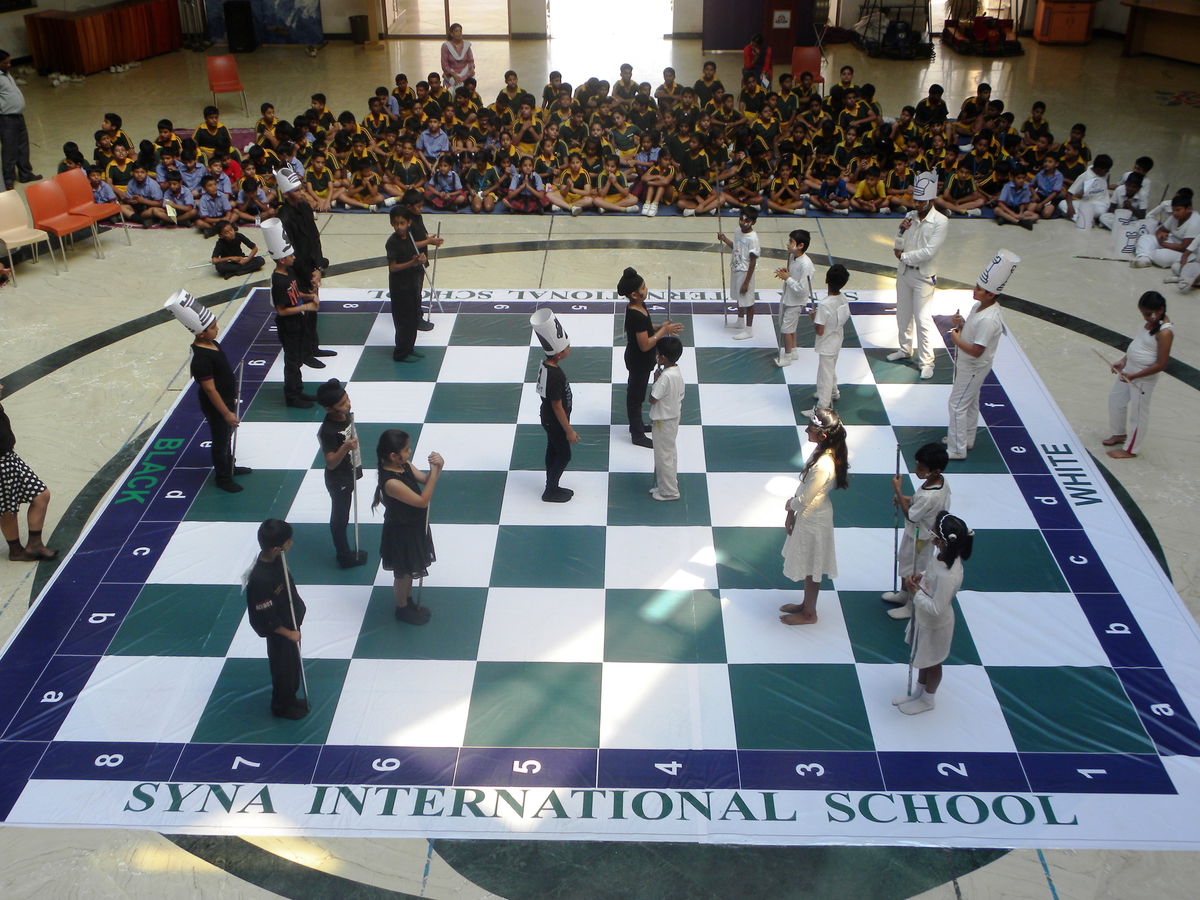 I have always tried to find ways to teach young children chess and to instill a passion for chess in them. One way to do this was "live human chess", in which students acted as pieces. This would allow us to turn the game into a public event in which the whole school could participate. [Ed. Note: Simple, yet a brilliant idea, isn't it?]
ChessBase also covered this novel incident in our report that you can read here. That said, before I show you some of the features of the tournament, let me introduce to you the main stars who have confirmed their participation: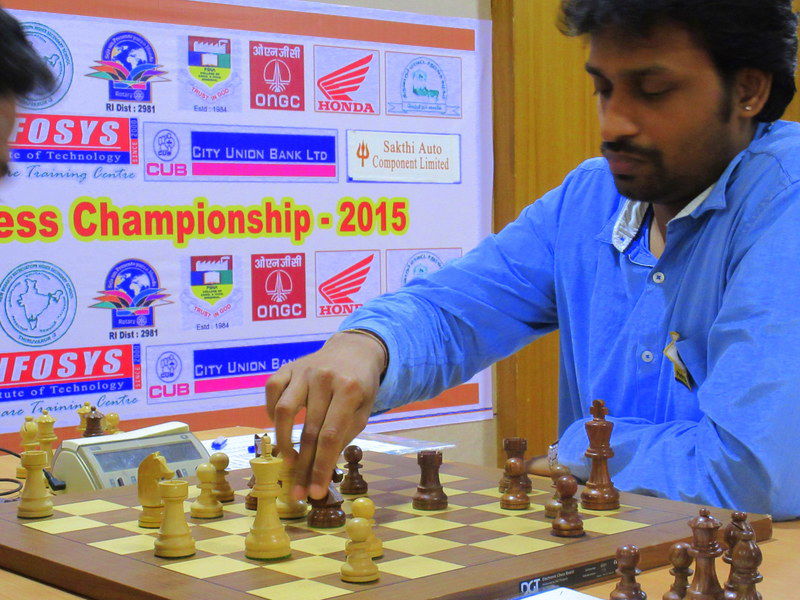 The tournament fees include free accommodation and full boarding for the first 300 entries.
Refer to the brochure for more information: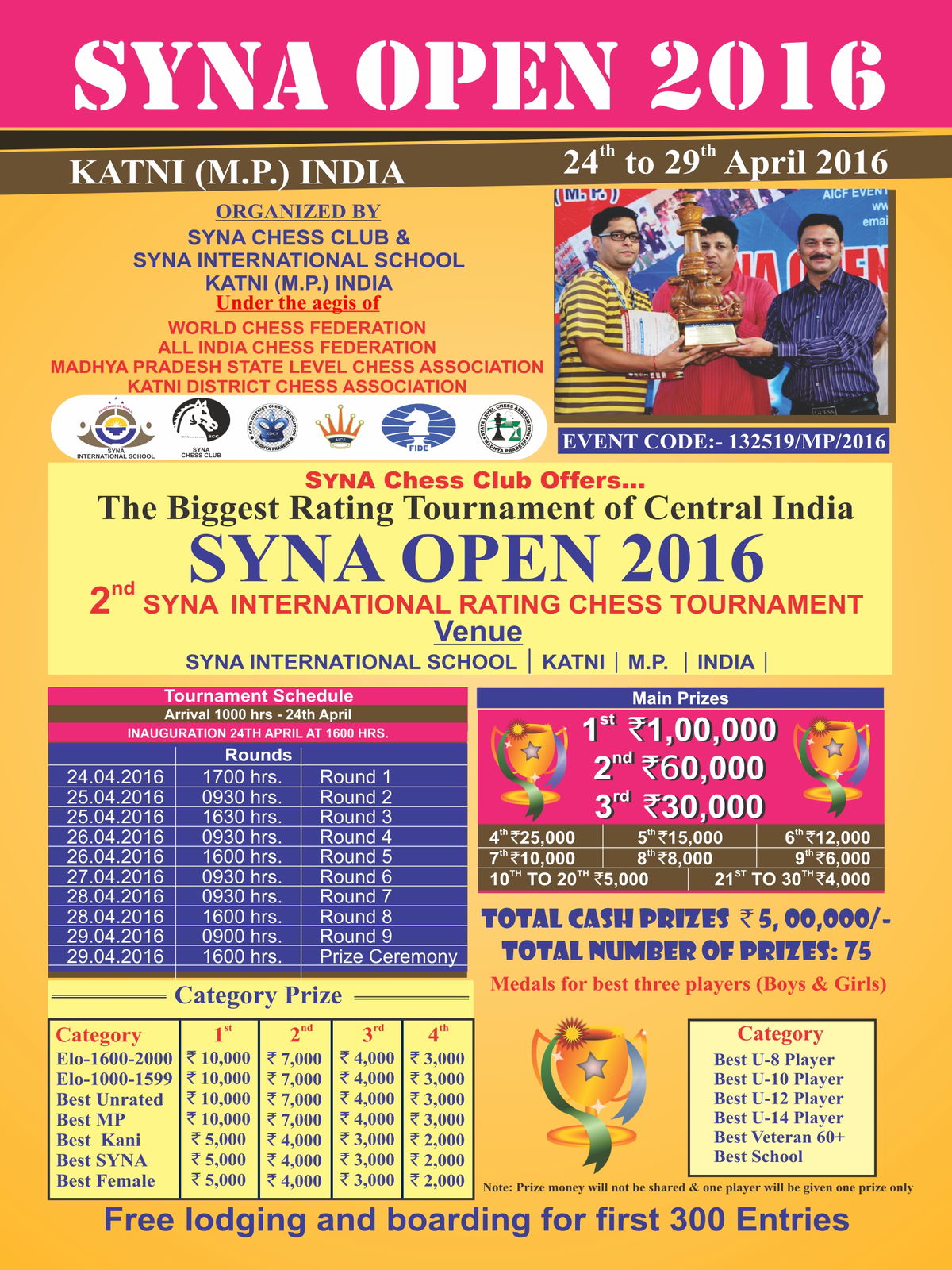 Dates: 24 April 2016 - 29 April 2016
For more details, you may contact the phone numbers given above or simply message here.
Here is a video describing the tournament in a nutshell:
And here is a video introducing the players:
You want to take part in a tournament where stay+food is the least of your concerns and the tournament venue is a stone's throw away, where you have a park for fresh morning and evening air, where people understand and love our game of chess, you are most welcome to SYNA OPEN 2016 .
The writer is an invaluable associate of ChessBase and, over the years, has done yeomen service to our beautiful game with his writings, coaching and organising of quality chess tournaments. ChessBase India is glad to partner with the SYNA International Open 2016 for detailed coverage of games, pictures and more!
---