Sharjah 04+05: Children Warriors
Rounds four and five of the Sharjah Master open saw the final confrontations between hugely disparate ratings, with top boards still facing as much as 600 Elo differences. It wasn't all fun and games for the favorites though, with Gawain Jones tweeting about 'near perfect defense' from his 10-year-old opponent. Illustrated report with videos and analysis.
Sharjah 04+05: Children Warriors
Photos by Maria Emelianova
Surprised on moves 1, 2+ 3. After 10yr old opp exhausted me with near perfect defence yesterday decided to take pragmatic draw. #Shjmasters

— Gawain Jones (@GMGawain) March 27, 2017
It was not just him, though:
It almost seems like everyone is going to be baptized with a tough fight against a youngster:
These Indian prodigies are tough... It took an effort of GM Schroeder to win against 10-year-old CM Mendonca, rated 400 less! #shjmasters pic.twitter.com/MECamg3rL4

— Sharjah Masters (@shj_masters) March 27, 2017
Gabriel Sargissian vs Srinath Narayanan
Praggnanandhaa vs Abdulkarim 
19-year-old WFM Srija Seshadri, rated a modest 2166 FIDE, started with three easy wins over sub-2000 opponents, only to face a 2643 rated GM in round four. She drew! But that was not the only surprise. The biggest one was when she faced another 2643 rated GM in round five, and drew him as well! Go girl, go!
Video report on round four by Daniel King
Pawan Dodeja vs Matthias Bluebaum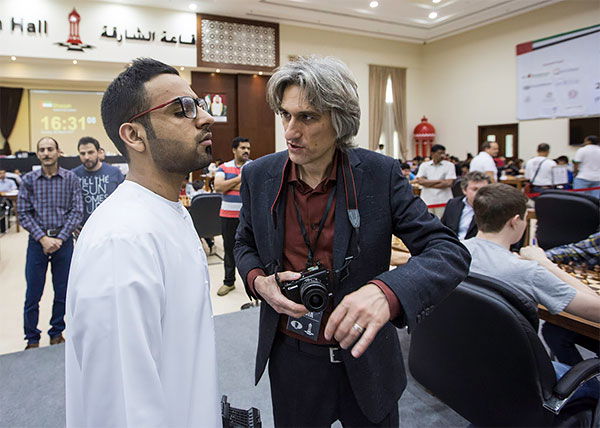 Priyanka Nutakki v Rasmus Svane
Daniel King analyzes Amin Bassem vs Akila 
This is the opening Amin Bassem hoped would bring a swift and easy victory. It turned out a lot harder than he had expected.
Imagine being nearly 600 Elo over your opponent. You imagine an easy win and thus try to bully your way to it with a highly irregular opening, but instead find yourself questioning your strategy as your opponent responds well. Daniel King shares insights on how to handle this 'blitz' opening play.
Standings after five rounds
| | | | | | | | | |
| --- | --- | --- | --- | --- | --- | --- | --- | --- |
| Rk | SNo | Ti. | Name | FED | Rtg | Pts |  TB  | rtg+/- |
| 1 | 6 | GM | Adhiban B. | IND | 2682 | 4,5 | 13,5 | 8,3 |
| 2 | 10 | GM | Jones Gawain C B | ENG | 2676 | 4,5 | 13,0 | 8,6 |
| 3 | 5 | GM | Wang Hao | CHN | 2683 | 4,5 | 12,0 | 7,6 |
| 4 | 16 | GM | Fressinet Laurent | FRA | 2662 | 4,5 | 10,0 | 5,7 |
| 5 | 21 | GM | Kravtsiv Martyn | UKR | 2641 | 4,5 | 9,5 | 7,1 |
| 6 | 38 | GM | Svane Rasmus | GER | 2570 | 4,5 | 9,5 | 7,6 |
| 7 | 11 | GM | Akopian Vladimir | ARM | 2675 | 4,0 | 12,5 | 1,1 |
|   | 28 | GM | Adly Ahmed | EGY | 2593 | 4,0 | 12,5 | 6,2 |
| 9 | 17 | GM | Amin Bassem | EGY | 2660 | 4,0 | 12,0 | 1,5 |
| 10 | 2 | GM | Kryvoruchko Yuriy | UKR | 2708 | 4,0 | 11,5 | -0,5 |
| 11 | 4 | GM | Naiditsch Arkadij | AZE | 2702 | 4,0 | 11,0 | -0,5 |
| 12 | 35 | GM | Idani Pouya | IRI | 2576 | 4,0 | 10,5 | 2,4 |
| 13 | 19 | GM | Kuzubov Yuriy | UKR | 2643 | 4,0 | 10,5 | -2,9 |
| 14 | 46 | GM | Schroeder Jan-Christian | GER | 2543 | 4,0 | 10,5 | 3,3 |
| 15 | 22 | GM | Bluebaum Matthias | GER | 2632 | 4,0 | 10,5 | -1,5 |
| 16 | 45 | GM | Pichot Alan | ARG | 2556 | 4,0 | 10,0 | 2,2 |
| 17 | 47 |   | Xu Yinglun | CHN | 2540 | 4,0 | 10,0 | 2,7 |
| 18 | 36 | GM | Maghsoodloo Parham | IRI | 2576 | 4,0 | 10,0 | 0,2 |
| 19 | 15 | GM | Mareco Sandro | ARG | 2664 | 4,0 | 10,0 | -1,6 |
|   | 40 | GM | Fier Alexandr | BRA | 2568 | 4,0 | 10,0 | -1,5 |
| 21 | 31 | GM | Gledura Benjamin | HUN | 2588 | 4,0 | 9,5 | 2,9 |
| 22 | 48 | GM | Harika Dronavalli | IND | 2539 | 4,0 | 9,0 | 2,1 |
| 23 | 49 | GM | Vishnu Prasanna. V | IND | 2534 | 4,0 | 9,0 | 2,6 |
| 24 | 57 | GM | Deepan Chakkravarthy J. | IND | 2483 | 4,0 | 8,0 | 10,7 |
| 25 | 23 | GM | Sethuraman S.P. | IND | 2629 | 4,0 | 8,0 | 2,7 |
| 26 | 142 | WFM | Srija Seshadri | IND | 2166 | 4,0 | 7,5 | 29,2 |
| 27 | 9 | GM | Anton Guijarro David | ESP | 2676 | 3,5 | 13,0 | -4,6 |
| 28 | 20 | GM | Oleksiyenko Mykhaylo | UKR | 2643 | 3,5 | 12,0 | -5,3 |
| 29 | 80 | GM | Laxman R.R. | IND | 2403 | 3,5 | 11,5 | 10,4 |
| 30 | 12 | GM | Iturrizaga Bonelli Eduardo | VEN | 2673 | 3,5 | 11,5 | -4,7 |
---
---