Remembering Dakshinamoorthy – the beloved Thatha of Tamil Nadu chess
On 21st of February 2017, at the age of 92 years Dakshinamoorthy passed away. He was not a titled player, nor did he have a FIDE rating, yet he is one of the most well known and respected personalities in the chess circles of Tamil Nadu and India. Who is he? And why did everyone from Vishy Anand to Ramesh, Viji, to Adhiban, Sethu, Karthikeyan and just about any top player from Chennai visit his home? Know more about this great individual from the intimate eulogy written by V. Saravanan.
I was a gawky 17 year old, all bones with a terribly accented and inadequate English, who had just 'migrated' from the town of Coimbatore to the hustle and bustle of the metro of Madras in 1988, and started my college education. As with any complete change of a living city, life in Madras looked threatening. While its terribly degraded dialect of Tamil was nauseating, the perfect English spoken by the lecturers at the Anglo-Indian Loyola College was intimidating.
But obviously, one of the main reasons for this move to Madras was the opportunities it offered towards playing chess, and it was much before I had really delivered performances at any level. All chess players in the city seemed to improve by the only available way possible to improve - by simply playing casual games as much as possible, not necessarily with a clock.  When it came to the dose of playing the game itself, there was the star-studded Tal chess club at the Soviet cultural centre in Kasturi Ranga road, not far away from the Hyatt Residency where the Anand - Carlsen match of 2013 was staged.
A large group of friends of same age played chess regularly at the Tal club, many of whom are still around, having found their niches in the chess community of Chennai in any capacity: S.C.Subramanian, A.L.Kasi, Jaikar Pandurangan, K.Gopalakrishnan (Of Indian Bank), Srinivasa Raghavan and his brother R.R.Vasudevan (known in our circles at that time for defeating Vishy Anand in a tournament game!), G.Srikanth, S.Panaiappan (father of GM S.P.Sethuraman), D.Ganesh, K.V.Shantharam and Hariharan (both my would-be seniors and would-be mentors at Indian Bank in future), Manikandaswamy, Paul Arokiaraj, Arvind Aaron, IM T.S.Ravi, IM G.B.Prakash, A.Shankar (Railways), C.Natarajan and S.R.Krishnan are some of the names from those times.
Needless to say, I found residence and moved in with my family in the same area where the Tal chess club was situated, and Mondays, Thursdays, Saturdays and Sundays were the days when the club functioned, with Sunday being the best of them all, as it was open through the day.
I used to hang around the city a lot with Ravi and Prakash, who became close friends on those days of vagabond life, and fierce 'rivals' when we competed. (This was much before Prakash's kid brother, GM R.B.Ramesh started playing chess too, and became part of the 'serious' group, which got added with IM P.Konguvel, who likewise 'migrated' to Madras from Salem when pursuing his college education). But soon, after getting tired of spending time at each other's homes and on those days and times of the day when the Tal club was not open, the inevitable problem cropped up: where do we play chess right now?
That was when Ravi and Prakash took me for the first time to Thatha's house, as everyone called him at that time. Now, the word 'Thatha' has a special significance for Tamilians (with both the 'Tha's pronounced as in the starting decibal of 'Thar' desert, with a mild joining consonant of 'th' in between, as in the ending decibal of 'kith'). Directly translated, it means Grandpa, while it loosely denotes any elder gent but with mild respect and/or affection. For example, while growing up as children, 'Thatha's house' always meant your grandparents' place where you spent the summer vacations, where you found unconditional affection and solace away from the strict and watchful eyes of your parents.
Thus, starting with the way of how we referred to the place, Mr.Dakshinamoorthy and his home Lakshmi Vilas at Govindu Street, T.Nagar were a big part of our lives in those carefree and happiest of times, and everyone who started going there started referring to him as Thatha very soon, very naturally. A bachelor who had retired as a gazetted accounts officer from the office of the Accountant General, chess was Thatha's passion, the everyday routine and metier which fully occupied his home and welcomed and consumed whoever stepped in.
The very first time when Thatha eyed you and greeted you, one immediately felt the comfort of being welcomed at that place, when one could abandon the uneasiness of being a guest at someone's house intruding their privacy. And then you start going regularly there nonchalantly, first with your friends for company, and then on your own, whenever you felt like playing chess. And it was a place when anyone and everyone felt welcomed, with biscuits and occasional coffee flowing free through the day.
Just like any chess club, there would be chessboards and pieces available to play on many tables and benches, and hundreds of chess books for studying. It was paradise itself! You have to remember that those were times when it was hard to buy books, as there were simply no chess book shops, and ordering by post from foreign countries was simply out of question. And they were expensive too, much beyond the economical reaches of us middleclass lads.
One of my earliest problems was that those books were written in English, and I could hardly understand them! And this was exactly an occasion when, one of those days, I found him showing me a game one to one from a book, no one else being present. It was an old hardcover copy of Batsford publication's 'Tigran Petrosian - his life and games' by Vasiliev. It was the first time that I was having any meaningful look at the games of Petrosian, leave alone anyone sitting and showing me the game from a book, teaching me how to replay and study a chess game properly.
Jumping ahead, whenever I work with anyone younger now and have to explain a deep concept, I try my best to show games which have the relevant recurring theme, and inevitably they belong to a single great player of the classic era. And anyone can understand a concept well only when it is not explained in as many words, but the logic present right there in front of them, hidden in the moves and maneuvers of the game(s) being studied. Thus, we all understand chess concepts of any depth and make the neuron connections only when we decipher them ourselves, instead of someone disrobing and explaining them to us in open and thus spoiling the process of cognitive learning...
Well, now when I try to understand it, Thatha had that fantastic ability, to teach a young teen, to hint at the happenings of a game with its strategic nuances, and thus opening to him the first door of learning, from the variations and explanations printed in a book. Looking back now, it was my first lesson at how to see a chess game in a slow pace and understand what happened in the course of play, to draw inferences which becomes a part of a chess player's understanding of chess. And my unquenching love for chess books began only after seeing his library for the first time...
And for most of us, a taste of opening preparation was imbibed from the bound volumes of 'Schachmatny Bulletin' a Russian language chess monthly with deep opening articles and annotations from those times.
Time went on quite fast, and Dakshinamoorthy's house became a regular abode for all the young players, which it continued for about four decades in total. And slowly, with more and more visits, we got to understand him more and more as a personality. And at some point, we started going there not for the chess itself, but out of liking for the man himself.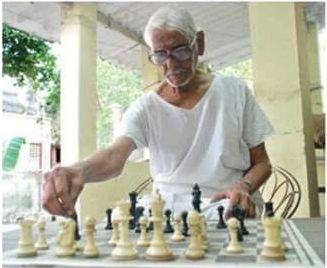 He had a way of keeping track of all his boys, and enjoyed our successes, delighted when we showed our games after successful tournaments. From the mountain of Vishy Anand himself, there was almost not a single player of that generation who was not touched by his attention. He had kept a book which Anand presented to him with delight, as he was sure of the heights that Vishy would attain...
Not only was his role being a host to those who went to him to play chess, but he financially helped many of the players in their struggling times, and found happiness when they found jobs under 'sports quota' and found a means of survival. And typical of his modesty, he forbade A.L.Kasi when the latter wanted to name a new chess academy with the name of Dakshinamoorthy. Of course, for what are men of wisdom if they want to be but remembered in the minds of those whom they touch, rather than with edifices and monuments which are physically erected in gratitude and memory?
"I am a lonely soul, and my house is always open to anyone who wishes to play chess," was one of his cryptic sentences, which was lost on me at that time, but which fills me with empathy and warmth when I recollect it now.
The very first aspect of his personality that everyone enjoyed was his sense of humour. Boy, could he tease! He had this ability of making fun of people in a soft way, which nevertheless had us in splits, who could understand him and his ability to 'trap' the 'prey'.
During one of those days of Blitz chess with a clock, on a lazy morning of a working day, a youngish mother walked in with a boy of about 10 years old, and asked in a respectful tone, "Is this the house of Mr. Dakshinamoorthy?"
Looking at me, Ravi and Prakash in a quizzical way, Thatha responds."Yes, what do you want?" (The exchanges were obviously rhetorical and politeness-coated, as there could be no other private home crazily laden with chess boards pieces and tables, and there was no need to agree at all!)
"Can I meet him?" came the next question. "Sit down. He has gone out, and will return soon!" went the reply. By now, it was impossible to concentrate on our game, as we could plainly see that Thatha's eyes were twinkling, but since his face was turned away from the lady, she was clueless to the joke being played out.
And next came his buster, "Are you his sister?" referring to the boy next to her. With an embarrassed smile, the lady went, "No, I am his mother". Prakash was the first to crack, making a strange noise from his mouth, and trying helplessly to close it with both his hands, obviously in a full fit of laughter. I was struck with amusement and embarrassment of this strange kind of ragging taking place, and when I turned back to look at Ravi's reaction, I found that his seat was empty in quick time!
Somehow, we finished the game with misty eyes and ran out of the room, and started laughing uncontrolled as we hit the street. And as we went back and met him next day morning, there was absolutely no trace of the previous day. When Prakash pestered him as to how he later diffused the situation and ultimately revealed his identity, we were just met with that smile which knew its joke…
Unlike with the regular days, once when I landed at his place at the odd hour of 3 p.m., I was pleasantly surprised to find a girl sitting and playing with him. She was one of my teen crushes, and I had a difficult time concentrating on the game being played. As every teen thinks, I was confident that no-one could notice or gauge my thoughts. At the end of the evening, as I started to leave for home, he kept a straight face and asked, "Will you be coming at 3 p.m. tomorrow too?!!"
Whenever he would come to any chess function and find a group of us standing, his favourite words would be, "Ah! All the big people are here!" inevitably cracking us up into a roar of laughter. And of course, his way of words did not end with his jokes. When I surprised even myself and won the national junior chess championship in 1990 ahead of Ravi, Prakash, Konguvel and Jayant Gokhale who were much more fancied for the title and seeded way ahead, his greeting was a crisp, "First among equals!" Leave alone Jeffrey Archer and his famous novel, I had to check with my elder brother to understand what exactly those words meant…
Time rolled on, the younglings grew younger and younger, and more and more talents were produced from the visitors to his place. Vijayalakshmi and her sister Meenakshi,  Sasikiran, Adhiban, Sethuraman, Kidambi, Karthikeyan… the list is endless.
Today, a group of friends whose youth belonged to the eighties, and for whom time spent playing chess was divided between Tal chess club and Lakshmi Vilas stood reminiscing about those days and memories of the man who breathed his last on 21st Feb morning at the ripe age of 92. And a sentence which was often uttered from many was, "I owe my life today to Dakshinamoorthy Sir".
Just then, we had India's first International Master Manuel Aaron walking in, and recalling to Thatha's niece, "It is difficult to find people like him anymore". Seeing him in his eighties still finding the strength to attend such occasions out a basic courtesy, I couldn't help pondering on certain inevitable questions, 'What make us chess players bond so tight? What is it that which make us all become melancholic and nostalgic when thinking about our chess playing teens? Why is gratitude so abundant as one ages? What is that particular commonality which make us religiously follow such human decencies whenever there are bereavements in the community? And is it even possible at the current times to live such a life of complete benefaction?'
Difficult to answer. But for certain, it is almost impossible not to perpetually think of that man who lived a life of love for chess and left us today, who will be remembered by thousands whose life he touched, and whose selfless and joyful personality will always be remembered and thus celebrated…
About the Author:
Saravanan Venkatachalam is an International Master and has been an active chess player in the Indian circuit, and has been consistently writing on chess since late 1980s. He turned complete chess professional in 2012, actively playing and being a second and a trainer to a handful of Indian players. He reports on chess tournaments, occasionally being a correspondent to national newspapers and news channels. Apart from chess, he is also interested in Tamil and English literature, music and photography.
---