2nd Rail Wheel Factory Bangalore - Invitation
The 2nd Rail Wheel Factory Fide rating tournament will be held in Bangalore from the 8th to 12th of October 2016. Some of the salient features of the event are: a beautiful brand new playing hall, a first prize of Rs. 70,000, a total prize fund of Rs.5,00,000, in all 260 prizes and special conditions for the visually impaired. The last date for registration to the event is 30th September. Three IMs and one WGM have already confirmed their participation. We have all the details related to the event for you. 
Rail Wheel Factory Sports Association (RWFSA), Yelahanka, Bangalore is organizing its 2nd RWF International Open FIDE Rated Chess Tournament at their newly constructed convention hall "UTSAVA" here in Bangalore from 8th Oct to 12th Oct 2016. One of the major highlights of this event is that RWFSA is encouraging Visually Challenged chess players to participate in this mega event free of cost.
Apart from that, below are some of the key highlights of this event.
To encourage chess players at all levels, RWF Sports Association has come up with a wonderful prize structure (5 Lakhs Cash and 152 trophies) including-



PERFECT SCORE BONUS prize for the champion if he wins all the matches of this event,
DEMOLISHER BONUS prize for the players who defeat opponent of 250 ELO rating or higher in each round



To enhance the skill set of budding chess players, there will be arrangements to analyze their games with expert coaches at free of cost.
ChessBase India will hold a workshop showing you how to use computers and softwares to become stronger.
More than 600 chess players across India and abroad are expected to participate.
Top players like Grand Masters and International Masters are expected to participate.
There is an immense support and encouragement for Visually Challenged, Differently Abled and Senior Citizens to participate in this event.
RWF convention Hall "UTSAVA" is a newly constructed facility which can accommodate more than 1000 players.
Details of the Tournament:
2nd Rail Wheel Factory International FIDE Rated Chess Tournament will be conducted from 8th to 12th October at UTSAV, Yelahanka.The total Prize Money is 500,000/- and Total Trophies are 152. Entry Fees- For Rated Players: 2000/- and for Unrated Players: 2300/- Last date for registration is 30th September.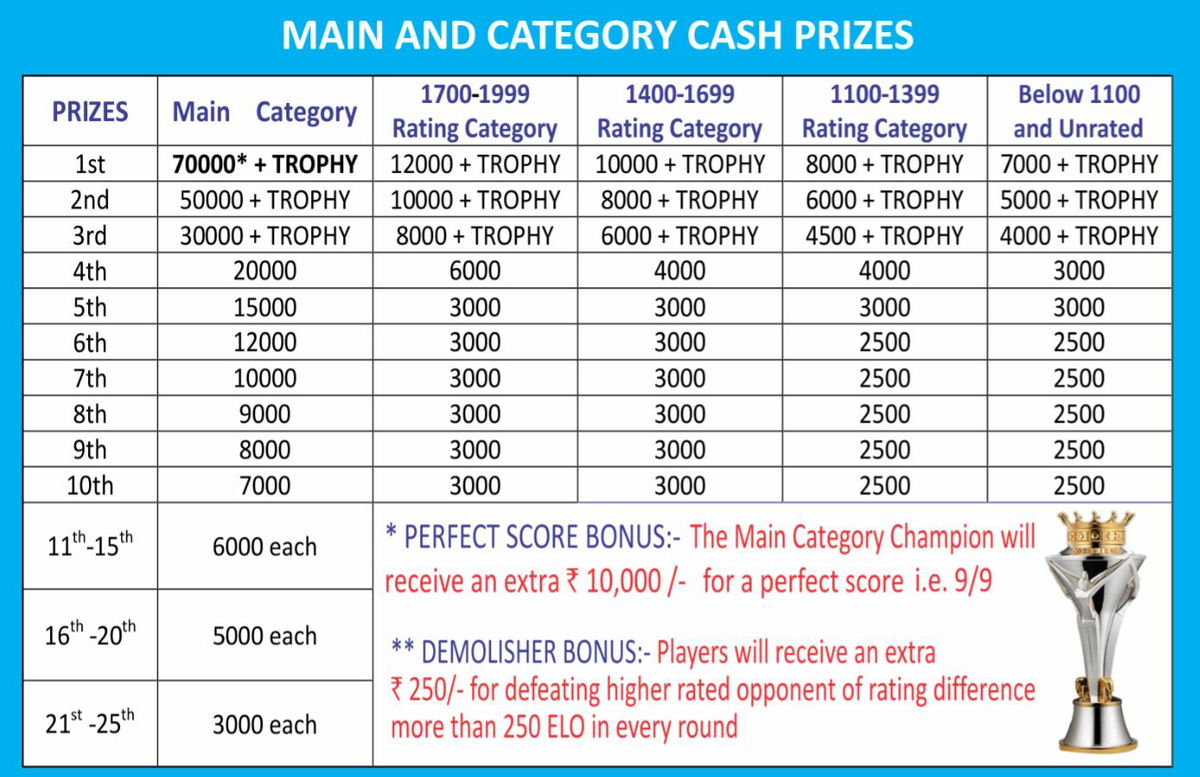 Starting rank
Complete list of players who have registered until now
Website: rwfchess.com
email: chessrwf@gmail.com
download the entire prospectus
About the Author
Rajeev Bhat works at the Rail Wheel Factory and is the chief co-ordinator for the 2nd RWF International Fide rated tournament. 
---