Indian challenge at the Baku Olympiad!
The biggest chess show of the year is here! 42nd Chess Olympiad 2016 in Baku will witness the participation of 2245 chess players from 176 different countries! It is one of the biggest sporting spectacles in the world! The Indian men's team, strengthened by the presence of Harikrishna, are the 11th seeds and the women's team are seeded fifth in their section. In this article we get you acquainted with our ten warriors who will be giving their all at the Olympiad to bring back a medal for India.
Flashback - Tromso 2014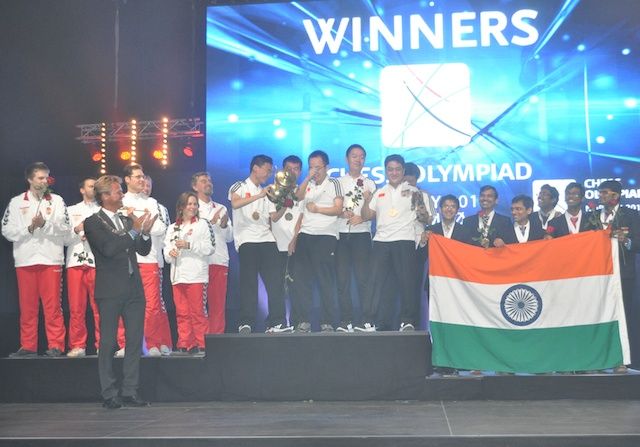 This image from the 2014 Tromso Olympiad would still bring tears of joy in the eyes of any Indian chess fan! It was for the first time that the Indian team had won a team medal at the Olympiad! 
Olympiad 2016 - Baku, Azerbaijan
Fast forward to the present and you can understand why chess fans all over the world are eagerly awaiting for the Chess Olympaid 2016 to begin. Chess has unable to make its way to the summer Olympics yet, but the Chess Olympiad has its own beauty and charm.

We will get to the intricacies of the schedule and the organization at the end. First let us get acquainted with players and captains who will represent team India.
Pentala Harikrishna
The inclusion of Harikrishna in the team is superb news for the Indian chess fans. With a rating of 2752 Hari is a world beater. Although the board order is a team secret, the probability that Harikrishna will play on board one will be very high. If the team does well, we will constantly be playing teams like Russia, America, China, Azerbaijan, Ukraine etc. In this case Hari will be facing guys like Kramnik, Caruana, Ding Liren, Mamedyarov, etc., and when that happens we can be confident that Hari has the capabilities to beat these guys.
We contacted Hari to ask him how the Olympiad would be different from the super tournaments like Stavanger, Shamkir, Danzhou that he has played this year. "Team events are different from individual events. You need to take risks in team events when your team is trailing. This is not the case in individual events when you are playing just for yourself. The team discussed about board order and other things, but I can't give you any of those details!"
Considering what a smart captain R. B. Ramesh is, it would be a good idea to expect the unexpected! Maybe Hari won't play on the top board. Maybe he will be used on board two or three to score heavily. Who knows! Your guess is as good as mine! 
Vidit Gujrathi
One of Vidit's most amazing qualities is the solidity with which he plays chess. A few years ago, he was just too solid. You would rarely see him lose, but draws would abound in plenty. But since a year or so, he has made tremendous changes to his game. His keen sense of danger remains intact, but along with it he brings in a killer spirit to his games. That's the reason why he has started winning against the big guys and now has an Elo of 2669! Seeing Vidit's track record, you can find that he is most successful against unorthodox and aggressive players. He has scored wins with the black pieces against players like Wei Yi, Morozevich and Rapport. The reason is simple - he understands their threats well in advance and negates them to perfection.  
Vidit on the team composition:
"I am very optimistic with the team we have. Everyone is working hard these days and we all get along well. That was one of the reasons of Asian nations cup gold, we had a positive atmosphere! 
On the inclusion of Harikrishna in the team:
"I was very much hoping that Hari would play! He is a very strong player and having him in the team makes a huge difference! So, yes I was happy to see that Hari confirmed his participation!" 
On nervousness of this being his first Olympiad:
The only nervousness I have at this point is whether I will get my passport back in time or not! I had applied for the UK visa for the Isle of Man tournament that will take place after the Olympiad. But I have just confirmed and I will be getting it back in time! As regards the Olympiad debut, I am excited. Not at all nervous! 
B. Adhiban
A few days ago Adhiban wrote to me, "Gonna come out of my hibernation soon! Stay tuned! Abu Dhabi, Olympiad, Spanish League and lastly Millionaire open!"  
After playing the Asian Continental that ended in the beginning of June, Adhiban hasn't played any big event. That's almost three months. At this level, three months is quite a bit of time. But judging from the way he performed just a week ago in the Abu Dhabi Open we can be sure that he spent good chunk of these three months preparing very hard on chess! At the Abu Dhabi Open, Adhiban scored 7.0/9, scoring three wins against 2600+ players - Savchenko, Zubov and Dragun. At an Elo of 2671 he is gaining 13 Elo points! Unbelievable! 
Adhiban is like the "never-say-die-man" of the team. At the last Olympiad he landed in difficult positions so many times, but on each and every occasion he wriggled out of it unscathed. This led Ramesh to say, "When some other player gets into trouble the whole team will feel very nervous but when Adhiban gets into trouble then nobody takes tension! (laughs). Because he has the capacity to come back into the game."
Adhiban is a huge asset and very capable of beating the big guys. His attitude is always positive and he is ready for a challenge. He is just 16 Elo points away from the magical 2700 mark and he will be trying to surpass that barrier in the Olympiad. 
S.P. Sethuraman
It is the last round of the Qatar Masters 2015 and Sethuraman is up against Evgeny Tomashevsky of Russia, rated 2744. The Russian is famed for his opening preparation. Normal people would try to prepare well to equalize the game with black, trying to avoid Tomashevsky's phenomenal preparation. But not Sethuraman! This guy took the bull by the horns, prepared the sharpest variation in the Botvinnik Variation of the Slav and completely crushed his opponent. This is called self-confidence. This is called believing in one's abilities.
At the 2014 Olympiad Sethuraman scored 7.5/10 with a rating performance of 2757! He is a big fighter and can be quite good on any board. Considering his opening expertise, his presence of the top boards would be quite ideal. 
Murali Karthikeyan
Murali was the national champion in 2015 and thanks to this achievement he is a part of the team. What Murali lacks in opening preparation is amply compensated with his combinational and calculating skills. There are stories as to how he can solve studies within minutes and how he can recollect interesting positions and set them up on the chess board without any assistance. There is no question about his talent, and all eyes will be on him, as to how he would perform.
The average age of our team is 23 years! Amazing isn't it! The team has excellent camaraderie and each and everyone is raring to sit on the chess board and do something special for the nation! It is precisely for this reason that Olympiad 2016 is extremely exciting for the Indian chess fans. 


The team is young and capable, but it goes without saying that without a good coach, it would all be wasted. Luckily we have R.B. Ramesh in our ranks. Ramesh's dedication, strategies and astute mind reminds me of badminton's Pullela Gopichand. While being a successful player and a grandmaster, Ramesh has now turned into a full-time coach and is churning one champion after another in India. His decisions last year were instrumental in us winning the bronze. You can read his in-depth interview from 2014 over
here.
The players that have changed in our team from last year are Harikrishna for Sasikiran, Vidit for Parimarjan Negi and Karthikeyan for Lalith Babu. When we asked him how this year's team is different from the previous year, he said, "
I dont see that "so and so is replaced by so and so" way. We have different players in the team and they are in the team because they got selected according to the rules that are in force and deserve to be there. Even for argument's sake, if we had the same team as that of 2014 team we cannot say nothing has changed. We will just go there and play to the best of our ability. And accept what we get with humility."
Women's Team
If you look at the numbers we can say that the women team has a much better chance of bringing back a medal than the men's team. With a rating average of 2410, they are seeded fifth behind China, Russia, Ukraine and Georgia. But the problem in the women's section is that each and every team above us is extremely strong. The Chinese women's team led by Hou Yifan is clearly the favourite on paper, but with Kosteniuk, Gunina and Goryachkina the Russian women's team is not to be underestimated. The Muzychuk sisters power the Ukrainian team while Dzagnidze, Khotenashvili and co. ensure that Georgians stake their claim in this race. As for team India, let's meet the players and know more about them.
Harika Donavalli
The backbone of the team and one of the biggest stars of Indian chess. When you meet Harika she comes across as a friendly, easy going person with whom you can chat on various casual subjects like movies, soap operas, food etc. However, on the chess board she turns into a person completely switched off from the outside world. Have a look at her picture above. This is the focus with which she plays a game of chess. Just like Harikrishna in the team gives us hope that he can beat guys like Kramnik, Caruana, Ding Liren etc., presence of Harika makes us believe that on the top board against Hou Yifan or Kosteniuk or Muzychuk we will not have many problems.
Harika's Facebook, Twitter and Instagram accounts are extremely active, so be sure to follow them for updates. 
Padmini Rout
The golden girl of Indian chess! Padmini won a gold medal on board four in the last Olympiad. This time, however, there will be more expectations on her shoulders. But it doesn't really matter to her. Known for her fighting skills, Padmini is intimidated by no one. She started the year 2016 with a spectacular win over none other than Pavel Eljanov rated 2750. Although it was a rapid game, it just goes to show that she backs herself and believes that she can beat anyone. Indian fans would be hoping that she emulates her performance of 2014!
Soumya Swaminathan
Soumya Swaminathan is an extremist. She either has phenomenal events or not so great ones. Very rarely does she have average tournaments. The reason behind this is her uncompromising nature and the attitude for playing for a win at all costs. When in good form it is almost certain that she wins the tournament. This is attested by the fact that she won the World Juniors in 2008, National Juniors twice (2005,2006), National Premier (2011) and Commonwealth title (2012). That's what we want - Soumya at her best and she can really make a huge difference. 
Tania Sachdev
How does this tournament performance sound to you - wins against Hannes Stefansson (2600), Alejandro Ramirez (2564) and draws against Dmitri Andreikin (2732), Aryan Tari (2553), Gawain Jones (2632), Alexander Beliavsky (2630), Sergei Movsesian (2653). Seems like some super GM right? That's Tania's performance at the Reykjavik Open 2016! This one tournament result is enough to convince us what this girl is capable of achieving. Add to it the fact that she recently won the Commonwealth women's title and we can conclude that Tania is in excellent shape, and we would be banking on her to come out all guns blazing!
Pratyusha Bodda
Pratyusha Bodda is 19 years old and already boasts of an Elo of 2329. The Olympiad would be a good training ground for her to sharpen her skills further. Also being in company of such experienced players is sure to give her many new insights. Pratyusha is mainly a positional player who plays solid chess. Best wishes to her for her Olympiad debut.
Vishal Sareen
The women's team will be under the able guidance of IM Vishal Sareen. This is the third time that Vishal is the coach of the Indian women's team. On the last two occasions (World Teams and Asian Nations Cup) the performance was decent but nothing special. But Vishal is upbeat and looking forward to an excellent result this time.
"This will be my third tour with the Women's team since last year. I would say that in the World teams 2015 we were grossly unlucky to finish fourth. The Asian Nations cup was bad (fourth again) after a great start when we beat Uzbekistan 4-0 (they finished second) and drew with China. Somehow we ran out of steam against lower teams. Corrective measures will be taken. If we beat teams that are seeded lower than us then I feel we have a very genuine chance to win a medal.
It's hard to make predictions when you are at a stage as big as the Olympiad, obviously we all are going with high hopes, we are the fifth seeds which means we are close enough to stake a claim for the podium.
At the same time, we understand that this is sport at the end of the day and how we perform on the given day matters the most. I hope the girls remain in the best of health and spirits during the Olympiad and give their best for the team.
We have only one strategy - WIN! and I hope that works! Fingers crossed, we will need support of all chess loving people in the country!"
Missing out
Two people who will be sorely missed at the Olympiad are Vishy Anand and Koneru Humpy. They are world class players. We respect their decision of not taking part in the Olympiad, but we hope that in 2018 we will be able to see them in the team!
Arbiters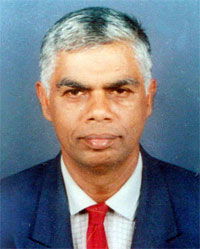 R. Anantharaman and Gopakumar will be the arbiters from India at the Olympiad.
Olympiad schedule 
| | | |
| --- | --- | --- |
| Date | Time | Event, function |
| 1 September | 18:30/20:30 | Arrival, Opening, Captains meeting |
| 2 September | 10:00/15:00 | Arbiters meeting/Round 1 |
| 3 September | 15:00 | Round 2 |
| 4 September | 15:00 | Round 3 |
| 5 September | 15:00 | Round 4 |
| 6 September | 15:00/22:00 | Round 5/Bermuda Party |
| 7 September |   | Day Off |
| 8 September | 15:00 | Round 6 |
| 9 September | 15:00 | Round 7 |
| 10 September | 15:00 | Round 8 |
| 11 September | 15:00 | Round 9 |
| 12 September | 15:00 | Round 10 |
| 13 September | 11:00/19:30 | Round 11/Closing Ceremony |
| 14 September | All day | Departure day |
It is an 11 round event that begins from the 1st of September. The first round is on 2nd and we have a rest day on 7th of September. The time difference between Baku and India is just 1.30 hours and hence, the games will begin at an ideal 16.30 hours IST.
Preparations in Baku
The budget for the Olympiad is 13.3 million Euros. Some 6.8 million Euros are set aside for the first-class accommodation for the players and delegates. Another one million Euros go to the FIDE Commission for World Championships & Olympiads and intellectual rights.
Send your wishes to Team India in the comments section below!
ChessBase India will be covering the event in great depth from the Indian point of view. So, do keep visiting our website for more updates from the Olympiad 2016.
---