It's Praggnanandhaa vs Vincent!
The German Schach Magazine thinks that Vincent Keymer is the biggest talent to emerge from their country since the second World Champion Emanuel Lasker! R. Praggnanandhaa is just eleven years old, but has already crushed many a grandmasters! Not to forget, he is also the youngest IM in the world. These two super talents are going to face-off against each other at the eighth round of the World under 12 Championships in Batumi. We have set up the live game page for you to enjoy this battle. Live game will begin at 4.30 p.m. IST. Don't miss it!
The boy on your left is world's youngest International Master - R. Praggnanandhaa. The little guy on your right is Germany's, infact Europe's biggest talent - Vincent Keymer. The two are going to face off against each other on the 27th of October 2016 at 4.30 p.m. IST on the top board of the World under 12 championship!
Praggnanandhaa is on 6.5/7, while Vincent is on six points. It's a battle between two future world class players. Don't miss out.
Live game begins at 4.30 p.m. IST on 27th October
Top 5 boards of U-12
Player overview for IND
| | | | | | | | | | | | | | | |
| --- | --- | --- | --- | --- | --- | --- | --- | --- | --- | --- | --- | --- | --- | --- |
| SNo |   | Name | Rtg | FED | 1 | 2 | 3 | 4 | 5 | 6 | 7 | Pts. | Rk. | Group |
| 1 | IM | Praggnanandhaa R | 2442 | IND | 1 | 1 | 1 | 1 | 1 | 1 | ½ | 6,5 | 1 | Open U12 |
| 5 | FM | Nihal Sarin | 2324 | IND | 1 | 1 | 0 | 1 | 1 | 1 | 1 | 6,0 | 4 | Open U12 |
| 8 |   | Dhanush Bharadwaj | 2232 | IND | 1 | 1 | ½ | 0 | 1 | 0 | 0 | 3,5 | 59 | Open U12 |
| 63 | CM | Karthik Kumar Pradeep | 1873 | IND | 1 | 0 | ½ | 1 | 0 | 1 | 1 | 4,5 | 37 | Open U12 |
| 64 | CM | Kushagra Mohan | 1872 | IND | 1 | ½ | ½ | 0 | ½ | 1 | 1 | 4,5 | 34 | Open U12 |
| 117 |   | Chiranjan Kumarr K S | 1339 | IND | 0 | 1 | 0 | 0 | 0 | 1 | 0 | 2,0 | 118 | Open U12 |
| 5 | CM | Aditya Mittal | 2144 | IND | 1 | 1 | ½ | 0 | 1 | 0 | 1 | 4,5 | 34 | Open U10 |
| 6 | CM | Mendonca Leon Luke | 2133 | IND | 1 | ½ | 0 | 1 | 1 | 1 | 0 | 4,5 | 31 | Open U10 |
| 10 |   | Pranav V | 1994 | IND | 1 | ½ | 1 | 1 | 1 | 0 | 0 | 4,5 | 20 | Open U10 |
| 77 |   | Hriday Dharmesh Sheth | 1491 | IND | 0 | ½ | 1 | 1 | 0 | 0 | 1 | 3,5 | 74 | Open U10 |
| 48 |   | Kadakia Veer | 1273 | IND | ½ | 1 | 0 | 1 | 1 | 1 | 0 | 4,5 | 31 | Open U08 |
| 52 |   | Bhagat Kush | 1263 | IND | ½ | 0 | 1 | 1 | 1 | 0 | ½ | 4,0 | 47 | Open U08 |
| 60 |   | Vidit Jain | 1236 | IND | 1 | 0 | 0 | 1 | 1 | 1 | 0 | 4,0 | 55 | Open U08 |
| 64 |   | Midilesh Ms | 1214 | IND | 1 | 0 | 1 | 0 | 1 | 0 | 1 | 4,0 | 49 | Open U08 |
| 67 |   | Swayham P Das | 1198 | IND | 0 | 1 | 1 | ½ | 1 | 0 | 0 | 3,5 | 64 | Open U08 |
| 77 |   | Aryan Surya S A | 1026 | IND | 0 | 0 | ½ | ½ | 0 | 1 | ½ | 2,5 | 111 | Open U08 |
| 3 |   | Rakshitta Ravi | 2068 | IND | 1 | 1 | ½ | ½ | 0 | 0 | 1 | 4,0 | 29 | Girls U12 |
| 16 | WFM | Divya Deshmukh | 1836 | IND | 1 | 1 | 0 | 1 | 1 | 1 | ½ | 5,5 | 5 | Girls U12 |
| 19 | WCM | Mrudul Dehankar | 1809 | IND | 1 | 1 | 0 | 1 | 1 | 1 | 1 | 6,0 | 2 | Girls U12 |
| 22 |   | Ananya Rishi Gupta | 1788 | IND | 1 | ½ | ½ | 0 | 1 | 1 | 0 | 4,0 | 38 | Girls U12 |
| 34 |   | Adane Narayani | 1688 | IND | 0 | ½ | 1 | 0 | 1 | 0 | 1 | 3,5 | 55 | Girls U12 |
| 44 | WCM | Wankhade Sanskruti | 1344 | IND | 1 | 0 | 1 | 0 | 1 | ½ | 1 | 4,5 | 28 | Girls U10 |
| 65 |   | Darsana M S | 1256 | IND | 1 | 1 | 0 | ½ | 1 | 0 | ½ | 4,0 | 32 | Girls U10 |
| 67 |   | Vishwa Vasnawala | 1240 | IND | 1 | ½ | 0 | 1 | 1 | 1 | ½ | 5,0 | 11 | Girls U10 |
| 18 | WCM | Shefali A N | 1165 | IND | 1 | 1 | 0 | 0 | 0 | 0 | 1 | 3,0 | 50 | Girls U08 |
| 25 |   | Rout Yashita | 1105 | IND | 1 | 1 | 0 | 1 | 1 | 0 | ½ | 4,5 | 19 | Girls U08 |
| 30 |   | Valety Swetha | 1038 | IND | 1 | 1 | 0 | 0 | 1 | 0 | 1 | 4,0 | 28 | Girls U08 |
| 33 |   | Falak Joni Naik | 1024 | IND | 0 | 1 | 1 | ½ | 0 | 1 | 1 | 4,5 | 23 | Girls U08 |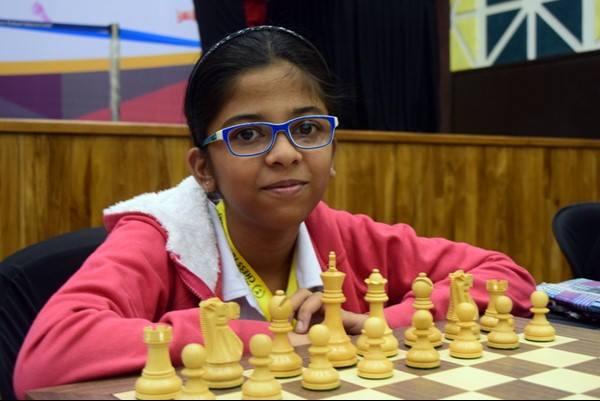 ---