12-year-old chessentrepreneur Avathanshu Bhat!
12-year-old Avathanshu Bhat had some entrepreneurial ideas brewing up in his head. He boldly went ahead to set up a ChessBase India stall at the Powai Fest in Mumbai. For two entire days he manned the stall playing chess and educating people about the game. He describes them as two of the best days of his life. He learnt a lot about how to interact with people, spreading the game and also making some money. In this article he shares with you his entrepreneurial experience and you definitely must know what the little boy plans to do with the money he has earned!
Chess has been part of my life for the past five years. And in these lovely five years journey, I have learnt that chess is not just a sport. It taught me patience, speed, faster decision making and most of all balancing losses and wins. Frederic Friedel (Co-founder of ChessBase) once said, "When a student learns chess very early, he/she not only learns to think logically, and think ahead, but mainly to concentrate on one subject." So success in this sport surely cannot be counted by the number of trophies you earn.
Although chess teaches you so much, I feel that it has not earned as much recognition as it deserves. I was thinking about this for quite sometime. How could I spread the awareness? How could I get people interested in this game? How could I make people get better? I wanted to introduce chess to more people, spread the joy and help people to explore their inner strength. But how do you do this? It was then that I hit up on a brainwave. There was going to be a local neighbourhood fair called Powai Fest on the weekend. On inquiring, we got to know that we could put up a stall.
I named my stall "Chaturanga" (Sanskrit word for chess). You could pay Rs. 50 and play a blitz game against me; if you win you would get prizes. There was also a second part of the stall containing products of ChessBase India. The two main products on sale were Fritz and Chesster: Learn to play Chess and ChessBase Account. They both were appropriate because there were many beginners in Powai who were interested in chess and some who wished to enhance their chess abilities. As it turned out, many people already liked chess; they just needed that one good game to be interested to learn it.
Right from the naming to the banner to the prizes to advertisement, I just loved the experience. I was in touch with ChessBase India officials for all the information and they were happily involved in this.
There were some incidents that were quite startling. Once a gentleman had come to play a game against me and lost. Then after sometime, determined to beat me, he played again and lost again. Right before I ended for that day, he walked over and played one final game. By then we had got to know each other a bit. He lost this game too. On the next day, surprisingly, he was waiting for me even before I had reached the stall! I must say, chess is just too addictive! We ended up playing twice more. For his determination and love for the game, I gave him a three months membership of ChessBase Account.
After a few customers, I already felt like a skilled entrepreneur, which was obviously not true; I had completely lost count of the number of games that I had played and I was immersed in explaining the products. Business was fun, although not child's play!
I think that I can now safely come to the conclusion that my idea did work satisfactorily. Many of the people who had visited my stall wanted to know exactly what Fritz and Chesster was. There were so many who played chess against me just to learn the basics or were re-kindling their spirit for the game which they played abundantly in their youth. There were some very good players who were playing to warm up and beginners determined to beat me. It was amazing to see just how many were secretly interested in this lovely game. I had a great time interacting with these people. There are few things I could have improved upon like advertisement and more appealing audio visual. I am sure I will soon learn that.

The words of my all time favourite author R J Palacio in her book 'Wonder', come to my mind: "The best way to measure how you've grown isn't by inches or the number of laps you can now run around the track, or even your grade point average — though those things are important, to be sure. It's what you've done with your time, how you've chosen to spend your days, and whom you've touched this year. That, to me, is the greatest measure of success."
About the author: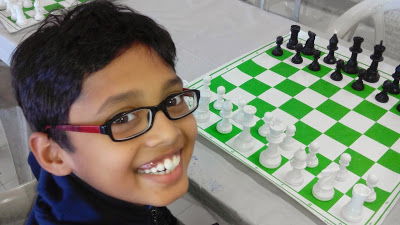 Avathanshu Bhat is a 12-year-old chess player from Mumbai. Apart from being a chess fanatic, he is a voracious reader and his favourite books include Wonder by R.J. Palacio, Lord of the rings by J.R.R. Tolkien and the complete adventures of Feluda by Satyajit Ray. He loves Daniel King and enjoys his Power Play DVDs very much. He maintains his own blog.
Postscript by Sagar Shah
Avathanshu Bhat was able to earn Rs.2500 through the numerous games that he played at the Powai fest against different opponents. Since many days he was looking out for an opportunity to use that money for a good cause. A cause related to chess, preferably. When he read the article about Ilamparthi A.R., that was published yesterday on ChessBase India, he decided that the 8-year-old was the perfect person to give his money.
Ilamparthi had to miss three Asian events because his family could not afford the expenses of the trip. With this gesture, 12-year-old Avathanshu shows that if we, as a chess community, come together, our talents would never suffer. ChessBase India is proud of this congenial and friendly atmosphere developing in Indian chess where a boy who hasn't even reached his teens is worrying about the future of an eight-year-old and doing something for him! And mind you, the two boys have never met each other yet! It would be a wonderful moment when that happens. Truly, Gens Una Sumus!
Read more articles by Avathanshu Bhat:
G. Akash wins the Grand Hyderabad affair
10-year-old boy's deep calculation (14,000 hits on Youtube)
Like Avathanshu's newly created Facebook page:
---