Chess and Panama Papers Scandal
India has heard of Panama Papers scandal, that reportedly caught some Indian names red handed. A new set of data was released this week. The data, collated by the International Consortium of Investigative Journalists (ICIJ), comes from the Panamanian law firm Mossack Fonseca. It is among more than 200,000 offshore account details that went online at 7pm on Monday. And chess has a glaring presence in the leaks!
Chess and Panama Papers Scandal
Two companies, with close connections to FIDE, and two former world champions have found to be linked with the latest release in the Panama Papers scandal that has hit the world in recent months.
What exactly is the issue with the Panama Papers? Well, the scandal has emerged out of these 11.5 million leaked documents (2.6 terabytes) that detail financial and attorney–client information for more than 214,488 offshore entities. The leaked documents were created by Panamanian law firm and corporate service provider Mossack Fonseca; some dated back to the 1970s.
The records were obtained from an anonymous source by the German newspaper Süddeutsche Zeitung, which shared them with the International Consortium of Investigative Journalists (ICIJ).
Before we proceed any further, a basic crash course for our readers on what exactly 'having money stashed in offshore companies' really mean. There is nothing unlawful about the use of offshore companies. However, the disclosures raise questions about the ways in which the system can be used – and abused. The media often gives out an impression that such a thing is negative and unethical. We are not here to sermonise about the rights and wrongs, but simply point out the truth.
Let us say you have Rs. 100 and you want to invest it for profit so that you can grow your money. What you could do is invest this money in a company in a tax haven like the British Virgin Island or Panama, where your investment is further diversified into assets such as land, machinery, etc. in the name of the company. The company's net revenue (profits) will not be taxable, because these countries, known as tax havens, do not tax its people (legally speaking, a company is a separate legal entity, like a person). Your world income, which of course includes your share of the profit you generate out of the said company, that is if you are a resident of India, which is decided as per a separate section in the Indian Income Tax Act, will be taxable in India. This particular law, though, varies from country to country. All this is actually legal and perfectly fine.
This particular system becomes problematic when people use it to con the governments and tax law enforcers. How does that happen? Imagine you are an actor and for a particular assignment, you are being paid Rs. 100. You could actually manipulate the accounting entries and show that you earned Rs. 50 on paper and quietly transfer the remaining Rs. 50 you made to a tax haven. How? By making your friend invest Rs. 50 in a company registered in a tax haven in his (the friend's) name! All your friend had to do is lend his signature and name and paper presence in the company board meetings that are often fabricated to comply with the law. The company could grow or simply remain dormant, keeping your money safe, with full control over the company, while your name is not even related to it because legally speaking, on paper, your friend has invested in it. Of course, it could be anybody—your friend, butler, driver, etc., who can simply hide this fact from the law enforcers who will not suspect them anyway. Because, for example, how could a driver own a company in the British Virgin Island!? Imagine this system being used to evade taxes, or worse, to fund illegal or terror activities in various countries.
Therefore, such findings are not all negative or illegal by nature. One has to truly understand what is going on to know the reality. The following revelations have been scooped from the exclusive reports by the Guardian and the Telegraph, who have found this special connection between chess and the scandal.

First in the list is the father of modern chess and the man who almost single-handedly put chess in the sports world map—Bobby Fischer. The American chess grandmaster was granted power of attorney over a company called Kettering Consultants Inc in October 2007. It gave him the ability to control the Panama-based company, which was managed by Landsbanki Luxembourg SA. The Guardian further reported that 'the company was "owned" by four bearer shareholders (representative mediums, like Bobby, had the power of attorney), which gave it an extra degree of secrecy. The company was shut down in 2012.'
Of course, Fischer was just an on-paper medium used by someone to invest in the said company. Fischer had been granted the citizenship of Iceland in 2005. Interestingly, Bobby died in January 2008, three months after being granted the power of attorney in this company.
Read the full article here.
Speaking of Iceland, coincidentally, Iceland's embattled prime minister, Sigmundur Davíð Gunnlaugsson, became the first major casualty of the Panama Papers scandal, stepping aside from his office amid mounting public outrage that his family had sheltered money offshore.
Anatoly Karpov, the legendary world champion who reigned from 1975 to 1985 was listed in the leaked files of secret offshore companies as a director of a Cyprus-based company called Indiforth Ltd. The Telegraph reports that there is no suggestion of illegality and Karpov himself has previously said that he had nothing to do with business in the offshore zones and called the allegations a mistake.
After retiring from the game, Karpov was elected a state deputy in Russia's parliament, the Duma, for Putin's party, United Russia, in 2011. He is also famous for being a keen philatelist with a stamp collection worth at least £10 million. Tolya, as he is fondly known, was the first chess player to become a millionaire with his chess earnings alone and reportedly is now also a billionaire. According to various media sources, such as this one, Karpov for a short while, at least, was the sole registered owner of a privately held Russian firm Petromir which found a gas field in Russia that was valued at $1 billion back in 2007.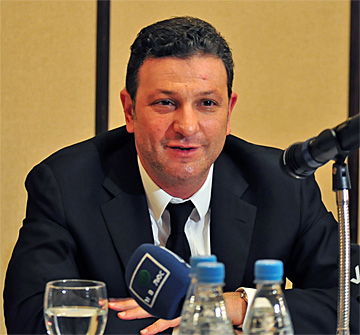 In the press release of the 2009 Presidential Board Meeting for the second quarter, FIDE says: 'The PB acknowledged and discussed the proposal of David Kaplan, FIDE Development CEO, about the establishment of a new Internet portal centered around chess activities and the creation of a Chess News Agency. In relation to these developments, FIDE will enter into negotiation with Chess Lane company.'
Two British Virgin Islands-based companies linked to the FIDE, Chess News Corporation, and Chess Lane S.A., are also mentioned in the files. The Telegraph, in its findings, revealed that Chess Lane was a small marketing business funded by the brothers Ziyavudine and Mohammed Magomedov from Dagestan, a federal republic (subject) of Russia, and fronted by the Israeli businessman and FIDE's CEO of Development, of course, Mr. David Kaplan. In 2009, an agreement was drafted to grant it exclusive rights to FIDE's commercial activities following a presentation by Mr. Kaplan.
Read the exclusive ChessBase interview with David Kaplan from our archives here.
Interestingly, David Kaplan is also listed in the Panama Papers, to a steering committee meeting in Tromso, Norway. A chess marketing company funded by two brothers from Dagestan and fronted by the then 'Development CEO' of FIDE, and all of them named in the Panama Paper leaks raises some questions. Why was the Chess Lane company founded in the British Virgin Islands only, and not in Russia, where Kaplan headed the Russian office branch of FIDE? The investment in the company, the officials, and its operation and business—was it really done in good faith for the development of chess, or was it just a channel to divert the money for some other purposes?
Moving on, FIDE and Chess Lane then set up Chess Network Company, the other company named in the Panama Papers Leak, as a joint venture to attract sponsorship. The Telegraph, however, adds that 'there is no suggestion of illegal dealings and Mr. Kaplan and FIDE have not commented on the leak'.
 The Telegraph further reports that 'Andrey Filatov, a billionaire oligarch and key ally of Russian president Vladimir Putin, has issued a denial after a name matching his was listed as a director and shareholder of Telecom Express Ltd, an offshore company with links to the British Virgin Islands'. A spokeswoman told The Telegraph the name listed does not refer Mr. Filatov and he has had no relationship with the company.
We received the following press release by the Russian Chess Federation:
It seems, just as in Fischer's and Karpov's case, Filatov too found his name being used as an intermediary in the dealings of these offshore companies.
Links:
---