National Juniors 2016: Top seeds suffer as a 1900-player leads!
The National Junior Championship is in progress in Andhra Pradesh with many of India's strong junior players in attendance. The top four seeds — Md. Nubairshah Shaikh, Praneeth Surya, Ojas Kulkarni, Sayantan Das, all in the 2400 range — are having a terrible tournament, languishing behind their lower rated peers. Vaishali lost early to a much lower rated peer, but then she played in her usual standard. Tactics and more in our illustrated report.
National Juniors 2016: Top seeds suffer as a 1900-player leads!
Rajahmundry is a tranquil city located on the banks of Godavari River. Surrounded by 200 villages, the city has the distinction of being the cultural capital of Andhra Pradesh. It is currently hosting the National Junior (U-19) Open and Girls Chess Championship, 2016.
The top seed is Maharashtra's newly minted international master Md. Nubairshah Shaikh (2418), followed by FM Praneeth Surya (2413) of Telangana, who sensationally qualified for the National Premier last year. Ojas Kulkarni recently broke into the 2400 mark, and IM Sayantan Das is already a veteran of several strong tournaments.
But would they have a successful event? The tournament has seen a succession of surprising leaders, but these higher seeds were none of them!
Bihar's Kumar Gaurav already has a feather in his cap. He made his maiden IM-norm in Chennai at the beginning of this year. He is leading the National Juniors with 7.5/9.
Now he is trailing the leaders by half-a-point. Remarkably, Raunak has already defeated Kumar Gaurav and city-mate Shailesh Dravid!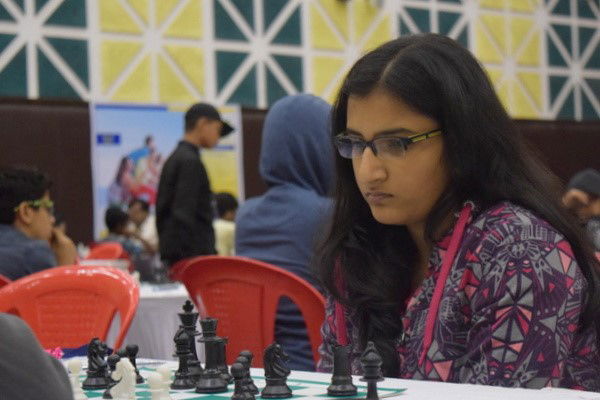 Vaishali had a slump in the beginning - losing to Sunyuktha CMN (1907) in the third round.  After the loss, she scored seven straight wins and is now leading by 1.5 points!
Tact Tricks:
(All positions — White to move)
---
Related:
---
Round 10 Pairings:
Open
Girls
---
---