Dummies guide to meeting the World Champions
The World Rapid and Blitz Championship 2016 was a cornucopia of some of the finest chess players that our generation has seen. Irfan Mothi Memon, a chess enthusiast, from India, who works in Doha, decided to pay a visit to the tournament hall. At the end of the day he managed to take pictures with three World Champions! Irfan speaks about his experience of meeting these stars and also has some tips that will prove invaluable when meeting Vishy, Magnus, Sergey of Chucky!
It was on the final day of the World Rapid and Blitz Championship that I decided to pay a visit to the playing venue. Friday is the official weekend in Gulf countries and this was the perfect way to unwind myself. The playing hall. I had the passes to enter into the tournament arena. The venue was huge and packed with elite grandmasters fighting for the prestigious title. Although I could see many stars, my eyes were just searching for my hero, the five-time World Champion Vishy Anand. I was a bit restless until I could spot him in a red sweater walking calmly in the midst of the playing hall. Relieved, I took my seat to enjoy the proceedings.
All these years we, as chess players, have just heard about big names such as Anand, Carlsen, Karjakin, Mamedyarov, Nakamura, Jobava, Chuky, but it's very rare for people to meet them. And when you find yourself in such an event where you see all these players together, believe me, you are one lucky chap!
My aim was to click a picture with some of my favourites, since it's a wonderful memory to treasure and who knows maybe I can show the same to my kids one day! I knew that it won't be too easy to click pictures though, since visitors are not supposed to enter the playing zone. So after every round you got to be quick enough to find your favorite chess players and take a real quick snap with them!
Among the pool of players I selected four champions to take a picture with and the four were Anand (obviously!), Carlsen, Karjakin, and Ivanchuk. When the World Rapid and Blitz took place in Dubai 2014, I managed to take a picture with almost all the top players including the likes of Caruana, Nakamura, Anand, Carlsen, Svidler, MVL, Morozevich, Grischuk, Mamedyarov etc. Chuky was someone whom I was meeting here for the first time. Due to my past experience in meeting these top guys and also due to additional security reasons in Doha I decided that taking a picture with these four players was good enough.
One of the most important things that you have to be aware of are the previous round results. If the player, with whom you would like to take a picture, has lost his game, it's certainly not a good idea to approach them.
The first time that I managed to sneak into the playing hall, I saw Chuky walking around close to me and that's the time he had beaten Anand in blitz. It was the perfect moment to take a picture with him. I approached him and he agreed.
It was certainly not a good idea to approach Anand since he had lost the game. I couldn't find Karjakin close to the audience but Magnus always passed through spectator's area. I was a bit scared to go to Carlsen. One thing that I learnt from observing Magnus in Dubai is that his mood completely depends on his results. It's a good idea not to disturb him when he has lost or drawn his game.
Until the end of the tournament I couldn't find an opportunity to meet Anand and once the event was over I finally managed to go near him. He was having a chat with Spanish GM Paco Vallejo Pons in Spanish. I couldn't believe Vishy was so fluent in Spanish. (the language, not the opening! Well, he is good at both, though!) I didn't want to disturb him in the middle of a conversation, so I waited.
At this moment a family approached Anand for a picture and I figured this would be the perfect time for me too. He smiled and said yes! Anand is famous for his humility and that's something about him that I absolutely love. He never show his inner feelings to people who approach him and always responds with a smile. I remember asking him about a doubt in his game in 2014 World Rapid Championship against Aronian and he replied to me patiently. (that's the first time I met him).
I couldn't find the World Blitz Champion Sergey Karjakin in the hall. I could see Magnus, but I didn't muster up the courage to approach him. Especially after he had finished second behind Sergey. Just when I was about to leave I saw Karjakin at the entrance. I rushed to him and asked for a snap and he agreed with a smile! I was so happy that I could take pictures with at least three people out of the four whom I targeted.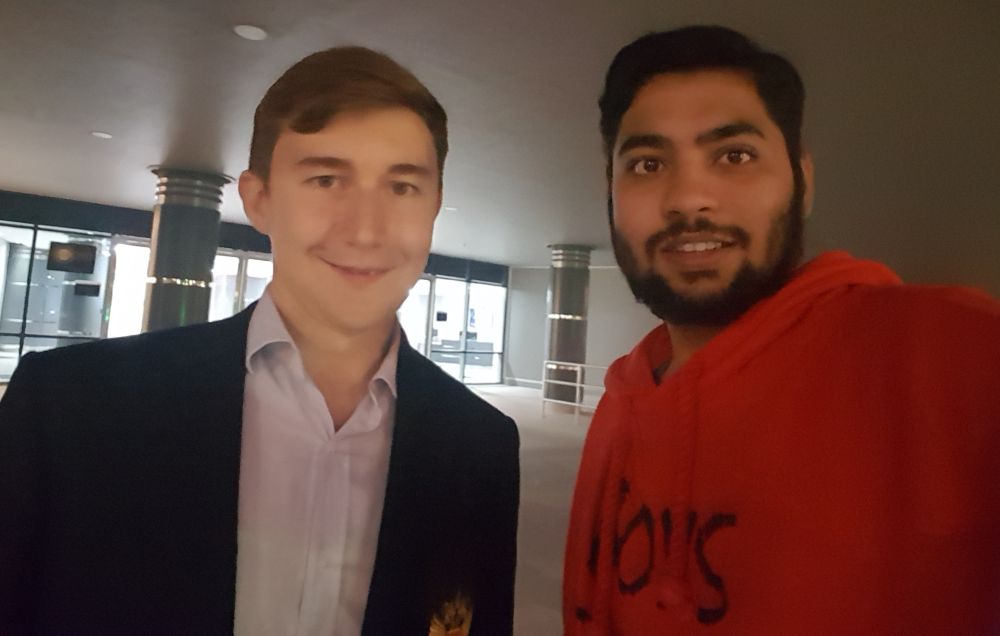 To summarize it was a great experience. It's quite an overwhelming feeling to see these great players fighting on the board in front of your eyes, when the only things you have known about them is through books and videos. You learn a lot just by looking and observing them. Things like how they manage to recover when they have back to back games, what do they carry with them for such tournaments, How do they analyze after every game and much more. Personally for me every time I see these top players in action, it turns out to be an inspiring and motivational experience. I have tried my best to put it into words, but it doesn't encapsulate all my feelings. I hope every chess lover gets an opportunity to meet this greats once in their lifetime! And when you do, these simple tips in the article will come to your aid!
About the Author
Irfan Mothi Memon is a chess lover. He loves to follow the game and all the updates related to it. He is the marketing manager at Logicom in Doha, Qatar. He is originally from Thanjavur, Tamil Nadu.
---