Magnus Carlsen on The Simpsons Show
Reigning World Champion GM Magnus Carlsen is known to gather a lot of mainstream attention by making various appearances at unexpected places. This time he appeared in the longest running animated sitcom, The Simpsons. Read the story in this report by Shahid Ahmed.
Magnus Carlsen on The Simpsons Show
The Simpsons is an animated series made up on half-an-hour episodes, which is currently running its 28th season. Math: the series is also older than Carlsen himself. The three-time World Chess Champion appeared in the 15th episode (611th episode overall) of the 28th season of the iconic animated series, titled, 'The Cad and The Hat'.
Notice the player who loses with the White pieces, looks strangely familiar? He has a beard like 'Wilhelm Steinitz', the first official World Champion in the history of chess. After his opponent leaves the board, he calls, Homer, "Hey Blobby Fischer, you're up". When his son, asks him if he knows the pieces, Homer nonchalantly replies, "Of course, there's the King, Mrs. King (Queen), the Lightbulb Babies (Pawns), the Mini Ashtray(Rooks), Slit Face (Bishop) and who could forget Dr. Horse (Knight)."
When Homer's son wonders how his father remembers the chess moves when he cannot remember the rules of 'Chutes and Ladders', Homer informs them that he used to play chess with his dad.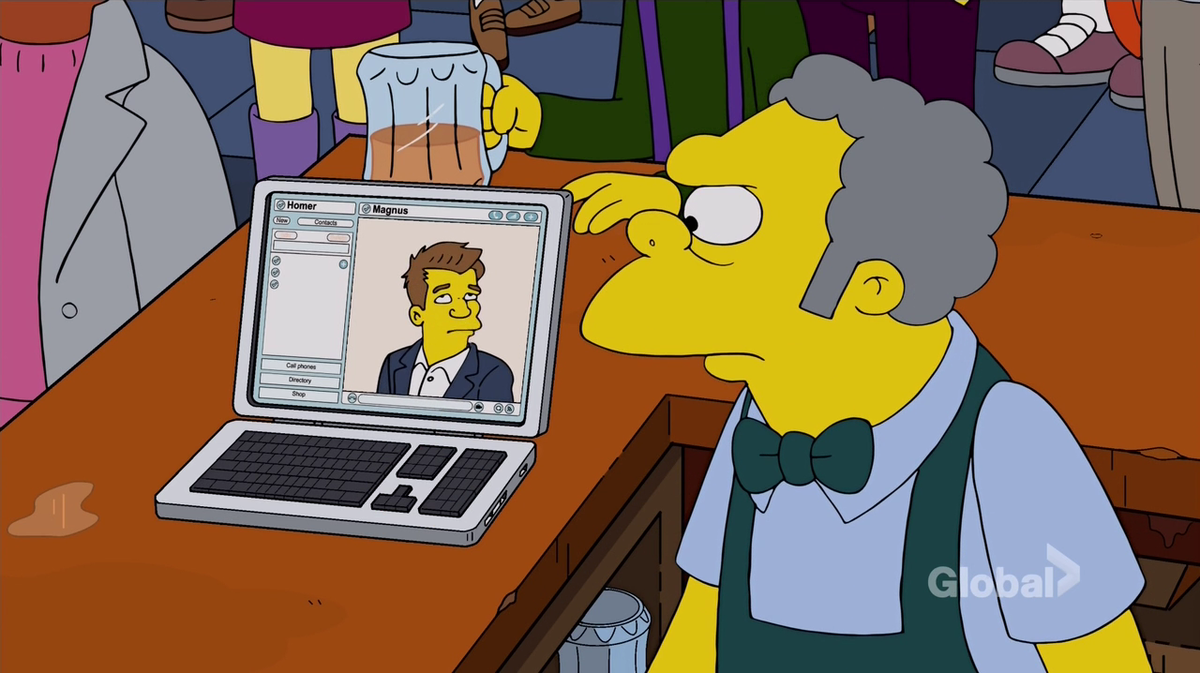 A random asks, "Who is that guy?" Another random guy in the bar replies, "Magnus Carlsen, my cousin". The show truly displays the ignorance of common people towards the name of Magnus Carlsen.
Overall the episode was absolutely fun for someone who watched an episode of The Simpsons for the first time in its entirety. The writers and the makers of the show made a very good research about chess. Unlike any other TV-shows where chess is shown casually with a few anachronisms and mistakes, The Simpsons only had a few errors. I am sure they are only due to some production issues. Maybe the World Champion himself helped the showrunners or his presence inspired the creative team to make sure that the authenticity of the Chess is maintained and it's portrayed as a sport, not as just another board game.
The episode also had a side story about 'Guilt'. Magnus Carlsen made another record as the first chess player to show up in an animated series by giving voiceover to a character portrayed as himself. One can only await Magnus' next move in the pop culture.
---
About the Author: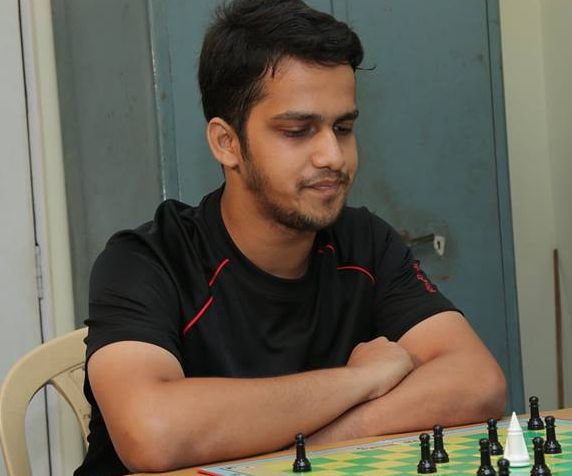 Shahid Ahmed is the First AGM (Arena Grandmaster) of India. He is a coach at Dibyendu Barua Chess Academy (DBCA) and The Heritage School. He is also the founder of chesspert.com. He manages the Facebook page of Bengal Chess Association and DBCA.
---
Also Read:
---