What I learnt from a dancer!
There is always something to be learnt from people who dedicate their entire life towards perfecting an art. One such person is Kartik Mohan, who is one of the best dancers in Mumbai and a childhood friend of Sagar Shah, the author of this article. In this piece, the author shares with you his experience of what he learnt from the dancer. You are also invited to a dance event which will be taking place today in Mumbai and get a chance to meet and interact (and maybe even play blitz!) with India's 46th GM Srinath Narayanan.
It was the last round of the National Premier. My friend and I were walking towards the venue. We had already indulged in twelve rounds of grueling chess with some of the best players in India. It was quite an exhausting event. The playing venue was a good 30 minute walk from the hotel. "I think I will just offer a draw to my opponent," said my friend. But why? "There is nothing really at stake. Even if I win I will not get a prize and fighting over a bunch of Elo points is not something that I would like to do. I am tired."
My friend stood by his word. He made a few moves, shook hands with his opponent, who also seemed to be in a similar mood, and both of them left the playing hall. In the afternoon when I went back to the room he was busy watching a movie on his laptop, with earphones, completely oblivious to what was going on around him. Maybe it was his third movie and he seemed thoroughly rejuvenated. When he saw me, he asked me about my result, smiled and went back to watching the movie. All his tiredness had vanished and from his mood I could recognize that he was very happy with his decision.
Fast forward to yesterday:
8th of July 2017, I went to R.N. Gandhi School for the final dance rehearsals for the big show that was to take place on 9th of July (today!). I am not particularly a great dancer, nor do I have a very deep liking for the art. I went to practice for two reasons - 1. because Amruta loves dancing, and 2. The dance instructor Kartik Mohan is my childhood friend and one of the best dancers I have seen.
The 9th July show revolves around a group of more than 50 people dancing for nearly 25 minutes! Naturally there was a lot of chaos as all the last minute fixes were being made. I was watching Kartik (the instructor) closely. At one point of time he was editing the audio track, on the next moment he would be speaking on the phone with the decorator, on the next he would be directing his team on the small changes in dance steps that were to be made. He was overworked, tensed and under great pressure. Things were going out of hand and Kartik's expression said it all.
"Ok let's have the rehearsal one last time for the day", Kartik shouted. He took his position right in the centre in front of the 50 people. As soon as the music began to play I could see Kartik getting transformed into an entirely different world. The worry and tension was replaced by unbounded energy enigmatic enthusiasm. He danced as if he didn't care for a thing in this world. All the dance steps were perfectly executed, his facial expressions precisely matched the lyrics of the song and the aura he exuded was good enough to make everyone in the room enjoy the dance!
What had just happened here? Like a true performer Kartik had put all his 'problems' on the backburner and was giving his all to the art that he was a master in.  Once the dance ended, he was back in the real world. But for those 20-25 minutes of dancing, there was nothing that could have bogged him down.
My mind started think about this and the last round of the National Premier. It's not that my friend was just tired for the last round. Tiredness did play a role, but more than that he was stressed and nervous. He convinced his mind that rather than withstanding that pressure, soaking it in and bringing out the best within him, he should make a quick draw and relax. 
This is something I have seen not just on the last day of that National Premier, but I see it happening everywhere. I am talking about these short draws where nothing is at stake. I have always failed to understand - how is it that nothing is at stake? Apart from the fact that you could learn a lot by giving your best, you have a possibility of creating a great chess masterpiece. You have a chance of playing a game that would be studied by chess players all over the world. And even if we keep all of that aside, just the fact that you call yourself a chess player means that you should be giving your best when a chess board and 32 pieces are placed in front of you!
By seeing Kartik dance yesterday, I realized that any artist, sports player or a performer should have the ability to segregate his personal emotions from his art. Gaining mastery in fields like dance, sports, music etc. requires great amount of dedication, and it is exactly in moments like this - where nothing is at stake, that your character is built up. After all, that National Premier wasn't end of the chess career for my friend! He played in the next event within a few days and I am sure a hard fought last round would have helped him much more than those four hours of watching movies!
Your chance to meet and interact with GM Srinath Narayanan
The dance event that Amruta and I are preparing for on 9th of July is a fundraiser by Kartik Mohan Productions. They are raising funds for the underprivileged kids who live in the Borivali National Park. There are four villages in there, the schools require computers, sports equipment, books etc. The money raised through the dance event held today will be donated to the Young Innovator's Foundation, an NGO that works with these villages in the Borivali National park.
Srinath has a stopover for a few hours in Mumbai. Rather than spending time at the airport, he is coming to R-city mall (the venue of the fundraiser event) to not only see his friends dance, but also to be interviewed by ChessBase India's youngest author Avathanshu Bhat.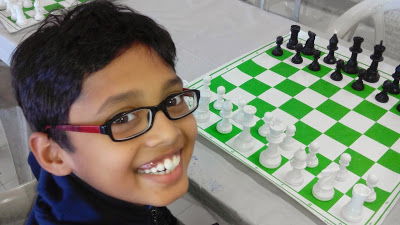 Apart from Avathanshu, you can also ask questions to Srinath by being present at the venue. Remember, Srinath was the under-12 World Champion and a player who has had to struggle for nearly eight years after becoming an IM to achieve his GM title. When someone succeeds after such a long period of struggle, he is bound to have a wealth of knowledge. And who knows, we might even be able to setup a chess board where you can play blitz with the grandmaster.
Where?
The venue for the event is R-city Mall, LBS Marg, Ghatkopar West, Mumbai, Maharashtra - 400086. When you reach R-city mall, ask for "Football Turf" which is on the sixth floor.
Where?
GM Srinath Narayanan would be reaching around 6 p.m. In case Srinath is not enough to keep you entertained, you can watch me embarrassing myself (Amruta is a good dancer!) at 7.30 p.m.
Donate for a cause:
Kartik was a part of the Western Yodha team that won the Dance Premier League that was broadcast on Sony Television in 2011. One of his most amazing performance was on the song Meri Maa, that reduced Rani Mukherjee and everyone in the room to tears.
---