Ram S. Krishnan wins Golden Knights Open
The first Golden Knights Fide rating chess tournament was closely contested by many strong players from South India. Towards the end it became a close stuggle between four players: Ram S. Krishnan, R. Ashwath, M.Kunal and P.Lokesh. Ram S. Krishnan, former national blitz champion, won the event thanks to a better tiebreak. Professor Anantharaman has sent us an illustrated report and also explains us why Madurai has contributed tremendously to the Indian chess scene.
Within a short span of conducting a state level tournament, Golden Knights Chess Academy, Madurai, organised a fide rated tournament at PTR College of Engineering & Technology, Madurai from 28th July to 2nd August, which was won by former national blitz champion Ram S Krishnan of BSNL.
The six days, ten round format tournament attracted 159 players mainly from Tamil Nadu besides Karnataka, Kerala, Andhra Pradesh, Telangana and Pondicherry. V. Karthik of Vellore (Tamil Nadu) was the top seeded player with a rating of 2328, followed by P. Saravana Krishnan of Karur Vysya Bank. Former Tamil Nadu state champion M. Kunal was another player with a rating above 2300 and the starting rank had stalwarts like IM R. Balasubramanaian of Railways, former national blitz champion Ram S Krishnan of BSNL, N. Lokesh, winner of Saharanpur tournament in 2015,  former national sub junior champion R. Ashwath etc.
Ram S Krishnan won the tournament on a better Buchholz score, ahead of Ashwath, Kunal and Lokesh, who also scored eight points in ten rounds. Though Dusthageer Ibrahim from the host GKCA led from beginning to penultimate round, a loss in the final round to Lokesh put his hands away from the winner's trophy.
 
Fourth round witnessed many hiccups. Top seed V. Karthik conceding a draw to Sa Kannan of TN, RM Subramanian of Golden Kinghts CA beating N Lokesh etc. Fifth round also had a spate of draws on top board – Saravana Krishnan drew with IM R. Balasubramanian, OT Anil Kumar extricated a draw against Ram S Krishnan Sa Kannan had another draw against R. Ashwath.
 
V. Karthik bounced back to join the lead with Dusthageer by beating N Surendran in the sixth round. The crucial encounter in the seventh round between the leaders ended in a draw, enabling Ram S Krishnan, IM R. Balasubramanaian and S. Prasannaa of Tamil Nadu to join the leaders with six points each.


Karthik vs Dusthageer Ibrahim
Hard fought wins by Dusthageer and Ram over Karthik and Balasubramanian respectively helped them to keep the lead after eight rounds. Aswath jolted Saravana Krishnan in the ninth and penultimate round to join Dusthageer and Ram at the top with 7.5 points each. Ashwath and Ram settled for a quick draw and Dusthageer lost to Lokesh, leading to a four way tie between Ram, Ashwath, Kunal and Lokesh. Ram S. Krishnan pipped Ashwath by half a Buchholz point to clinch the title.
Madurai, popularly known as city of Temples, houses the famous Meenakshi temple, which was a strong contender for the World's new seven wonders recently.
Nayakkar Mahal, built in 1636 AD is a standing testimony of the architecture prevailed in Tamil Nadu about 500 years back. The central courtyard measuring 42000 sq.ft, surrounded by massive pillars is a treat to watch.
 
The historical Madurai has now become a chess hub. Madurai Mapillai Vinayagr chess tournament and Palani Vijayakumar Mills tournament (in the then Madurai district) were the only two tournaments regularly conducted in 70s in India. Former Tamil Nadu state champions OLV Rajaram, veteran TV Subramanian (still actively playing at the age of 80) started the chess culture, which was picked up by several players – S. Rengarajan of LIC is the first player from Madurai to participate in National A Championship. 90s witnessed a mushroom growth of chess in Madurai, which produced many state and national champions. It became a chess factory, producing GMs (Magesh Chandran P, Deepan Chakkravarthy and K Priyadharshan, who will be a GM in September 2016, IMs BT Murali Krishnan, S. Poobesh Anand and C Praveen Kumar and WIM S. Kasthuri, S. Ganesh Babu, who is running the GKCA is not only a player with a rating above 2000, but also an international arbiter, good coach and an efficient organiser.
Final Ranking
| | | | | | | | | | | | | | | | | |
| --- | --- | --- | --- | --- | --- | --- | --- | --- | --- | --- | --- | --- | --- | --- | --- | --- |
| 1 | 4 |   | Ram S. Krishnan | IND | 2261 | BSNL | 8,0 | 61,5 | 55,5 | 51,50 | 10 | 8 | 7,52 | 0,48 | 20 | 9,6 |
| 2 | 6 |   | Ashwath R. | IND | 2227 | TN | 8,0 | 61,0 | 55,0 | 51,25 | 10 | 8 | 7,77 | 0,23 | 20 | 4,6 |
| 3 | 3 |   | Kunal M. | IND | 2309 | TN | 8,0 | 58,5 | 54,0 | 48,75 | 10 | 8 | 8,68 | -0,68 | 20 | -13,6 |
| 4 | 5 |   | Lokesh N. | IND | 2258 | TN | 8,0 | 58,0 | 52,5 | 49,00 | 10 | 8 | 8,86 | -0,86 | 20 | -17,2 |
| 5 | 1 | FM | Karthik Venkataraman | IND | 2328 | TN | 7,5 | 64,0 | 58,5 | 49,50 | 10 | 7,5 | 8,24 | -0,74 | 20 | -14,8 |
| 6 | 7 |   | Dusthageer Ibrahim M. | IND | 2190 | TN-M | 7,5 | 63,5 | 57,5 | 49,25 | 10 | 7,5 | 6,40 | 1,10 | 20 | 22,0 |
| 7 | 9 |   | Prasannaa.S | IND | 2131 | TN | 7,5 | 60,5 | 54,5 | 47,75 | 10 | 7,5 | 6,80 | 0,70 | 20 | 14,0 |
| 8 | 10 |   | Surendran N | IND | 2115 | TN | 7,5 | 58,5 | 53,0 | 46,00 | 10 | 7,5 | 8,11 | -0,61 | 20 | -12,2 |
| 9 | 24 |   | Rohit Ramanan T G | IND | 1755 | TN | 7,5 | 56,5 | 51,0 | 43,50 | 10 | 7,5 | 6,58 | 0,92 | 20 | 18,4 |
| 10 | 12 | AGM | Sa Kannan | IND | 2048 | TN | 7,0 | 64,5 | 58,0 | 46,75 | 10 | 7 | 6,66 | 0,34 | 20 | 6,8 |
 Complete list of final rankings
About the Author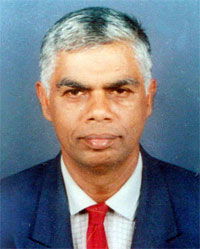 Rathinam Anantharam is an A grade international arbiter. He is the
Councillor in FIDE Arbiters' Commission

Chairman of Arbiters' Commission, All India Chess federation

Member, Qualification Commission, FIDE

Member, Pairings & Programs Commission, FIDE

He has served as chief arbiter for two World Junior, one World Schools Championships, besides several Asian championships and GM tournaments

He is also a FIDE lecturer
---